Cooped up
There is no debate that shelter in place directives have changed our daily routines. I finally found out what color my wife's hair really is. You can't, or daren't go to the store as often as you used to. This makes it hard to keep fresh produce around. That's right, some people really do eat that stuff. Sous vide technology provides an alternative to the hum drum of frozen and canned vegetables.
Greens do not like sous vide–asparagus, legumes, leafies, crucifers all emit gasses when exposed to heat that must be allowed to escape during the cooking process. The failure to do so results in a sulfurous "off" flavor and unappealing discoloration of the vegetables. We will cross them off the list up front. Do not attempt to sous vide process okra.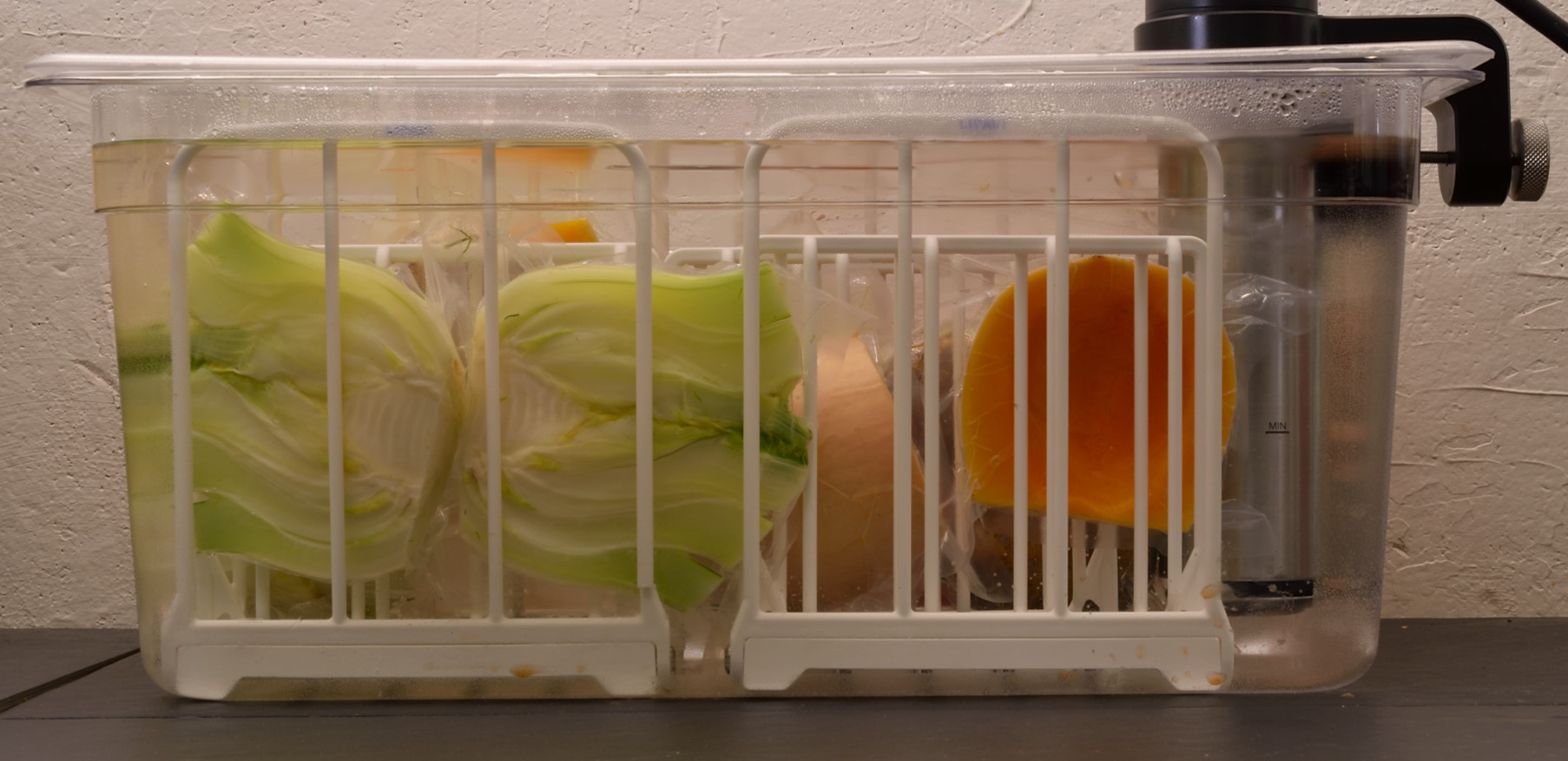 On the left, sweet anise/fennel, On the right, butternut squash bulbs. You can just see the potatoes in the background.

Carrots with the peels on AND carrots with the peels off. Both offer different benefits.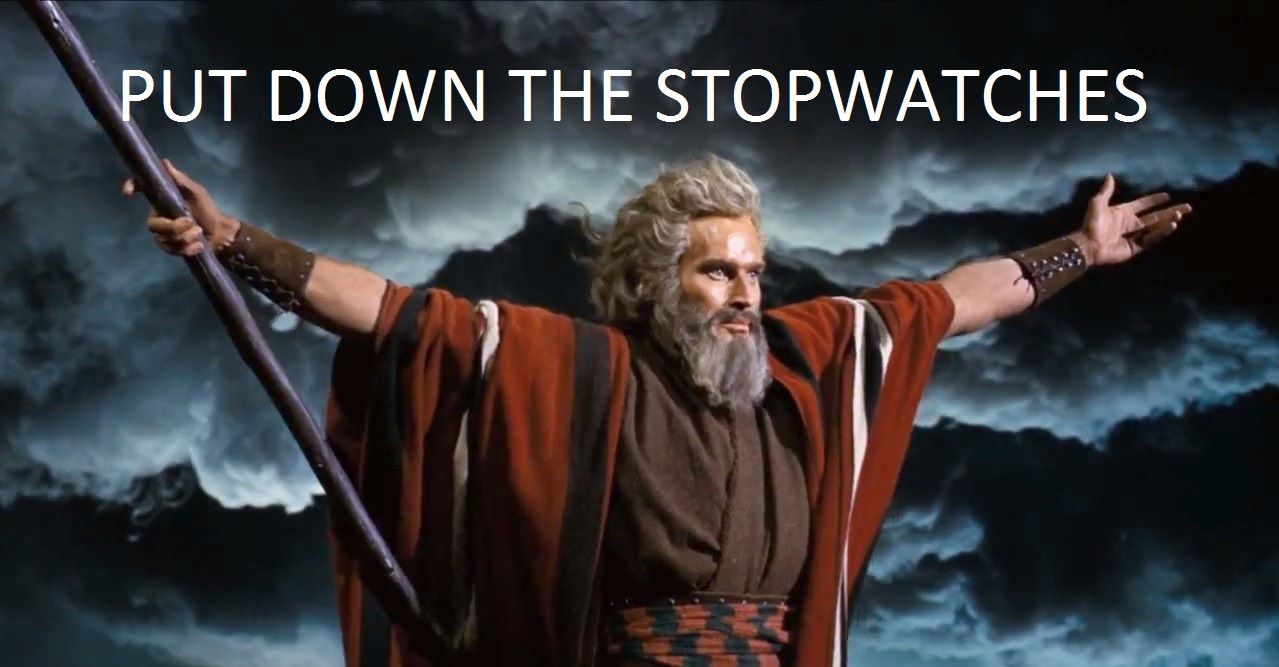 times and temps
183 F/84 C works for everything. That's just the nature of vegetables. Or the denature, I guess. It's almost always an hour except for celery and mushrooms which seem to go a little faster. Huge carrots and potatoes might take a little longer. This is another opportunity for novices to practice doneness measurement using the pinch/poke method. If you can't wrap your head around that, just use an hour. Even if they seem firm those carrots and potatoes etc are pasteurized/preserved, at least for our purposes.
Once the vegetables are processed, make SURE that you cold shock them in iced tap water until they achieve 70 F/21 C. Refrigerate at 40 F. They're vegetables but not only can they still spoil, they can heat contaminate other food in the fridge if you don't cool them off first. Very important.
Butternut squash
Or any winter squash. Celebrity chefs will tell you that one winter squash is a little sweeter or stronger or muskier than another winter squash. I've never found anybody yet that can distinguish the flavor of one from another with their eyes closed, myself included. Spaghetti squash is easy to identify, but that's a texture thing. The Italian chefs I have known called all winter squash "zucco," even pumpkin. No reason to close your eyes and smack your lips. Zucco is zucco,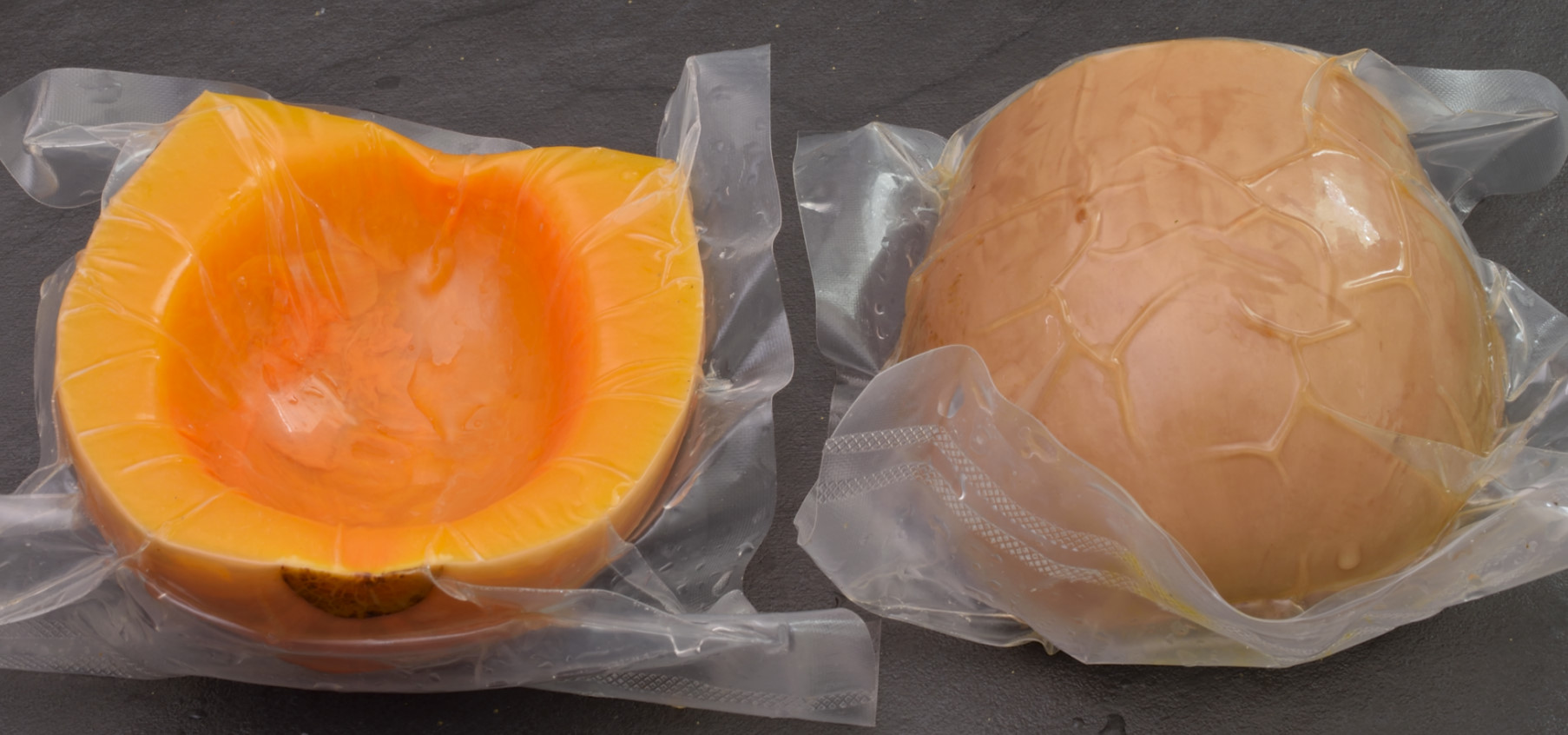 I like butternut because the seeds are all located in a sort of bulb section and the rest of the squash is easy to slice or shape. The texture of the bulb end really is a little different than the stalk end. If I want to make soup, I use that bulb end. I don't peel the bulb end. Mostly because it's a pain.
For how to make Butternut "Bacon," click HERE.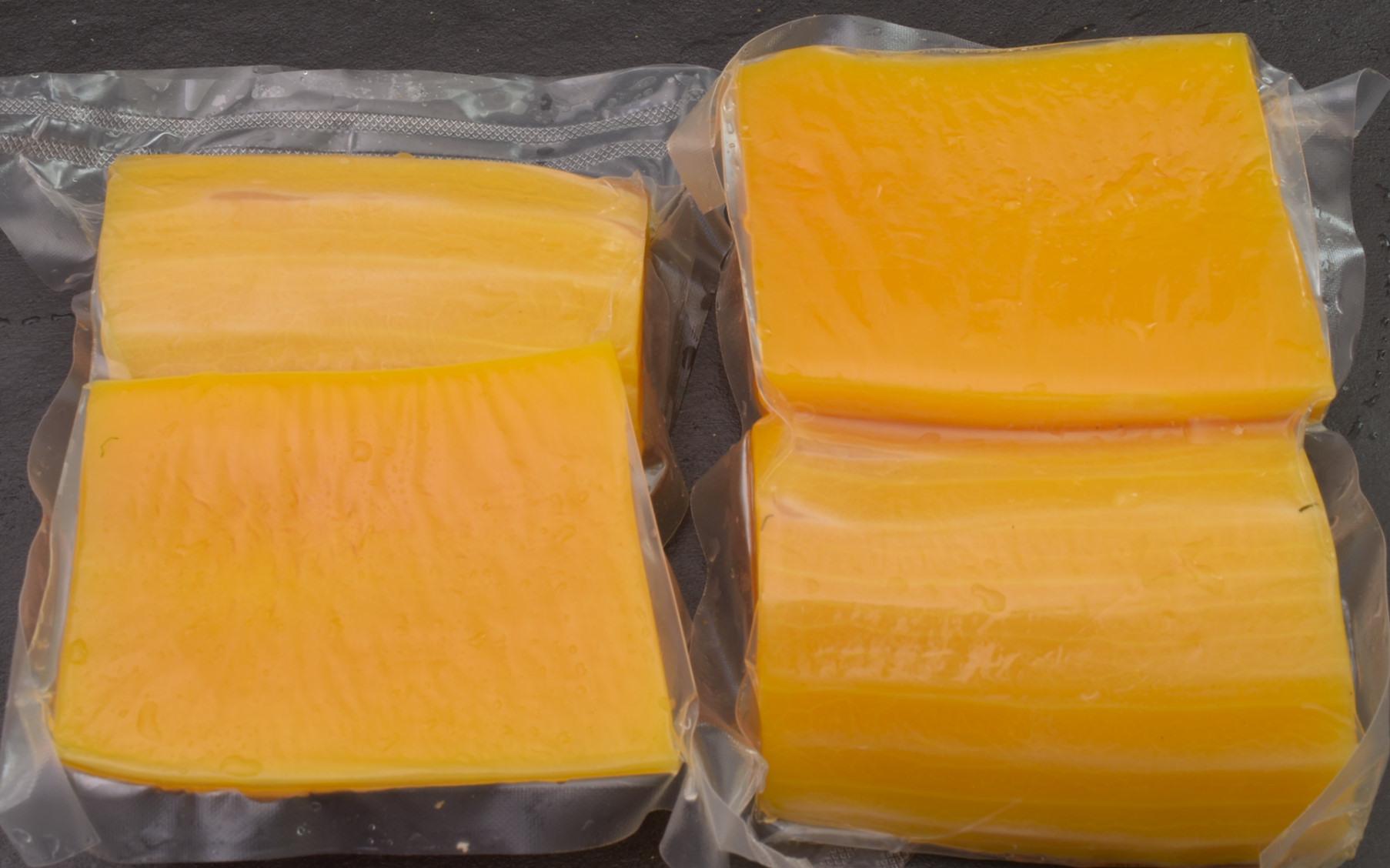 I use a basic vegetable peeler on the solid end.  Super convenient. You can season in the bag if you like. I don't because I want the flexibility of deciding later whether I'm going to go savory or sweet, etc. Speaking of sweet.
Sweet anise/fennel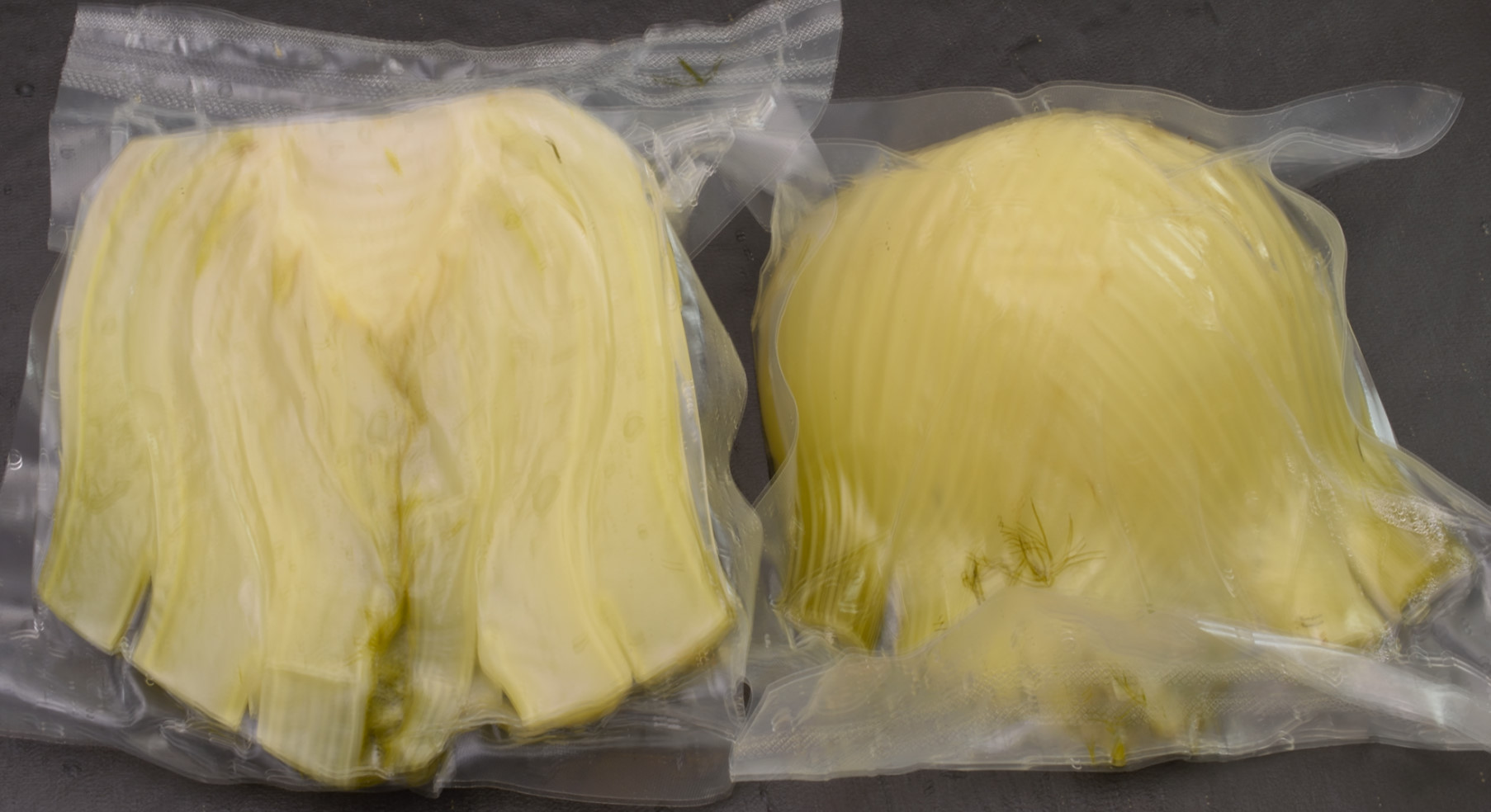 Hardly anybody in the States eats this stuff but it's really good. Widely used in Mediterranean cuisine.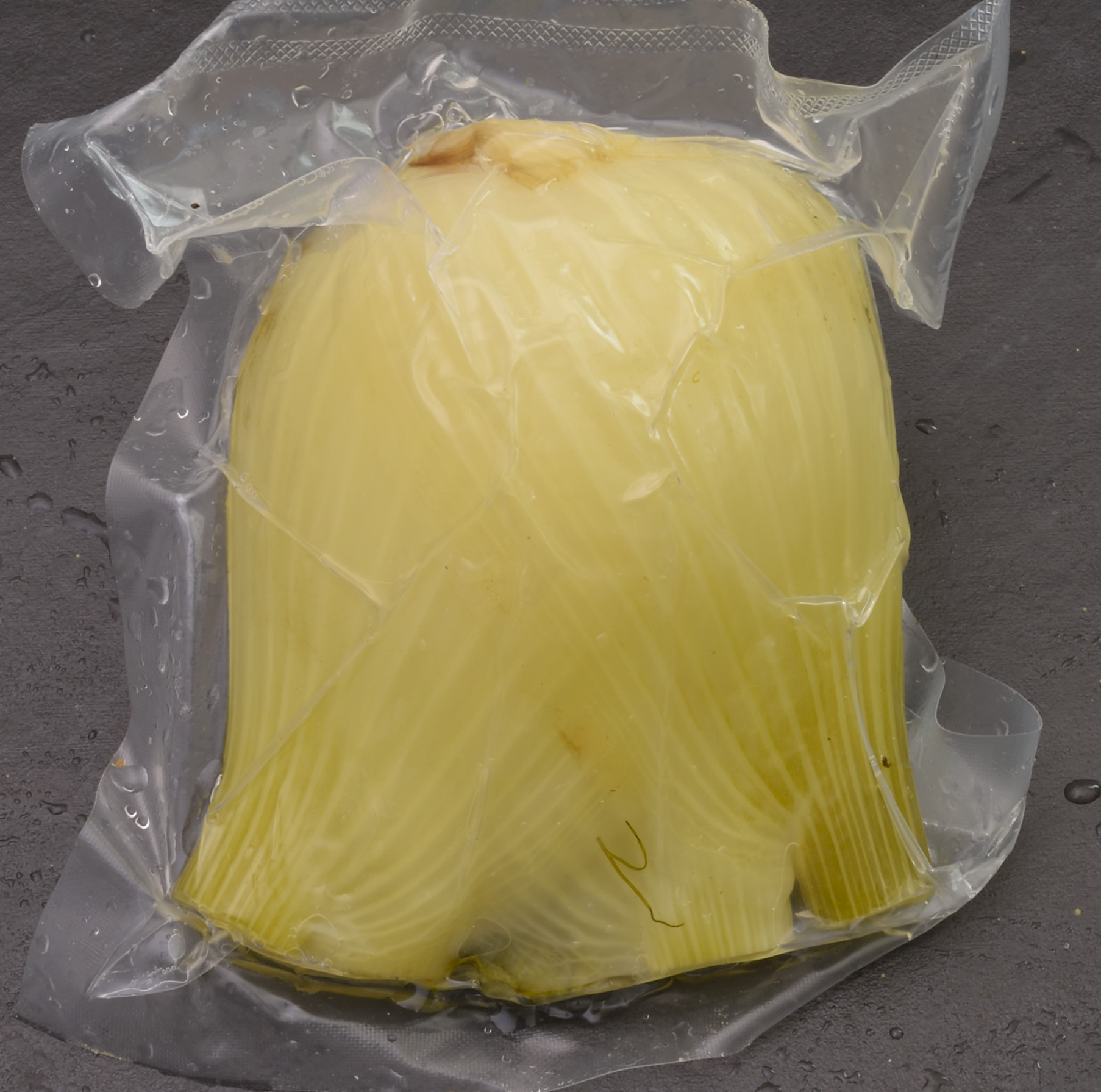 It grows wild in Corsica and other places in the region. In the springtime the countryside reeks of it in a good way. Very floral, very fragrant. Looks like dill. I wouldn't call it sweet. It has a very faint licorice taste/aroma. Great cooked or raw. Great roasted or grilled or even deep fried.
Potatoes
Sous vide potatoes will not discolor. They can be fully processed without getting mushy, which makes them great for hash browns and roasting, etc. If the plan is to make potato salad I process them until they get softer, more like 90 minutes. Easy to peel, too. You can peel in advance, if that's your thing, like for mashed potatoes.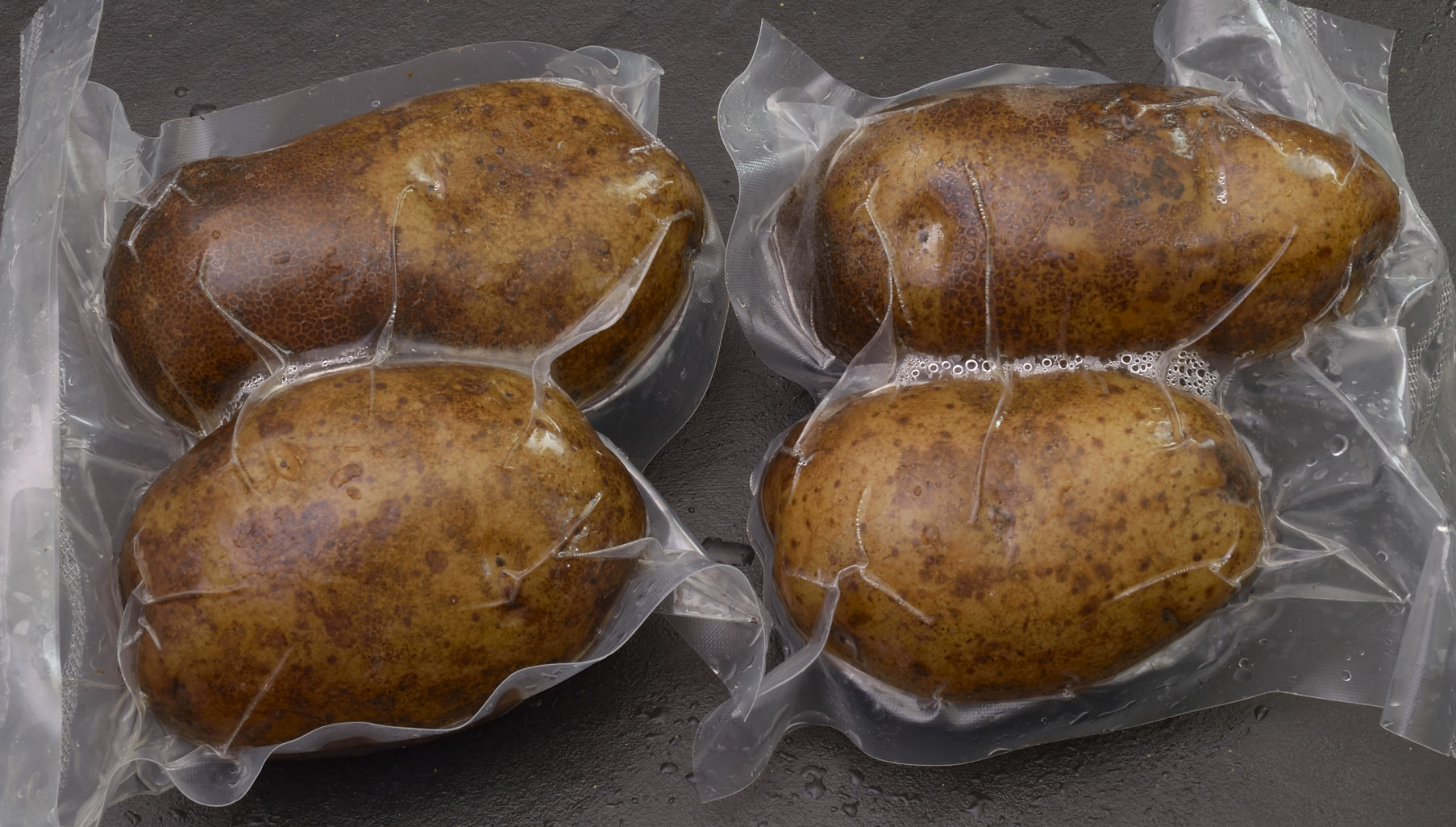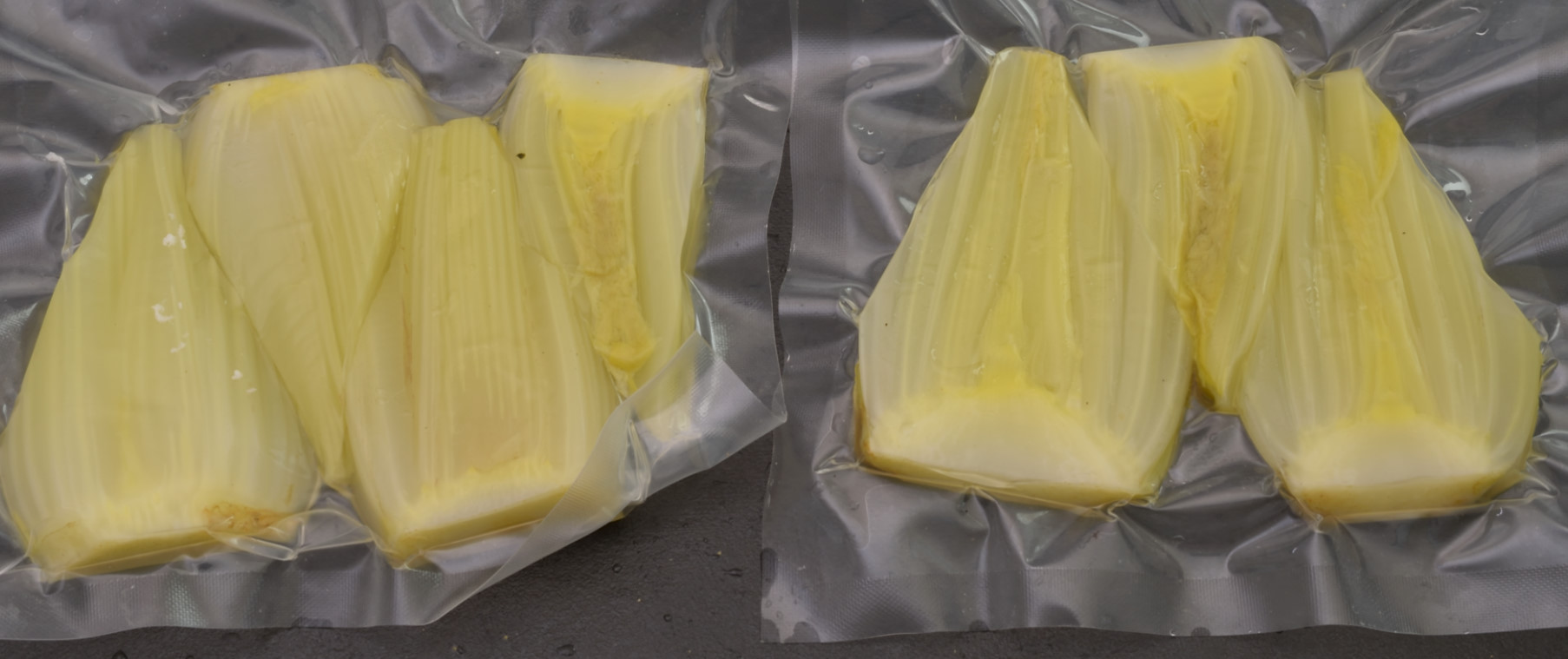 This section of the celery is shamefully discarded, even by chefs. Some of us don't even bother to put it in the stock, like we're not quite sure what would happen. The method is linked HERE.
Carrots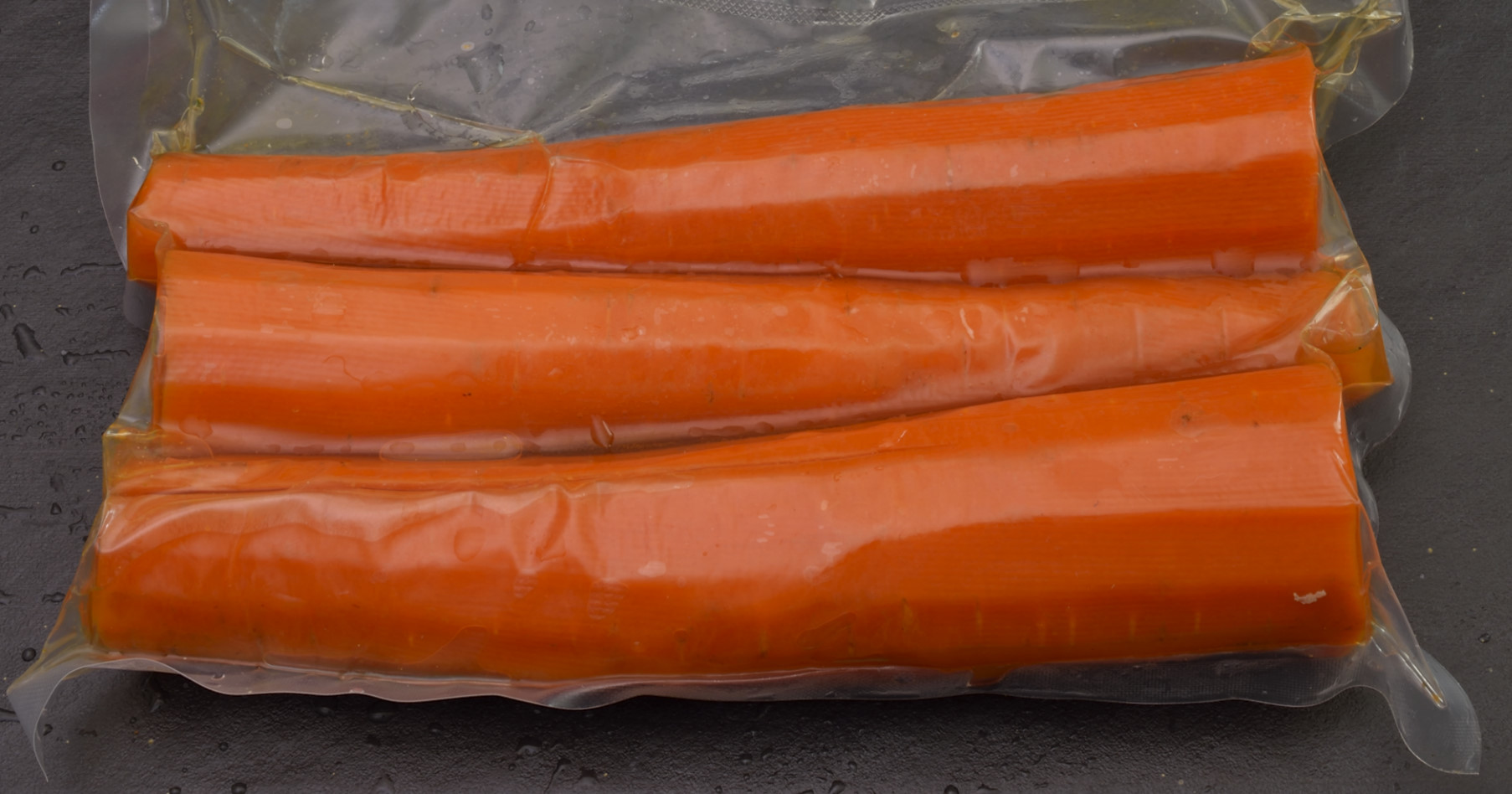 The vegetable that needs no introduction. If I plan to cut them into shapes, I leave the peel on. The juices in the bag are worth harvesting, even sipping.
Mushrooms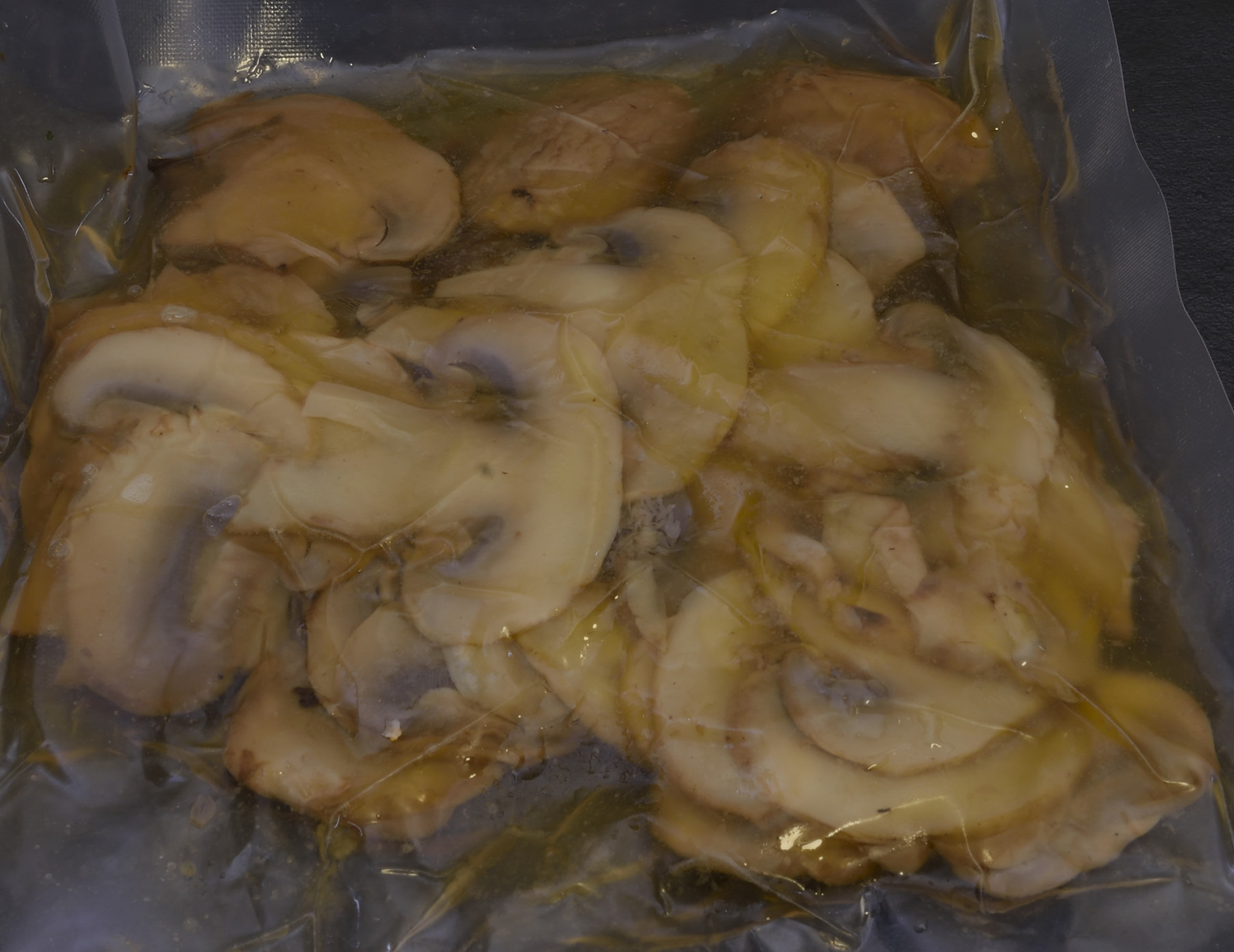 If you can let go of the whole "pan seared at high heat" paradigm, you can benefit from the fact that sous vide processed mushrooms will literally keep forever in the fridge as long as the package is sealed. Sliced or quartered with a few drops of lemon to preserve the color. Just a few minutes in that hot bath. BTW, people will tell you to put a little lemon juice in the bag with other vegetables too, and that it will preserve color and vitamins and so forth. That's a lie.
Pickled vegetables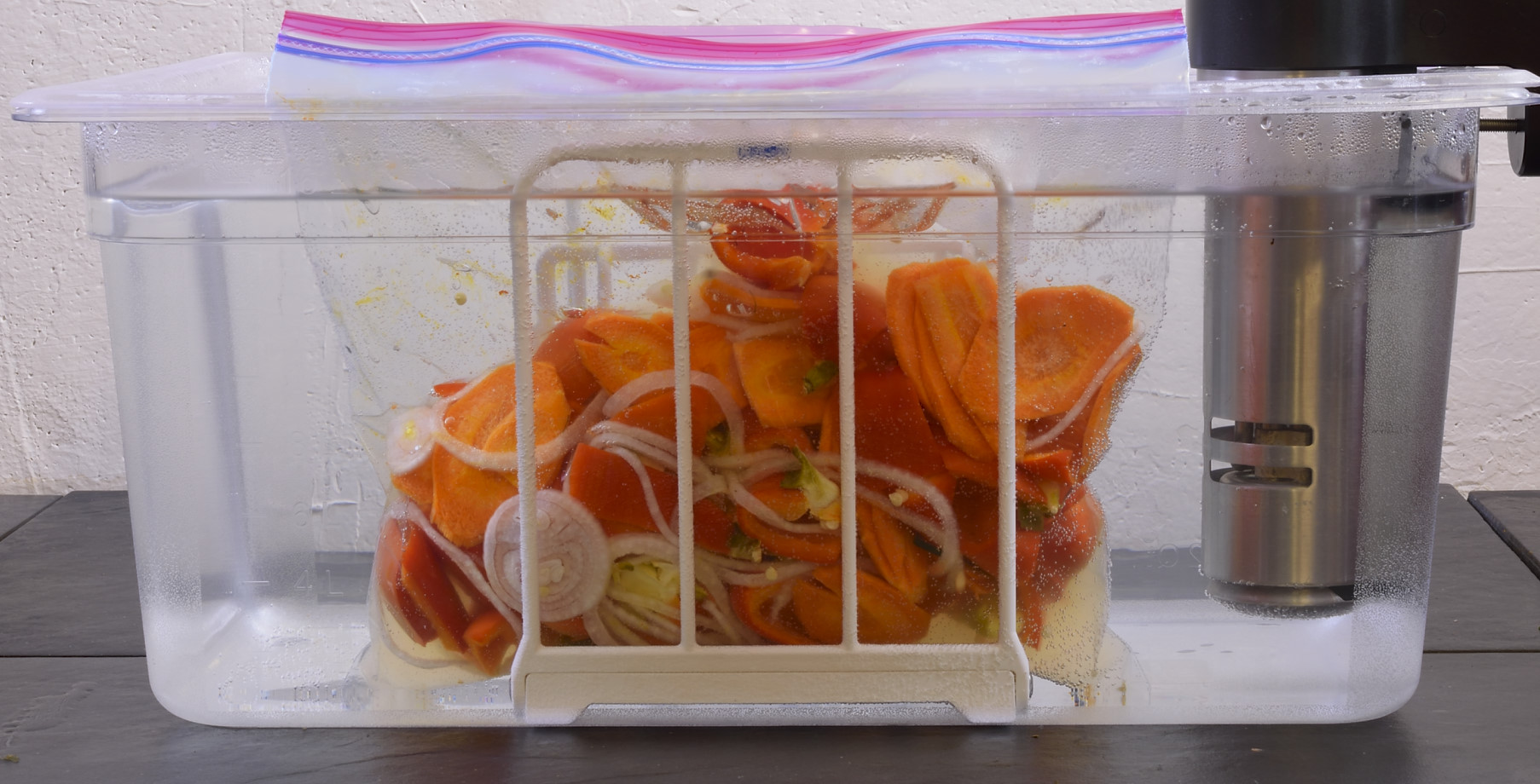 This works well for preserving vegetables too. Equal volumes sugar, water, and vinegar brought to a boil is the basic formula, with salt to taste. Coriander, chilis, cinnamon sticks, star anise, cardamon pods, whatever you like, it will not affect the chemistry. Put the veggies in a bag, carefully pour half the liquid over them and lower into the bath. Add the rest of the liquid to cover the veggies. No need to seal, just hang the opening over the edge of your Lipavi vessel and secure it with the lid. This is my preferred method for peppers, any color but green. Cauliflower, also good.  183 F/84 C X 1 hour.
Additional ingredients:
Vegetarian brown sauce, as needed.
Butternut garlic aioli (eggless):
Lemon juice 1/2 cup.
Garlic 1 head, peeled.
Butternut squash (sv processed), 6 oz/175 g.
Sodium alginate, 1 teaspoon. Optional. Sodium alginate is a modernist thickening agent derived from a certain Japanese seaweed. It does not require cooking.
Kosher salt, 1 Tablespoon.
Sugar, 2 Tablespoons.
EVOO (or vegetable oil) 2 cups.
Method:
Put all the ingredients except the EVOO in a blender and process until smooth. Give it some time, sodium alginate is slow to dissolve. Drizzle in the olive or vegetable oil. Refrigerate in squirt bottles.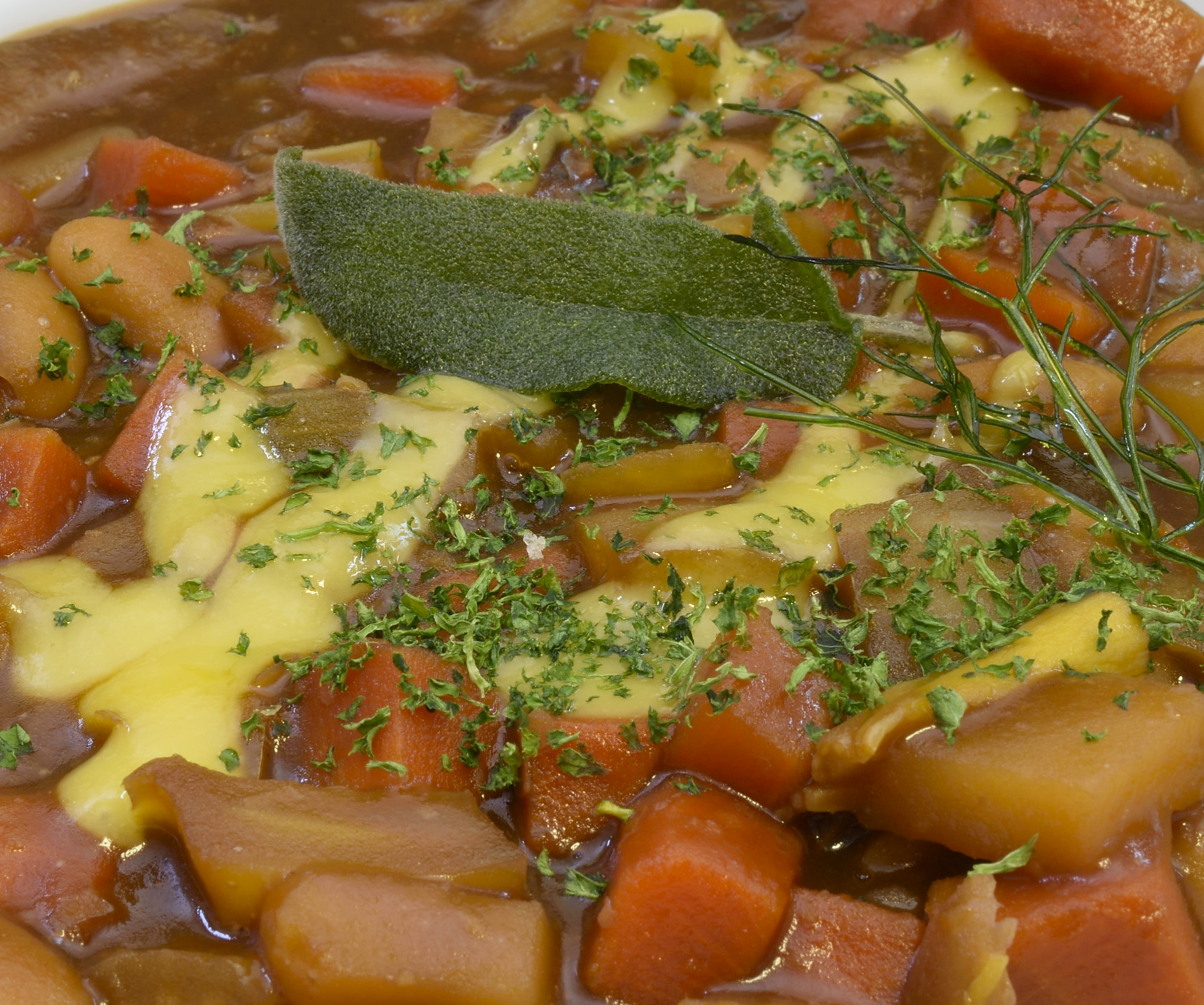 actually making some things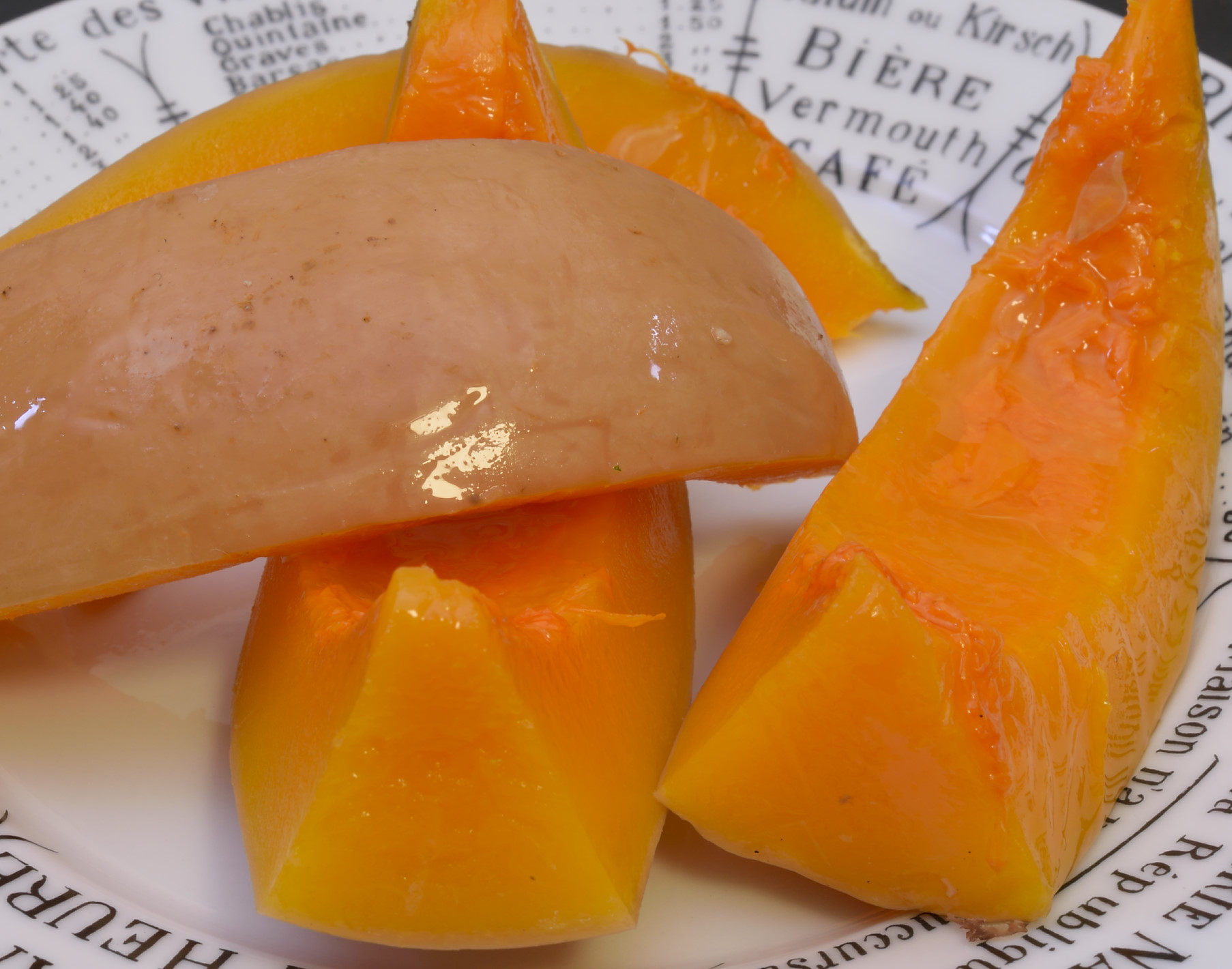 Remove the squash from the bag. The juices are flavorful but there won't be much. Pat dry.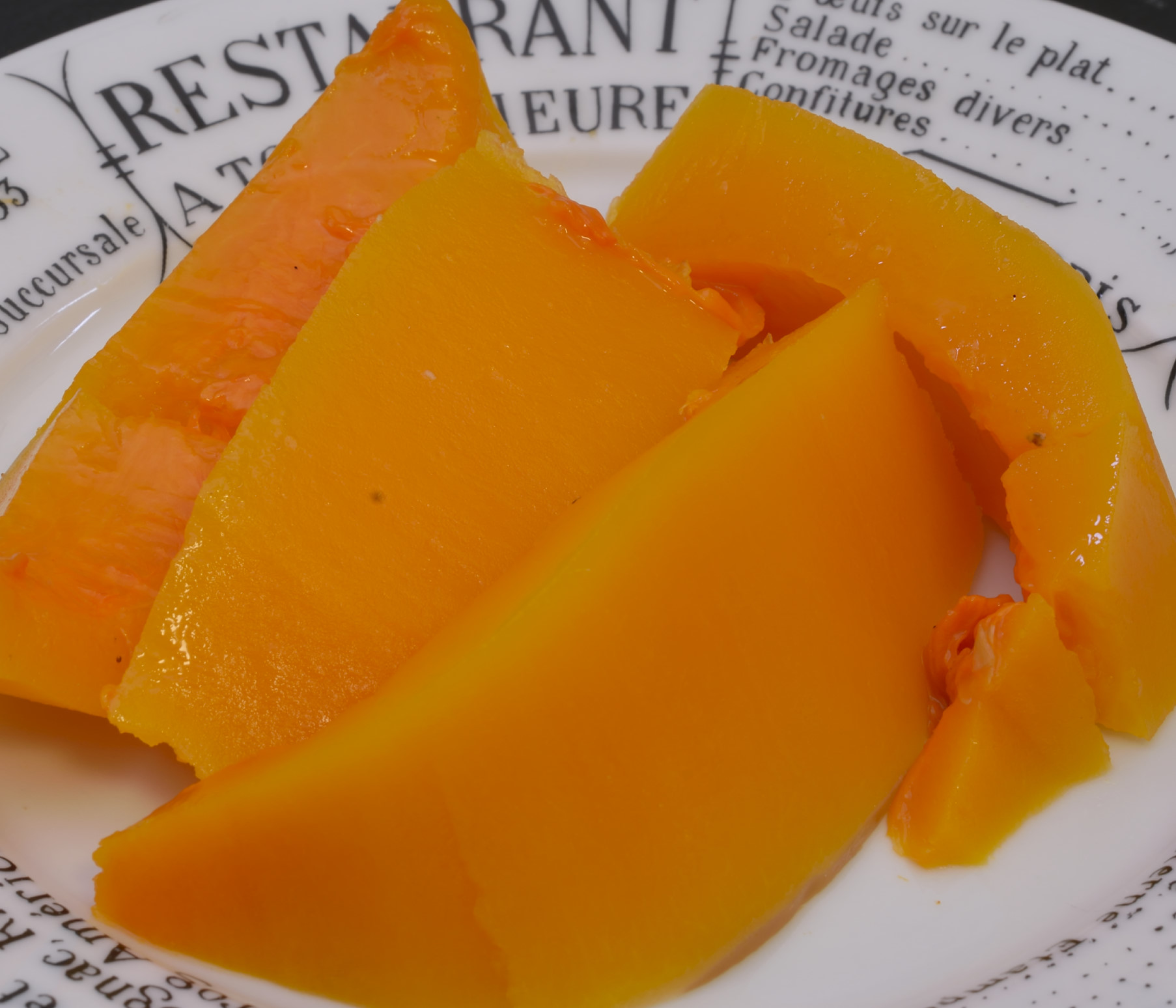 Remove the peel. A spoon isn't sharp enough, so I use a fillet knife like I'm skinning a fish filet. This is what I used in the aioli.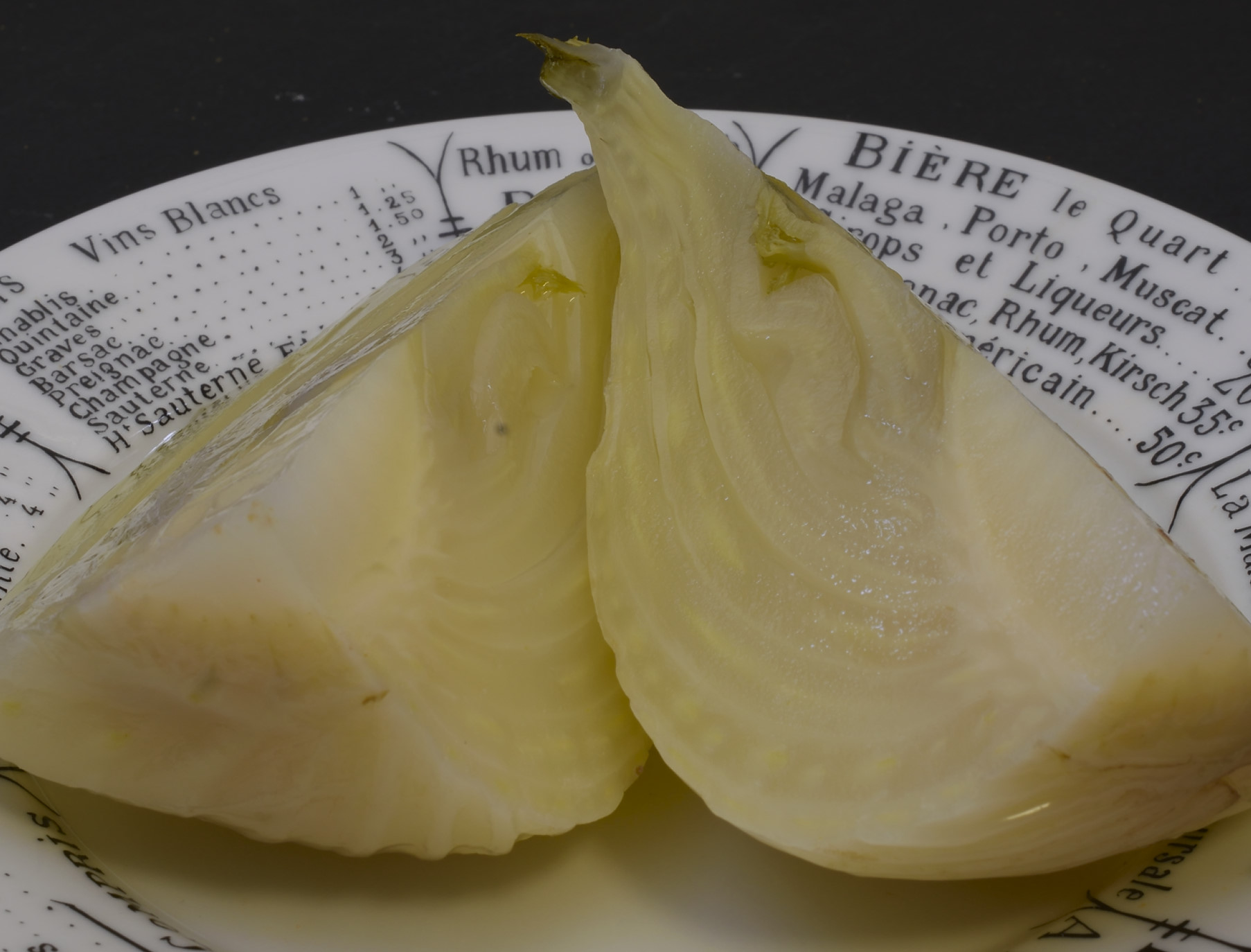 Remove the halved fennel bulb from the bag and cut it in half again as shown.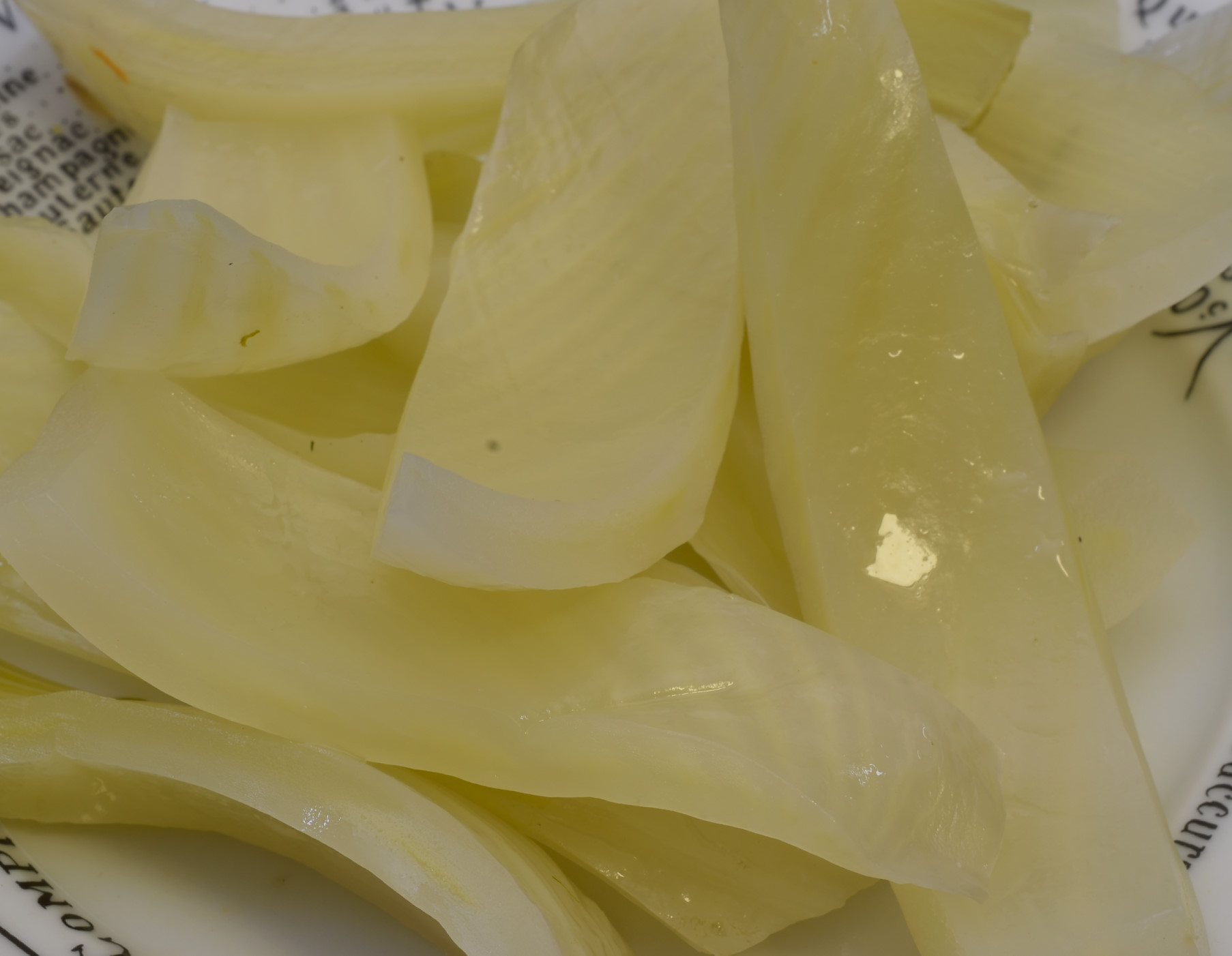 Pull back the outer layers one at a time and use a knife to trim around the base…set aside. We're going to use them in a soup further down on the page.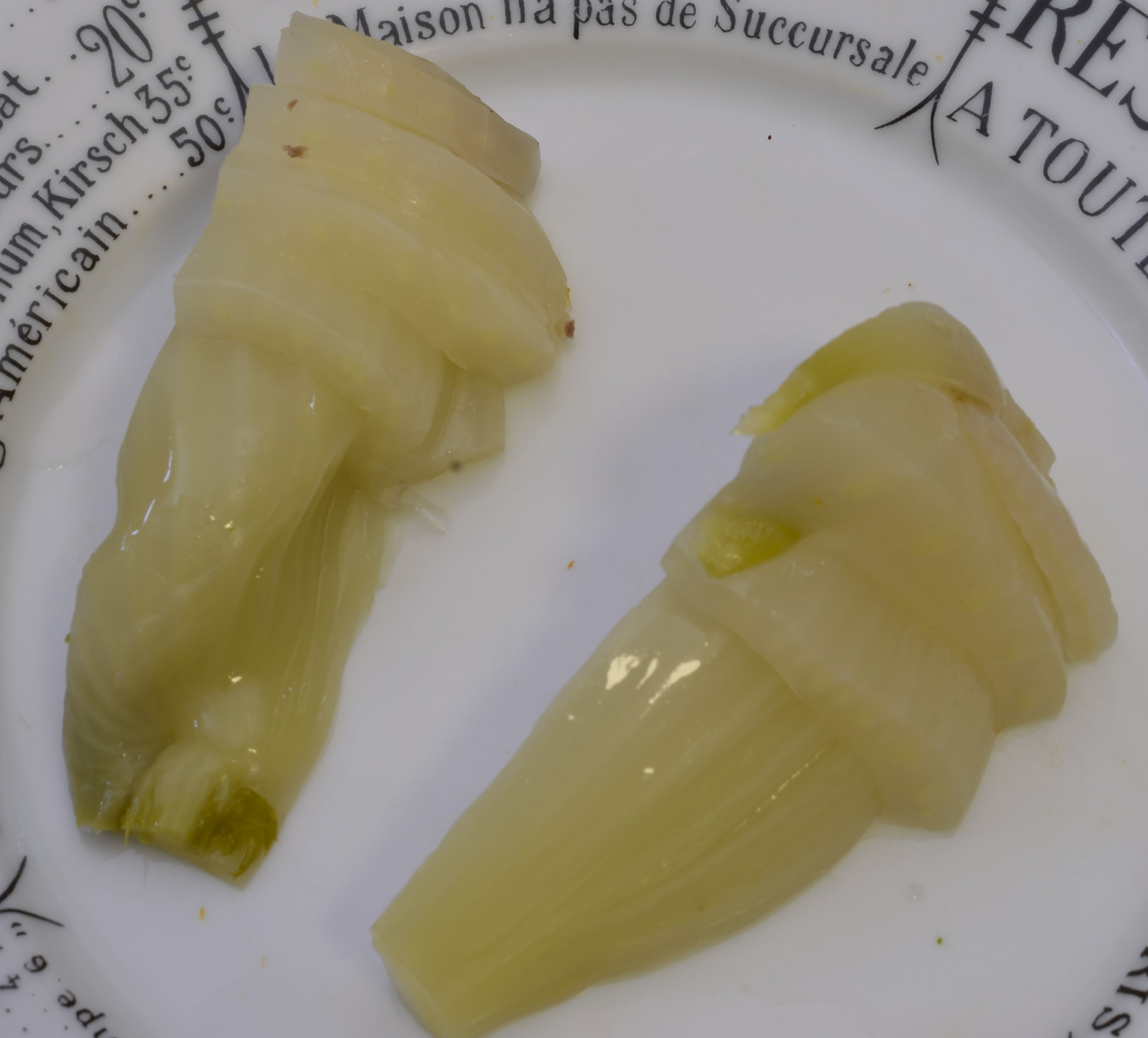 This is the desired effect.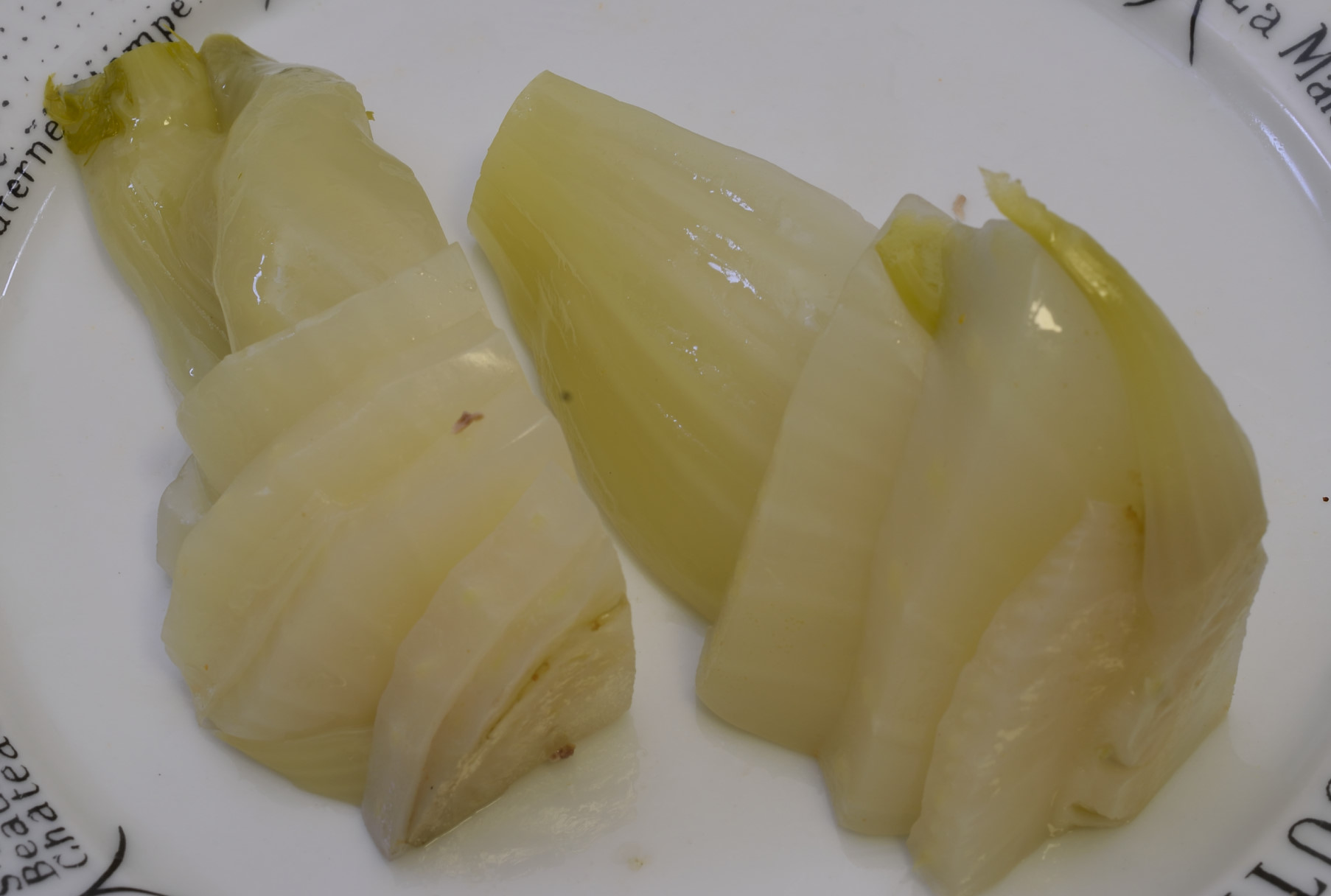 Ends up looking like artichoke hearts, WOOT?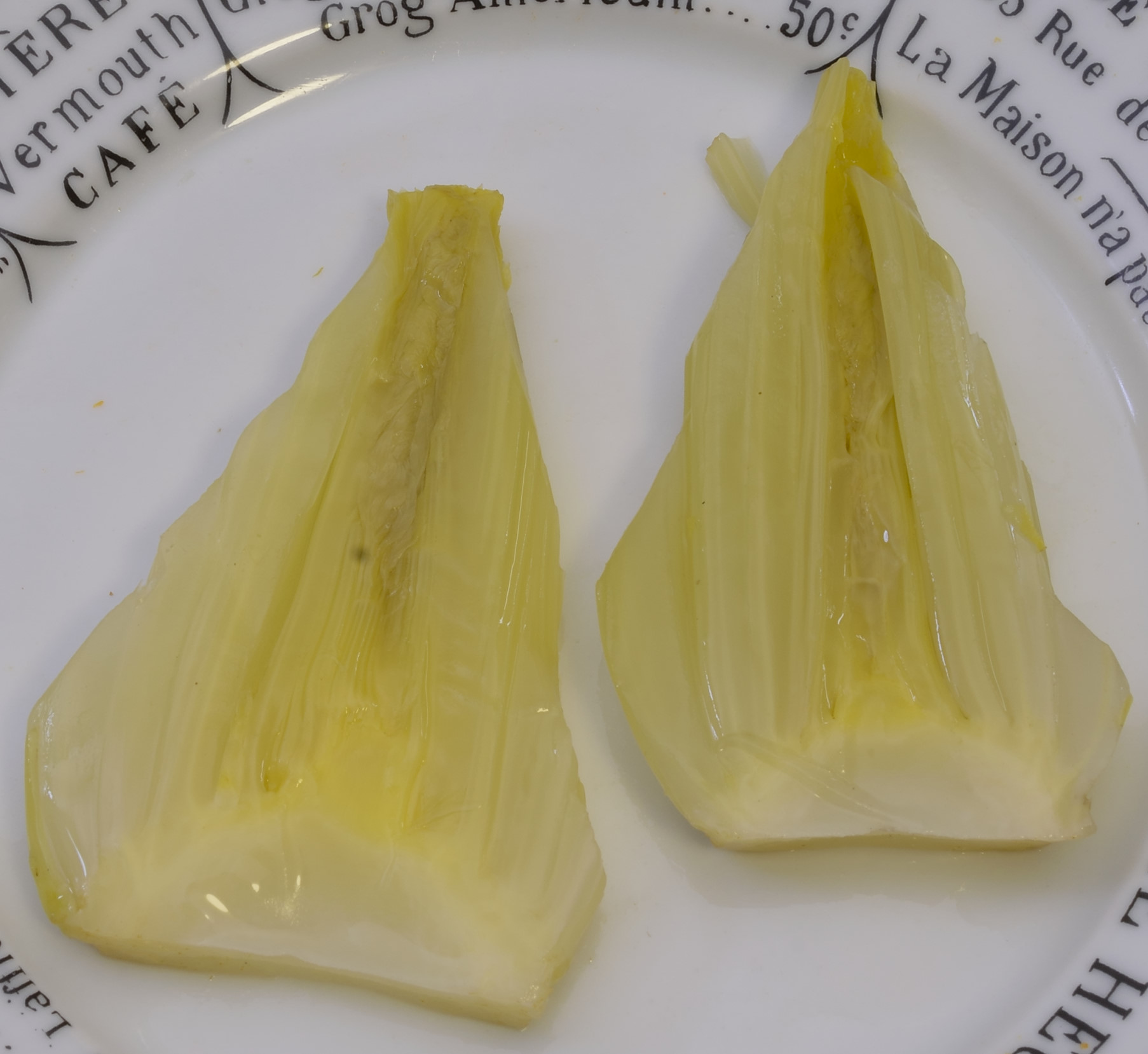 Remove the celery hearts from the bag. This juice is really delicious in a Bloody Mary, or so I have heard. It reminds me of clam broth, which is also good in a Bloody Mary as I vaguely recall.
So many Sundays, so little Vodka.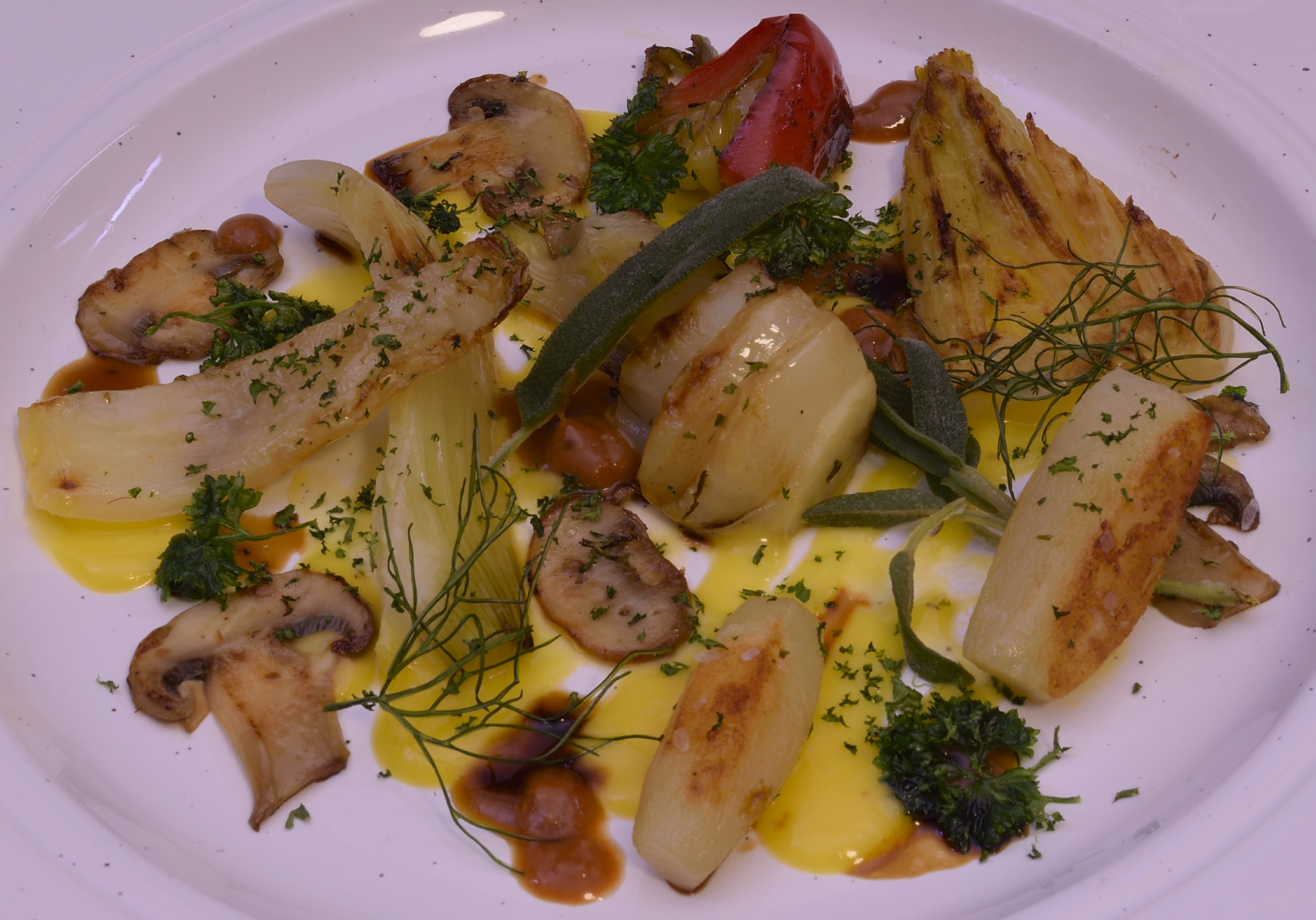 I use a seasoned stainless steel pan to sear the lightly seasoned vegetables, but Teflon is what most people want to use. I give up. Drizzle some of the aioli on the plate first. A few drops of the vegetarian brown sauce.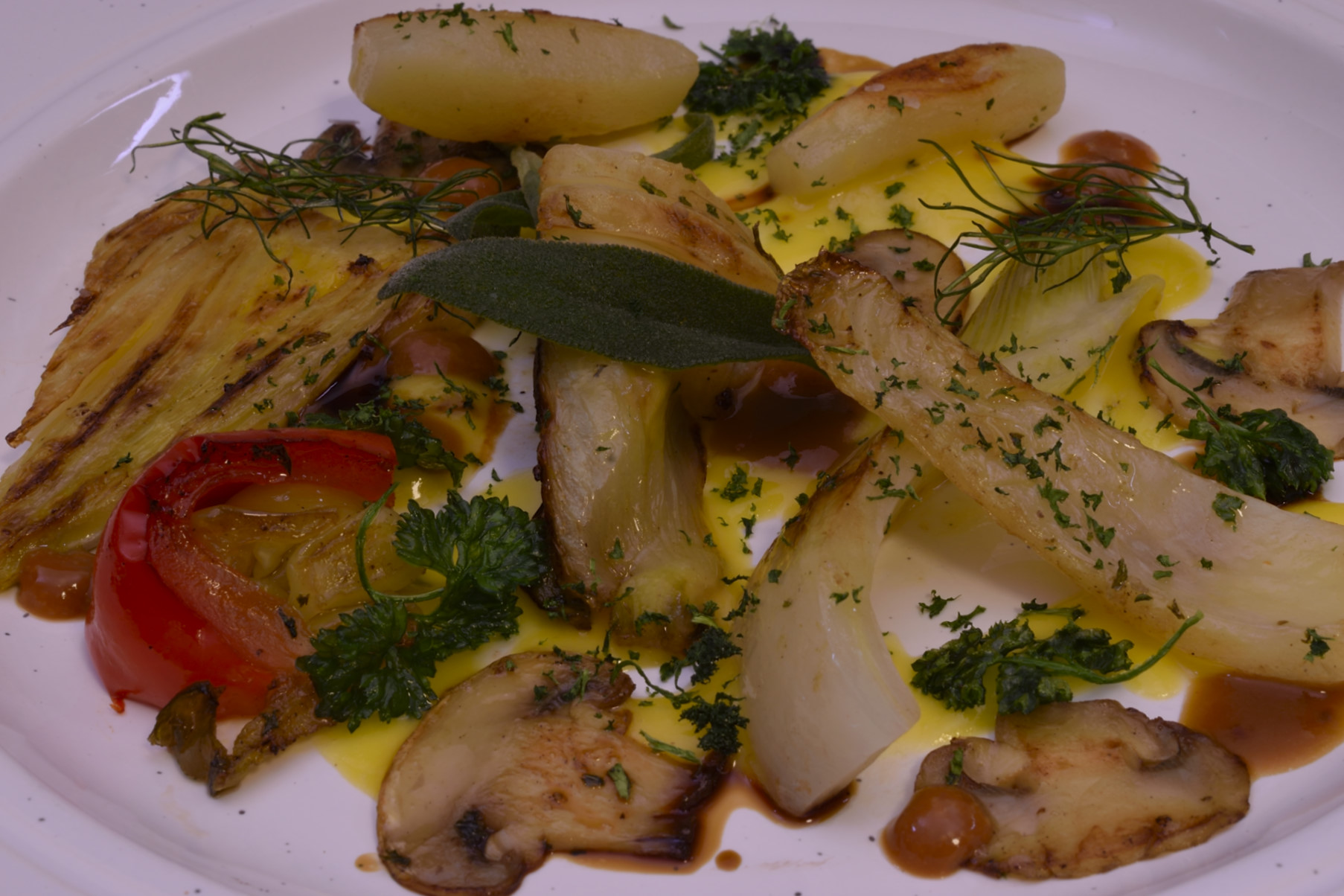 Minimum amount of oil, medium heat, don't crowd the pan.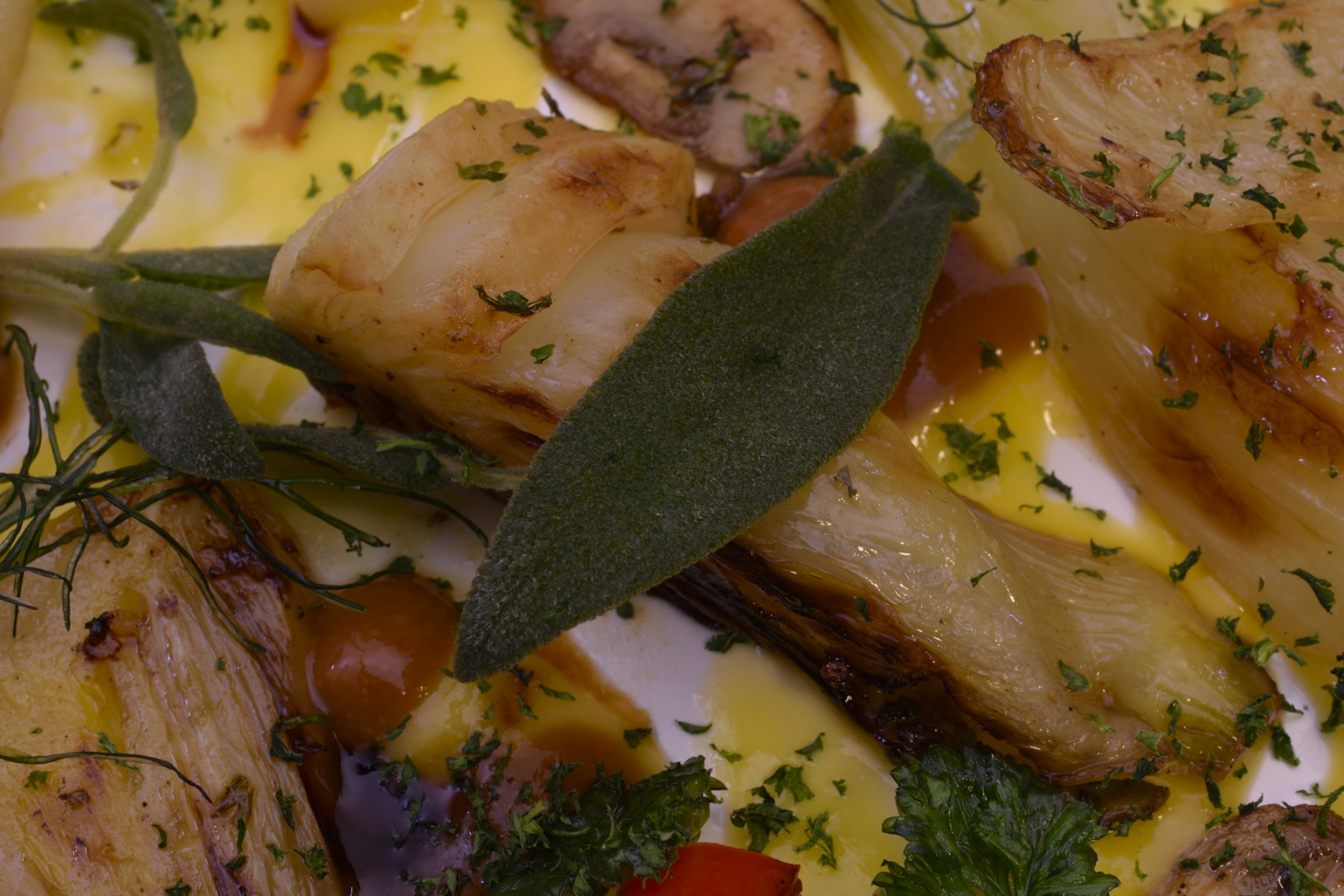 Crisped sage, fennel fronds and parsley, all deep fried at 300 F for a few seconds until they stop sizzling. Drain well and forget about handling them with your fingers. Steal a pair of tweezers out of your wife's (or your) make-up case.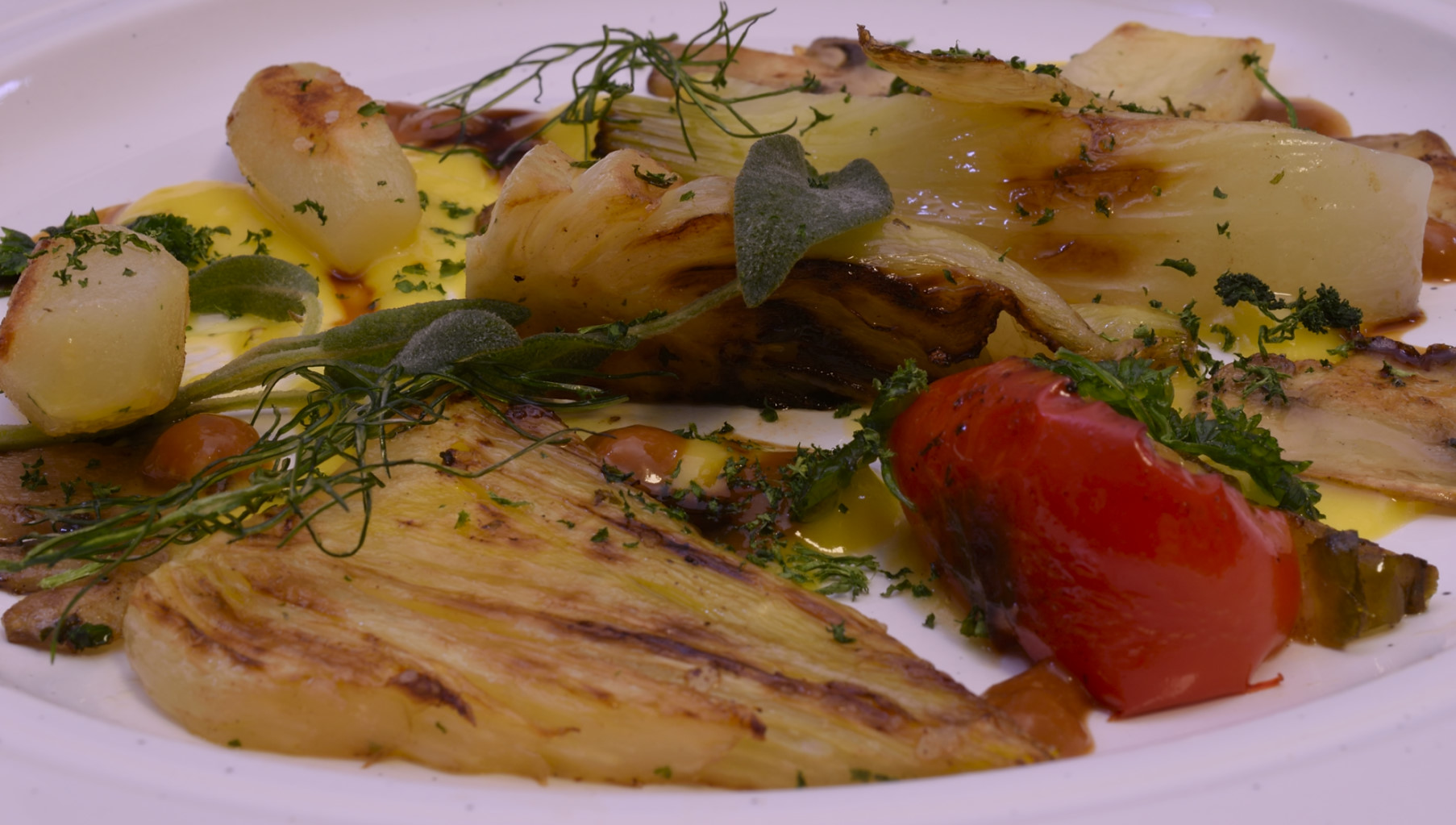 This is just one option–we'll do some more over the next few days. Meanwhile, you have something to ponder until it's time to play Scrabble.
Not to be remiss:
We posted a recent article in our FB group utilizing the wings that we had harvested from a whole turkey.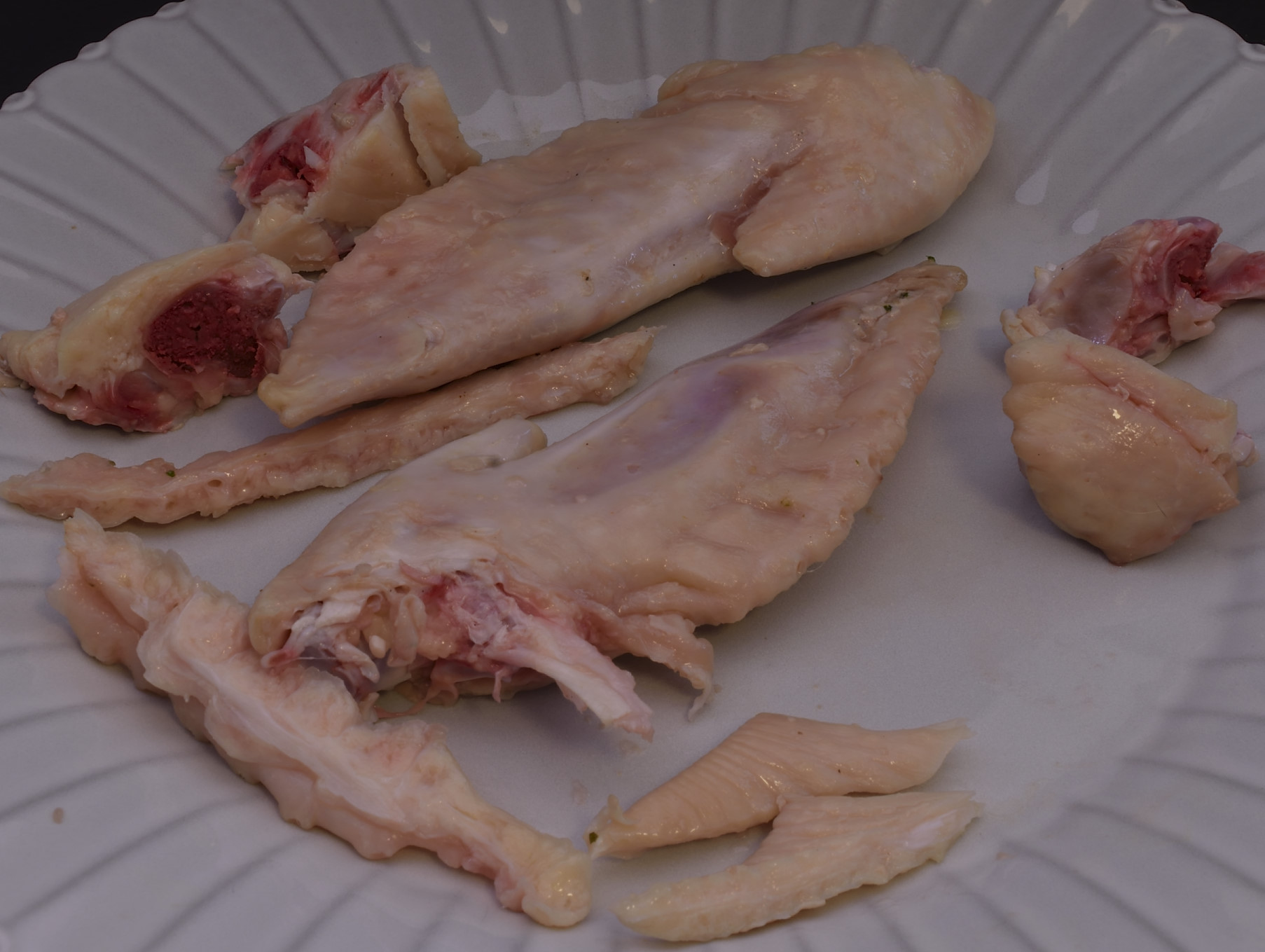 The points and joints of those wings will be used to create a hearty soup chock full of sous vide vegetables.
Preheat a 10″ skillet with straight sides to 250 F/121 C.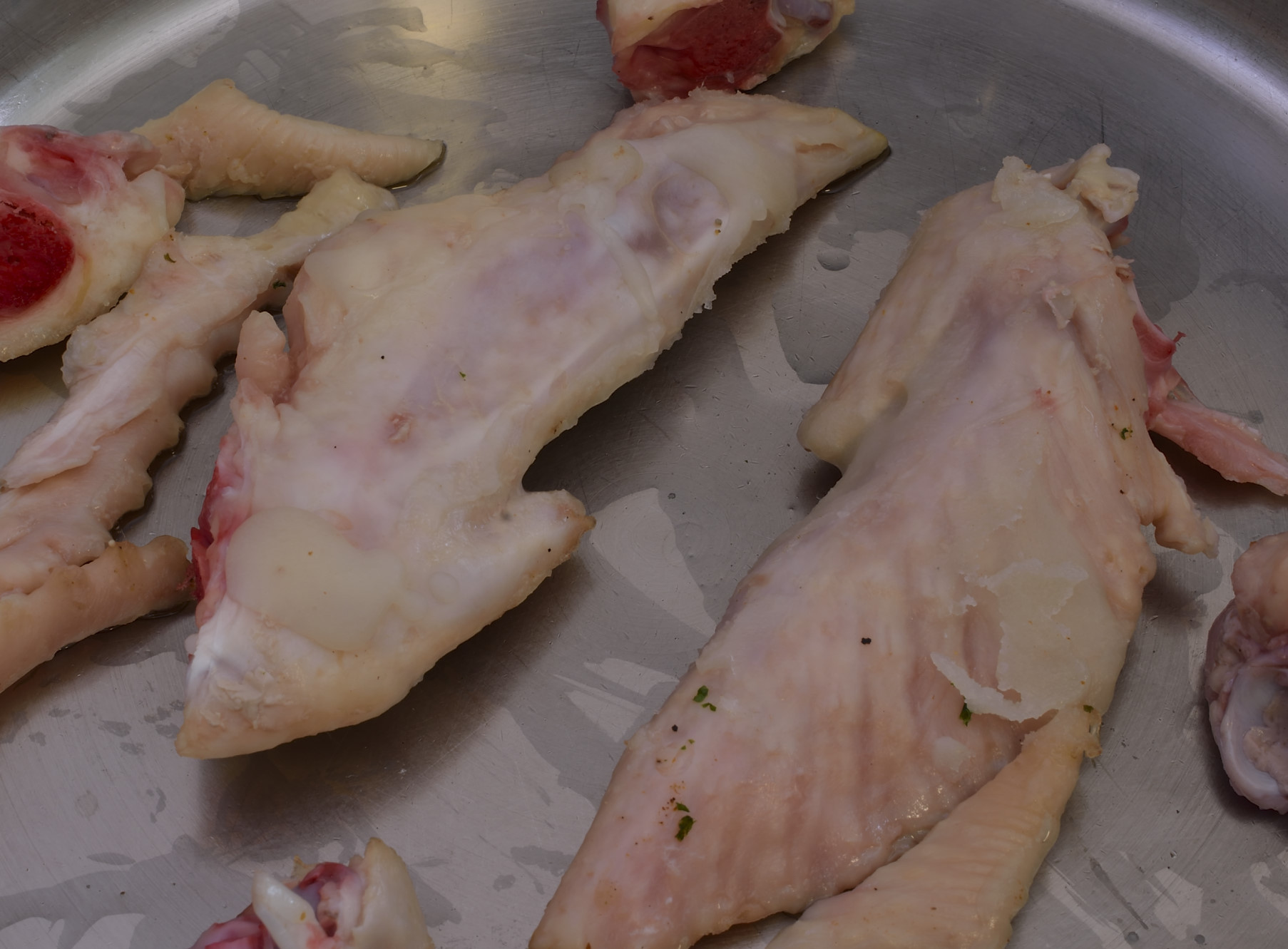 Add  a few drops of vegetable oil and the wings.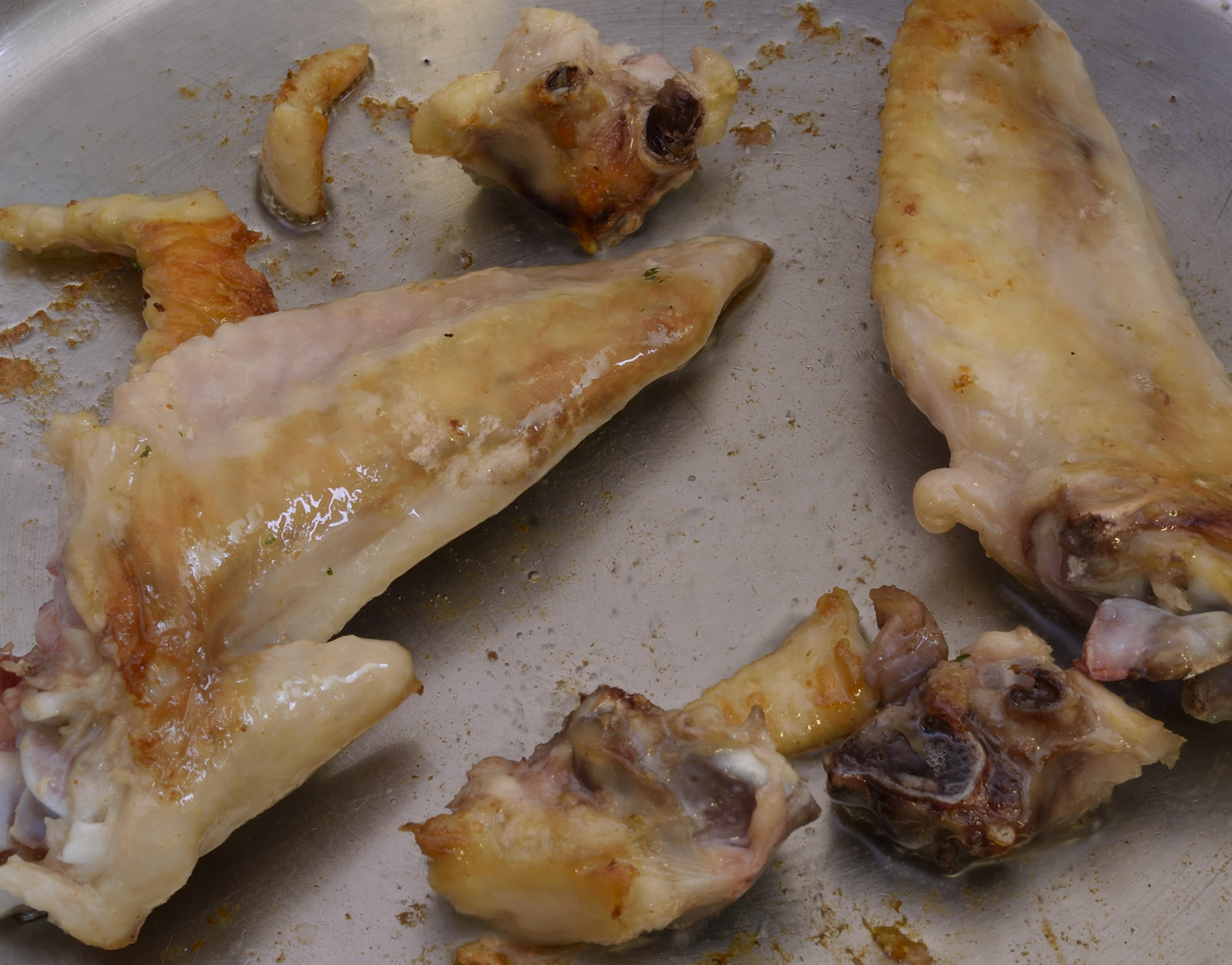 Brown on both sides.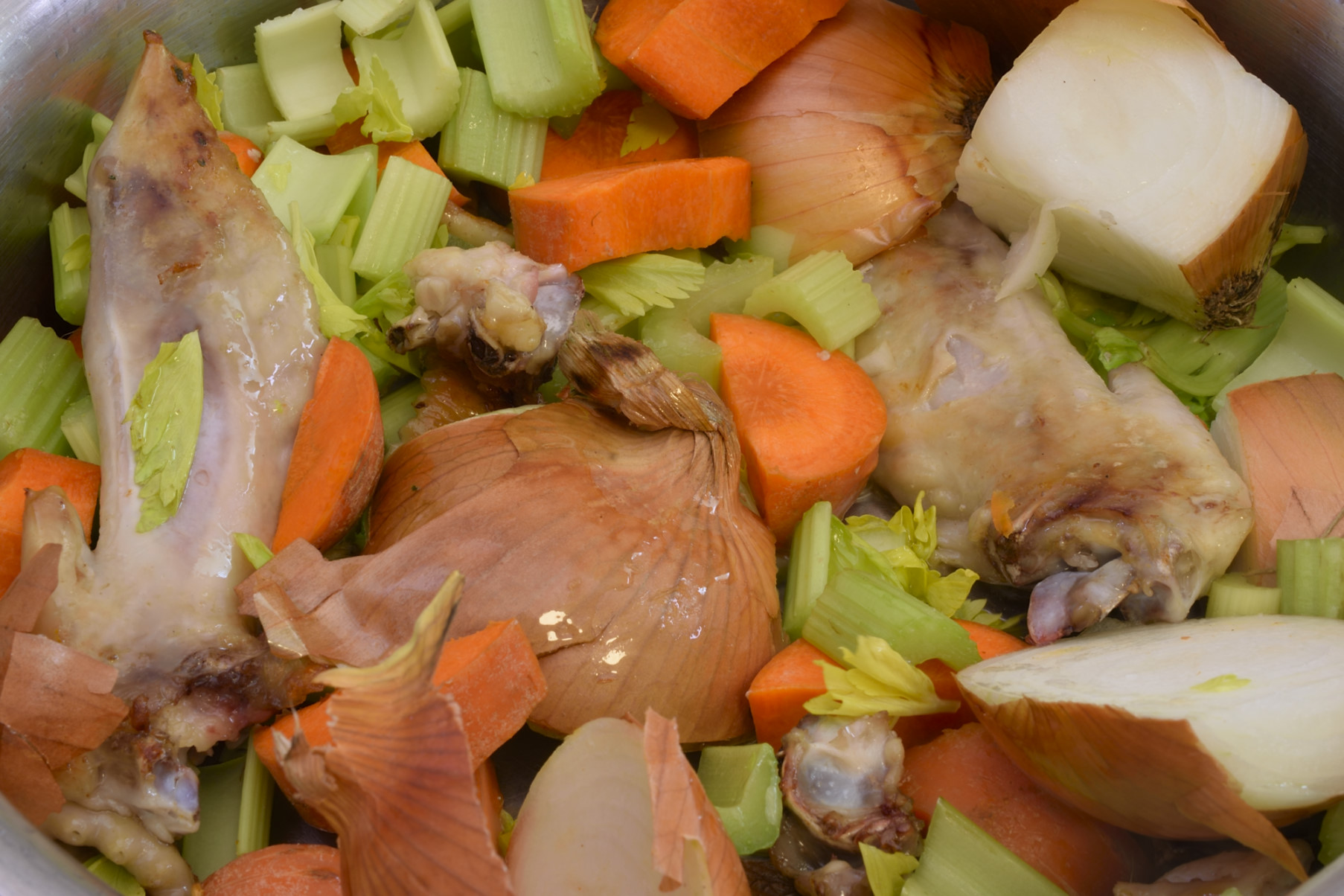 Add 1 carrot, four stalks of celery and one onion all coarsely cut.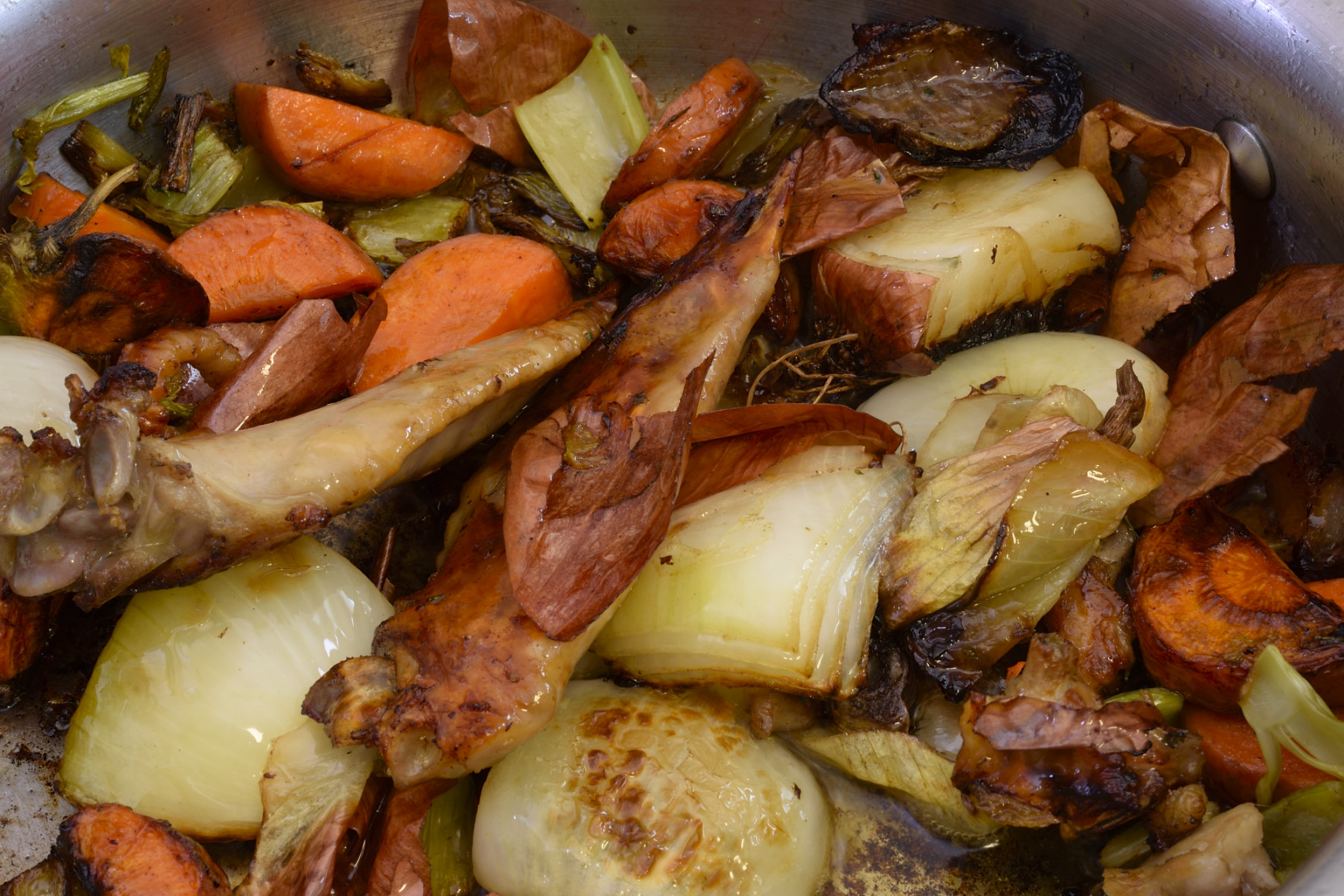 Continue browning.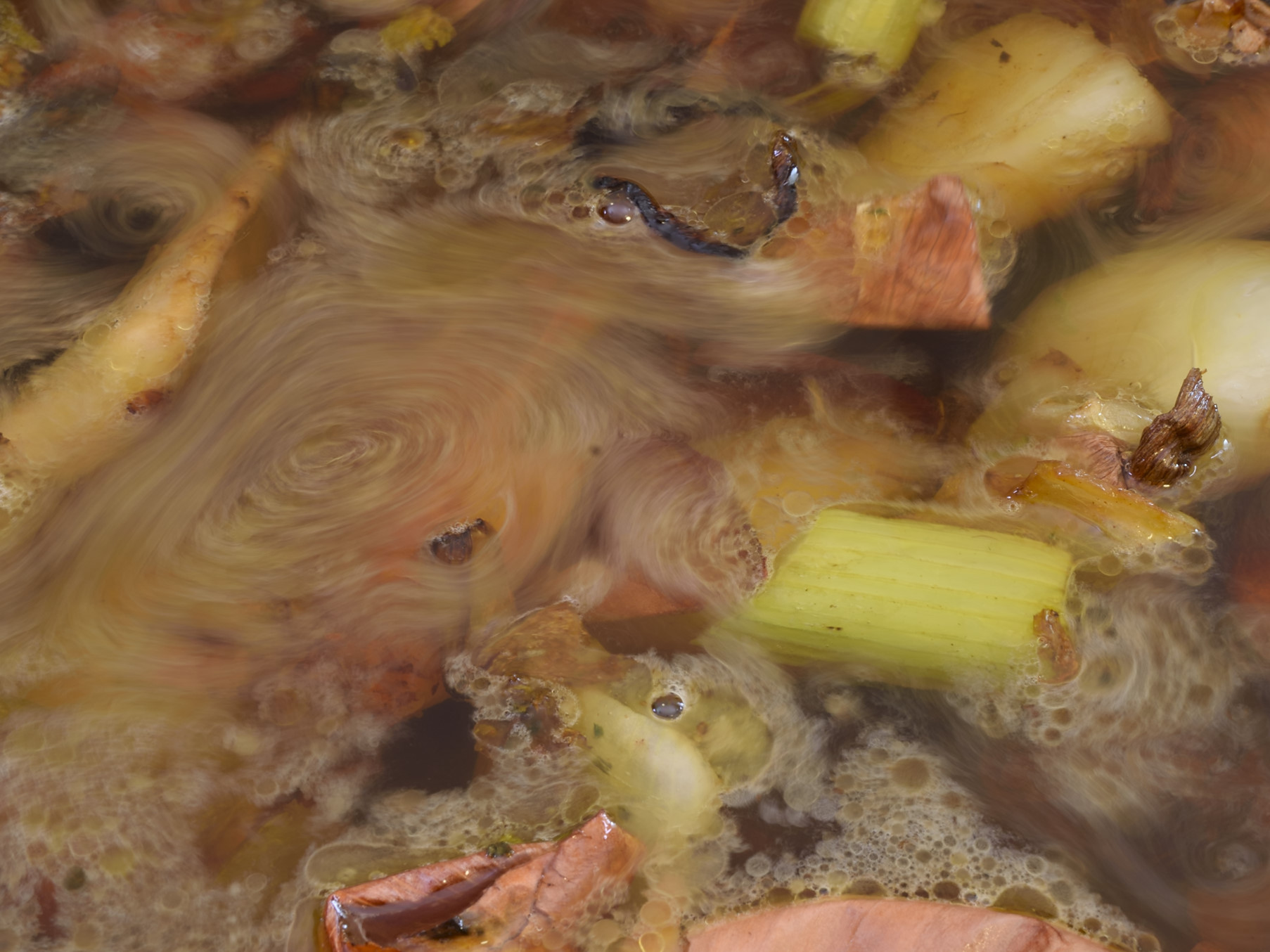 Add 2 quarts/2 liters water and return to boil.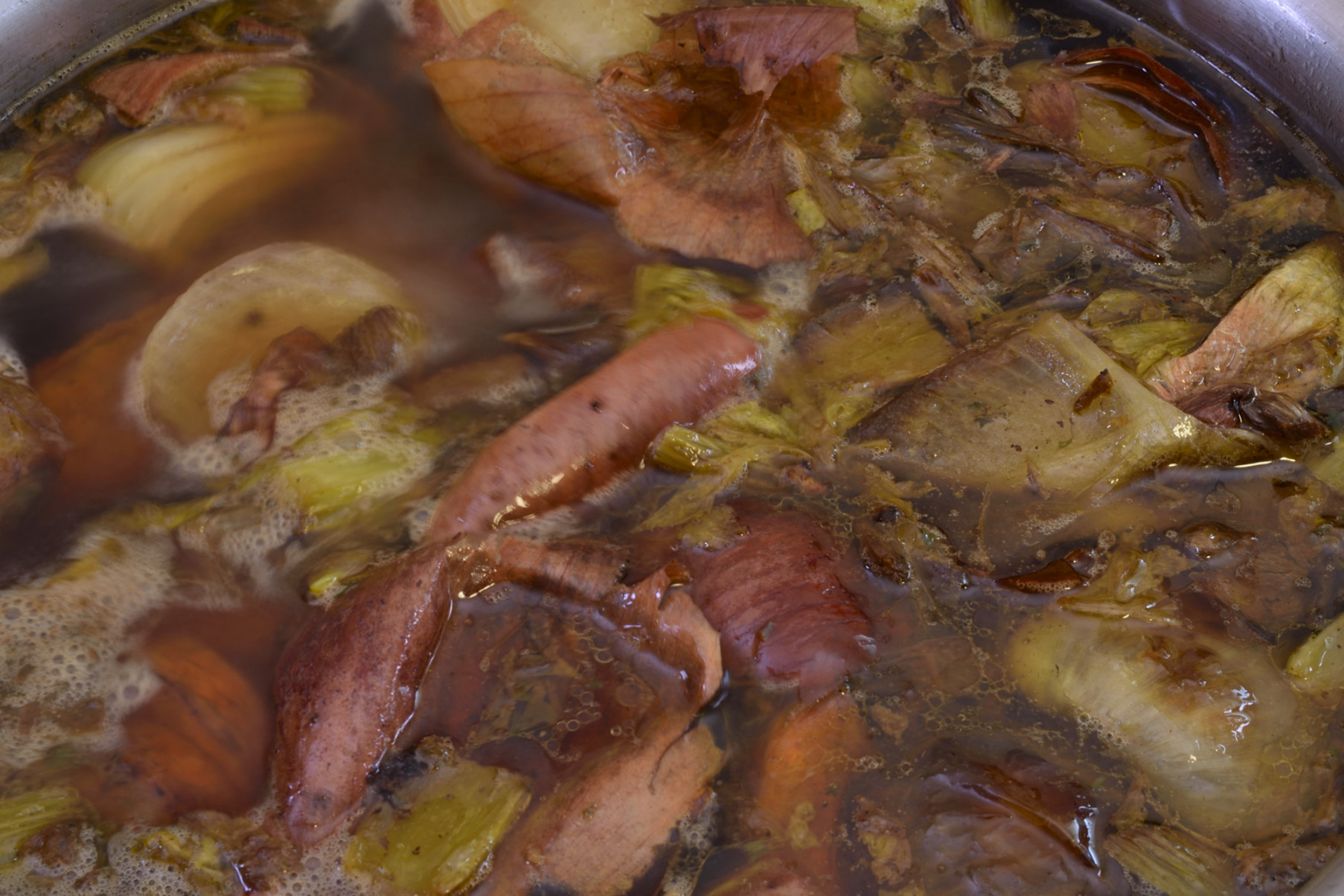 Simmer for two hours.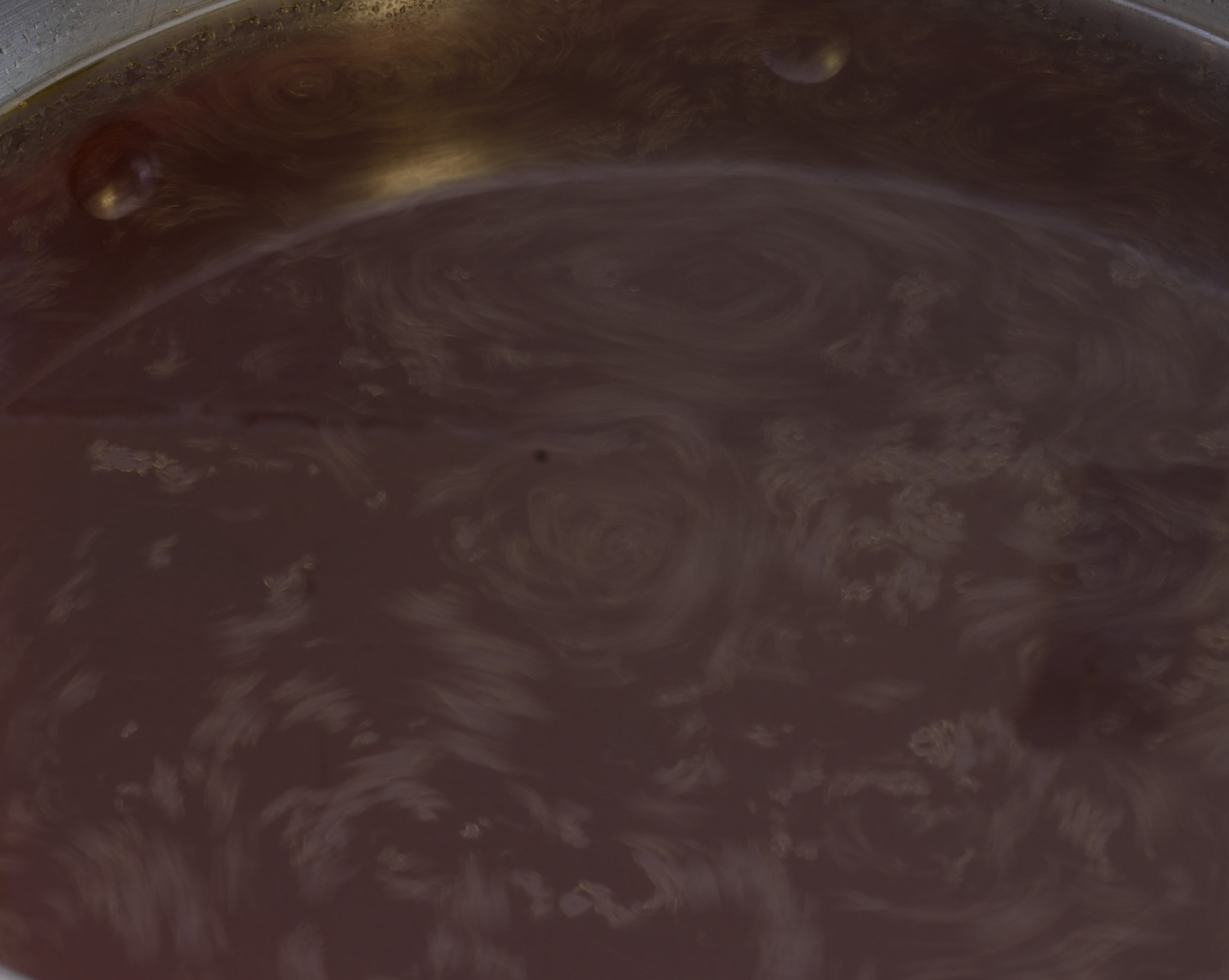 Strain through moistened paper towels as explained HERE. Return to boil. While you wait, assemble the following ingredients: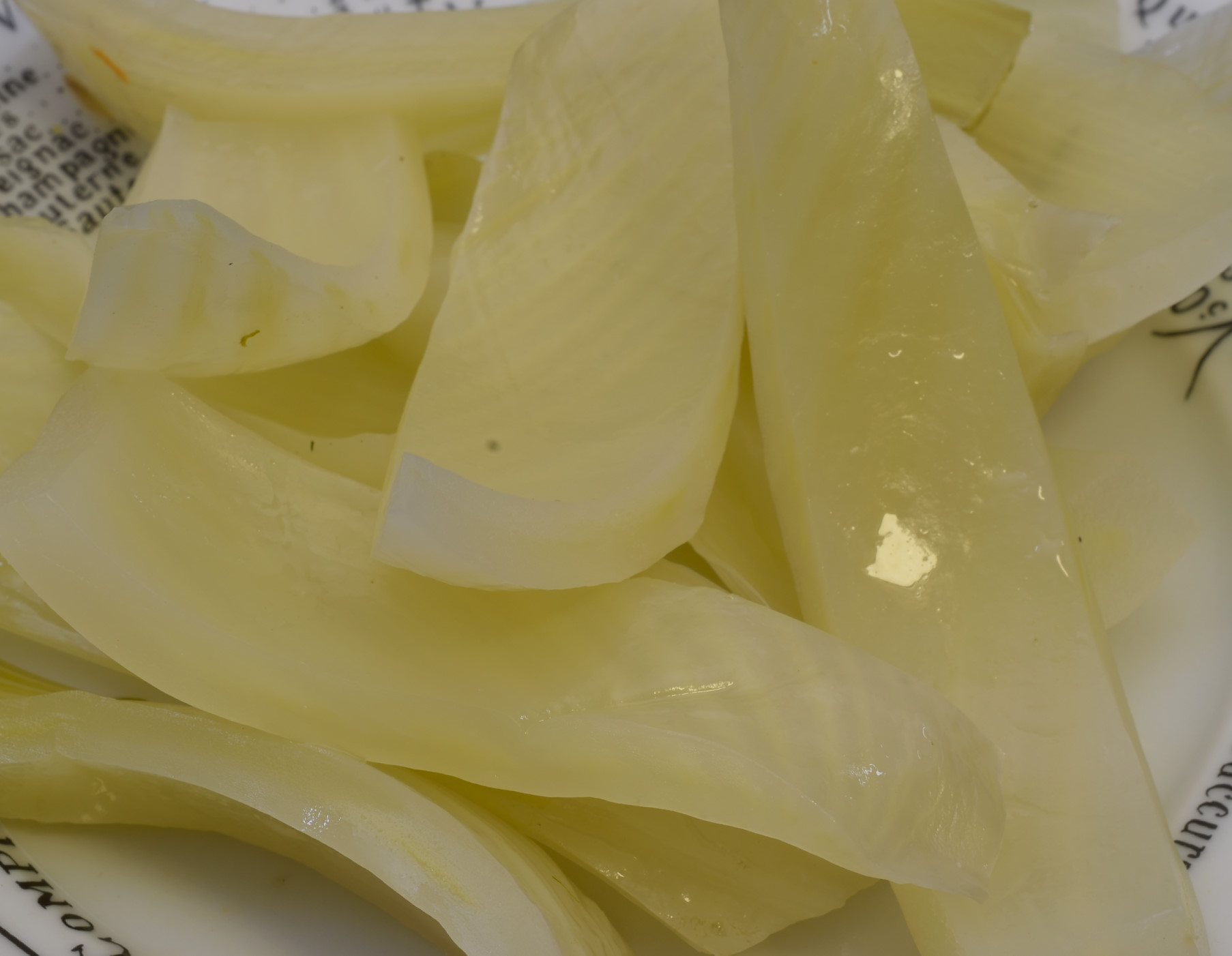 6 oz/180 g sv processed sweet anise, as outlined earlier in the article. Cut into medium dice.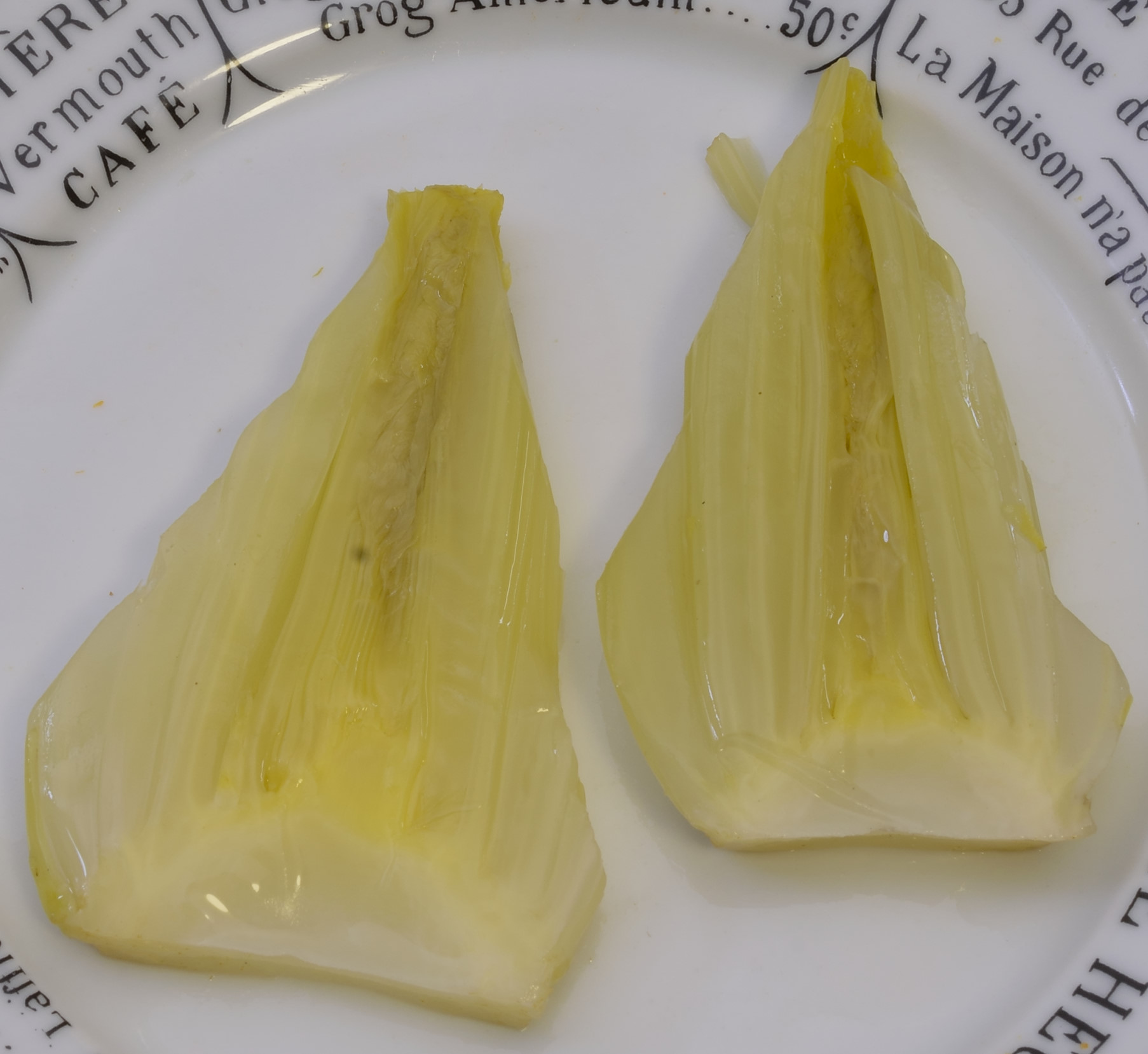 1-2 sv processed celery hearts, as outlined earlier in the article. Cut into medium dice.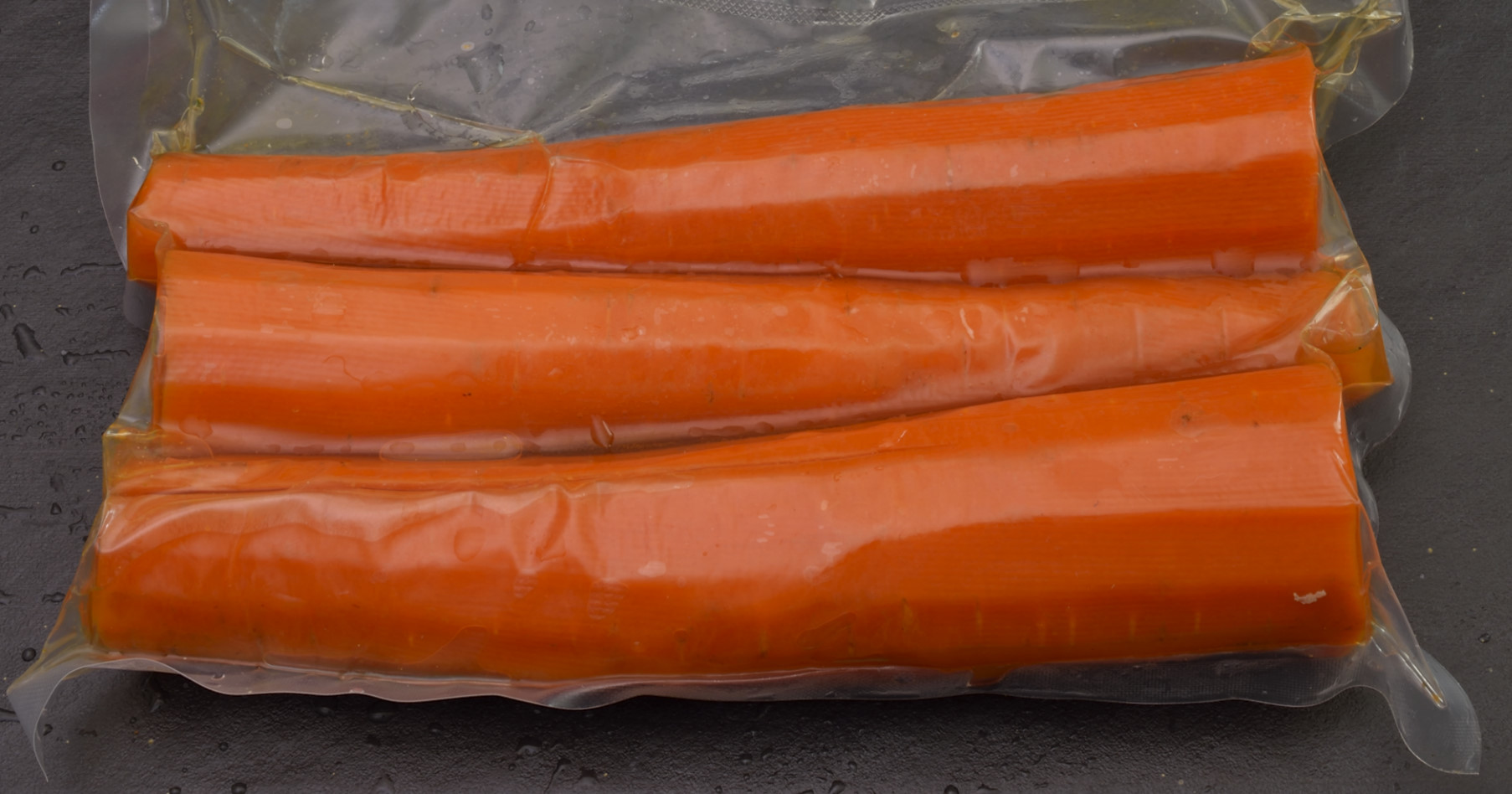 1 sv processed carrot, as outlined earlier in the article, cut into medium dice.
Canned Cannelini (white kidney) beans, or your choice, 1 16 oz can.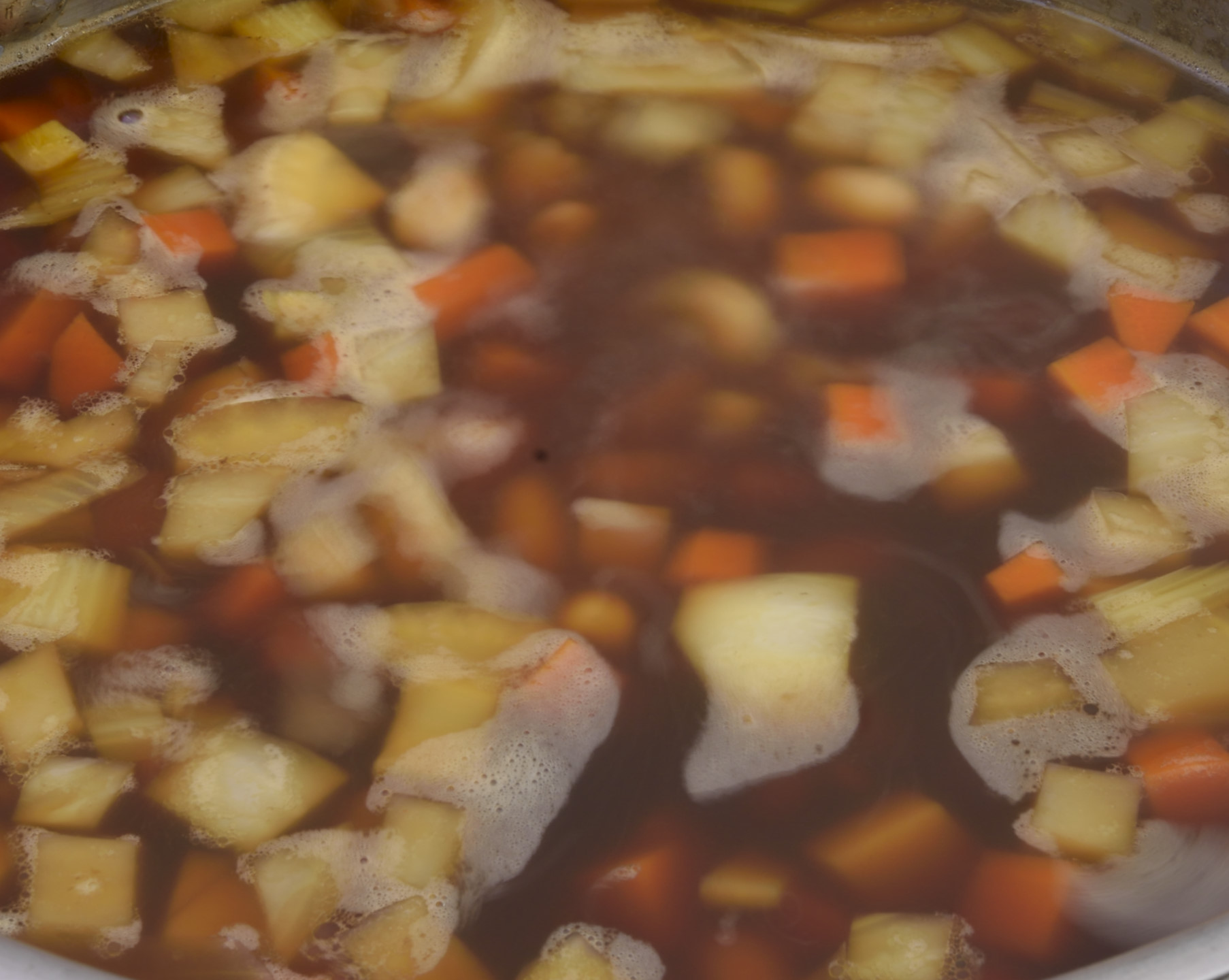 Add these ingredients to the boiling stock. Return to simmer–season liberally with salt and pepper.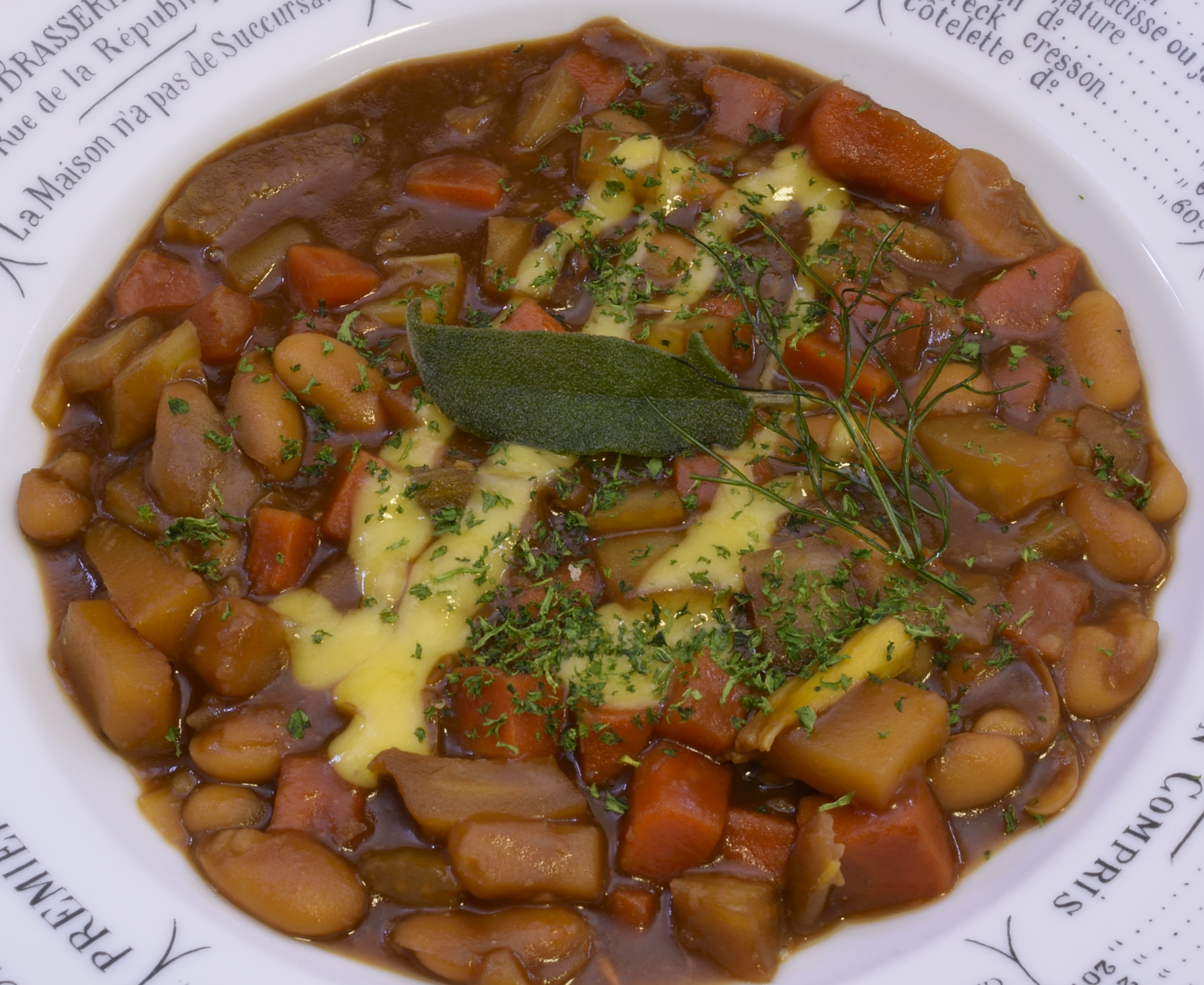 I add a little quarantine brown gravy to create thickness. As a convenience, THIS makes a good substitute.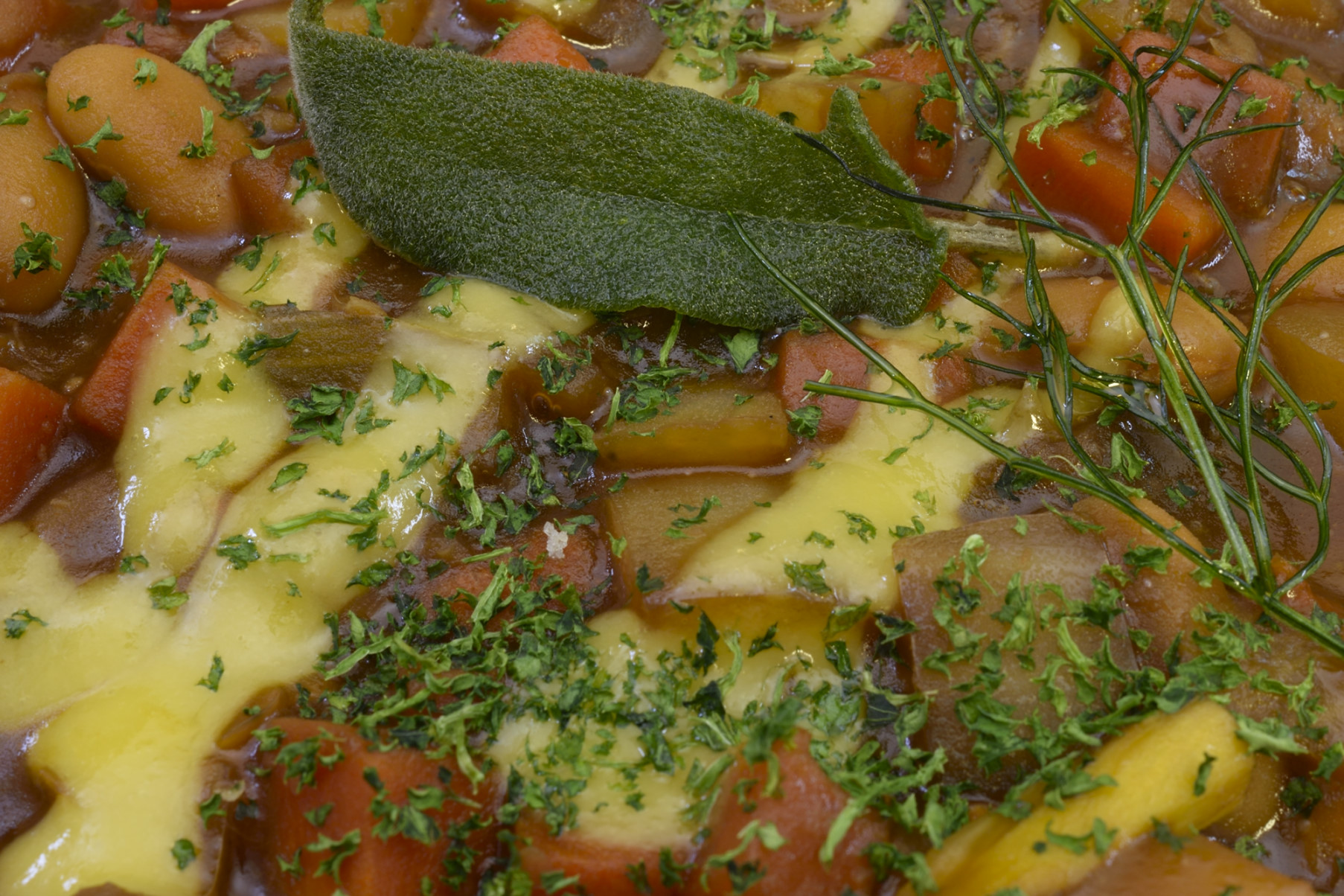 Drizzle with a little of the butternut/garlic aioli.
To see Part 1, Rack of Australian Lamb, click HERE
To see Part 2, Chicken Breasts, click HERE
To see Part 3A, Boneless Baby Back Ribs, click HERE
To see Part 3B, More Boneless Baby Back Ribs, click HERE