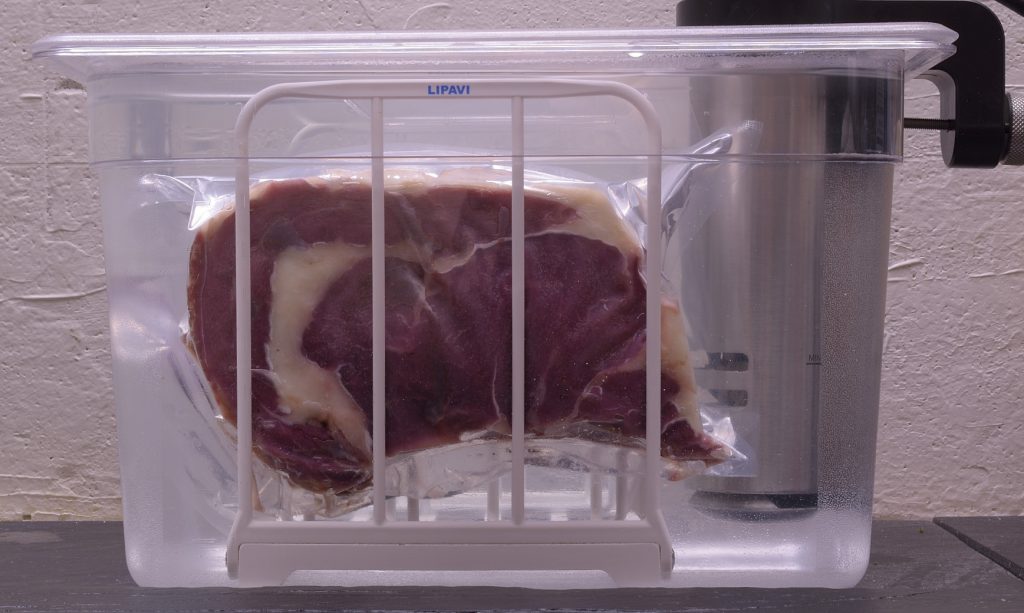 Tampering with perfection
There's a lot to love about beef rib eye. Whether served as the iconic Prime Rib Roast or as a hearty steak, bone-in or boneless, what's to improve? Bigger is better than smaller, that's true about any steak. Even so, when you've cooked as many rib eyes as I have over the years, you wonder if there might be some virtue in dreaming up something a little bit out-of-the-box.
Starting with an over-sized, 30 oz/850 g boneless center cut, it was our intention to break the steak/roast down into smaller portions. Regardless of the plan, we started out the same way we usually do. After preheating the bath to 127.5/53 C, we processed the ribeye for 8 hours. There is no real need to tenderize, but we wanted a pasteurized result so we could mitigate the risk of spoilage while simultaneously eliminating any pathogens present.
Stuff you'll need for the first recipe:
While we waited for the steak/roast to process, we took an inventory of ingredients that we had on hand. For the first variation, we gathered together:
powdered egg whites, a good thing to keep around.
seasoning blend, I've been using one I made with salt, star anise, black cardamom, sweet paprika, hot paprika, and dried parsley (I usually make my own). Any preferred seasoning will work, even just good old salt and pepper.
bacon, also a good thing to keep around. We partially cooked a couple of pieces to render out some fat and make them easier to handle. This can be done in the oven or in a pan. I did mine in the microwave on a plate lined with a paper towel. Takes less than a minute. There is no shame in microwave ovens. If you skip this step, your steak will be well done before the bacon is crisp, so there's that.
demi-glace, another thing I try to keep around. Not everybody spends all day in the kitchen like I do, so don't hesitate to use one of the dried versions. I like Knorr.
Butter, cold. I'm not going to tell you to throw out your margarine, but it will never appear in any of our recipes. Even the health benefits have been debunked.
Parsley, fresh chopped. Always. I would rather the parsley in the refrigerator go bad than run the risk of running out.
Version #1–Rib Eye Roulade/Tournedo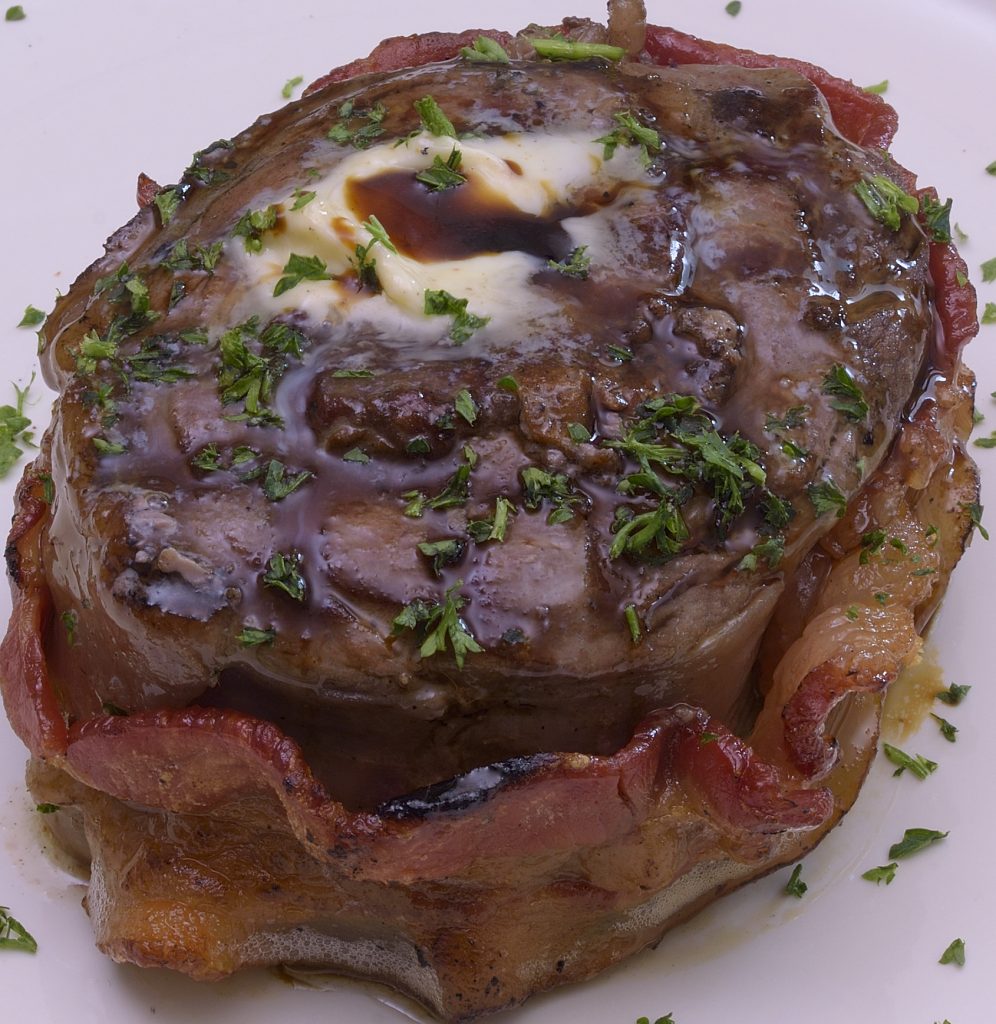 Get the party started
After processing as prescribed above, remove the package from the bath. Harvest the juices and process them as explained here. Refrigerate for future applications. Pat the steak dry with a paper towel.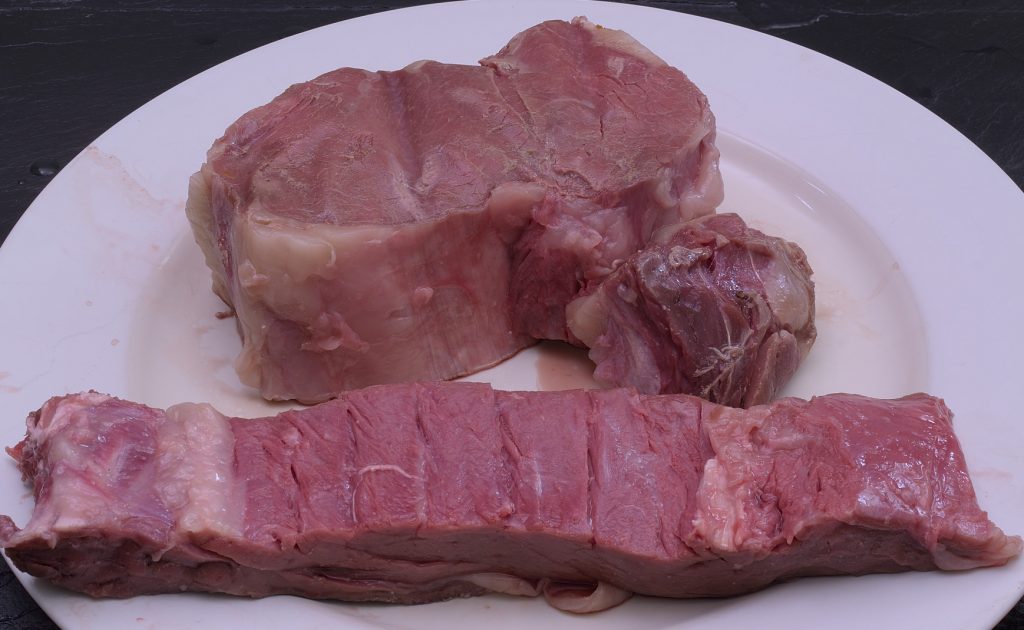 Remove the "cap" muscle (spinalis dorsi) from the rest of the steak. Remove the "tender tendons" that line the inside of it and any extra fat as desired. Better to leave a little fat on the meat than to leave meat on the fat. Refrigerate the remaining oval shaped piece (longissimus) at 40 F/40 C for the next exercise. That little tail piece gets grilled and becomes a snack for the cook.

Dust both sides with powdered egg white.

Moisten with a few drops of water to create the sticky surface. I use a spray bottle. Very handy to have around. Make sure you label it so you don't use window cleaner or white vinegar by mistake.

Sprinkle with seasonings.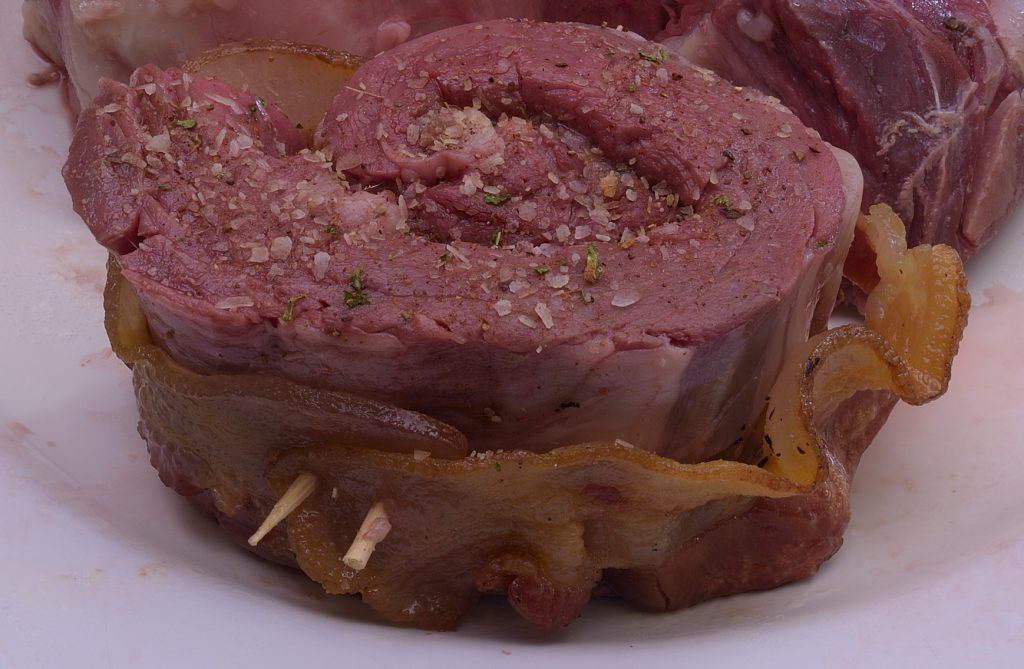 Roll up the strip and use two pieces of bacon to wrap. Insert the two pics parallel to each other, I'll explain why in a minute or two.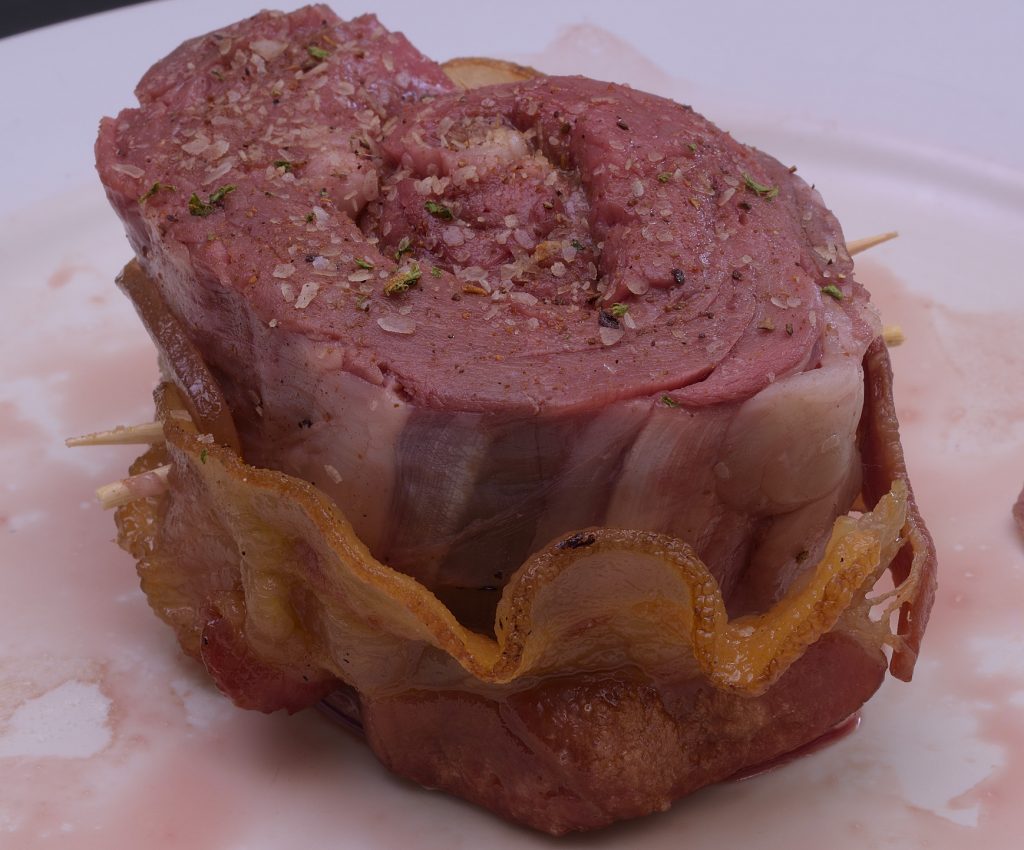 Don't worry if the bacon seems a little loose–it will tighten up during the searing process.
Make it hot
Preheat a cast iron broiler pan or skillet (or direct heat BBQ) to 375 F/176 C. Use a paper towel to rub a little oil on and then off of the grates. Sear the steak for approximately a minute on each side. I rotate 90 degrees after the first thirty seconds to get grill marks.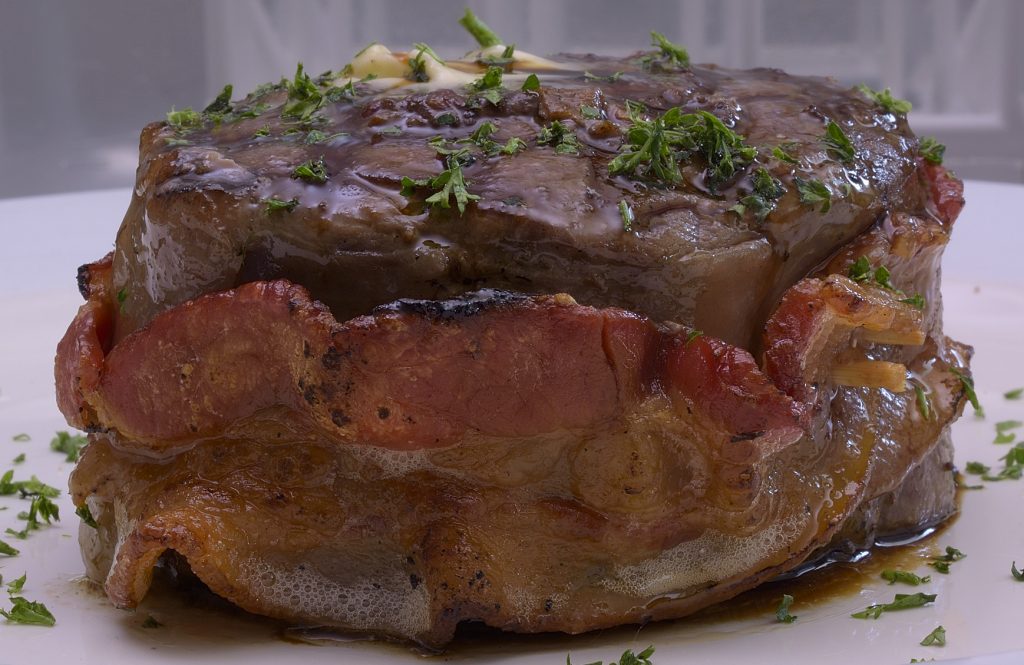 Lay the steak on its sides in the pan to finish crisping the skin–you can also use a propane torch to touch it up.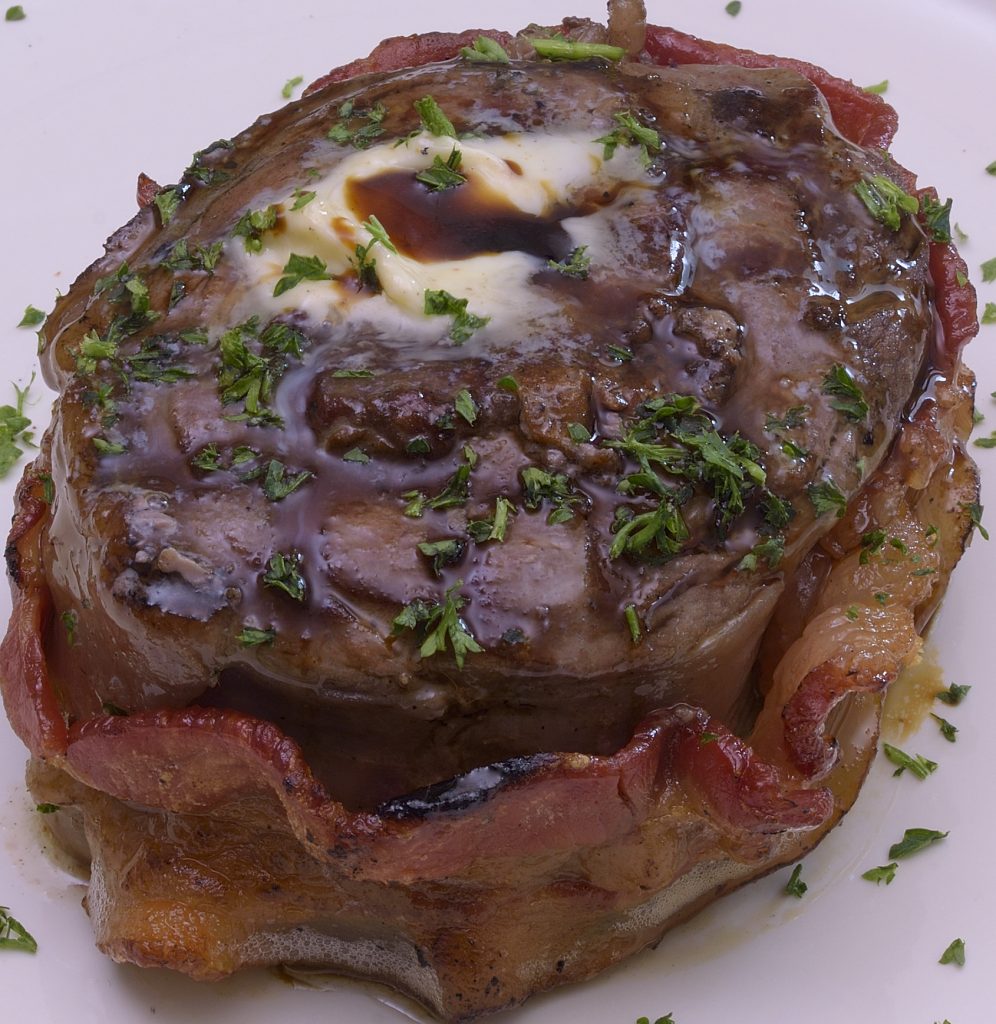 Yes, sprinkle lightly with chopped parsley.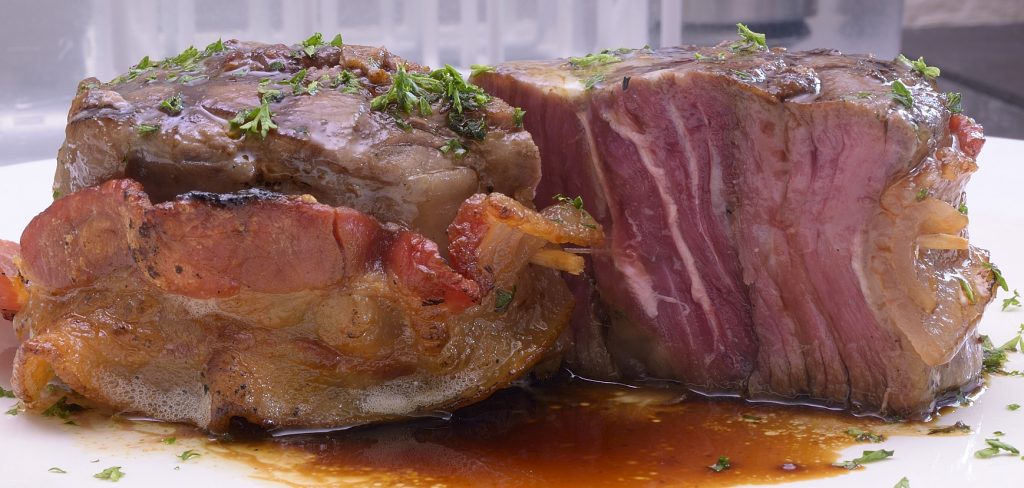 I cut the tournedo in half between the picks. This keeps the bacon in place long enough to take a picture. After that, we're on our own.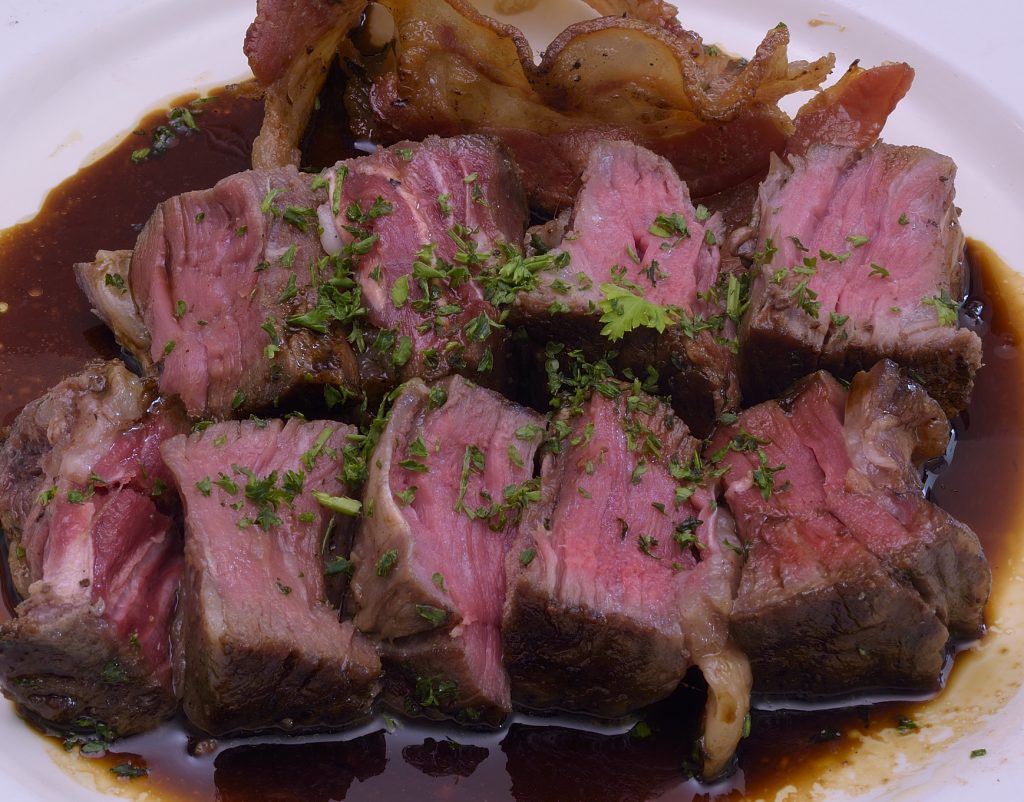 We all have cell-phone cameras now–I advocate getting in the habit of snapping pics along the way. It's a sort of reverse selfie. You don't have to show them to anybody.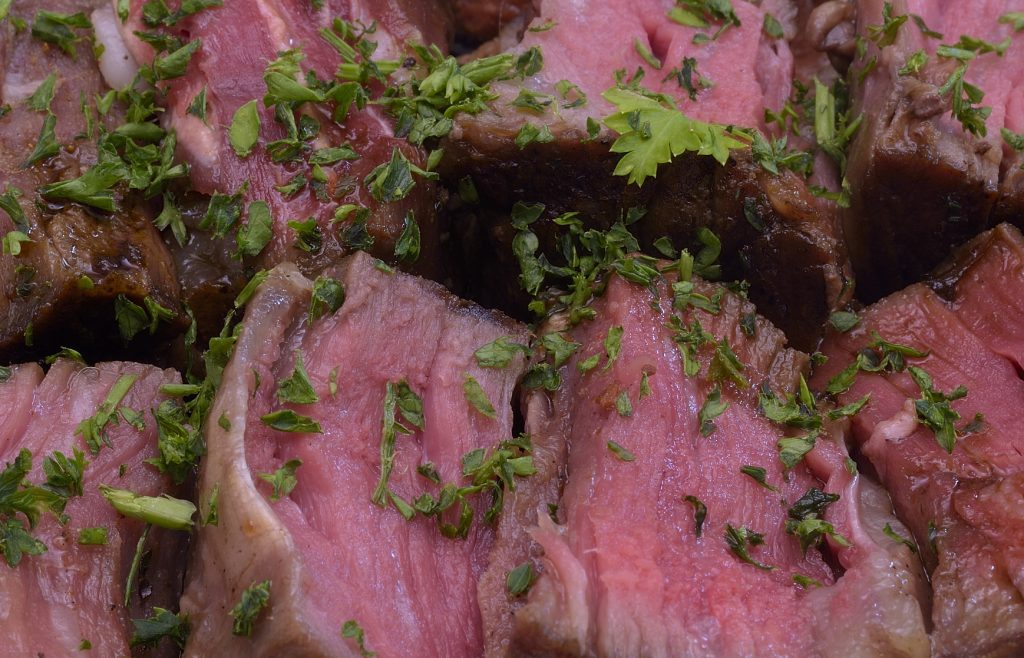 You may surprise yourself and WANT to share them with somebody. They help to jog memory. You can always delete them later. Click below to go to the next page.