Authenticists need not apply
Food is like politics:
It is easy to get people to argue about it.
Regardless of the position taken, most people have no idea what they are talking about.
In most cases, the outcome doesn't even matter.
Everything from what goes into a "real" club sandwich to what does NOT go into an "authentic" Marinara sauce has been, is, and will forever be debated with great enthusiasm and no resolution. Who can define "real"? And so it is with Beef Stroganoff. Is it a stew? Is it a sauté? What color is it supposed to be? There are more versions of Beef Stroganoff than there are theories about the origin of the universe. Even the spelling is in question. Each era, each demographic INSISTS that their version is the scripturally correct one. On that note, we will suspend the discussion.
I do not claim that this version is pure or authentic. I do not claim that it is French, Russian or Hungarian, although I have heard people argue that too. This is the version that I was stridently taught (as being authentic) by a Swiss German chef who owned a French restaurant in California. As we got to know each other better, he admitted that this version was not really authentic either. He conspiratorially whispered to me that not only did the original version NOT have sour cream, but that it had pickles and capers in it, of all things. There's a debate right there. He also thought that sour cream was just about the most disgusting thing ever created and he would commonly gag a little just from the smell as he introduced it into the sauce.
The sauce
45 years ago, certain restaurants offered an all inclusive meal with multiple courses. This place I worked served prosciutto with melon to EVERYBODY. Everybody got potato leek soup and everybody got a green salad. Coffee was free. The English/Italian/French menu was otherwise limited. Filet mignon, tournedoes, New York, beef Stroganoff, veal ala Parmigiana, veal scallopini, sweetbreads, curried scampi, coq au vin, duck a l'orange, sole amandine, and salmon with Hollandaise (in season). I can still remember just about every detail to this day; I can still recite the daily prep schedule without hesitation. It's like running my finger over an old scar. We made espagnole/brown sauce every day, and it was utilized in one way or another in seven of the listed items, Stroganoff among them.
We butchered whole beef tenderloins and veal rib eyes, which provided enough trim to make the brown sauce. We sold a LOT of filets, and cut the tail pieces into strips for Stroganoff. We sold so much that we had to cut up whole tenderloins to keep up with sales. We kept this a secret from the chef in dread of his reaction. He was a real monster. In retrospect, if he had known, he would have just raised the price of the Stroganoff–that's what you do. Even so, there was no way we were going to be the ones to tell him that he needed to raise prices. That would have been like committing suicide and surviving so that you could be reminded how stupid you were to open your mouth in the first place.
The good news is you don't really HAVE to use tenderloin trim to make this brown sauce. Beef bones from the butcher don't have any meat left on them any more, but they charge you as if they did. Don't bother. You can use ground beef or chicken bones, etc. Whatever you use has to have some fat on it. I used pork belly because that's what I had.
Serves 2-3
Level of difficulty 3
Beef Stroganoff ingredients:
Sous vide processed TOP ROUND, as per the method described in the linked article, 12 oz/350 g, cut into 8 or 9 strips, approximately 1 oz+/30 g+ (see below).
Vegetable oil, 1 oz/30 g.
Hungarian paprika (or Spanish paprika as per availability).
Green onions/scallions, sliced thin, 4 each.
Mushrooms, sliced or quartered, 4 oz/120 g.
Garlic powder, 1 teaspoon.
Chopped parsley, as needed.
Sour cream, 2 oz/60 g.
Noodles. I make my own, but that is not necessary. Even rice is fine. Approximately 4 oz/120 g DRY.
Butter, 1 oz/30 g.
Salt, a pinch.
Sauce Ingredients:
Pork belly, sv processed @135 F/58 C X 24 hours, 6 oz/175 g. Note: see our articles on Whole Top Sirloin and/or Whole Top Round for how to create your own beef trimmings to make espagnole/brown sauce/demi-glace.
Carrots, unpeeled and cut coarsely, 4 oz/120 g.
Celery, cut coarsely, 4 oz/120 g.
Onions, 1 each, cut coarsely, approximately 8 oz/225 g.
Tomato paste, 2 oz/60 g.
Water/unseasoned Sous Jus, 1 quart/1 liter.
Corn starch, 1 teaspoon, OPTIONAL.
Procedure: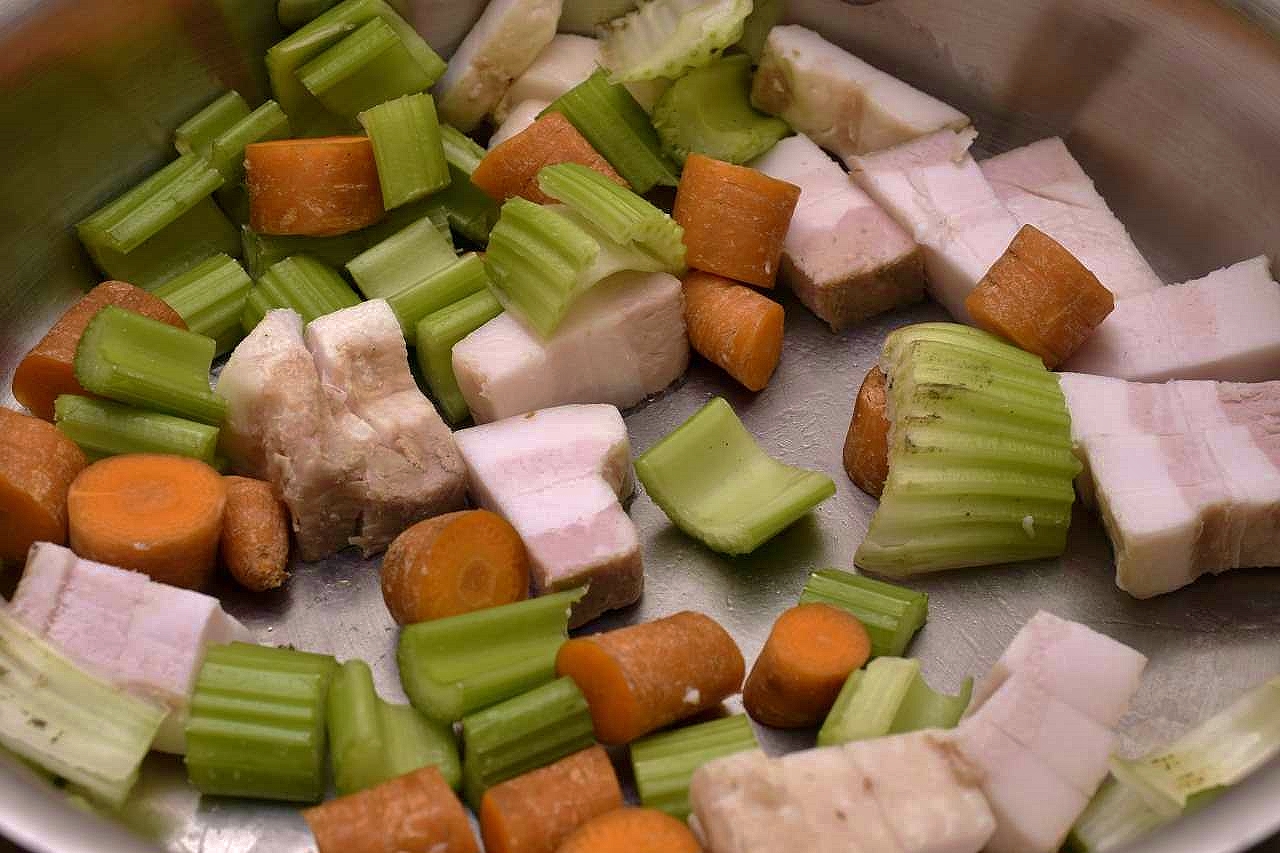 Set the stove burner on "medium high" (approximately 1200 W). Add the pork belly, carrots, and celery (NOT THE ONIONS) to a large skillet.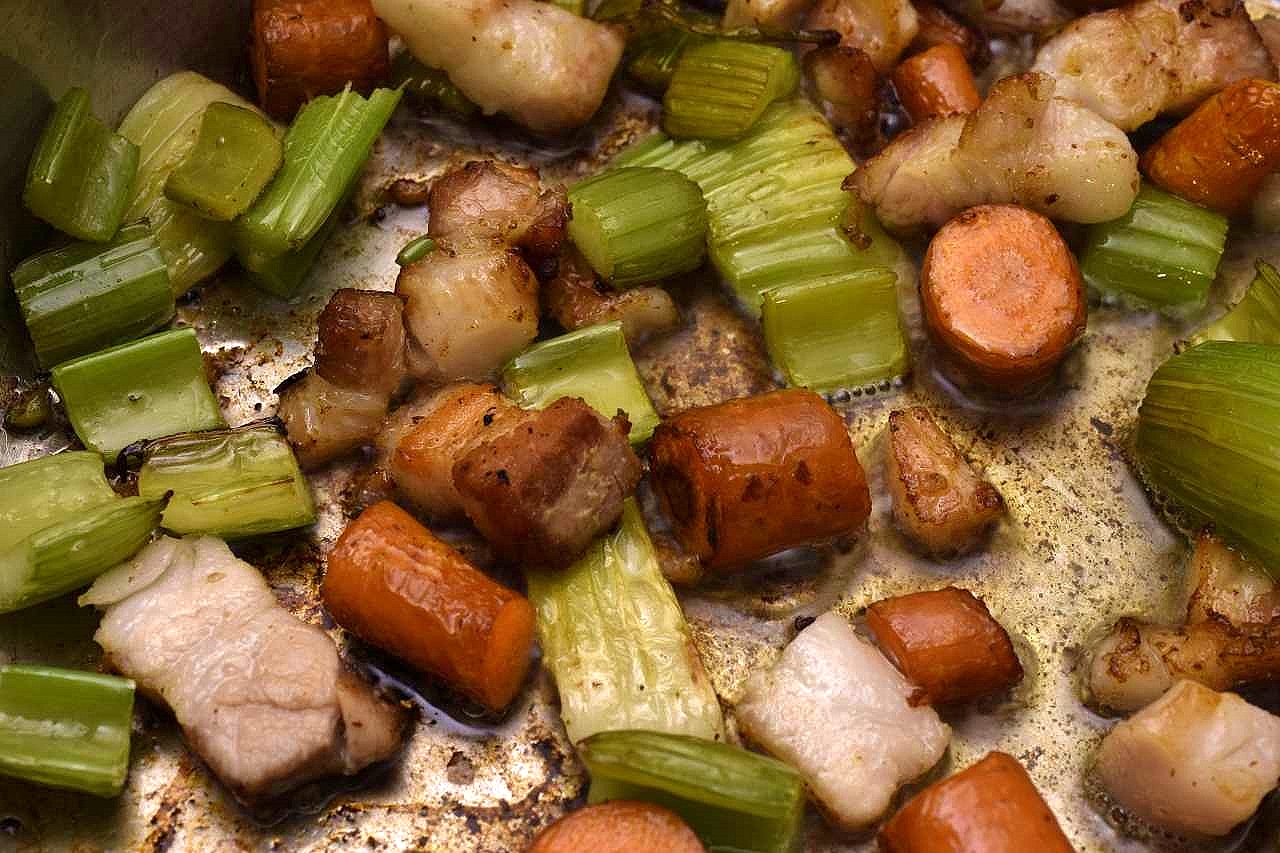 Fry until brown. The pork belly should be quite crisp. Do not stir excessively–anxiety-driven stirring cools the pan and delays the process. As the fat from the pork belly melts, the vegetables will brown. This is NOT sauteeing. This is FRYING. That's why they call it Sofrito. Allow at least one half hour for this process.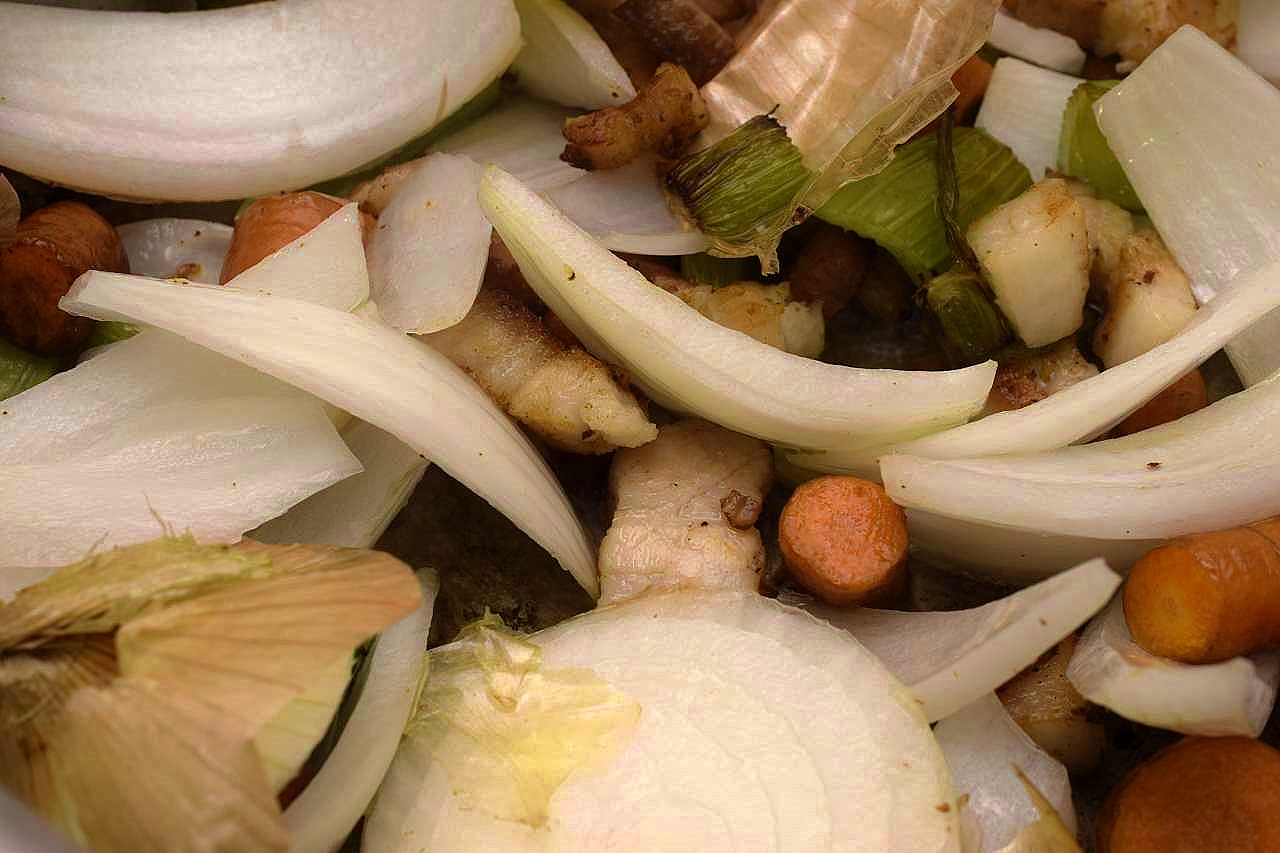 Add the onion and continue frying.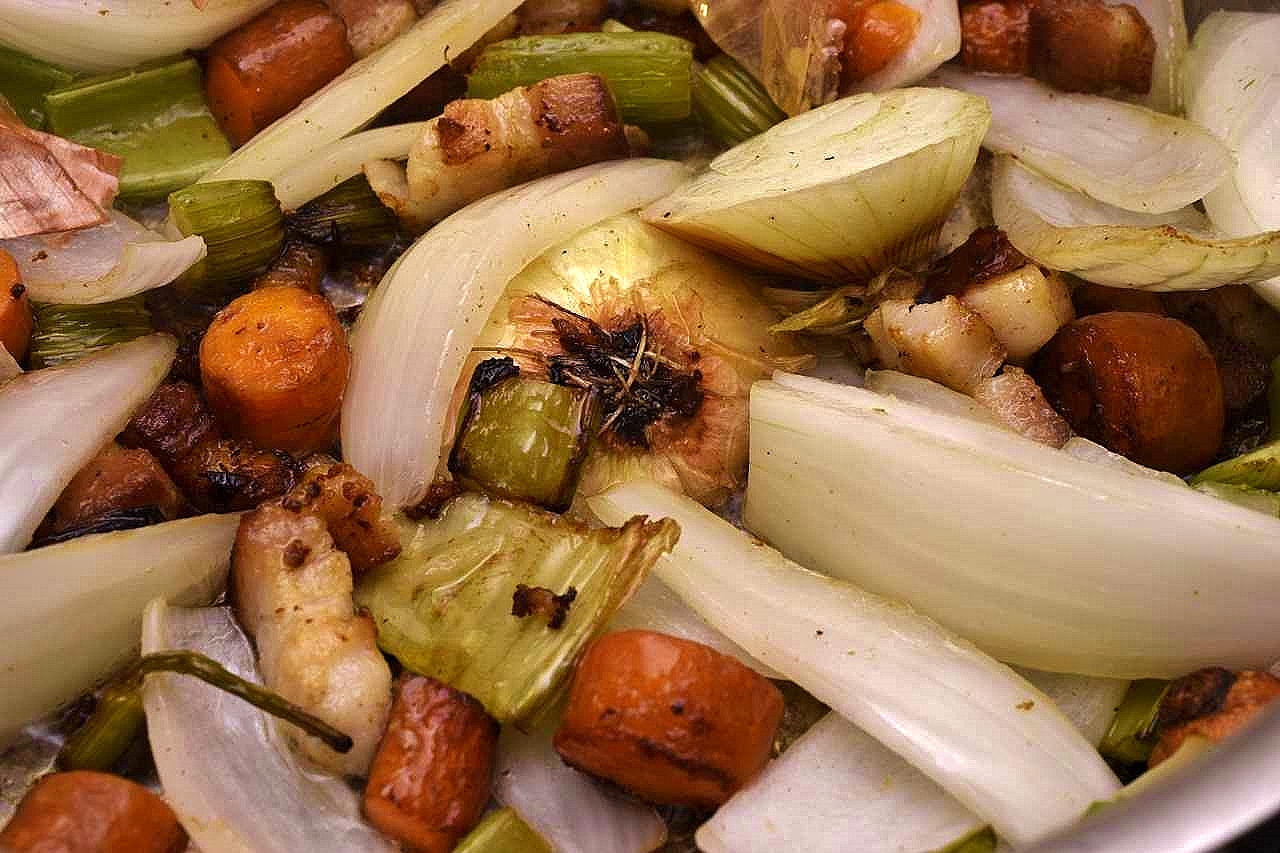 You can see that the celery and carrots have stopped browning, because of the moisture that the onion brings.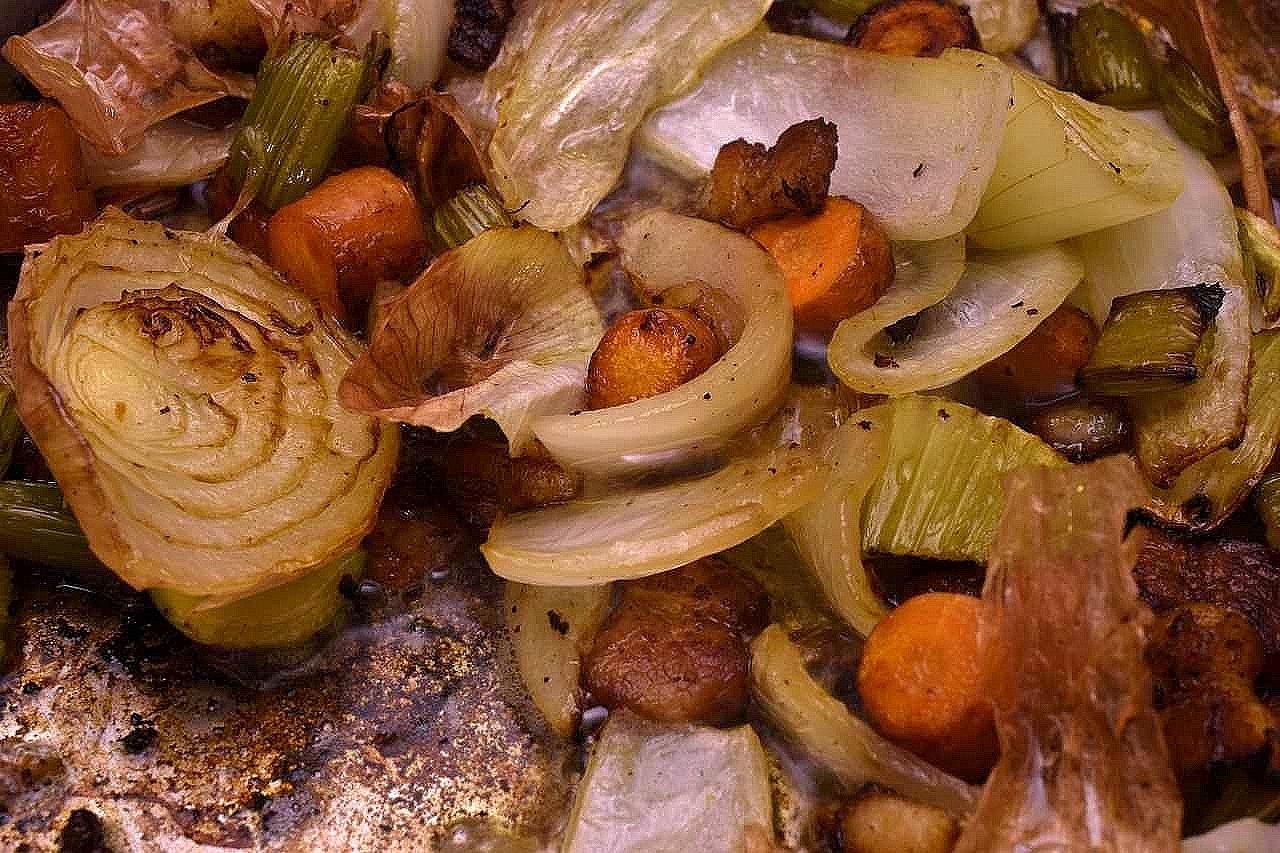 Continue browning. All the vegetables should be fully denatured, even though no water has been added. This process usually takes another half hour. That's one hour total so far.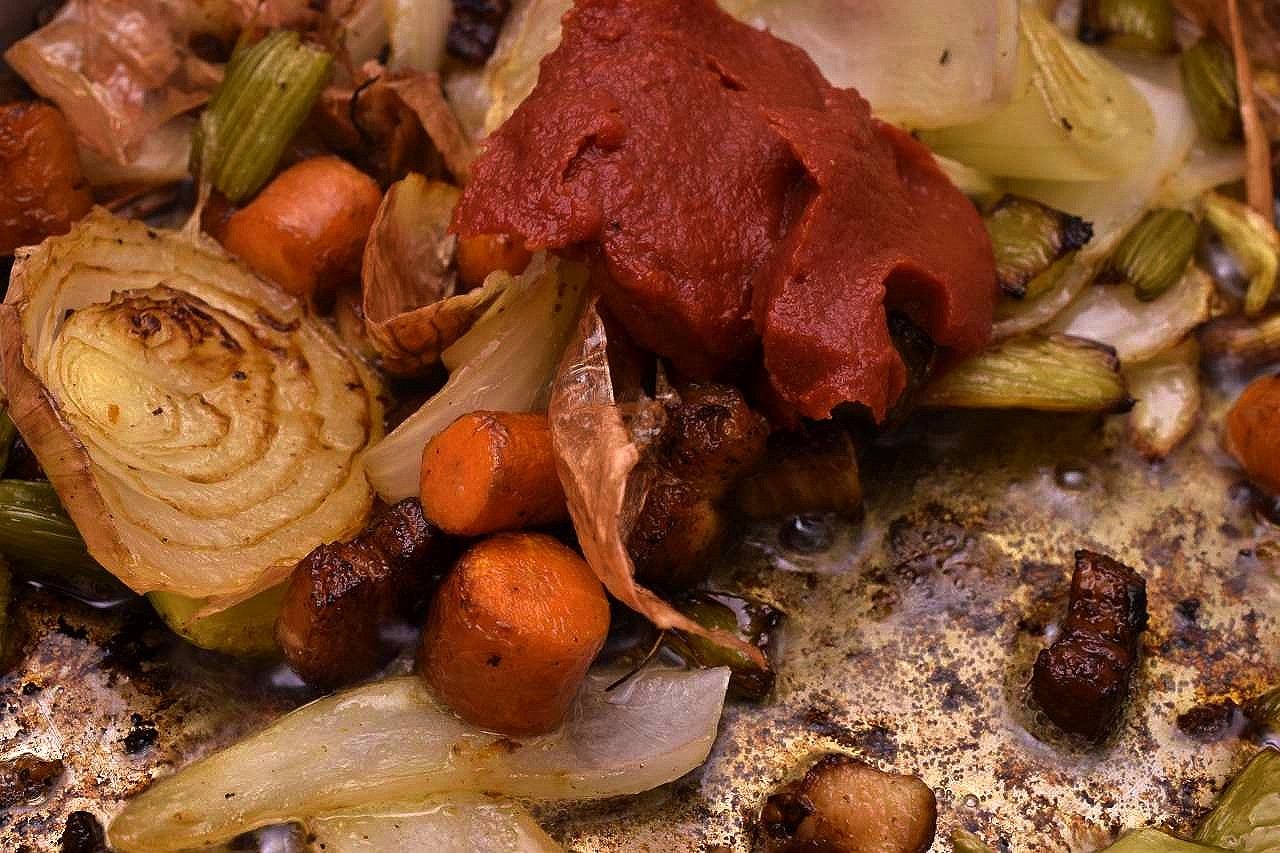 Add the tomato paste and stir with a wooden spoon until  the vegetables are coated.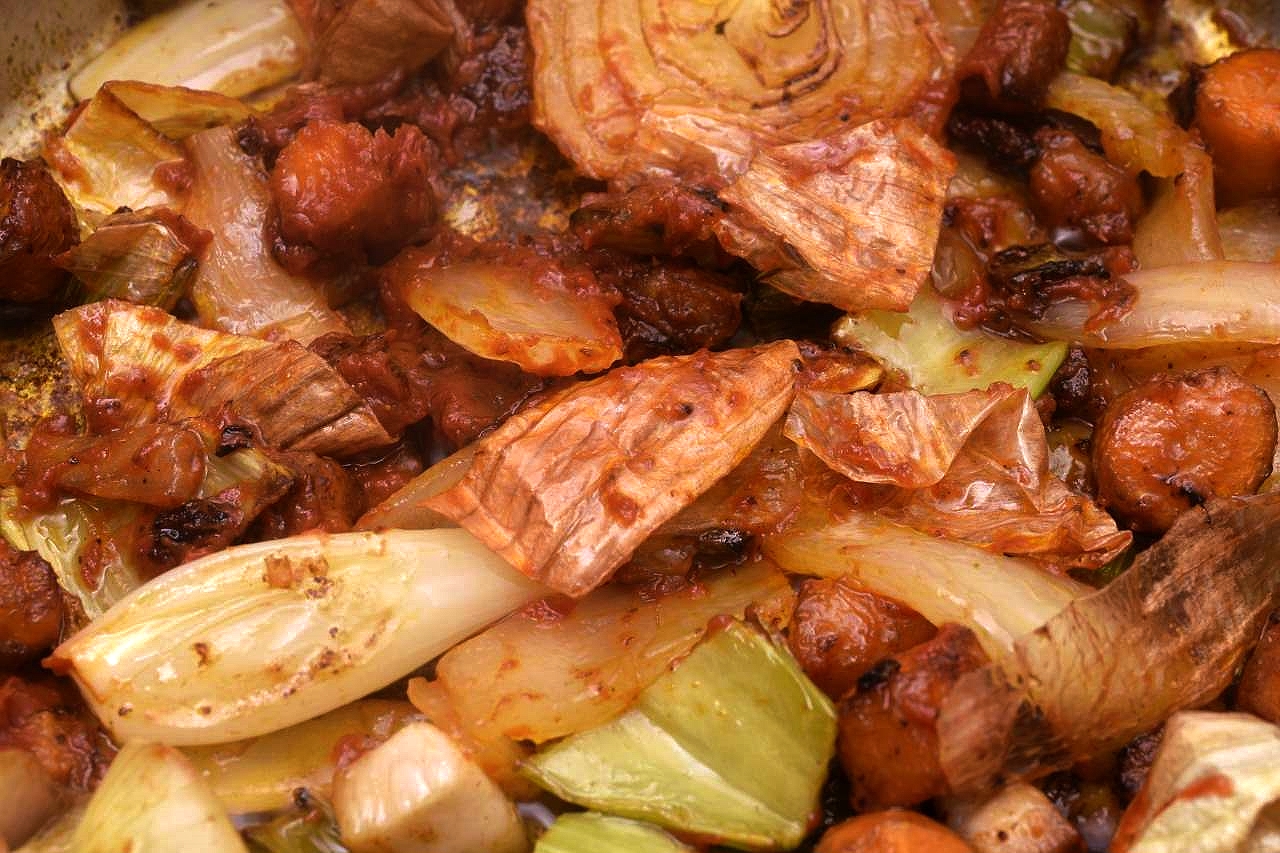 Like so. It will look pink. That's okay.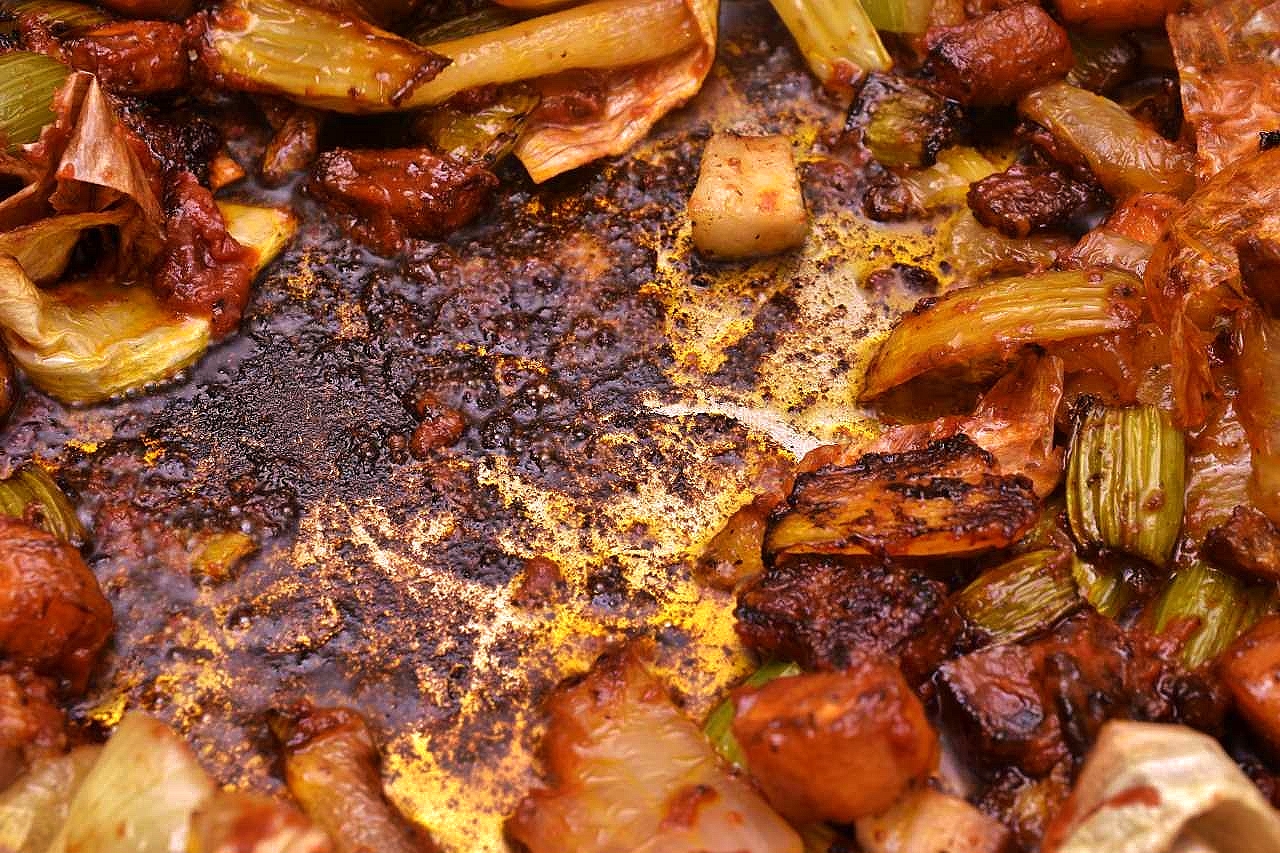 As the frying continues, a crust will start to develop on the bottom of the pan. Stir occasionally and rotate the pan so the crust develops evenly.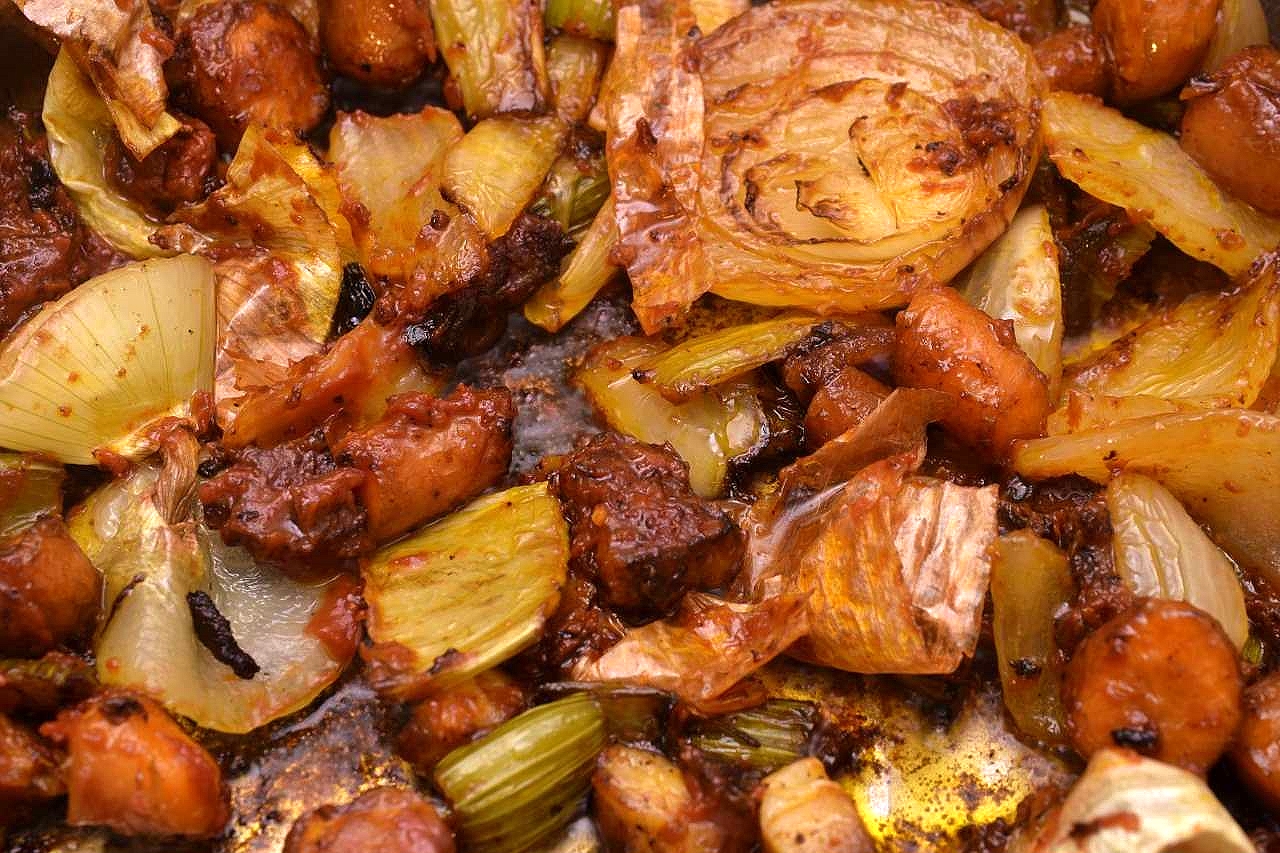 After another half hour, the color will have changed from pink to dark red/brown.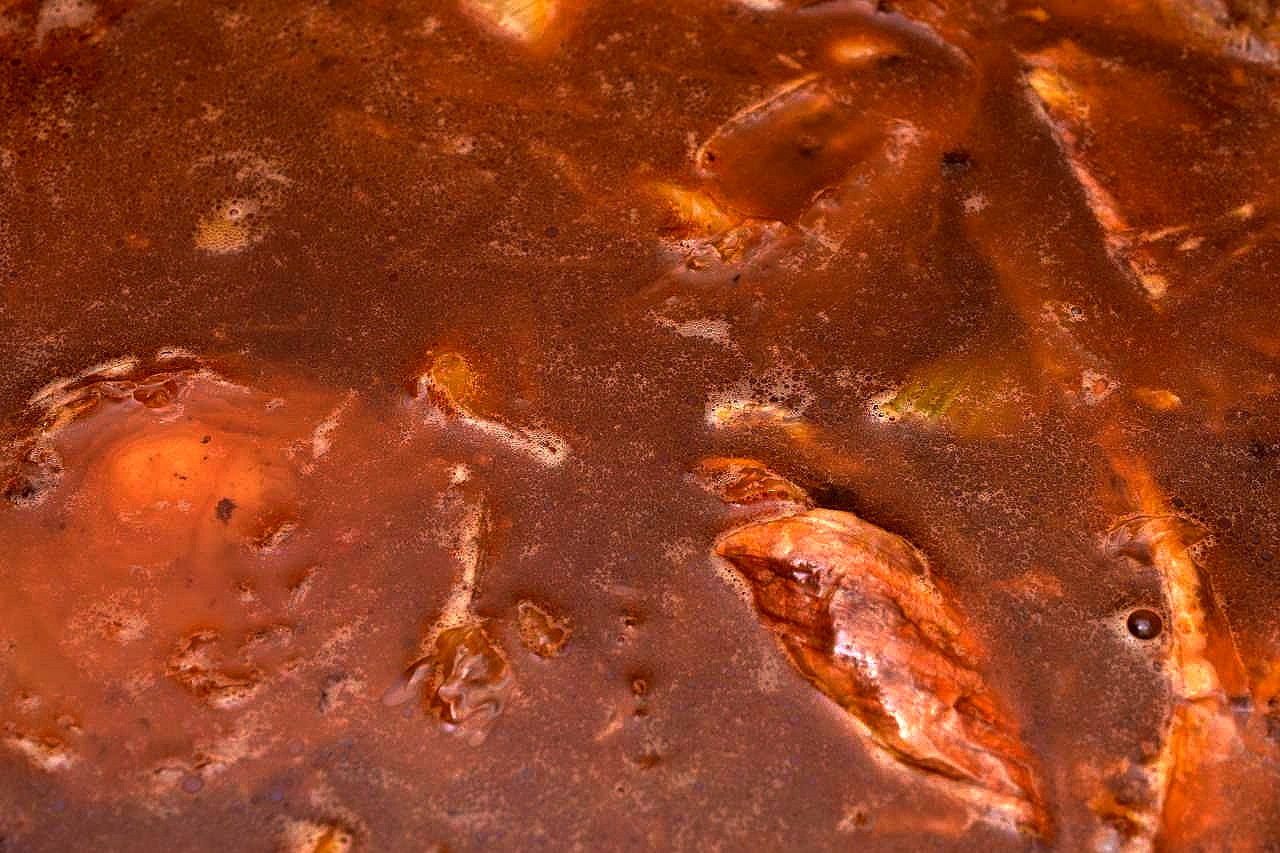 Add 1 quart/1 liter water and/or clarified sous jus. Bring to a boil, reduce heat and simmer for at least one hour, until the solid ingredients fall apart when pressed with the wooden spoon. Strain well and discard the solid ingredients. This should leave you with approximately 2 cups/0.5 liters. Clean the skillet.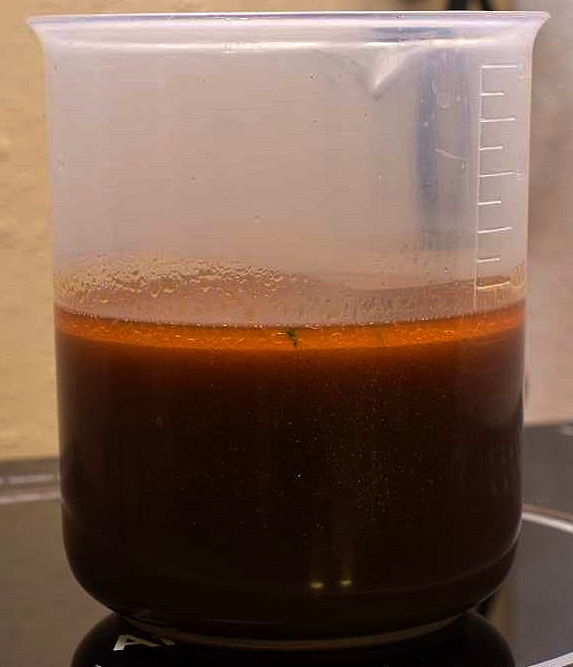 There will be a layer of fat on top of the finished product–note the dark color. The quick way to remove the fat is by skimming, but save the skim and refrigerate–you will see that some stock will settle at the bottom of the container. The EASY way is the patient way–refrigerate the stock and the fat on the top will solidify, making it easy to remove.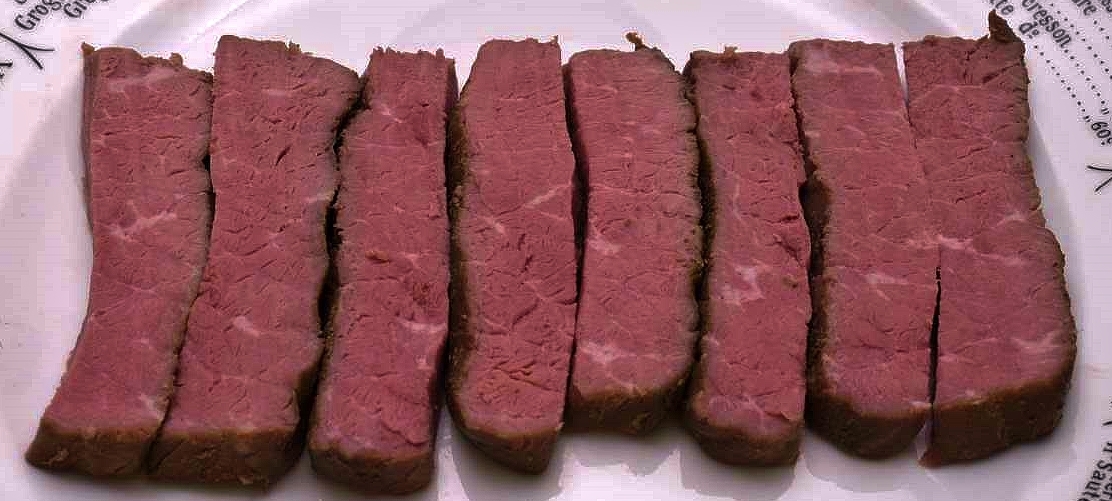 Cut the top round into strips–if you used the linked recipe, the beef will still appear "rare". This is optional–the dish can be prepared with meat that is already processed well done. The so called "classical" version calls for the beef to be minimally cooked, as a saute and not a stew, but we are not going down that rabbit hole. Make it work for you.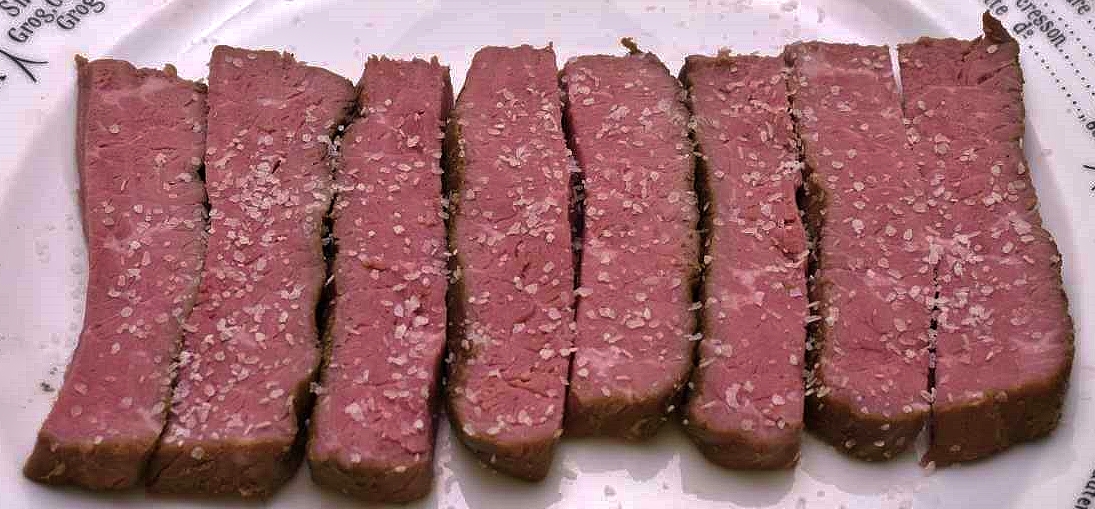 Sprinkle the beef with kosher salt, approximately 0.5 teaspoons.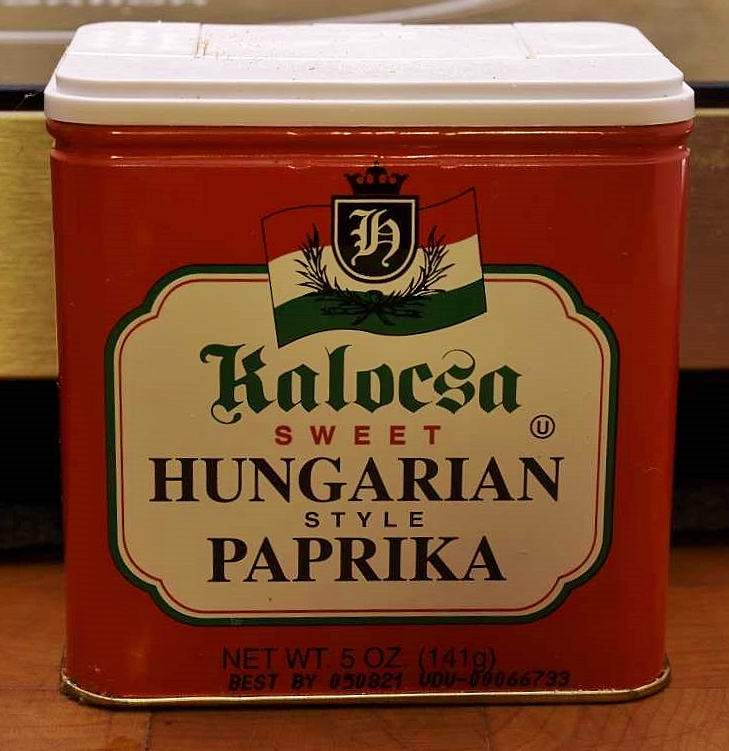 This is Hungarian paprika. It is milder and sweeter than Spanish paprika, but I have seen both versions used interchangeably without any dramatic difference in outcome.
Most home ovens have a warm setting these days–approximately 170 F/80 C is good. Or, if you have a sous vide tank working, you can use it too, anything over 140 F/60 C.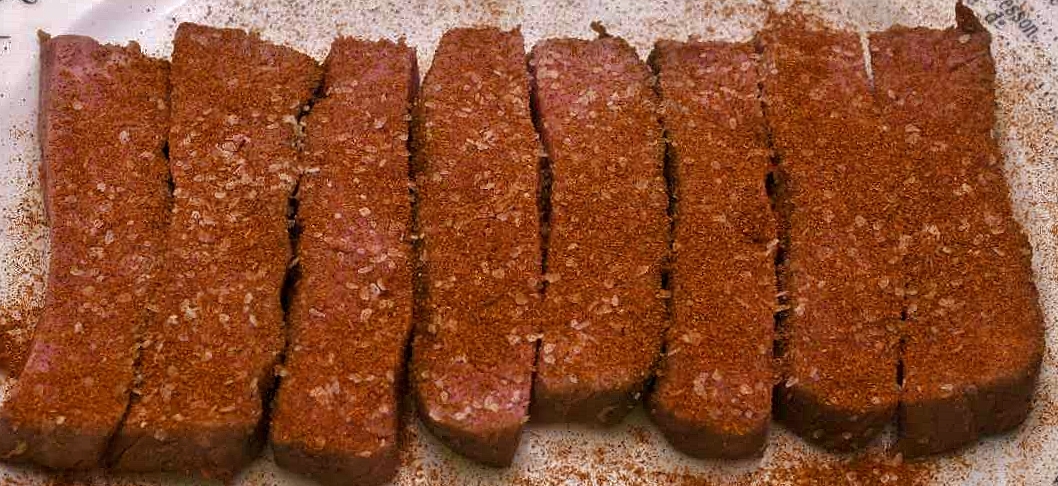 Sprinkle the meat generously with the paprika.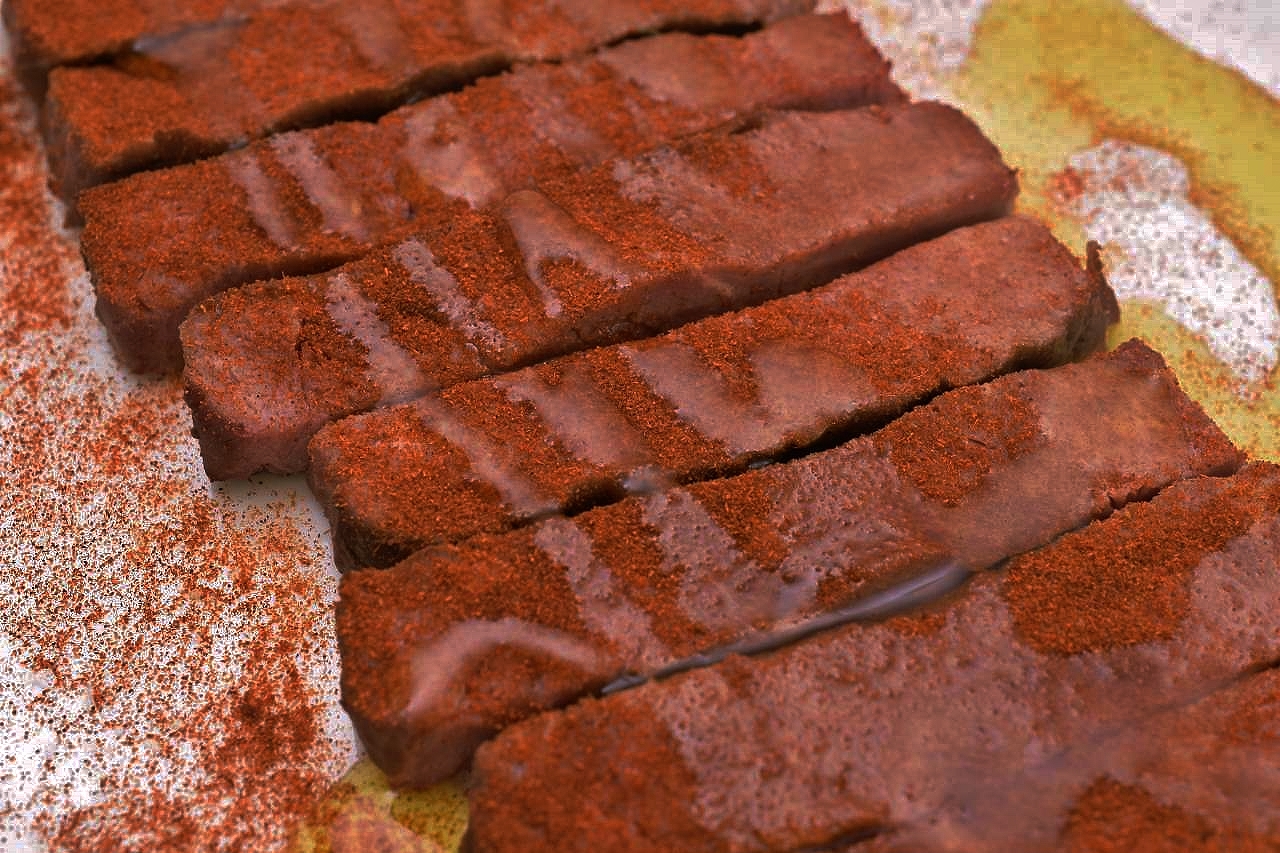 Drizzle with the oil. Heat the skillet to approximately 300 F/150 C. You may have to sprinkle a few drops of oil into the pan to get the infrared thermometer to register.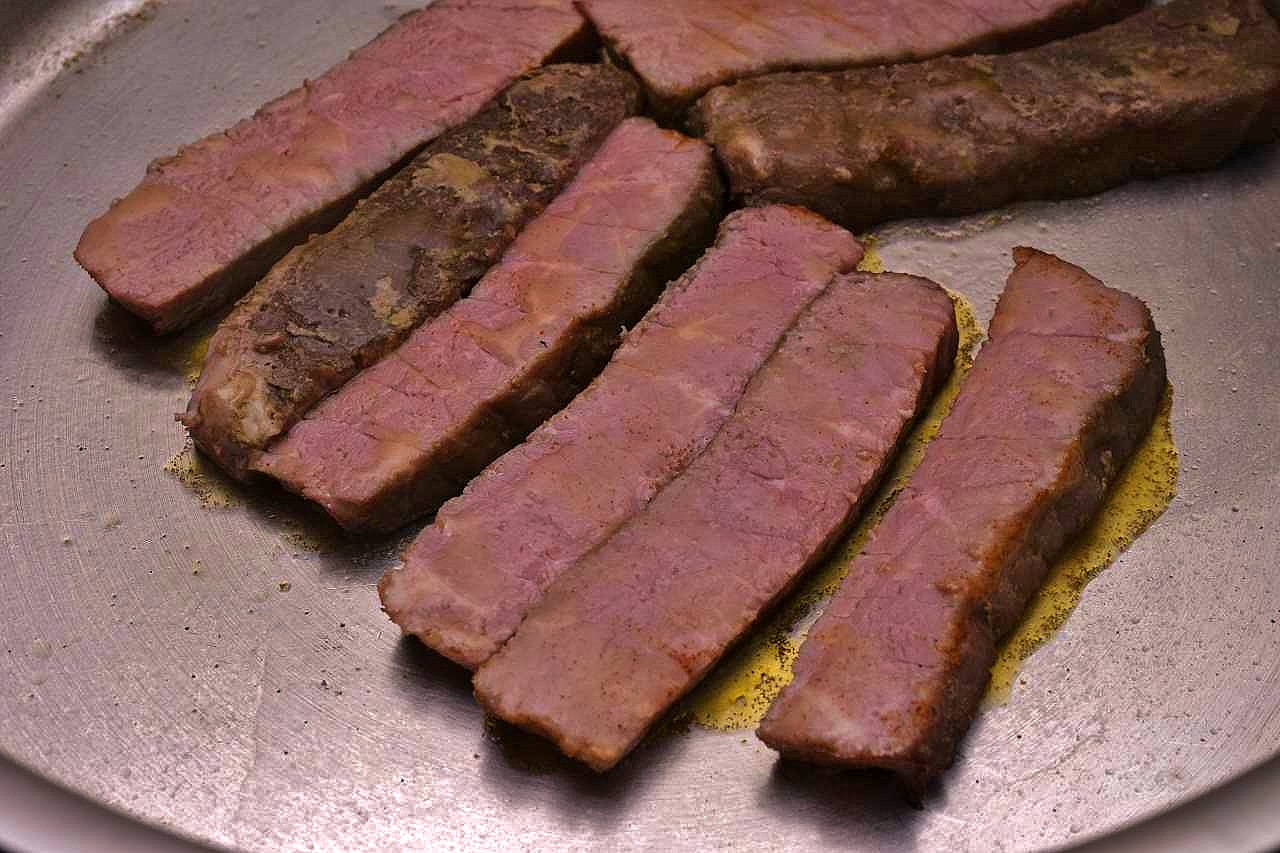 Add the meat to the pan so that all pieces touch the surface. Do not stir. Fry for thirty seconds.
Flip the meat and fry for another thirty seconds. Remove from the pan and keep warm in the pre set oven as mentioned.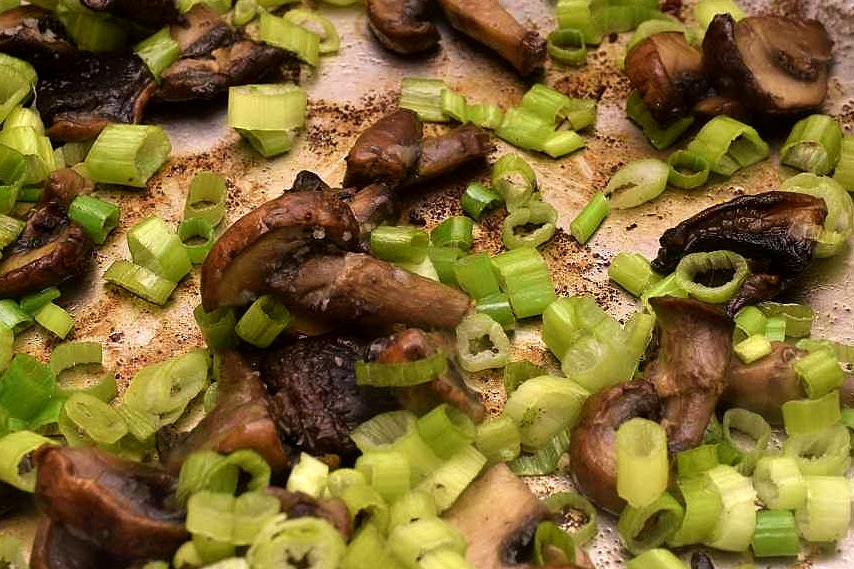 Add the mushrooms and the green onions.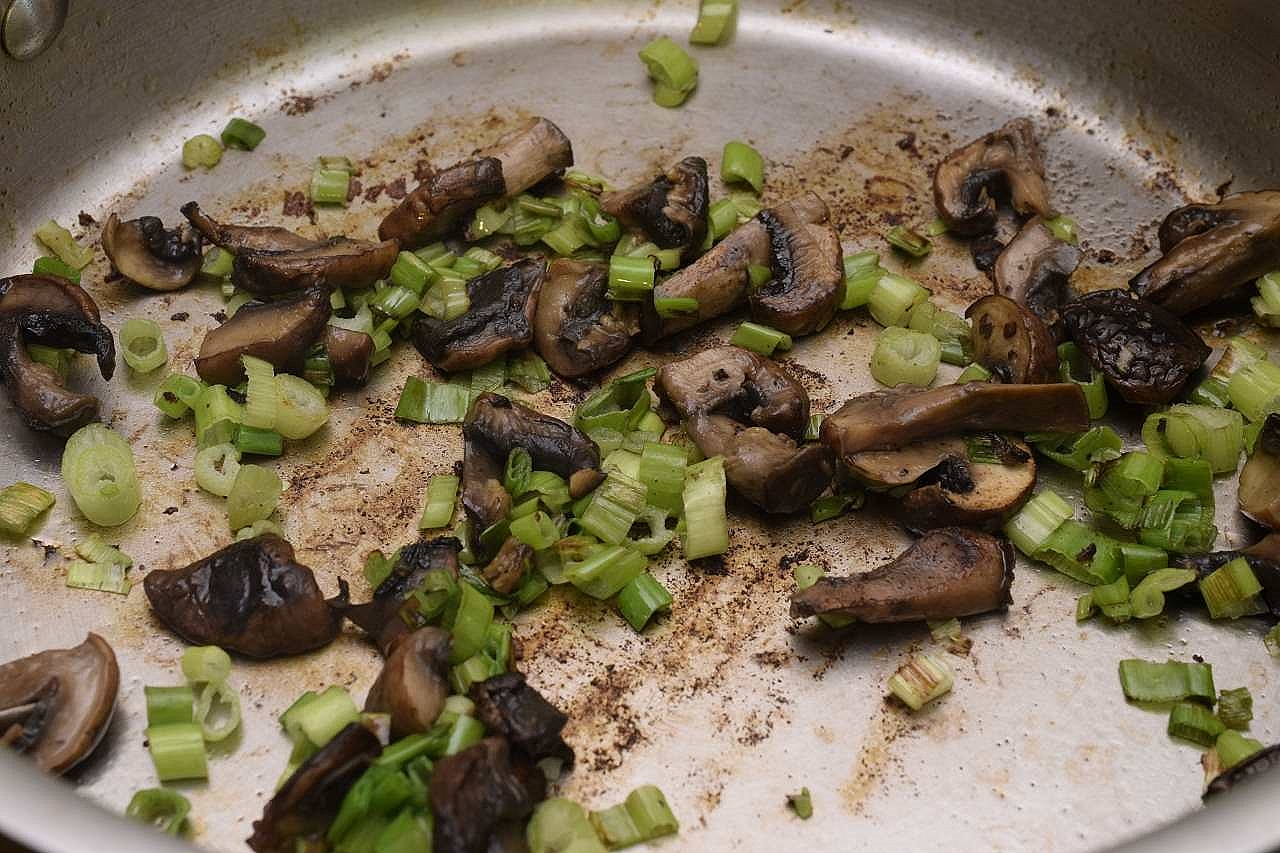 Saute until wilted. Remove from the pan and combine with the seared beef, sprinkle a few grains of garlic powder over the mixture and return to the warming oven.
Add the stock to the skillet and reduce to 1 cup/225 ml. Thicken slightly with 1 teaspoon corn starch dissolved in 1 Tablespoon of water if desired. Check for seasoning. Transfer to a beaker or measuring cup and allow to cool slightly. Add one Tablespoon of sour cream to the stock and process with a stick blender. If the stock is too hot–or if you boil it after this point–you will see dots. In the 70's, at the restaurant that I worked at, you would get yelled at for this, and I mean YELLED. Good times.


Add the sauce to the meat/mushrooms/onions mixture (or vice versa). Return to the warming oven. Cook the noodles as per the package directions. Drain and toss with the butter and pinch of salt.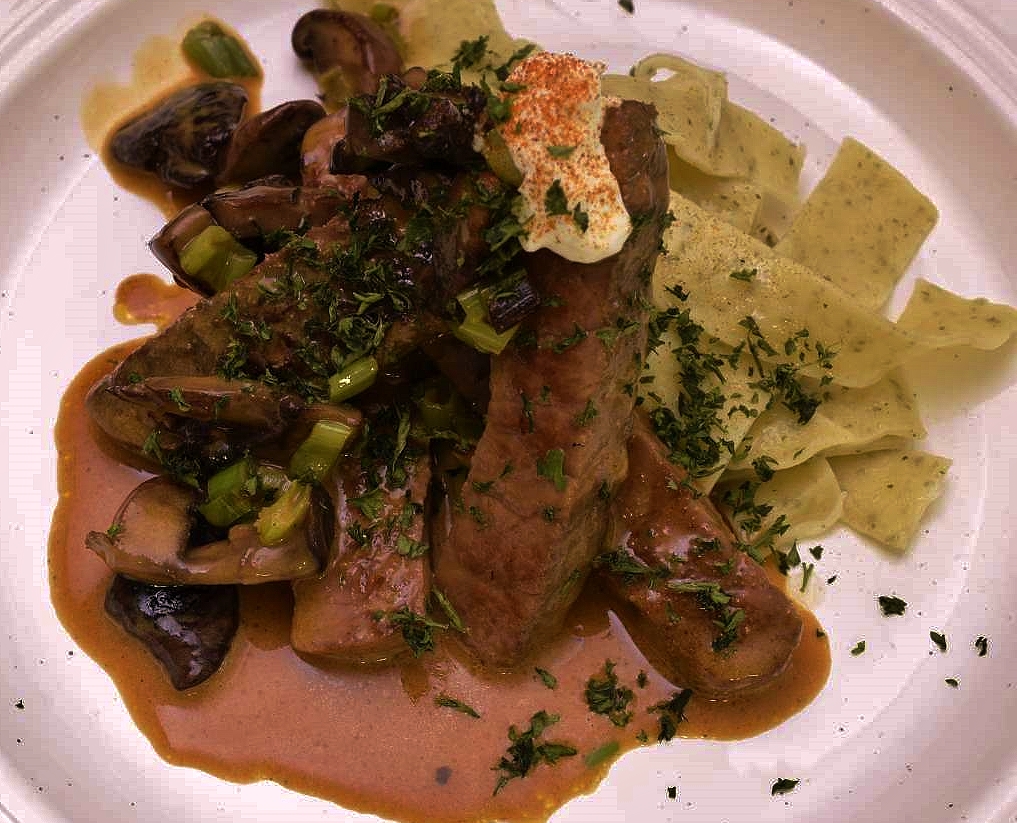 Arrange the noodles on the plate as desired.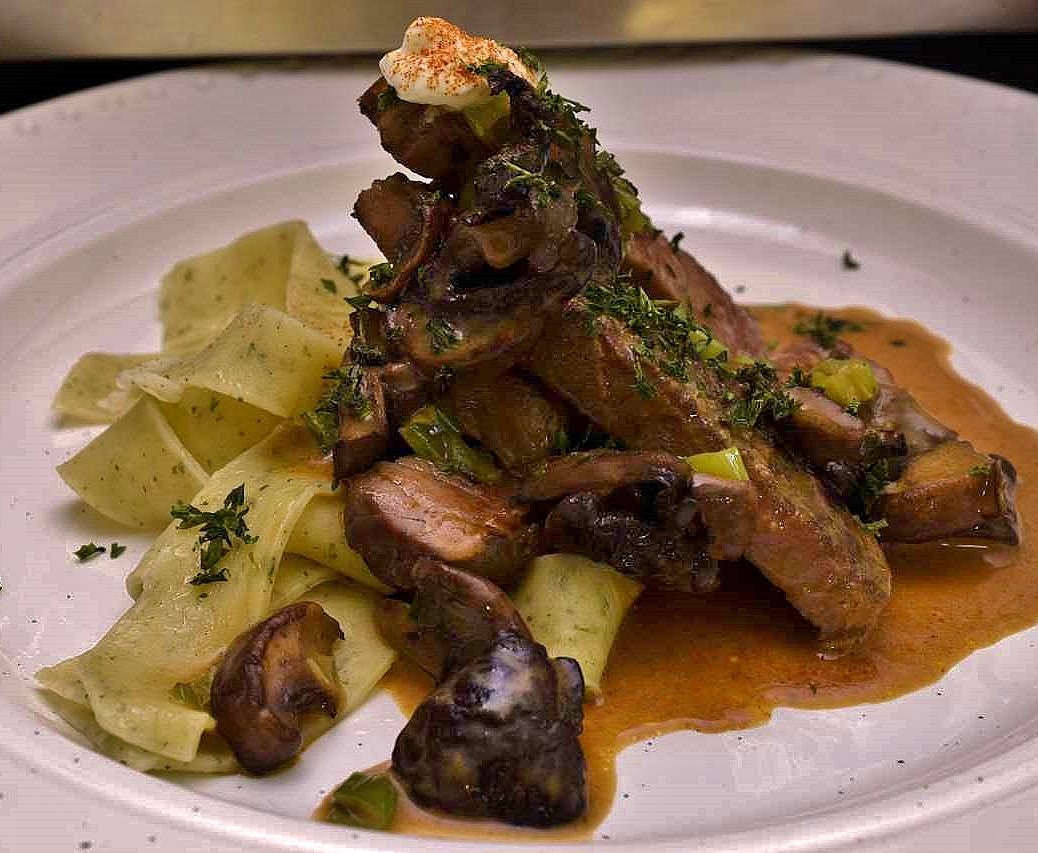 Top with the meat mixture, put a small dollop of sour cream on top, sprinkle with paprika and chopped parsley.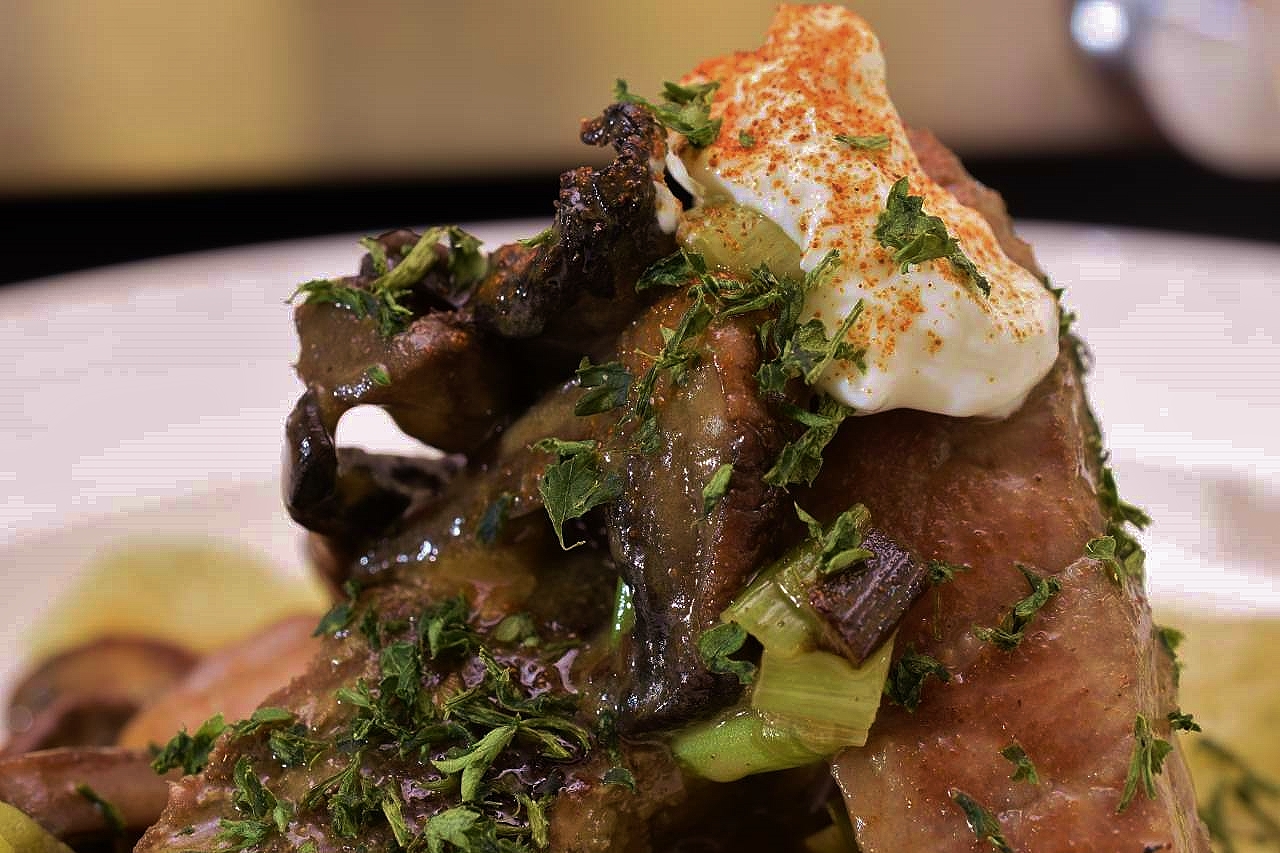 Norm King