I've been taking pictures of food for a long time. We always took spec shots in the hotels, so that we could hold cooks accountable for presentation — a picture right there on the station usually settled any debate about how something was supposed to look. Now that we've started the website, I find myself with a lot of pics, without the process documentation to show how they were done. I really didn't anticipate needing it. I'm sifting through all those shots and figuring out how I can incorporate them into the demo model. I'm going to try to replicate some of them, at least representing the basic ideas and ingredients behind them.  In the meantime, we'll post some teasers to give everybody an idea of just how much can be done with  simple pork bellies.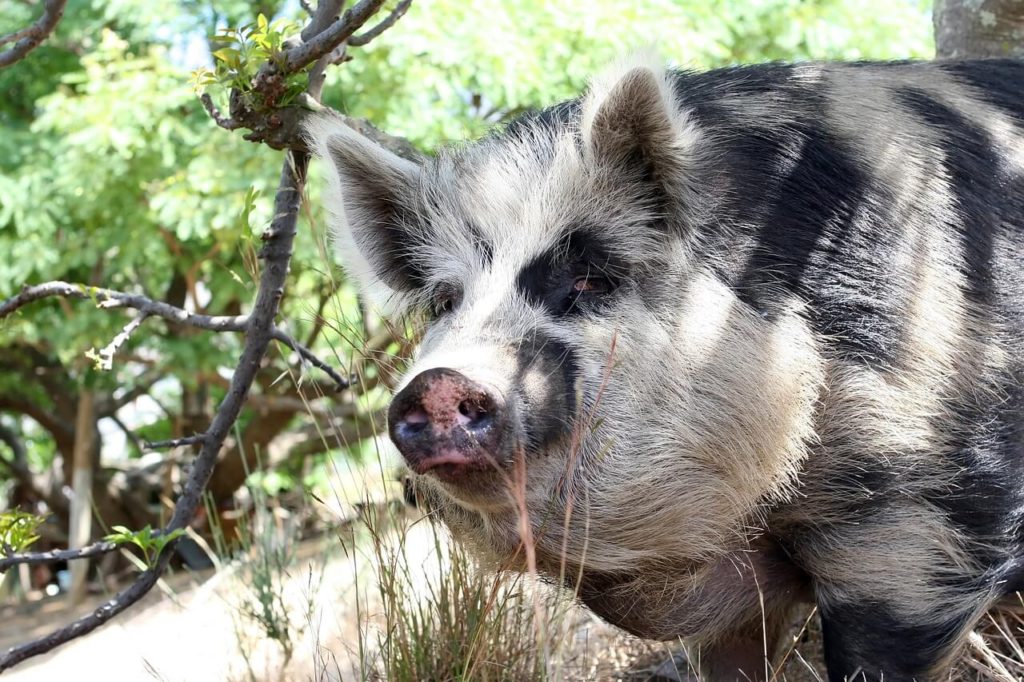 This guy looks suspicious, and, rightly so.  Sorry, Big Fella.
135Fx24 hours, regardless of size/weight.  Thickness determines duration.

The potatoes are processed SV@183Fxi hour and then shocked.  Cut in half, dust with flour, coat with beaten egg white, and roll in parsley with a little S+P.  At that point, you can roast, fry, I like them deep fried, the parsley stays green.  I like that.  Our Mustard Sauce below.
A reminder: I always Sous Vide pork bellies @135Fx24 hours, and shock.  For this presentation, I cut a little piece, seared the fatty side quite crisp, and then sliced.
A few leaves of Field Greens, EVOO, Mint Gastrique, Kecap Manis or Balsamic Syrup, I use them almost interchangeably. Purists find this infuriating.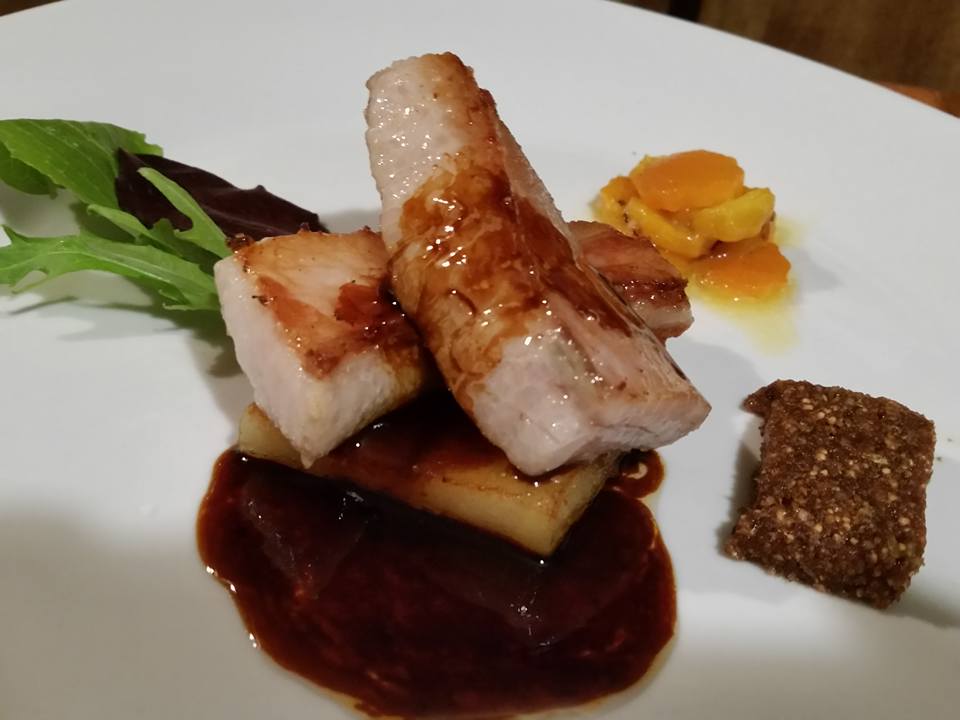 Warmed in the oven, buttered demi-glace, yellow heirlooms vinaigrette, SV potato slice.  Pan de Higo, which is a Spanish, compressed and dried fig loaf with nuts, fennel, and Sherry.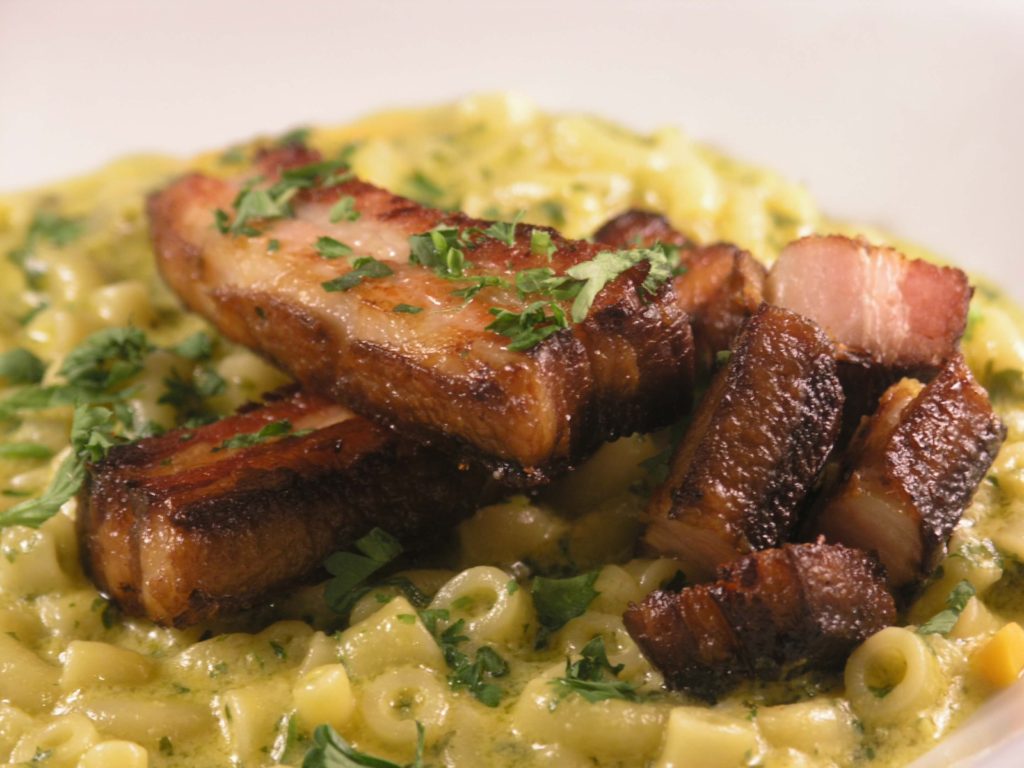 This pork belly was cured before being Sous Vide processed, but not smoked.
Fried like bacon, and served over the prototypical comfort food, macaroni and cheddar.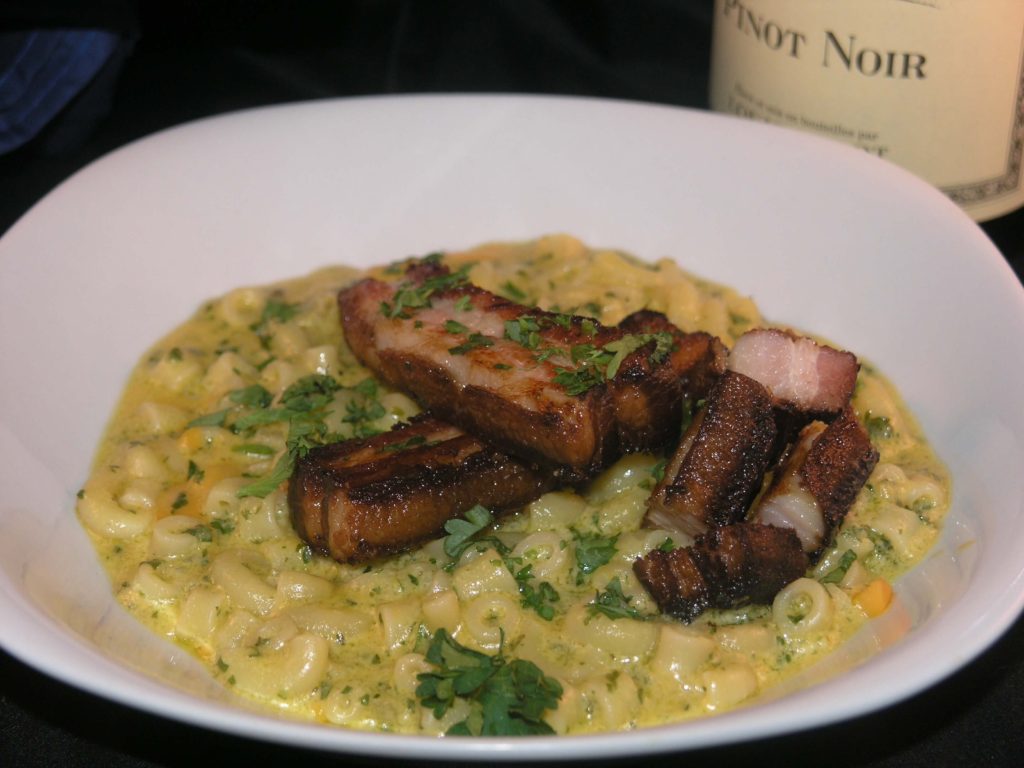 I avoid that exclamation, "yum," but, sometimes, it's unavoidable.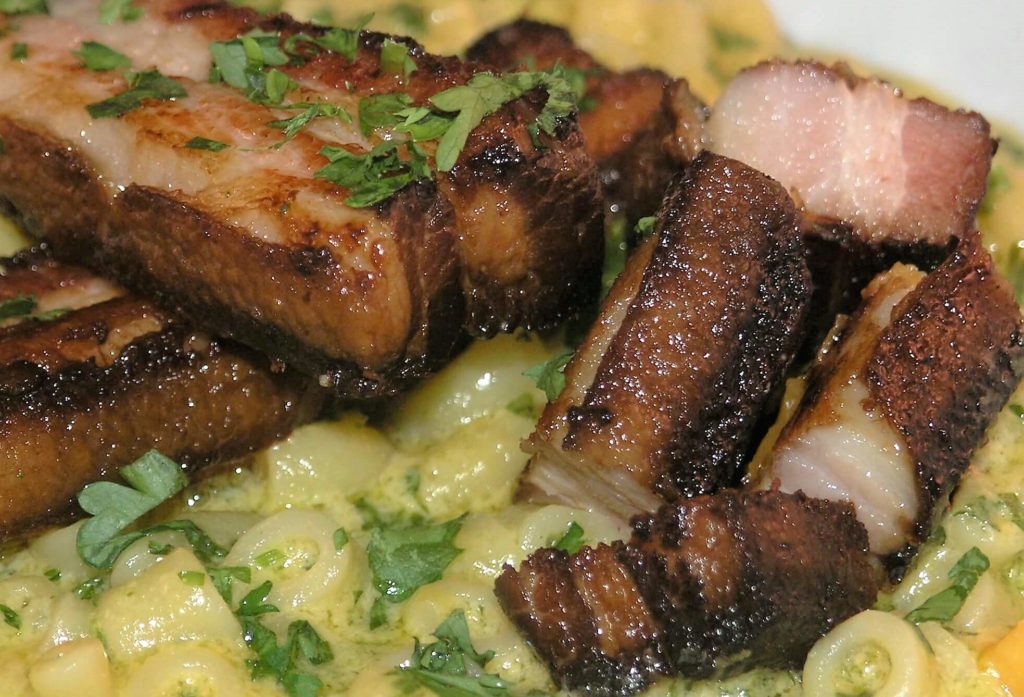 Now would be one of those times.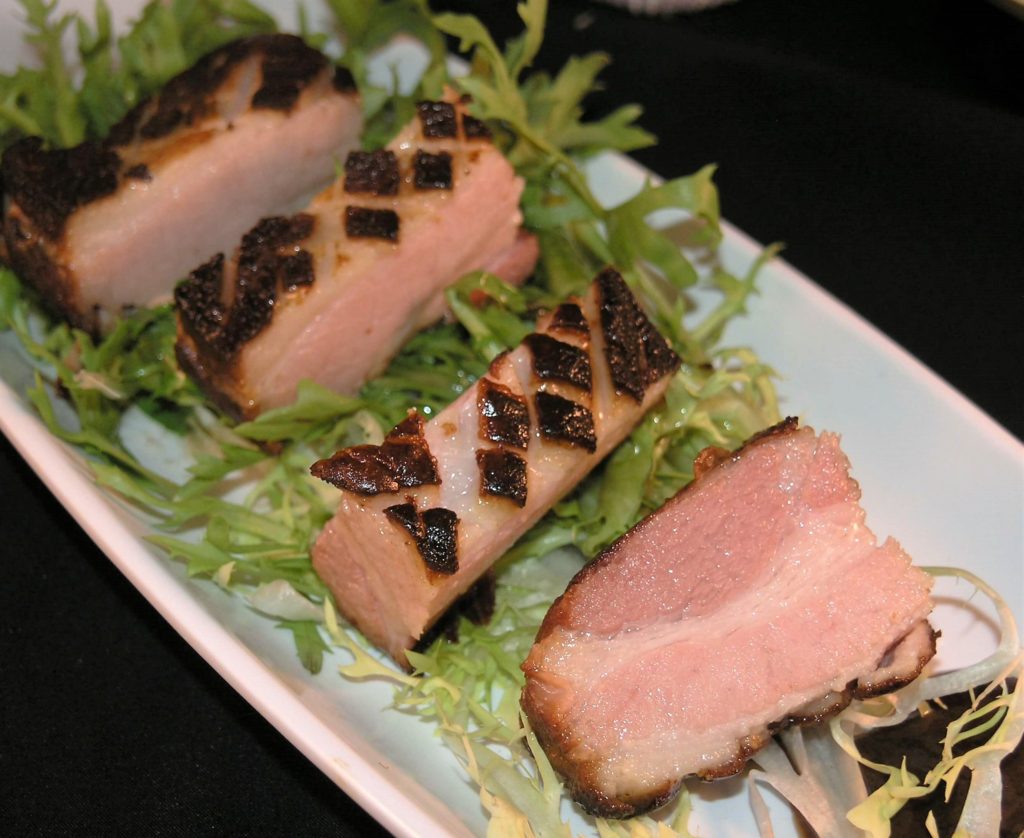 Also cured, scored, and seared.
served over frisée (French curly endive), one of my favorite lettuce greens.  Great wilted, too.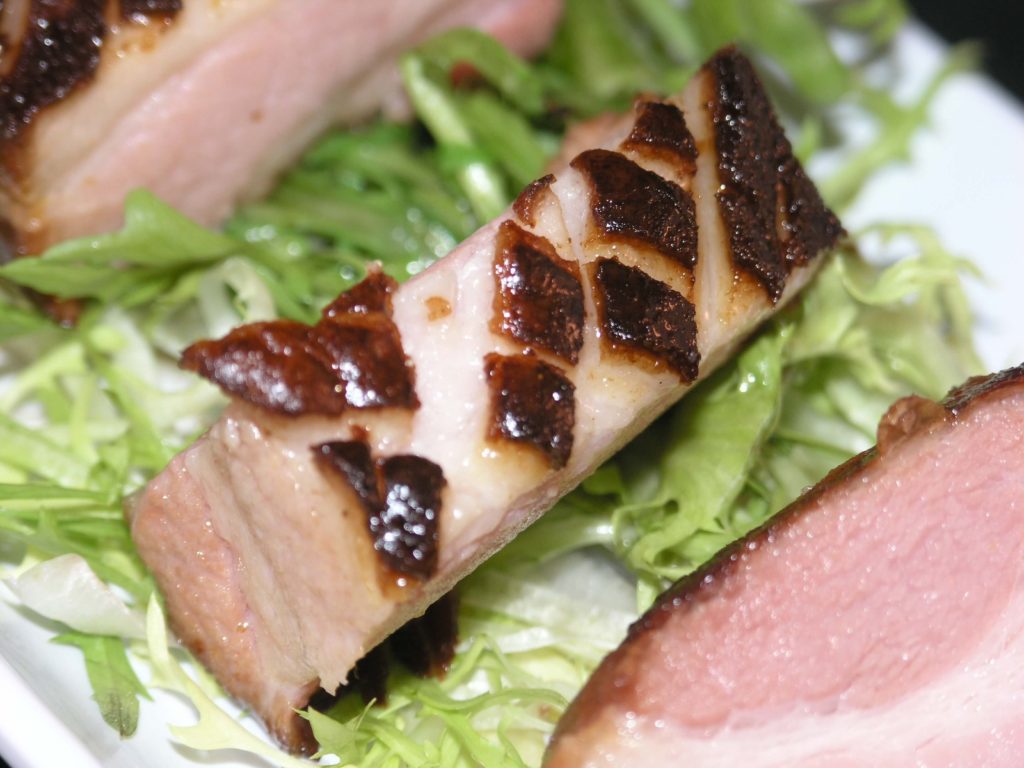 No matter how careful, no matter how sharp the knife, occasionally on of the little squares will become dislodged.  It provides that rustic, "I can do that," feeling.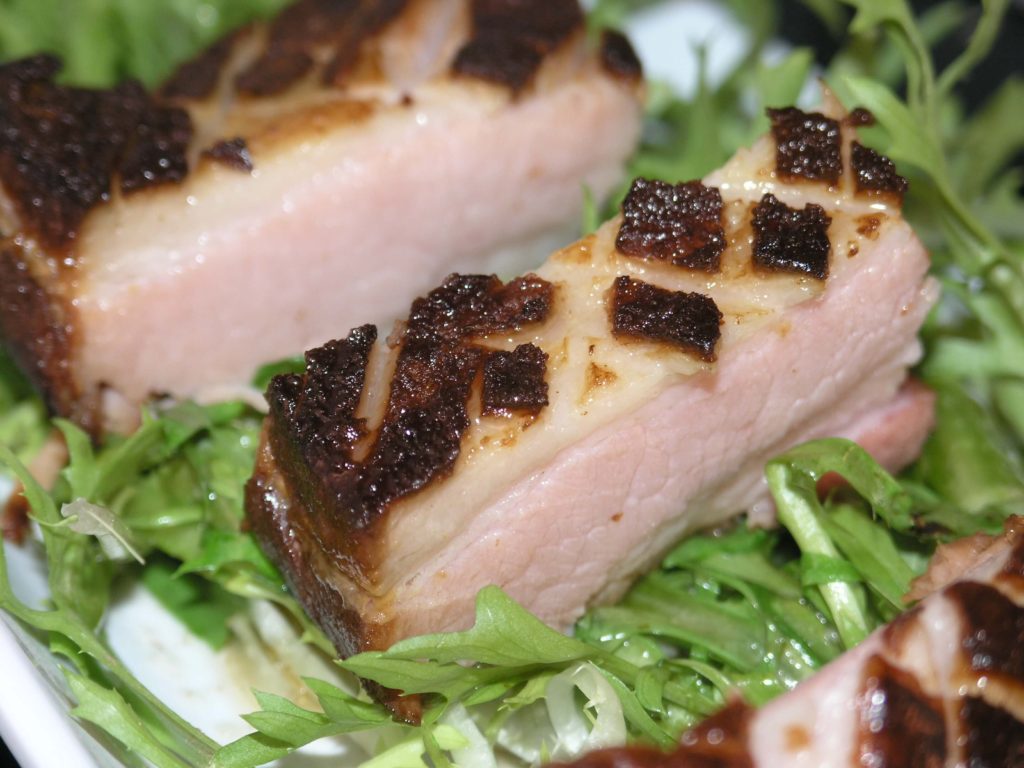 It really shouldn't look like a robot put it together.  Soon enough, that will be the truth.

For now, this is about as good as it gets.
WOOOOOT?!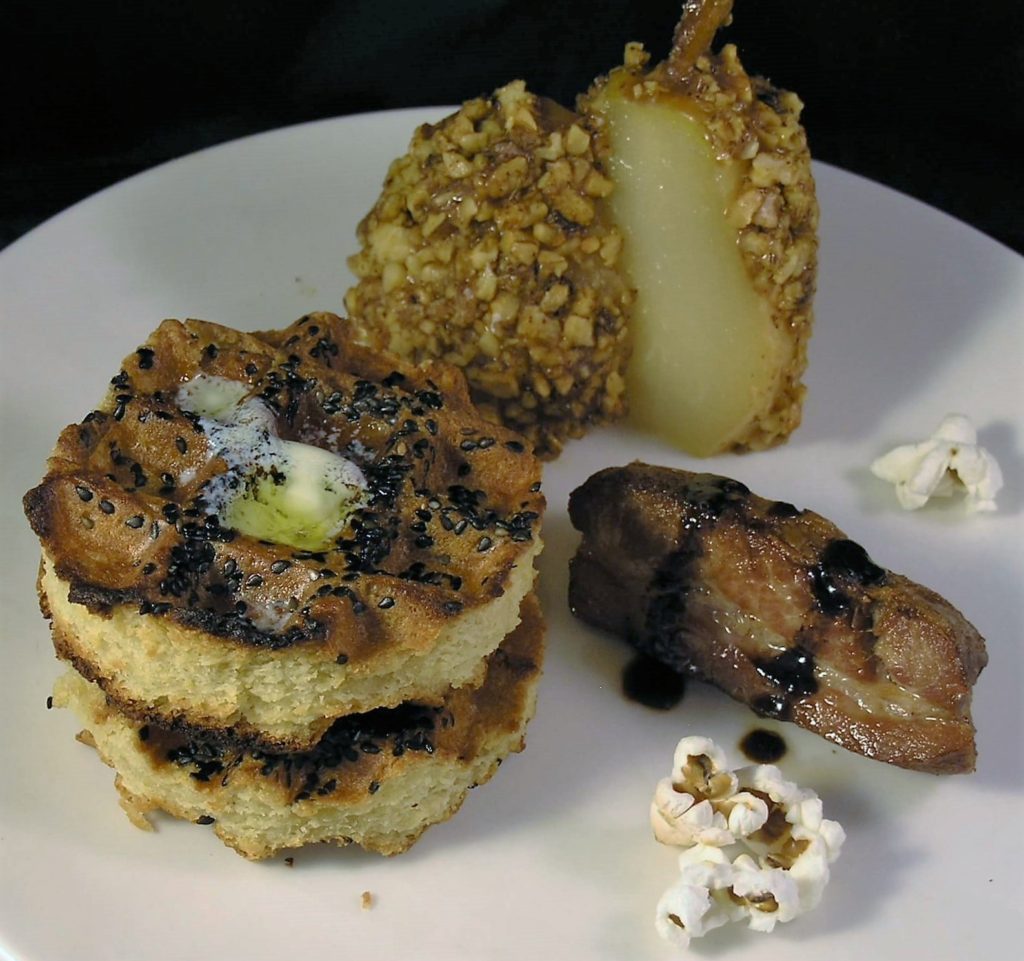 In my attempts to push the envelope, I occasionally end up with something delicious, yet, well, kinda silly.
Seeded waffles, cut into circles and toasted.
Popcorn. Those who know me understand my fixation.
Sous Vide Spiced Pear rolled in walnuts.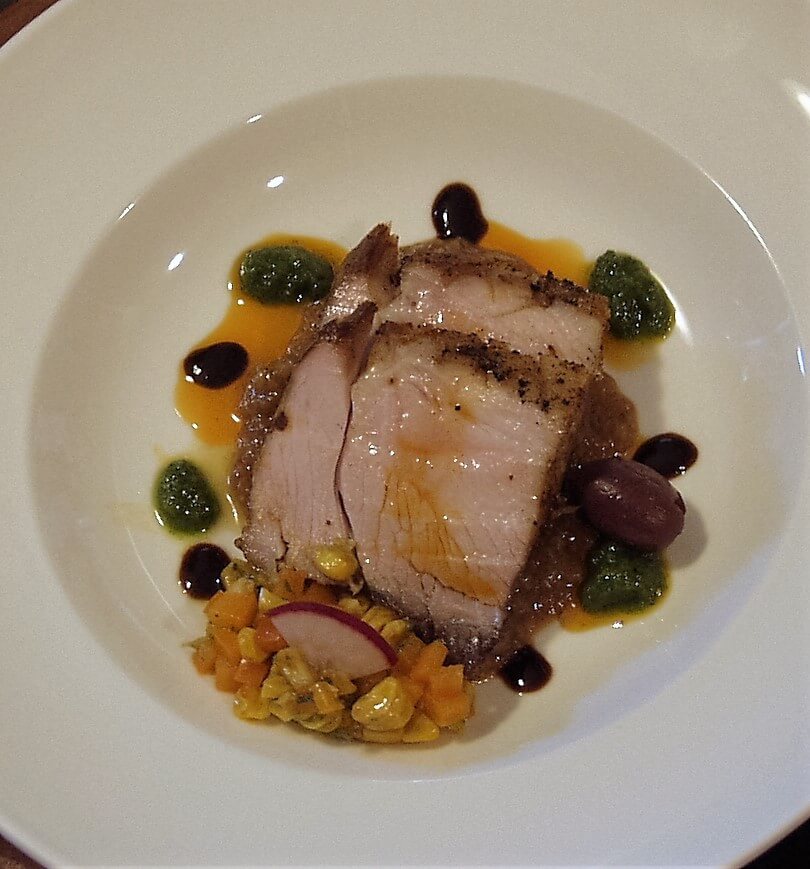 This one we did just a few days ago.  2/3 Succotash (peppers and corn), Smoked Paprika Congee.
Parsley Pesto (no cheese), Kecap Manis, Smoked Paprika Oil.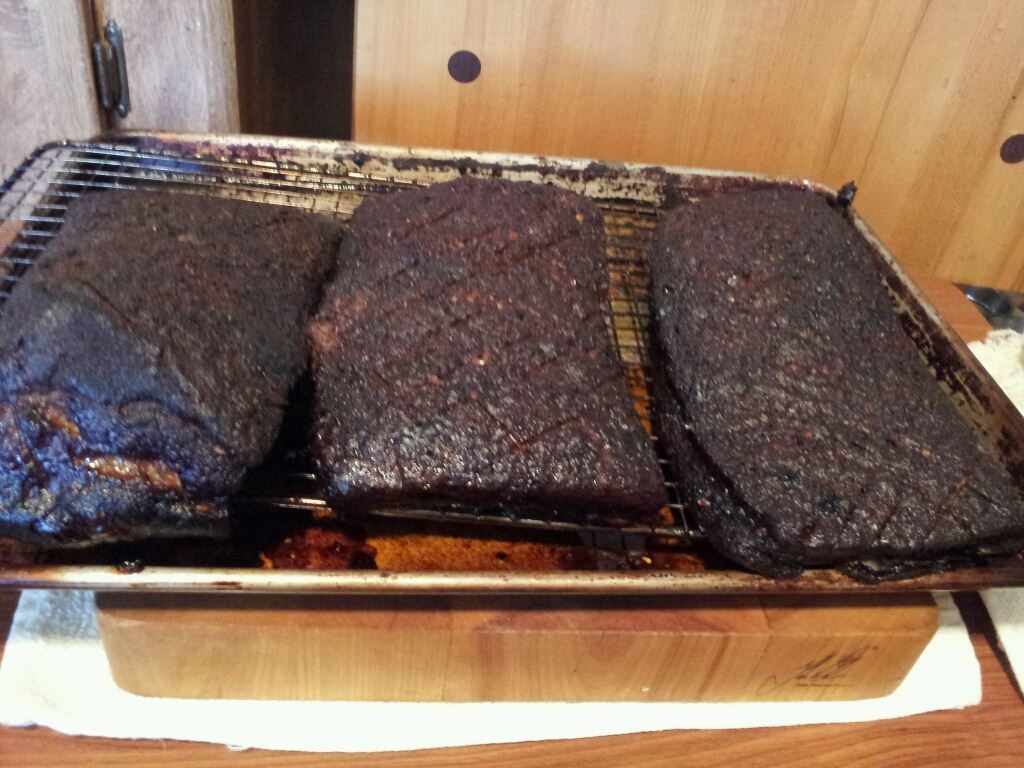 These are from a while back.  Again, processed SV just the way I always do, but I rubbed with my usual blend of paprika, fennel, garlic powder kind of thing, some salt and pepper, you know, all the good stuff.  Put some real Alder smoke on these (and paid dearly the next day).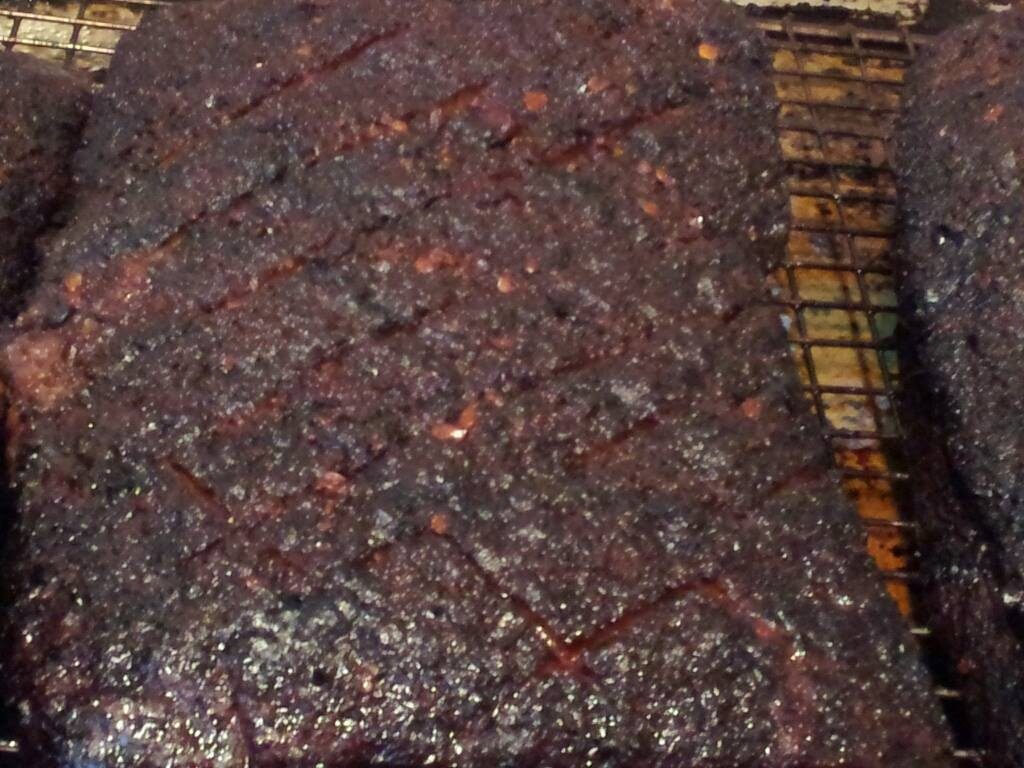 I see a lot of people putting cumin and chili powder on these, but, for me, those flavors (and aromas) are just too dominant for an everyday thing.  No accounting for taste.  You can see I scored these a little, too.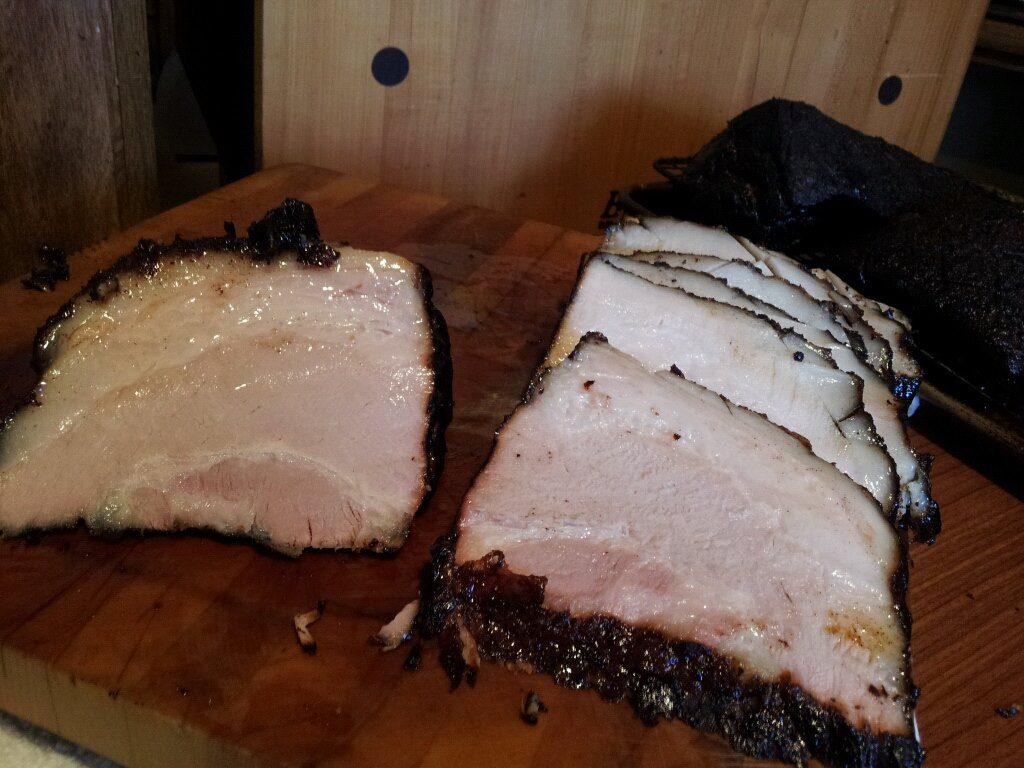 I don't chase the smoke ring, never really cared that much. It is not an indication of flavor. It shows up sometimes.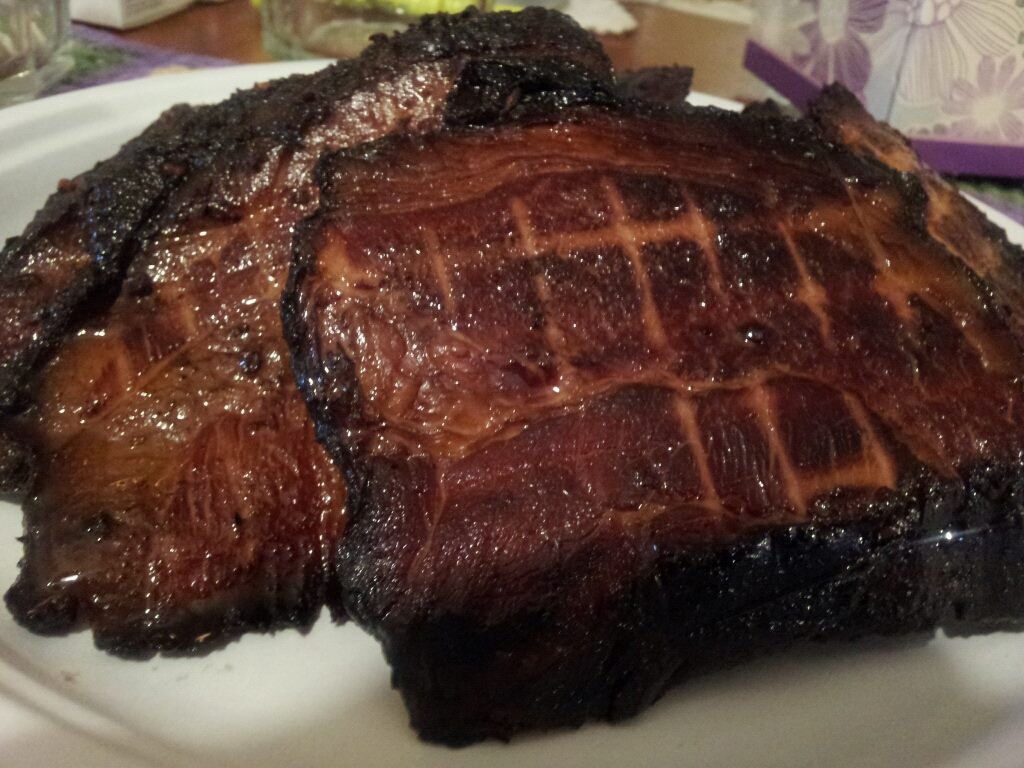 You can see the grate marks from the screen I put in the smoker, no pan under these, just the fire off to the side in the old Weber.  Good times.
I have pork bellies curing right now, they take a couple of weeks in the dry brine.  Once they're cured, we'll have some fun doing some city and country versions.  Dry curing takes about 10 days, so, be sure to stick around!