Sous vide is not an abandonment
Now that I have established an identity as the sort of "sous vide guy," people assume that everything I do has sous vide at its heart. Kind of silly, really, but people are always surprised to see me post a pic of something (other than green salad) that doesn't have the sv element. But I did not eschew all other forms of cooking, nor do I intend to.
Pursuant to that reality, I am slowly creating a data base of things that, well, they might GO really well with sous vide items, but, then, they can stand on their own. This is a good one, and now that I think of it, even for this, I have not fully avoided the vacuum. Read on, and you will see.
Ingredients:
Hot house tomatoes, (because it's winter, presumably), large, two each.
Note: Hot house tomatoes are not usually very ripe when you buy them, and you shouldn't buy them if they are. DO NOT REFRIGERATE THEM. Let them sit on the counter and they will usually come out quite good. If you leave them so long that they start to weep below, you should have processed them yesterday. That's the way it goes sometimes.
Cauliflower florets, 4 oz/125 g. You can buy these or cut your own.
Brussels sprouts, 2 or 3 each.
Mushrooms, 1 each.
Kosher salt, to taste, put down the gram scale, you're way past that now.
Black pepper, you know, little bit, little bit.
Paprika, little bit.
Dried parsley, a lot, you know me.
Hemp seeds, just kidding, although they are starting to show up in recipes as a crispy thing.
Bread crumbs, 1 oz/30 g, thereabouts.
Butter, unsalted, 2 oz/ 60 g, thereabouts.
Vegetable oil, 2 oz/ 30 g. thereabouts, don't panic, this mostly gets drained out.
Thyme, fresh, little bit, a sprig, a twig.
Equipment needed:
You will need a stove. You should have an infrared thermometer by now, I bought mine when they were in the hundreds, now they're like $20. You will need water, although I do not consider that equipment. You will need a big skillet and pots and containers and things like that.
Procedure: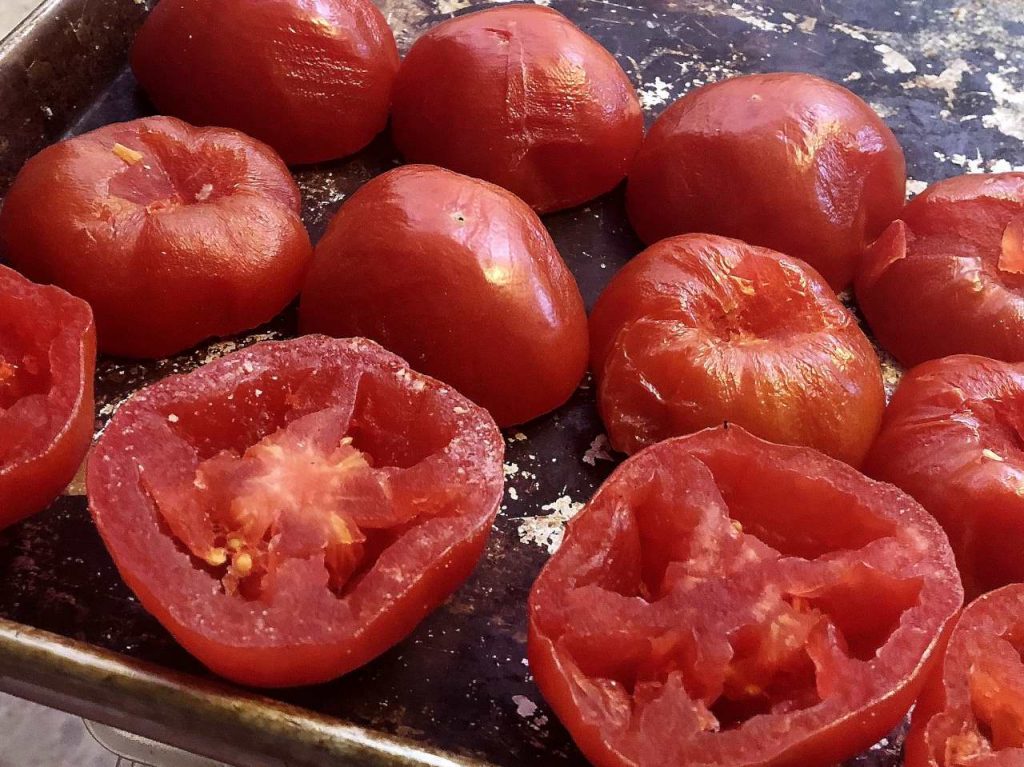 Cut the cores out, remove the seeds with a point of a knife.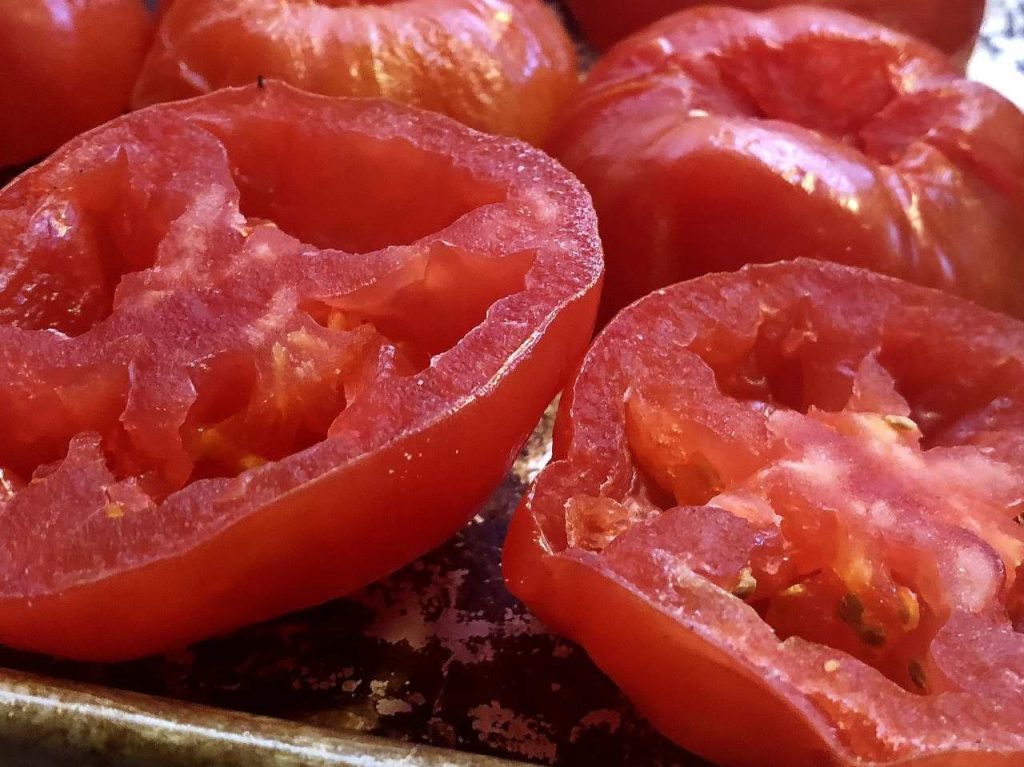 like that, it's easy.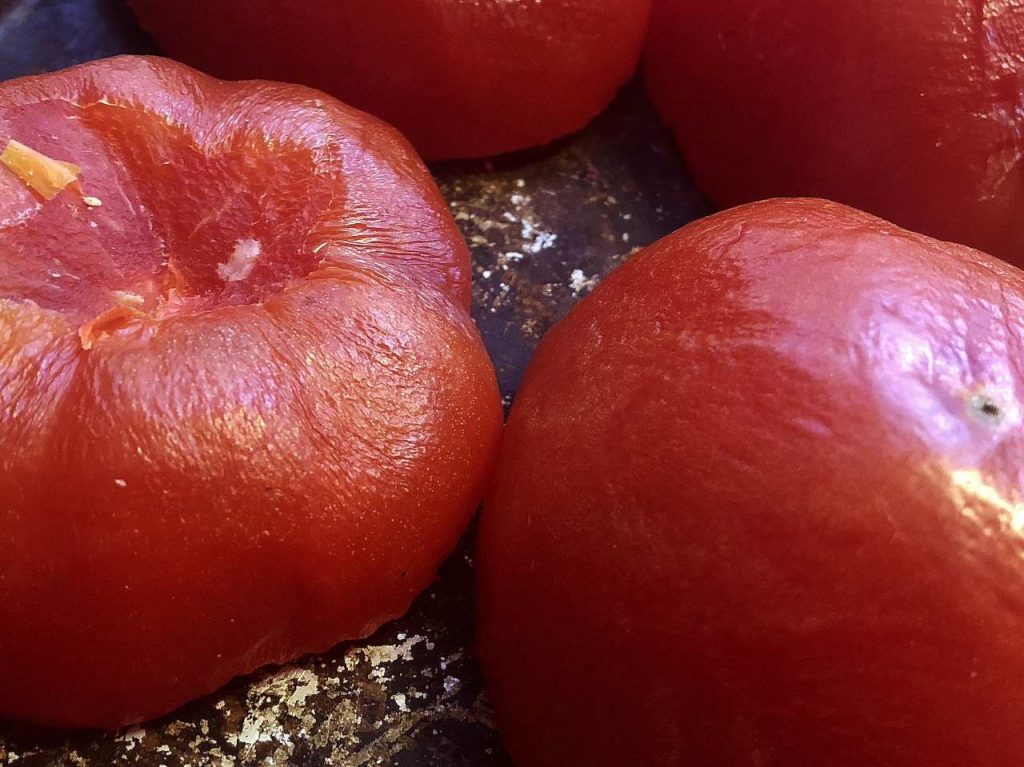 Wrap the tomatoes in a towel, and vacuum. Chamber vacuums work the best, but your Foodsaver will be good enough to get started–we are going to vacuum them again later.
Scorch the tomatoes with a torch. You can do it in the oven, but the torch focuses mostly on the skin. Turn the pan around and scorch them again, because the torch always goes out if you try to use it backwards, we all know this. Scorch them well, and then GIVE THEM A FEW MINUTES TO COOL OFF.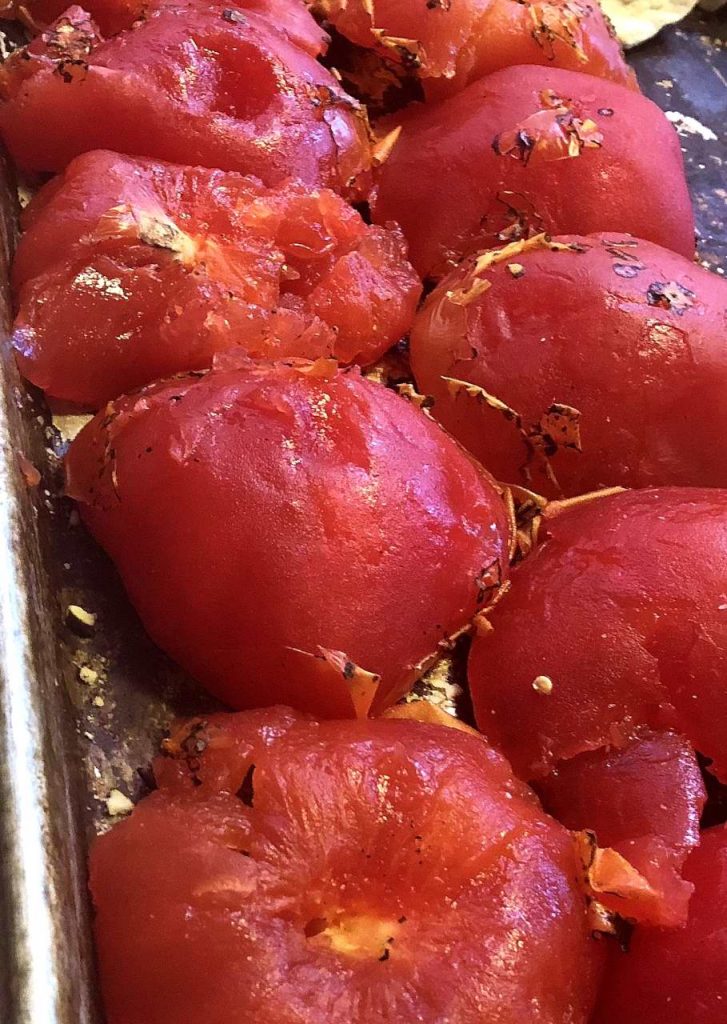 Peel the tomatoes, but there will be a little peel sticking. That's okay, or scorch them again to get the rest. They even sell them scorched in the can now, not a bad flavor.
Wrap the tomatoes in a towel, one layer only, and vacuum them again, let them sit for a while. You'll be amazed how much laundry you will have to do later. The tomatoes stand on their own, braised and served as a recliner with some buttered demi glace for a steak separated from the other vegetables…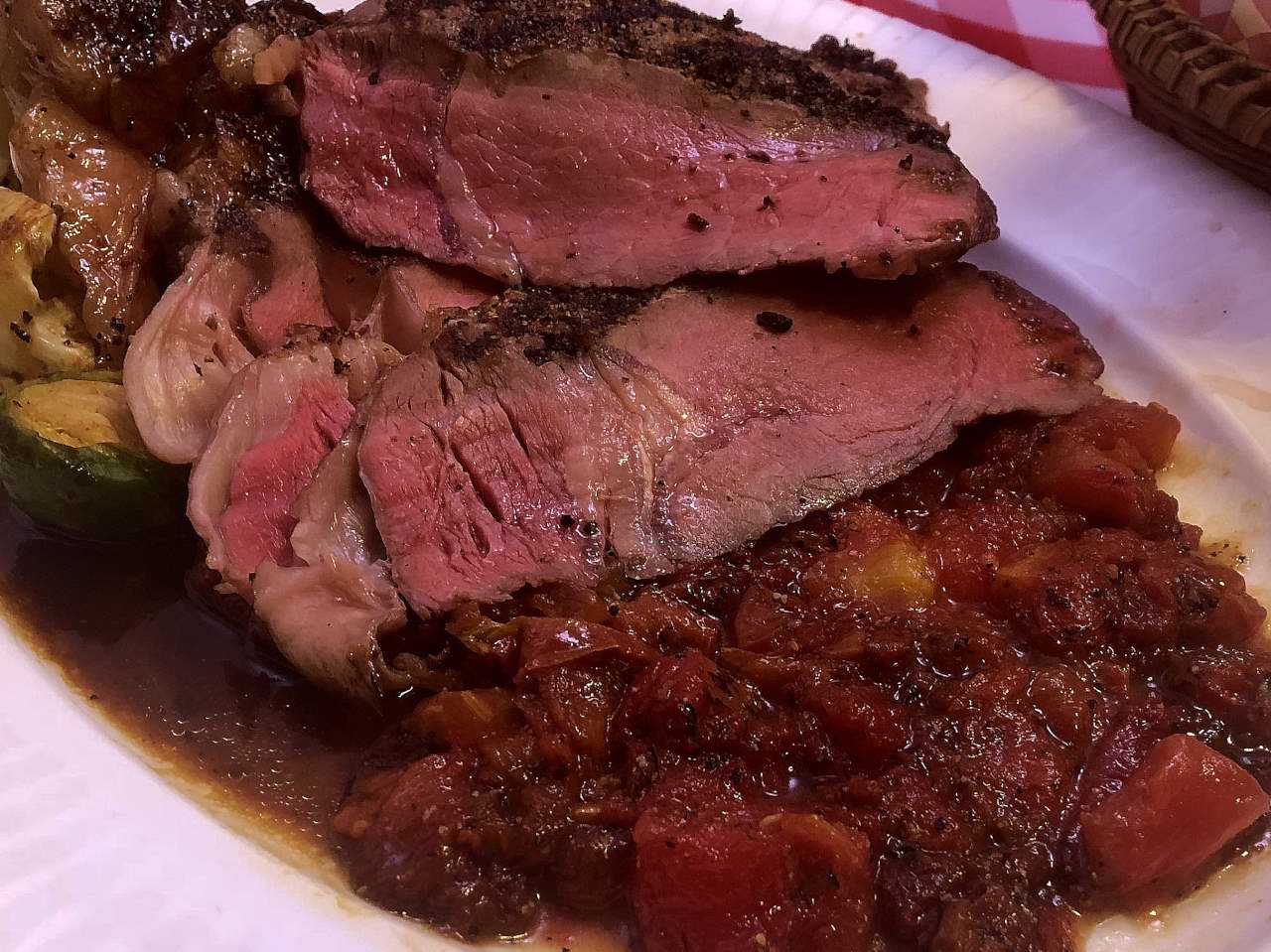 Or even disassembled like this: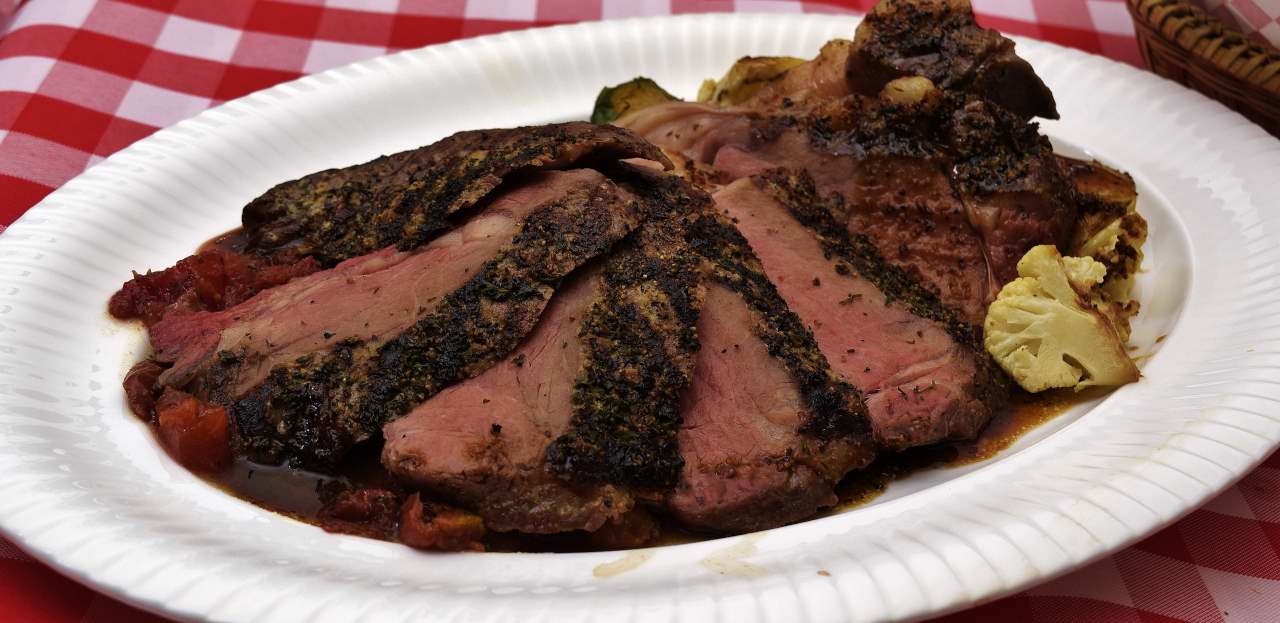 Meanwhile…bring two cups of water to boil. Once the water comes to a boil, dump the Brussels sprouts in it or pour the boiling water over the Brussels sprouts, whichever suits you. Let sit for 5 or 10, then drain and shock cold in tap water to 70 F/21 C, refrigerate at 40 F/4 C, you know the drill. When cold, remove from the refrigerator and cut the sprouts in half along the spine. Trim off the stem end if it's brown, but this usually just causes leaves to fall off, no big deal.
Heat a large flat bottomed skillet to 350 F/176 C. Toss the cauliflower florets in half of the vegetable oil to coat, and toss into the pan. Add some salt and pepper. Turn down to medium. Spread them out but don't stir them, just let them get brown on one or two sides. Doesn't take long, don't burn them, I can't explain everything to you. Make them brownish.
Remove from the pan and spread out to cool. Don't wash the pan, don't worry, you will have plenty of pans to wash later. Toss the sprouts with the remaining oil and put them in the pan, do the same thing–let them brown, don't burn them, don't stir them too much, there you go, brilliant. Add the mushrooms about half way through, just to wilt them. They will release a little water, so everything will go swimmingly along. Remove from pan, spread out to cool. If you stack this stuff it will keep cooking and turn black, so heed my words.
NNNNNNNNEXT
Get yourself a cocotte. We call them boats, but any low sided dish, you only want 1.5 layers in the thing. That cocotte that I use is pretty cool, but I think it cost like $40 or so, no need to go crazy. butter the cocotte, and lay the tomatoes in the bottom. S+P, drizzle some butter sprinkle some parsley–we actually used to call parsley marijuana in the 70's, now they really sprinkle marijuana on stuff. Arrange the vegetables around like the artist that you are, more butter and parsley. Sprinkle well with some crumbs, or hemp seeds if you are really into going that direction. More butter, more parsley.
Preheat the oven to 350 F/176 C, because that's one of the temperatures that I remember both F and C for. Turn on the salamander at the end to get the crumbs brown if necessary. You know what, it sounds weird, but this is really good. Garnish with thyme sprigs.
Norm