We all the know the story
Buffalo, NY, the Anchor bar, and now there are entire chains of restaurants devoted to the service of wings this way and that way. There are so many around that the laws of supply and demand will force GMO companies to try to develop chickens with extra wings. Then one of the chains will gobble up all the other ones, go cash poor, declare bankruptcy, and we will start all over again. That said, I will dispense with my usual op-ed jargonistic blatherings and get right to a few variations that we've been using. First, the first part.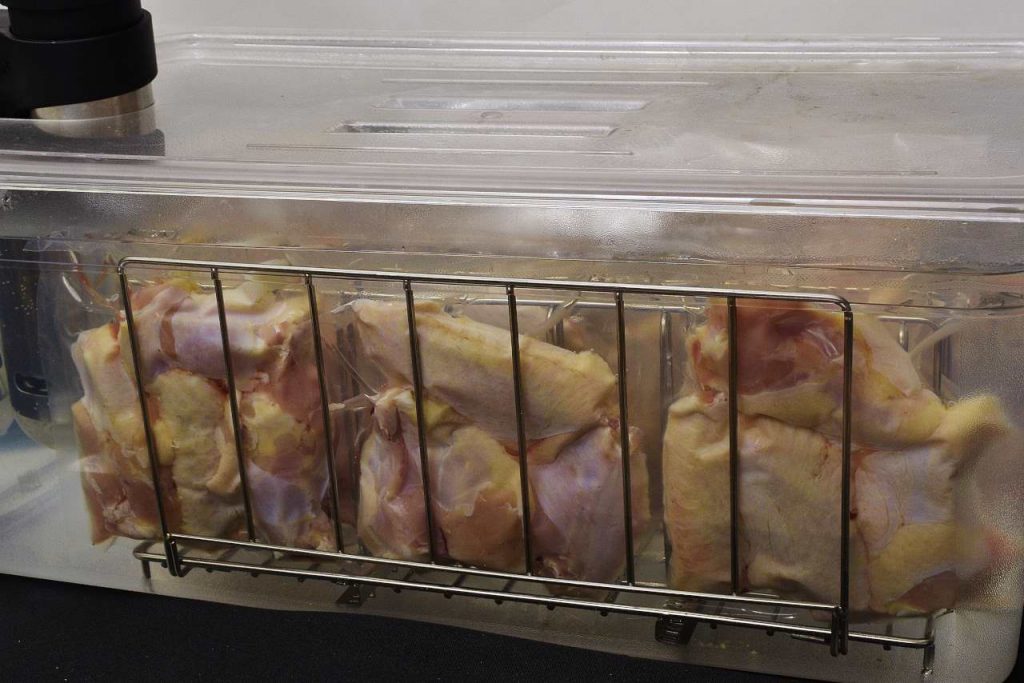 135FX4 hours
shock in ice water to 70F, refrigerate to 40F, see you tomorrow.
Sauce:
Any sauce works, vinegary, salty, hot, and thin until you toss it with butter and then the wings. Here's one that I developed.
Cayenne pepper, 1 Tablespoon.
Anchovies, one can, 2 oz/56 g.
White wine, 1 cup/200 ml.
White vinegar, 1 cup/200 ml.
Water, 1 cup/200 ml.
Salt, 2 Tablespoons.
Sugar, 2 Tablespoons.
Garlic, 2 heads, peeled.
Worcestershire sauce, 2 oz/50 ml.
Ketchup, 1 oz/32 g.
I'll meet you in the bar–go ahead and start without me.
The wicker basket, the tacky paper, it all works.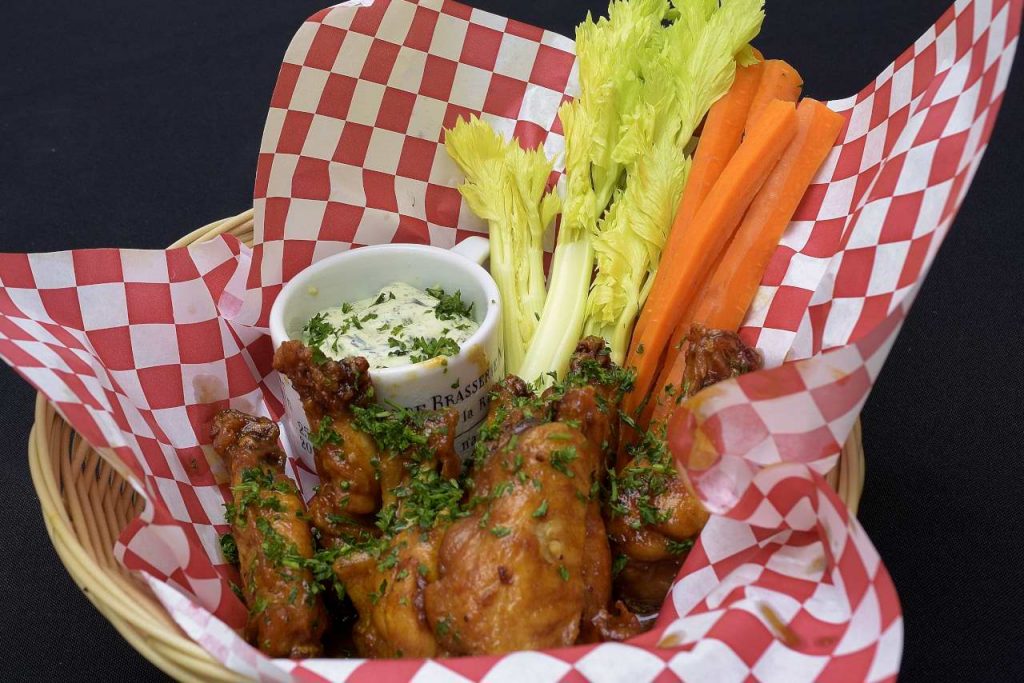 Most of us know that the dish started out nekkid, naked, no breading, just bar snacks, cheap, deep fried til they floated, tossed with salty spicy to make people drink more beer, turn on the game. It's not my favorite, but I did the first sample like that. I use 315+….the higher the temp of the oil, the faster it wears out, so I try to keep it moderate.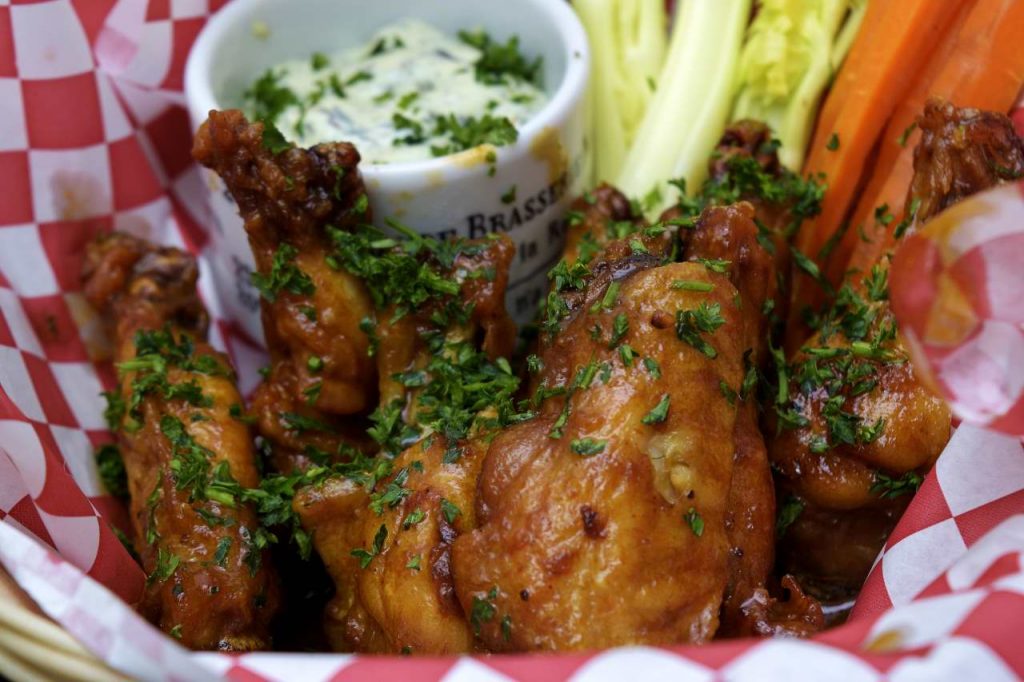 People freak out if you don't put some celery sticks and carrot sticks on there, which I'm sure were an afterthought the first time around. Ranch or blue cheese, I like the blue cheese better. I made big batch of Ranch using the powder, so that's what we got. Two parts butter to one part spicy sauce. PPPPPPParsley.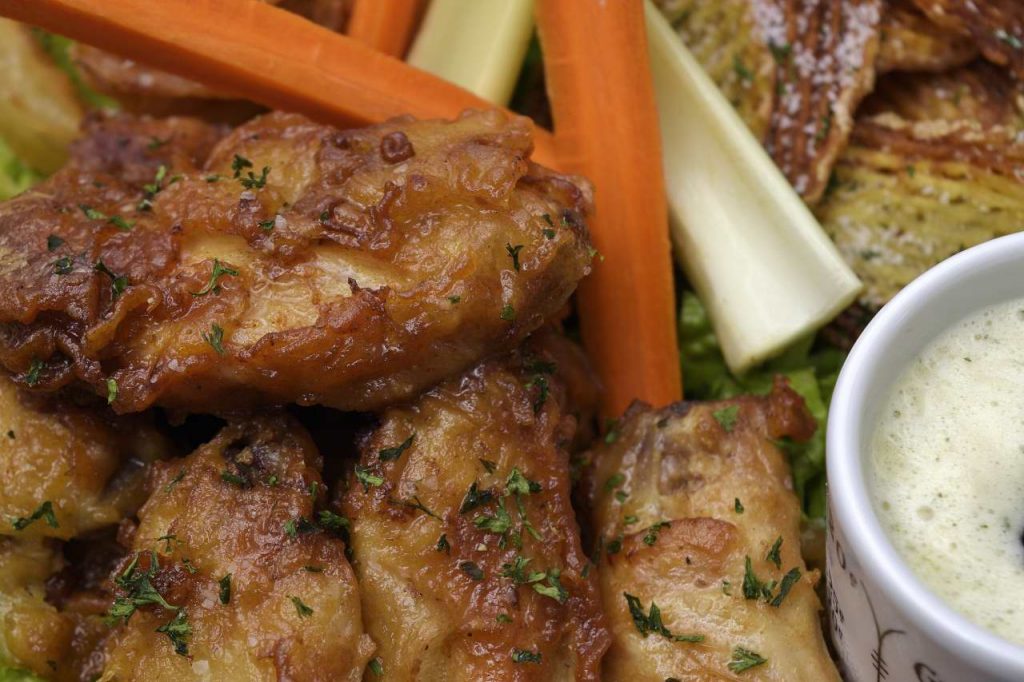 Part two: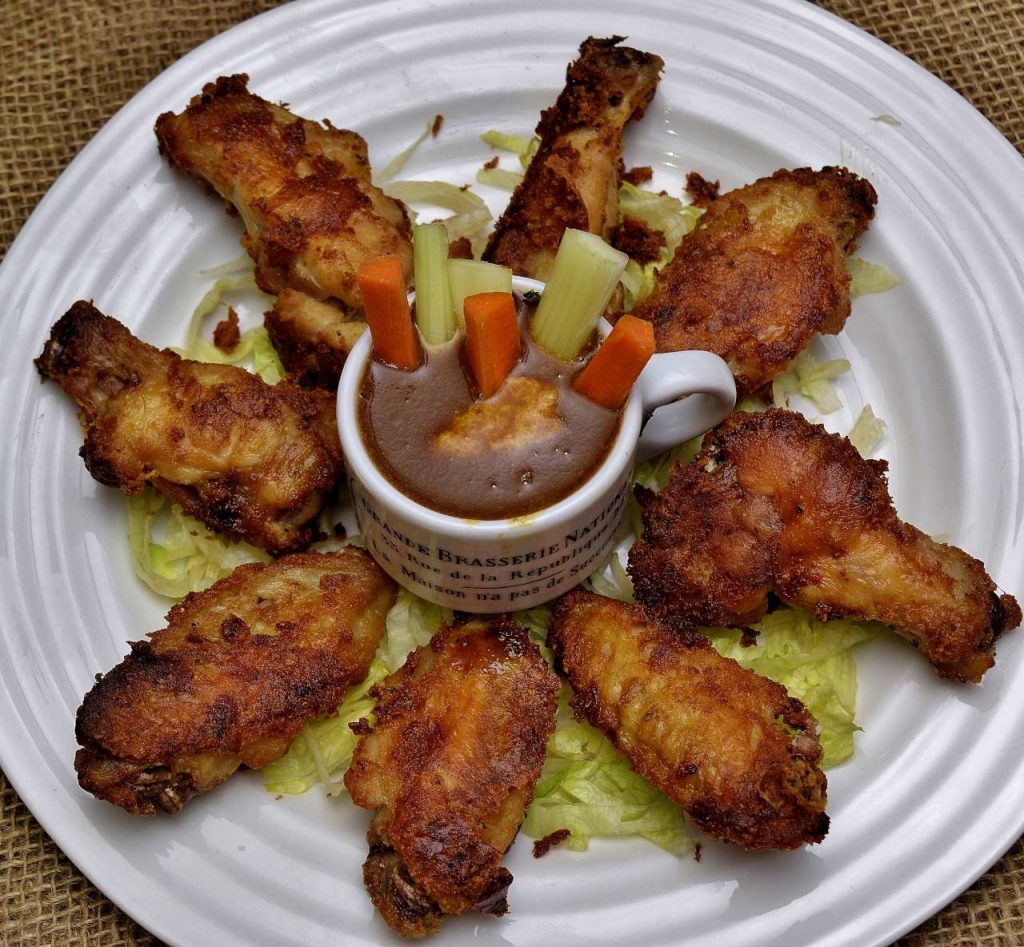 Remove the wings from the bag, rinse off the gel, pat dry, duh. S+P, then put in a Ziploc bag and toss with some flour–less mess that way, and the flour can be kept. Shake off the excess, very important, and deep fry @315F+ as usual. Bed of shredded lettuce isn't a bad idea, like somebody actually eats roughage.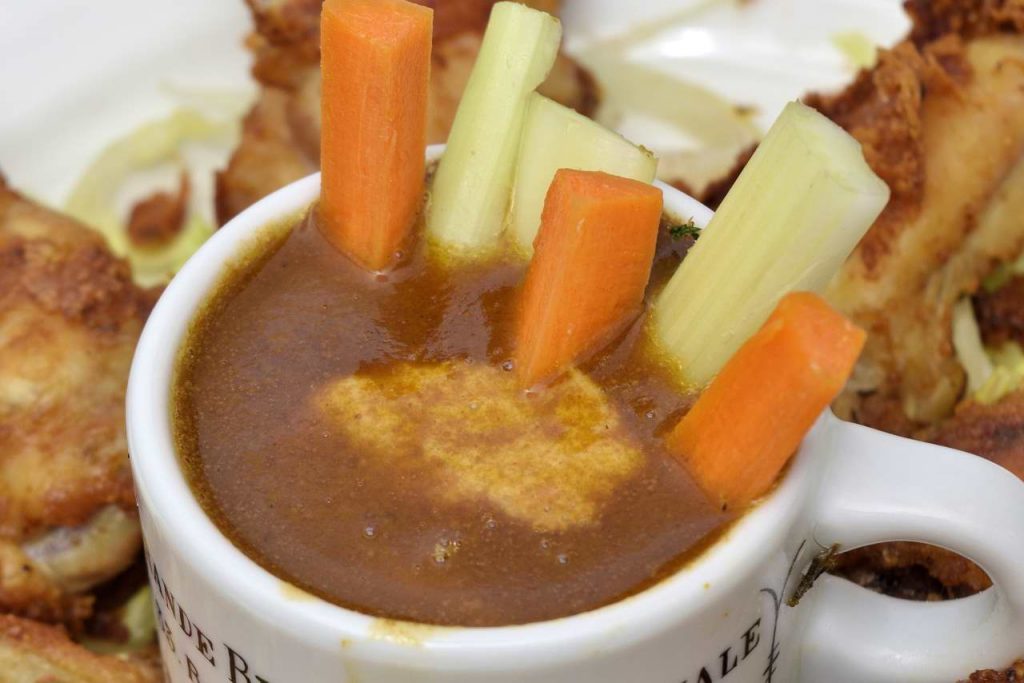 Pour the excess sauce over the dressing, creating the "sunrise effect," ooh-la-la.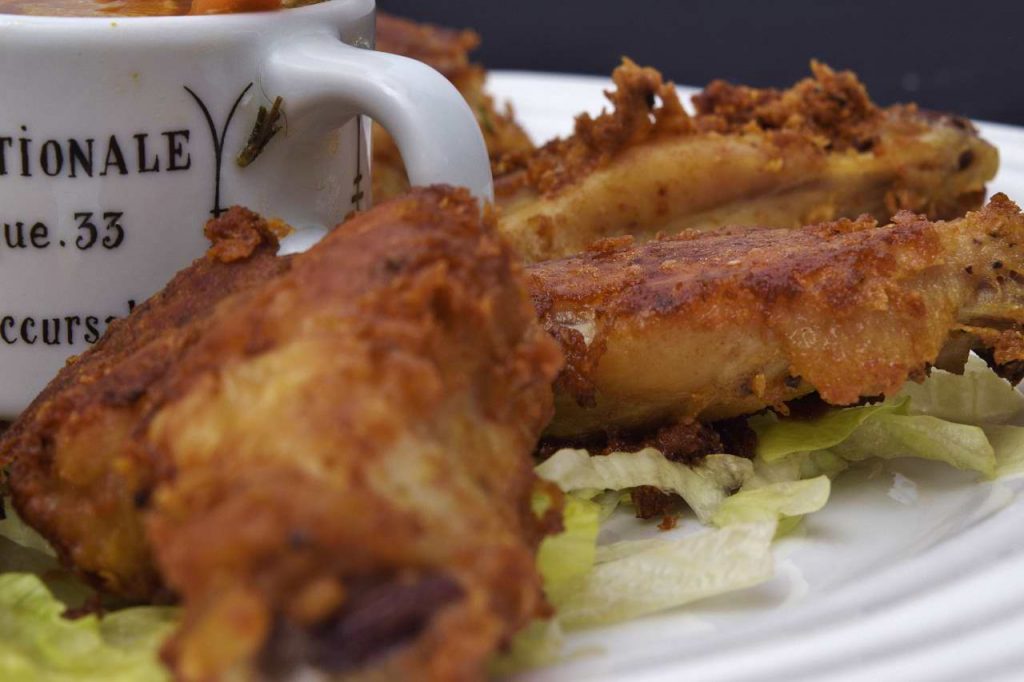 Gratuitous close-up with contrived out of focus elements in the very front and very back, just call me Nikon Man
NNNNNNNNNEXT!
Tempura is a thing, and it's not really Japanese if you consider they weren't really deep frying much until the Portuguese Navy started poking around. You can make your own, and there are a zillion bad recipes for it too. The proprietary versions are all good and pretty much the same, even though they try not to reveal enough for you to figure out what it's all about.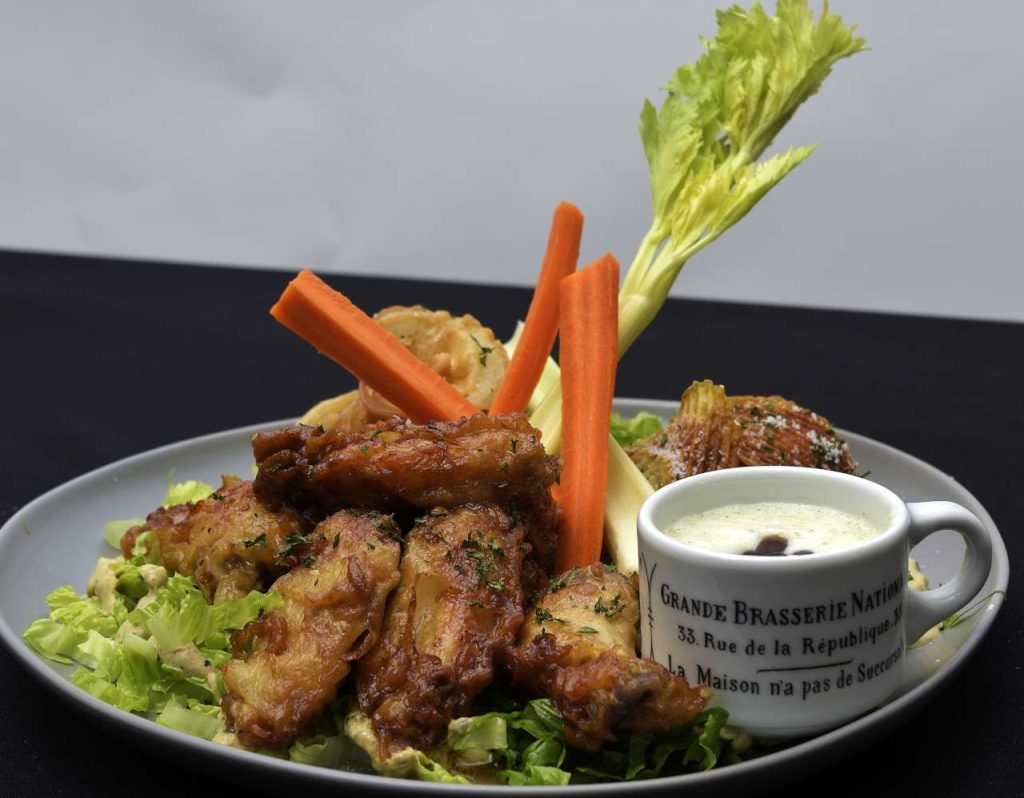 The idea is less gluten, so it's 3/5 white flour or even cake flour and the other 2/5 are various amounts of rice flour and wheat starch. Rice flour gets crispy, but never seems to taste cooked, so don't put too much in there. Wheat starch comes in various incarnations, and some of them are really expensive, but it adds the crispness that is durable. Little bit of soda to cause that splattering effect. Then, you know, egg white, water, club soda, everybody says they have the authentic recipe. Don't put milk in there, and don't put egg yolks in there. Lots of different ways to use it, dry, wet, etc.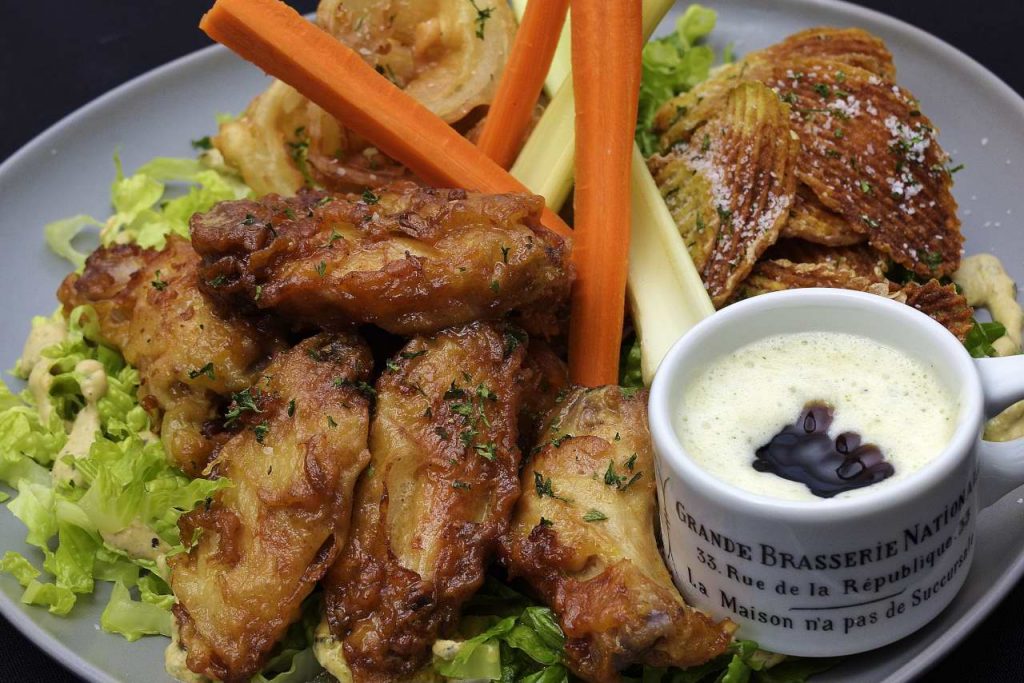 I use the brand that starts with a K, that's a good one. They make a lot of good products. For this version, I made a very thick wet batter, dipped the wings in flour first to make the batter stick, and then out of the wet and into the hot oil. The great thing about sous vide is you never wonder if there is going to be pink on the bone–did I mention that?
You can see the sort of waffle/ruffle chips on the plate, not sous vide–you have to use a mandolin to get them to look like that, which means you will eventually cut the tips of your fingers a few times. Once you get over that, you just deep fry the potatoes until they STOP SIZZLING. Opening the vault on that one, everybody always asks "how long?"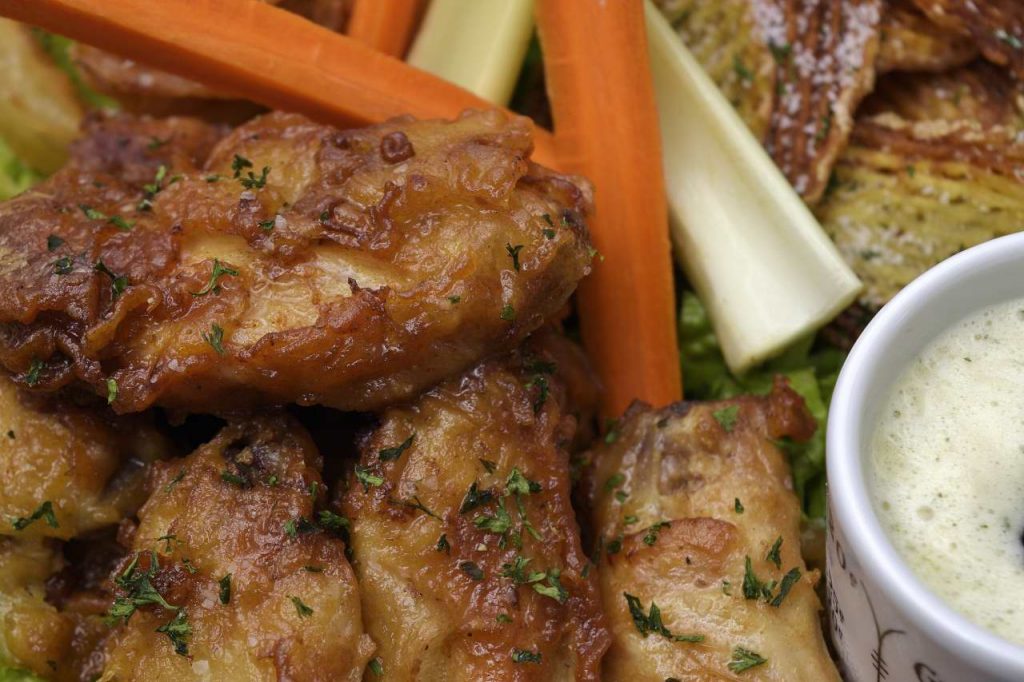 Ranch again with a float of hoisin or oyster or manis or something or all of them combined, I have all these squirt bottles that are just basically Chinese thick. I like this, the skin gets crispy, but there's still that thin layer of crackle.
Strain the oil and turn on the griddle

Now we're getting somewhere. I opened the creative flood gates for these. After patting dry, I did a light coating of egg white mixed with water and a little flour, just to make sticky. Then I rolled in the dry tempura flour. Let it sit in there for a few minutes to encourage cling, you want the surface dry. Then, onto the greasy griddle or pan at about 275F, more of a fried chicken effect. Nice crust. Instead of sticks, I used a Swiss peeler with a little shredder blade on it to cut long strings. The store had some heirlooms, so they went on there too, and of course, parsley.
Deep fried sage leaves are perty good. I tried to deep fry the thyme, but the leaves are too small so you get dusty sticks. Rosemary just turns black. Basil works. We live, we learn. Even mint and baby spinach leaves will work.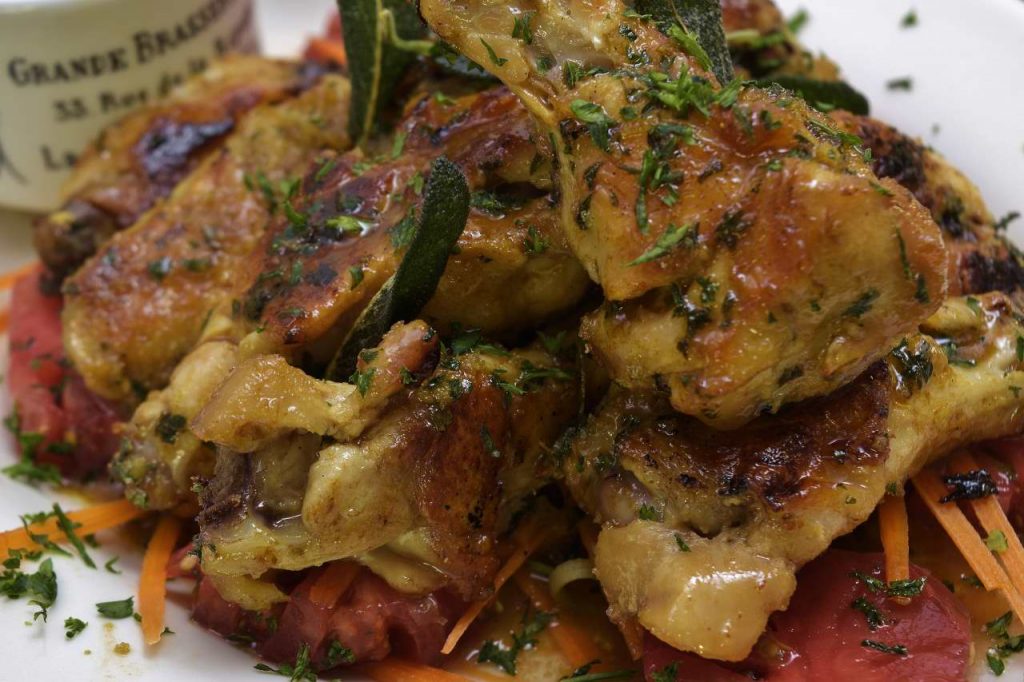 All in all, pretty appetizing.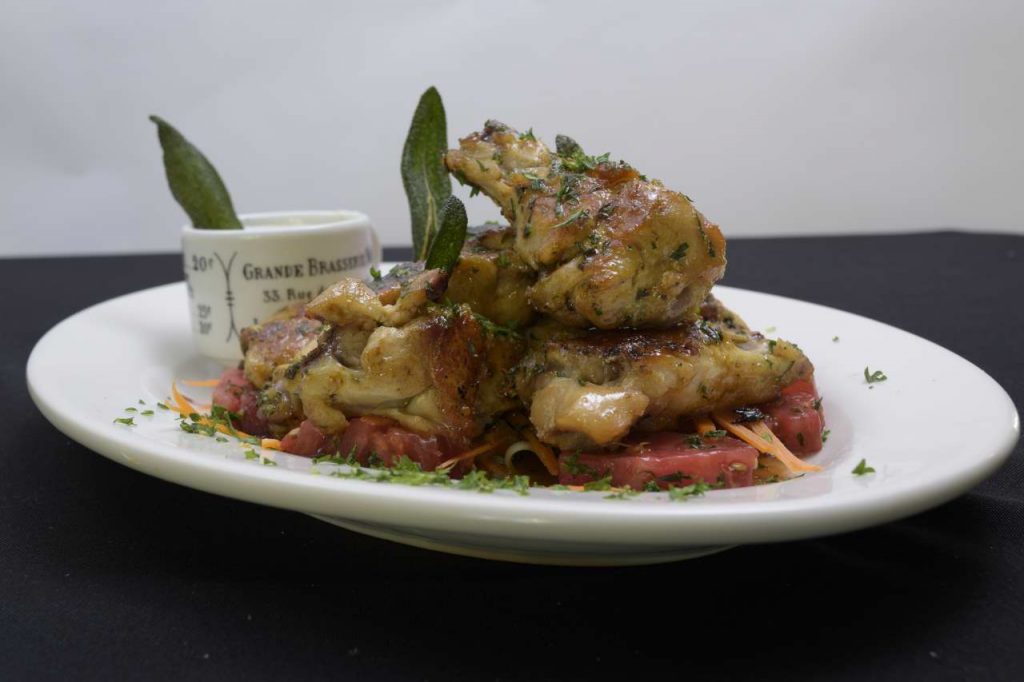 The oval plate, I remember when all restaurants wanted oval plates. Hard to stack with the round ones. My little French espresso cup with the 19th century menu phrases on it.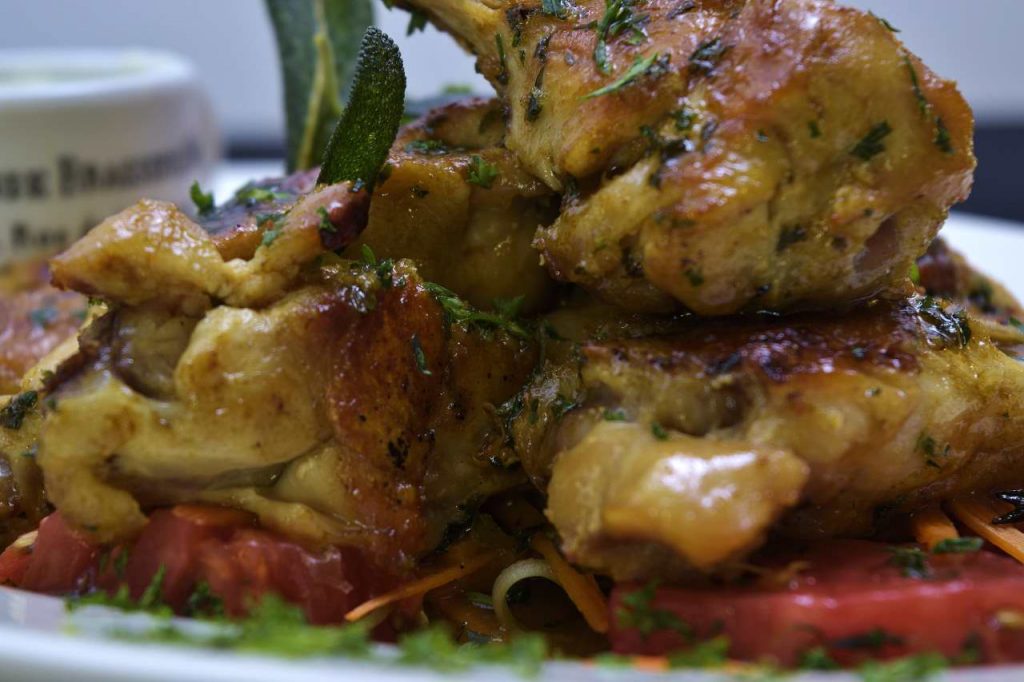 actual size?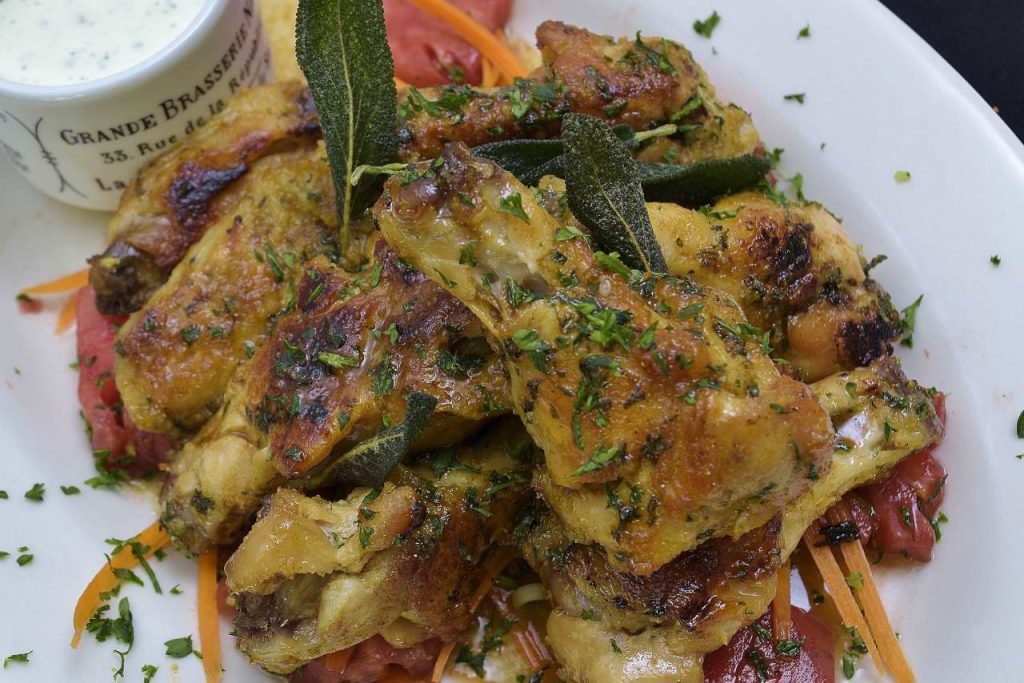 Good any time of the day. It's always 5 pm somewhere.
Turn off the griddle, turn on the grill; er, broiler. um, er, you know, the thing with the grates. The great grates.
First, we build a rub, a simple rub, a rub we can sprinkle so as not to need to rub:
Paprika, 1 Tablespoon.
Ground black pepper, 1 teaspoon.
Sugar, 1 teaspoon.
Garlic powder, 1 teaspoon.
Onion powder, 1 teaspoon.
Oregano, 1 teaspoon.
Fennel seeds, 1 teaspoon.
Parsley, dried, 2 Tablespoons.
Other ingredients:
Celery sticks
Carrot sticks
Cherry tomatoes, red and yellow
Parsley, chopped
Iceberg lettuce
Thyme sprigs
Sage leaves
Procedure:
This procedure is a little different than the previous ones…put the pouches of processed wings in hot tap water for a minute or two to dissolve the gel. Cut open the bags and stage the wings into a large bowl to mix, but do not discard the gel. Add
one egg white and
2 Tablespoons of flour.
Toss to coat, and then add the entire recipe of rub. Toss well again.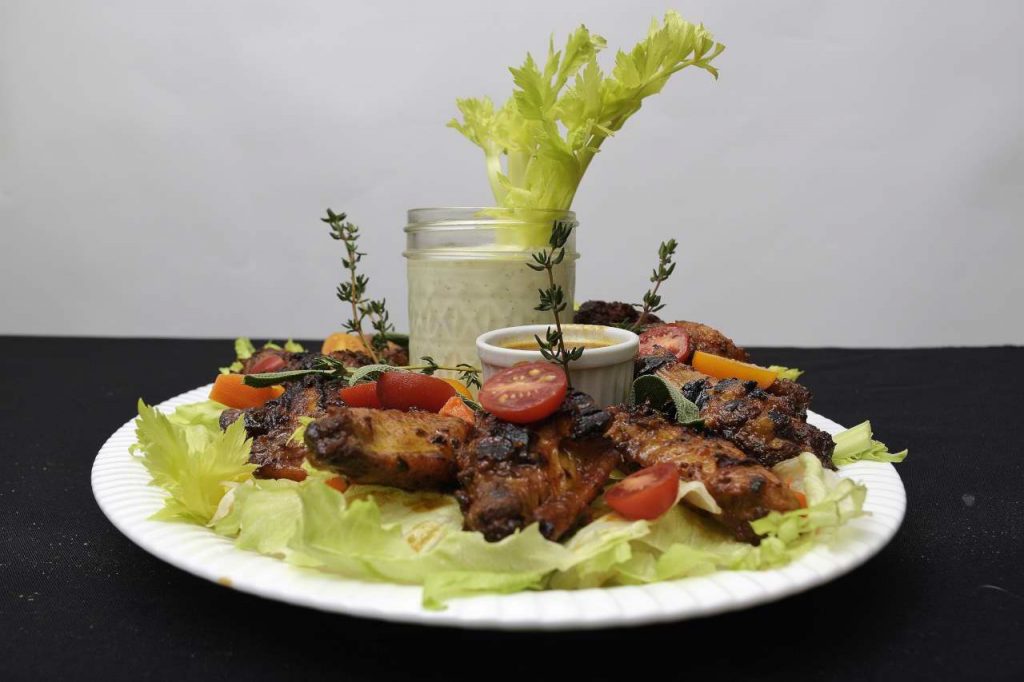 Preheat your grill/broiler to 300F thereabouts, rub a little oil on with a paper towel, and grill the wings. They have to be moved around, and broilers are rarely consistent in heat, so it takes some patience to get just the right amount of char. Don't try to get them to come out all at the same time, just set aside as soon as they are well marked. Another great thing about sous vide. You know they're already safe, so there isn't going to be any pink on the bone no matter what you do, and you'll be amazed how juicy they remain.
While they're broiling away, you can probably find time to lay down some iceberg leaves and arrange the celery and carrot sticks.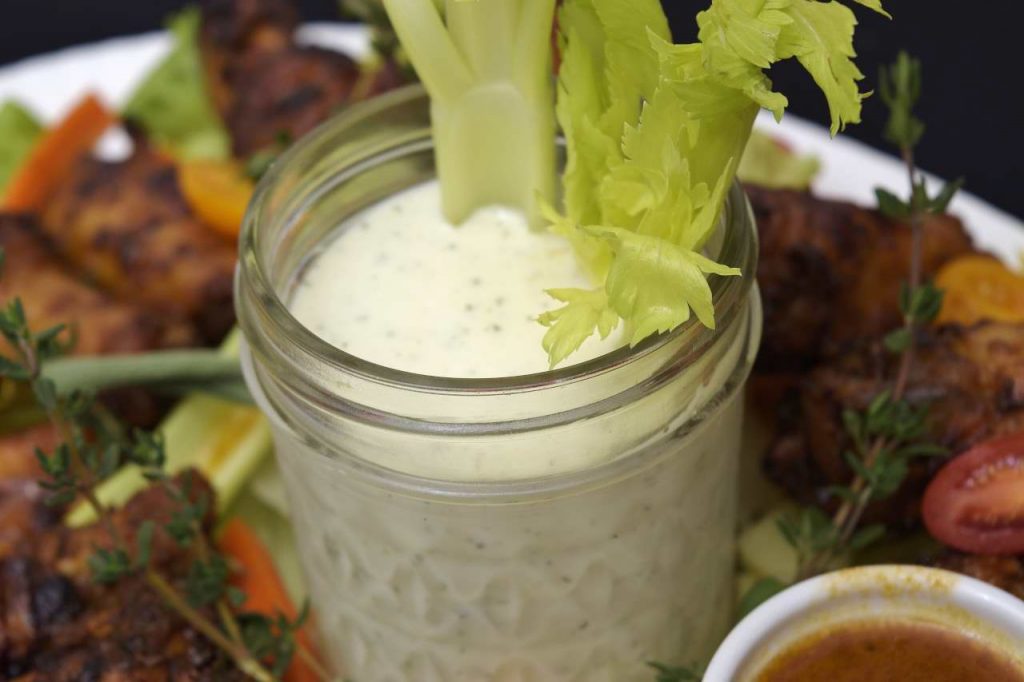 I used the tackiest glass I could find for the Ranch dressing, a used but clean jelly jar. Put some Ranch in there, jam in a few celery stalks with the leaves, and there you go. Leave the tomatoes for after the wings are placed.
Once all the wings are cremated to perfection, toss them in the wing sauce that I described earlier in the article.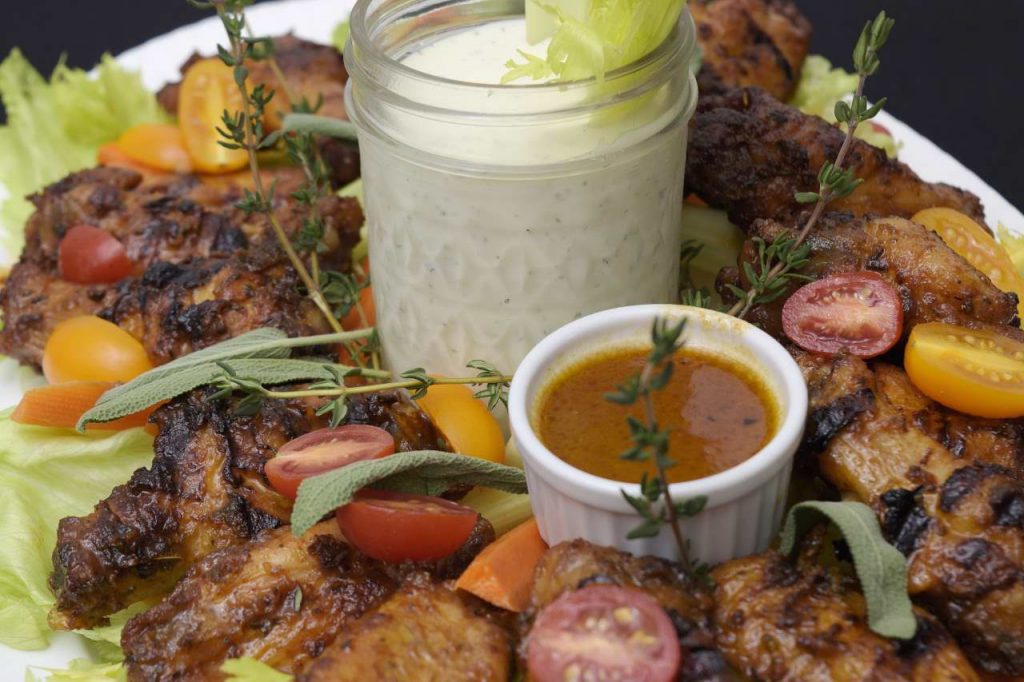 There will be a little left over, so put that in a little souffle cup next to the dressing.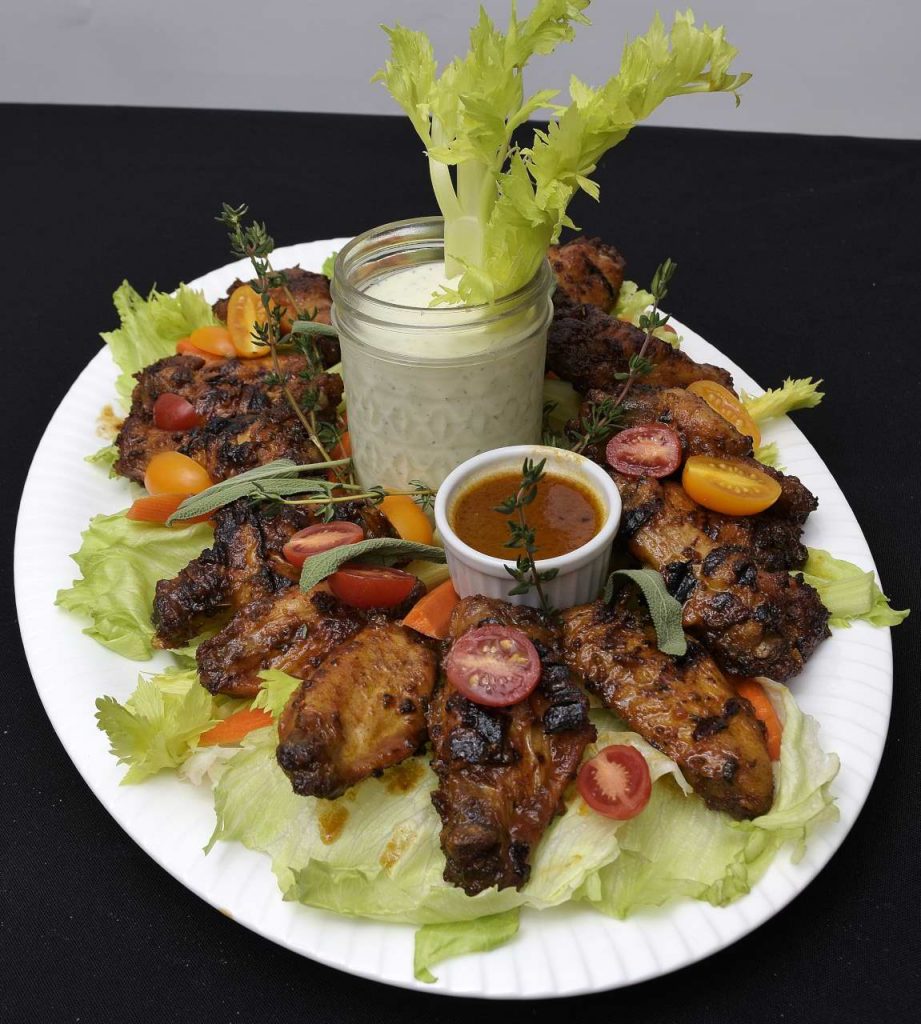 Arrange the wings around the platter but INSIDE the rim, just in case there is an actual professional chef in your gathering, we tend to be anxious about those sorts of things.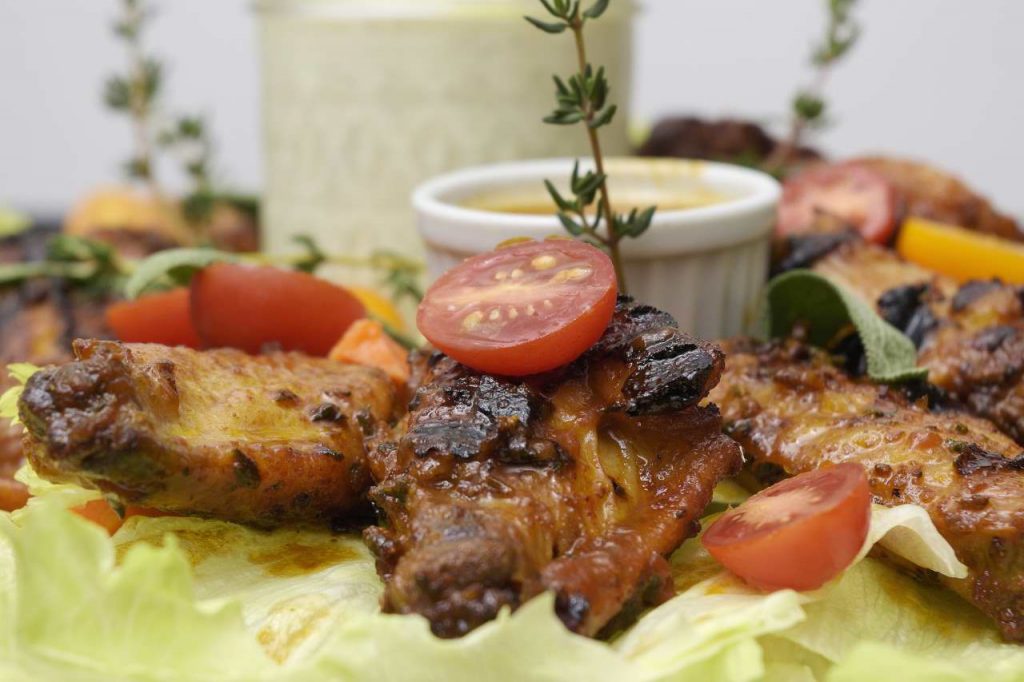 Place the tomatoes in precisely random places, always with the cut side up.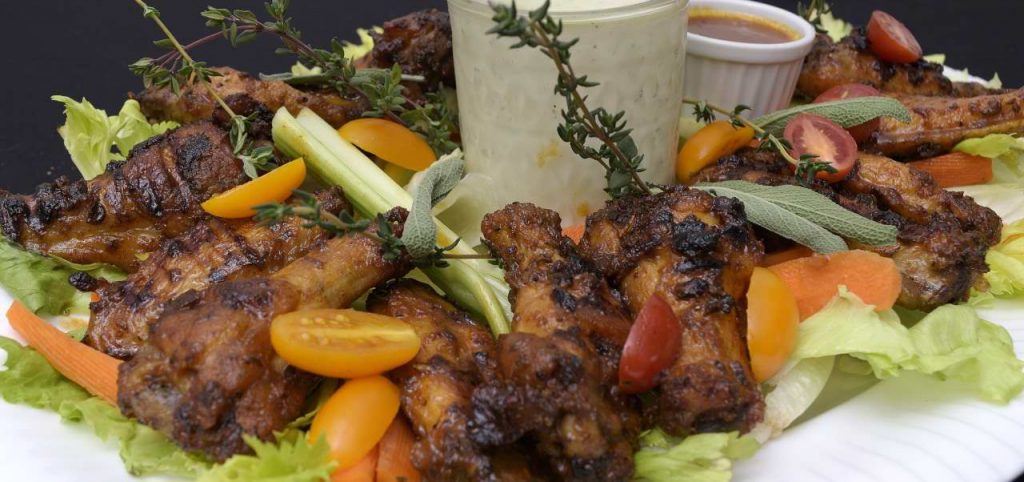 Then stick the herbs in little cracks in the structure so they look like they fell from giant branches above.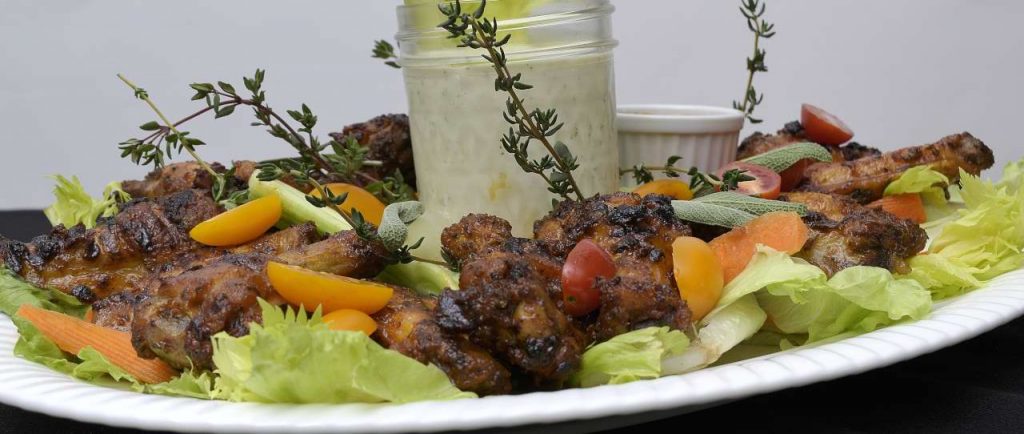 A little tilt gives it a modernist, relaxed feel. Turn on the game, if it isn't already on.
Norm