Biscuits:
Flour, 2 cups.
Butter or shortening, 3 oz.
Salt, 1 teaspoon.
Baking POWDER, 1 Tablespoon.
First, make biscuits.
Combine all these ingredients in a Kitchenaid type mixer or with a fork until it's crumbly like corn meal.
Add:
Milk, 2/3 cup., and just mix–do not knead. Form into a ball.
Lay the ball on a floured surface and squish it into a circle, like 1.5″ thick. Cut it into six wedges.
Put it on a cookie sheet.
Bake @350F.
When it's brown on top, it's done, maybe 20 minutes.
If it's black, just scrape it off. More jam.
Easy Biscuit Béchamel Blasphemy
Apologies to Escoffier.
Ingredients:
Biscuit from recipe, 1 ea.
Milk, 2 cups.
Cream, 1 cup.
Butter, one oz. pieces, 2 ea.
S+P
Using the paddle attachment on a Kitchenaid type mixer or a food processor, grind one biscuit into crumbs. Add one piece of butter.
Meanwhile, heat the 2 cups milk and 1 cup cream to
183F/84C.
The microwave is the best way, don't let it boil over; use a large container. The sous vide bath is the second best way. A pot is the third best way, because it likes to scorch. Don't let it scorch.
Pour the hot liquid in the crumbs with the machine on LOW. It will get a little thick. Return the mixture to the microwave proof container and process for 2 minutes. It's gonna be hot.
Mix a bit with a spoon, and microwave for one more minute. Trust me. When it comes out, return it to the Kitchenaid and paddle it smooth, on slow.
Add the other piece of butter, salt and pepper. Bada Bing, Bada Boom.
If it's still lumpy, you can pulse it in the blender, but only for 2-3 seconds, maybe 2 or three times. More than that will break up the little flour corpuscles and you get to start over.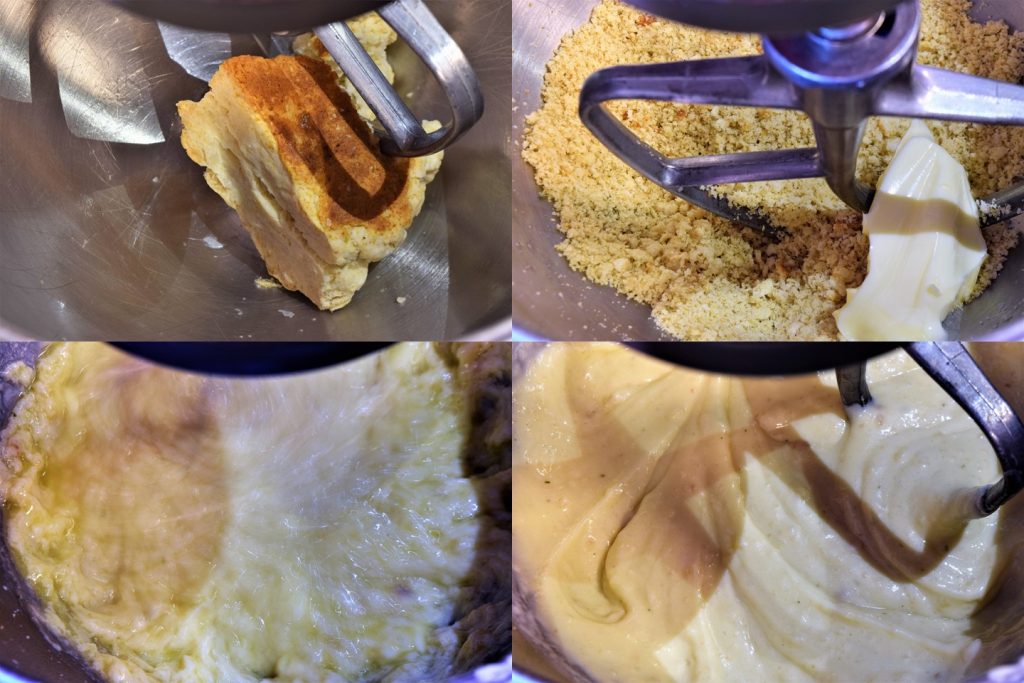 You will be amazed.
Norm