What happens if you eat it in the Winter?
When I was a kid, this was the kind of question I would ask my long suffering mother and my silently simmering dad. Honestly, I don't think I ever got a definitive answer. I do remember a stinging sensation above the nape of my neck. It could be that the explanation was knocked out of my head a mere moment after it had entered it. Good times.
For reasons that I STILL don't understand, summer sausage is defined as any sausage that doesn't require refrigeration. I guess that means that winter is cold enough so that all sausages can sit out. In the summer, only certain ones can, and those are called summer sausages. Somehow, that just isn't a very satisfying conclusion.
I noticed that I only see summer sausage on the shelves in the summer. Ha ha, what? Does that mean that if you sell it in the off season, you're going to get a visit from the Wurst Gestapo? Is there some sort of governing body that makes sure nobody is making May Wine in June? And what is May Wine, anyway?  A subject for another post, perhaps.
The word TANG has been ruined forever.
I remember before 1962. You could use the words "tang" and "tangy" to describe a flavor, a sensation, a characteristic of summer sausage and other things. But once John Glenn took some Tang along with him when he rocketed into space, the mental image conjured up by the word changed forever.
Actually, Tang was invented in '57 and first marketed in '59, but it took a buzz cut adorned astronaut in a silver suit to get people to take an interest in fake orange juice. There's a lesson in there for all of us. Marketing is everything.
Summer sausage is supposed to be tangy, as a result of the lactobacillic fermentation process that makes it shelf stable. Nickel version, lactobacillus bacteria are introduced into the sausage ("Hi! Hi! Nice to meet you!"). Their life cycle creates lactase as a waste/by-product. Lactase is acidic. The presence of lactase discourages other bacteria from lingering. It even kills the lactobacillus, eventually. Like I said, lactase is acidic. So it's kinda tangy.
Please don't tell me my sausage fermented
People think that fermentation means the food went bad. Well, yeah, when food goes bad, fermentation is one of the processes that occurs, along with autolysis and bugs and worms and all kinds of things. But, without fermentation, we wouldn't have beer or wine. Nobody seems to mind that. Sauerkraut is fermented, and so are pickles,  and kimchee, although there's a way to make pickles without fermentation. You just add some acid. You see, ACIDITY was discovered BEFORE ACID, ain't that a kicker.
Fermentation has been utilized for thousands of years, accidentally and otherwise. Fermentation increases the acidity of whatever it's occurring in, which discourages bacteria. Once again. Introducing certain bacteria into organic matter and cultivating them will discourage OTHER bacteria from moving into the neighborhood. It's a germ eat germ world. Well, the lactobacilli don't really eat the other bacteria, they just out COMPETE them. Lactobacilli are like rabbits. You get a breeding pair (actually, they don't even need each other to reproduce), and the next thing you know, lactobacilli ever'where!
So, hug a bug next time you see one. Bugs, lactobacillic ones, are our friends. They populate our appendices and digestive tract. They antagonize all the harmful bugs, like the Guardian Angels used to do on the New York Subways. "BACK OFF, CLOSTRIDIUM PERFRINGENS!  YOU TOO, LISTERIA!" Man, that takes me back.
We're not gonna ferment anything today. I know, I kinda wish we were, now that we understand its awesome goodness. Intentional fermentation still needs to be practiced under controlled conditions, and most of us don't have that kind of tech in our kitchens at the ready. Not much to it, but we're just not set up for it. Maybe some other time. I guess I'm just a fermentation MONITOR. I don't really DO it.
First, you have to make this stuff.
This is important, to be safe. Please. Pay attention to this part.
Norm's basic curing mix:
First, you make a batch of the curing mix, which can be kept and measured out as needed. It consists of:
1/2 cup Kosher salt
1/4 cup sugar
1 TABLESPOON CURE #1
Sous vide carrots, sous vide celery, raw onion, chervil, EVOO, and I made some white wine mustard, so easy.
HERE'S THE RECIPE FOR THE MUSTARD
And as if that wasn't enough…
It's only summer sausage, but it can be very versatile, incorporated into a totally sinful thing that we mistakenly refer to as "Antipasto."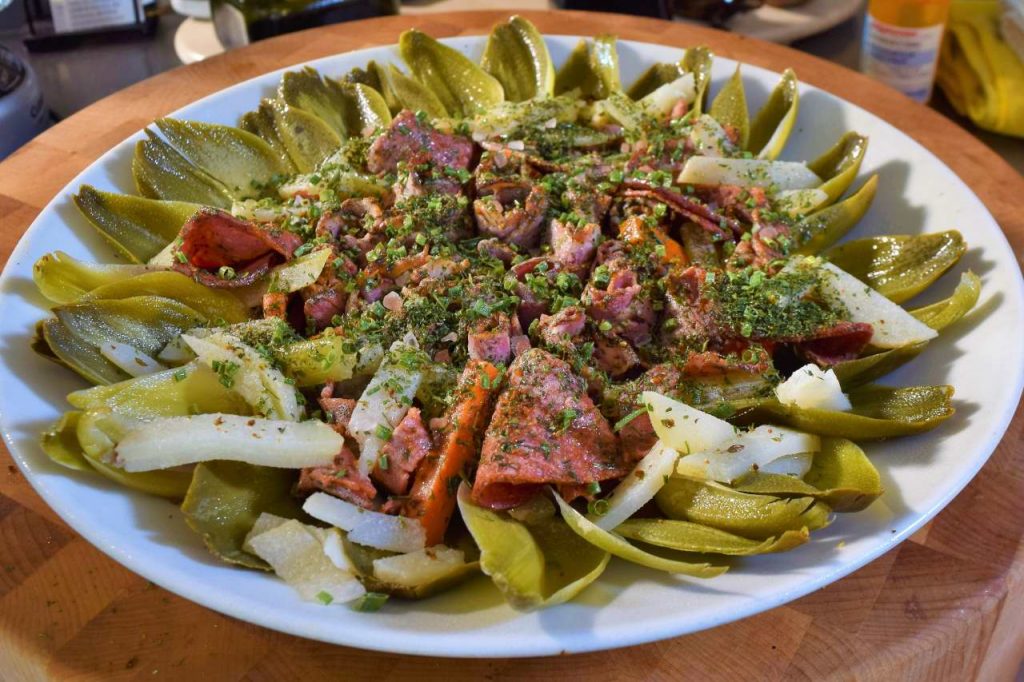 Artichoke hearts, potatoes, celery, carrots, smoked brisket, and Lord knows what else, EVOO, Himalayan salt, this that and the other thing, I left the bread off because I would have had to eat it before the camera ever crossed my mind.
Hope you dig it.
Norm