In case you were wondering…
We've been remodeling our test kitchen for going on a month now, so our publishing routine has been restricted somewhat. I told my wife this morning that I was looking forward to nobody showing up at our house. This after praying earnestly for these last weeks that somebody, ANYBODY, would show up and paint something, deliver something, even come in and BREAK something. Just as 2 minutes is an eternity to a restaurant diner, so is a week a very anxious interval to endure for he who awaits a renovation contractor.
They're almost done painting, and then we will do the floor. This may sound backwards, and it is. We gutted the kitchen first, but worked around the refrigerator, dishwasher and stove as we did it. After much gnashing of teeth, the commercial style sink was finally installed. Then, the electrical, and the painting is almost done as I mentioned. After the floor comes the stainless steel shelves on the wall. No cabinets. When we're done, the kitchen in our trailer will be bigger than a lot of kitchens in restaurants. Barring unforeseen circumstances, of course. We're only about 300% over budget, I'm told that's pretty good.
That being said, one must still eat, right? We had lots of chips and dips, simple pasta dishes, and a few meals out, albeit in. Pizza, burgers, and the like. Quarts of Root beer. Not so bad, but I'll be glad when it's over. We'll publish a little gallery of the process once we're done, I've been trying to snap a few pics here and there. In the meantime, I just bore down and made something.
Simple can get complicated.
Ingredients:
Magret Duck Breast, 1 ea., 16oz./450g, processed @129F/54Cx6, as is my paradigm.
Foie Gras slice, 4 oz./110g.
Onion, SV processed whole @183F/84Cx2 hours.
Cranberry Paste, 1 oz./28g.
Apricot jam, 1 teaspoon.
Whole Egg, 1 ea.
Breading mix, as needed.
Date, one ea., quartered.
Chicken Liver, 1 ea., 1.5 oz.
Procedure: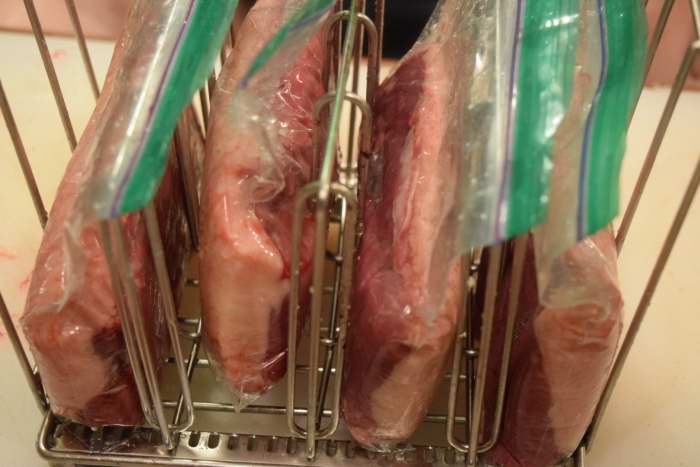 Each breast is loaded individually into Ziploc bags, and I like to use the Lipavi racks and vessels to keep everything straight.
Once submerged, there's plenty of room for the water to circulate, and nothing rests on the bottom of the tank.
After processing, I shock the breasts down to 70F in ice water, and then refrigerate.
This is a standard practice to avoid long periods of time in dangerous temperature zones, and to protect other items in the refrigerator from being exposed to excessive heat.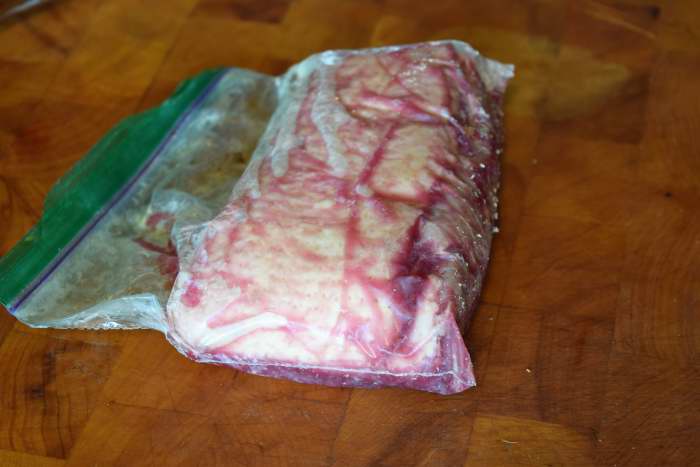 Here's the duck breast after processing.
At such a low temperature, there is very little purge, so I kept things simple and discarded it.
Remember, my kitchen looks like a second hand store that a bull got let loose in right now.
This is no time to be anal.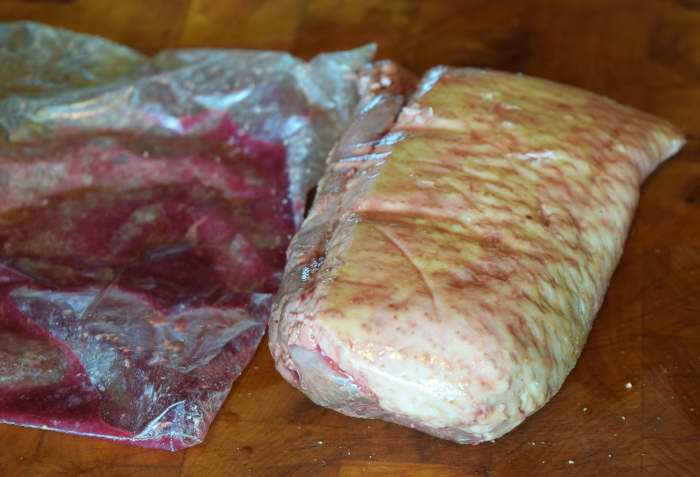 Dry well.
Don't expect it to look very appealing at this stage.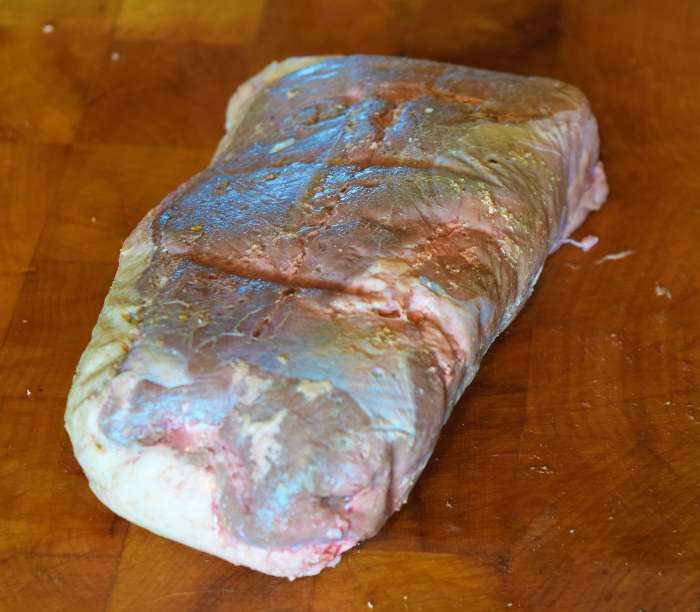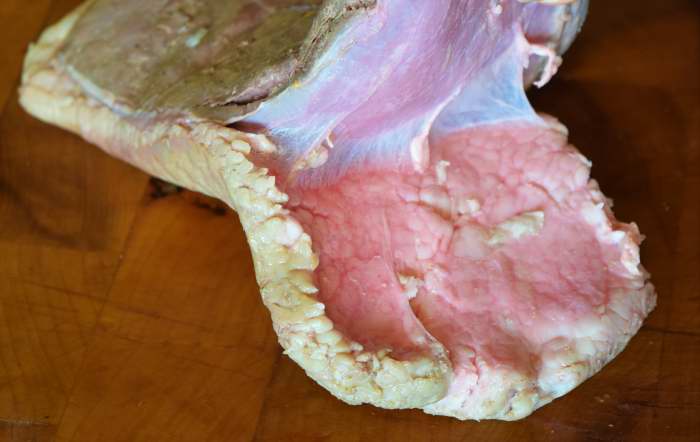 Remove the skin.
A little help from a boning knife, if necessary.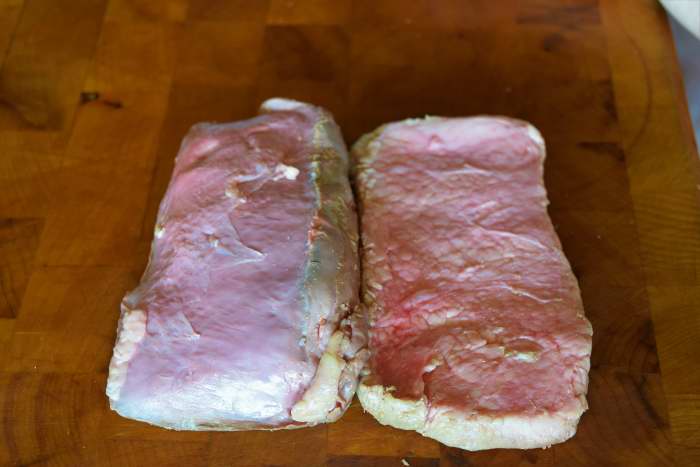 There's almost as much skin as there is meat.
Such is the nature of this cold weather tolerant creature.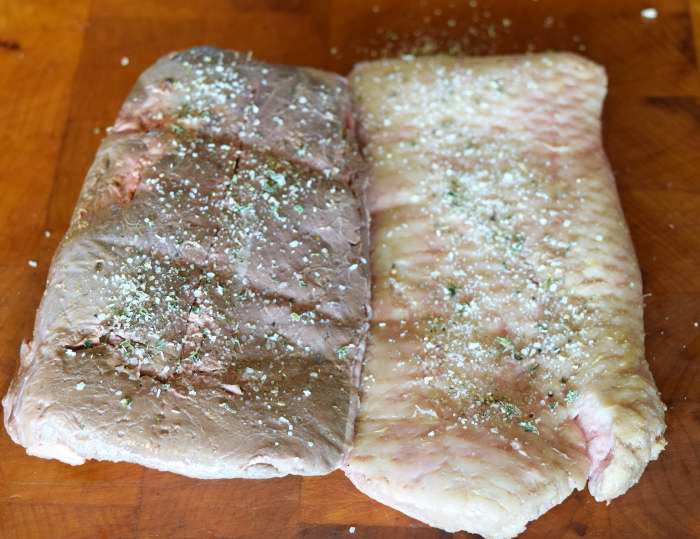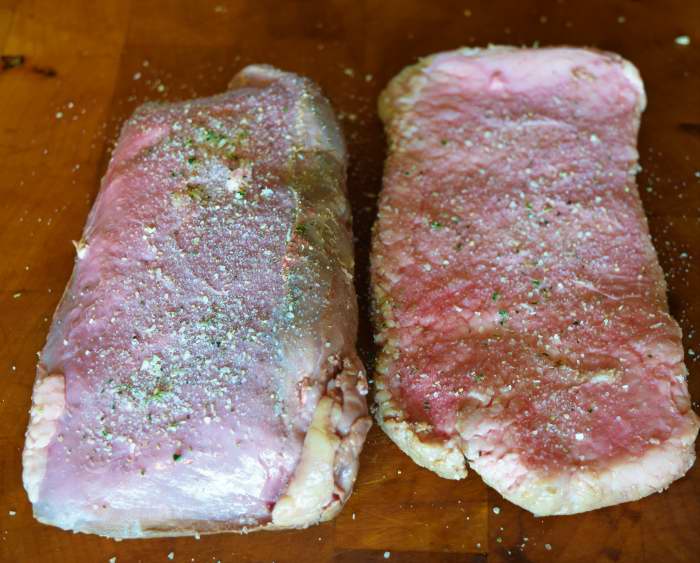 That's right, both sides.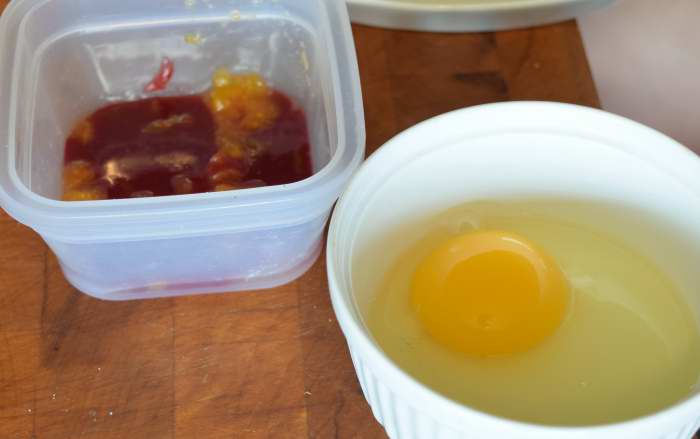 Put the breast aside for the moment and gather together the rest of your ingredients.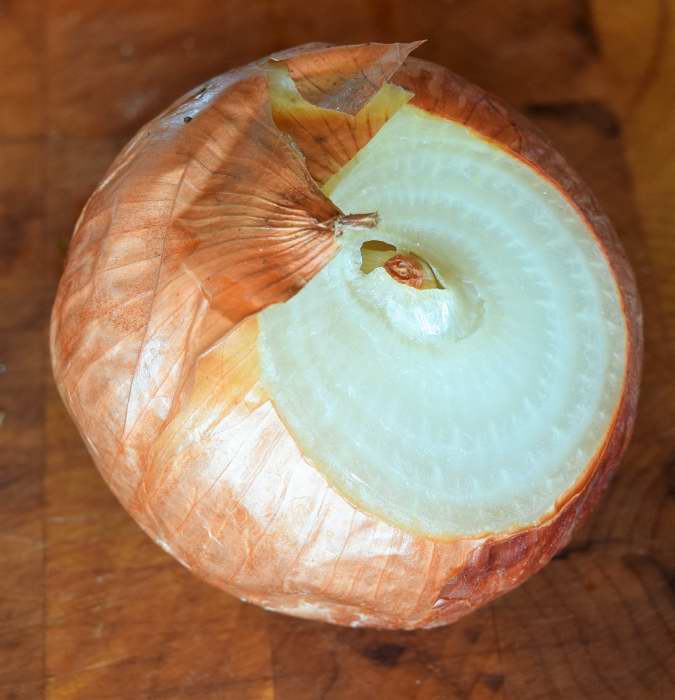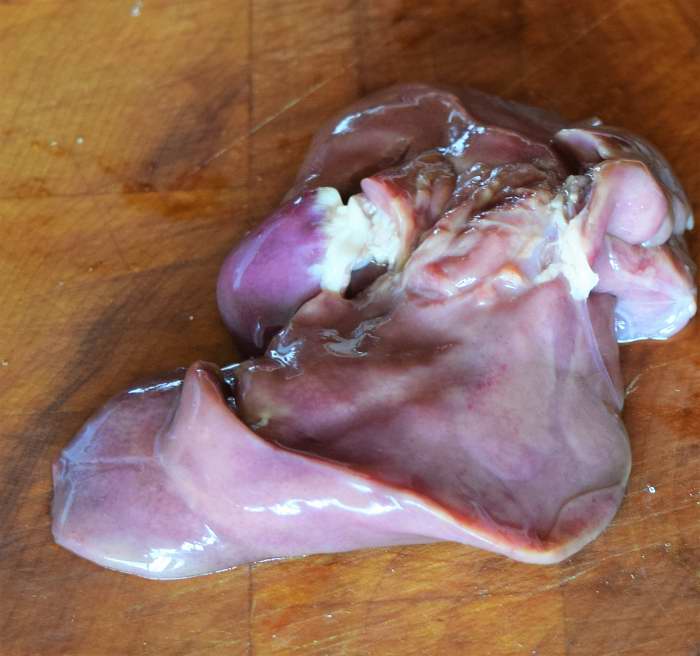 This and that chicken liver.
Couple of rings, cut the chicken liver in half.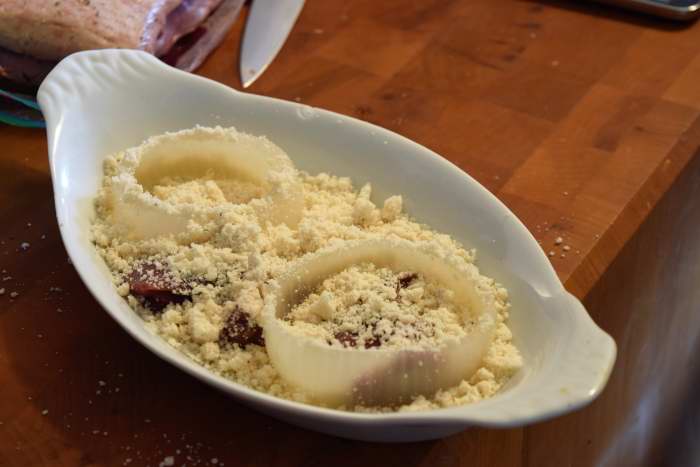 Sprinkle with some of the crust mix.
Trust me.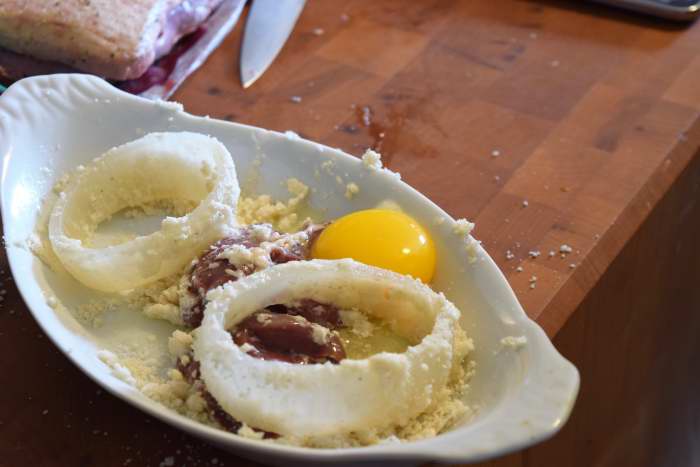 Gently but well coated with whole egg.
Beat it, don't beat it, do your thang.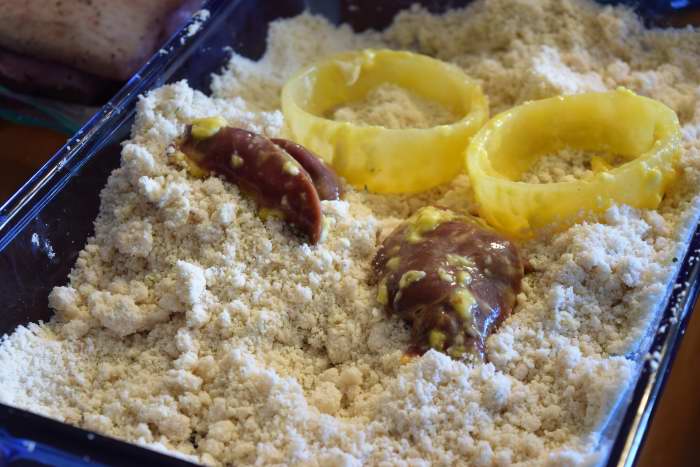 Lay out in a bunch of crust mix, don't try to scrimp, it doesn't work.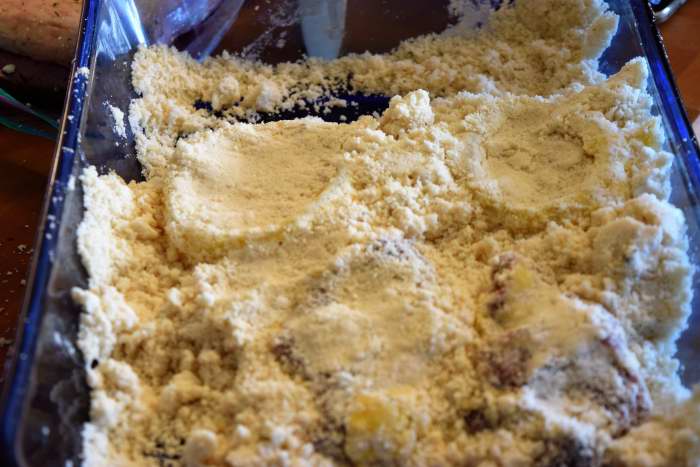 Sprinkle more crust mix on top, and press down gently.
Wait half an hour to let the breading cling.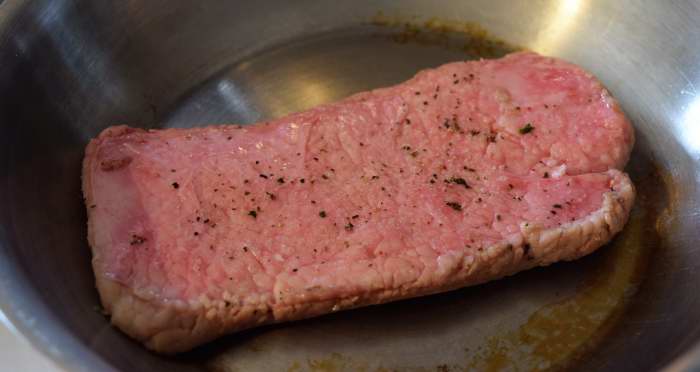 Start the skin, right side up, upside down, warm pan, cold pan, it really doesn't matter.
Don't let it burn.
That matters.
It works in the oven, 185F/85C for a few hours, but I'm not using the oven these days.
I did this whole thing in just the one pan. I wiped it out with a towel once.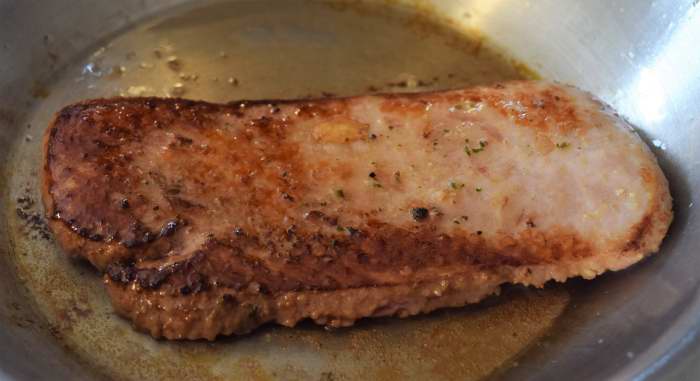 I turned it occasionally, extremely unscientific.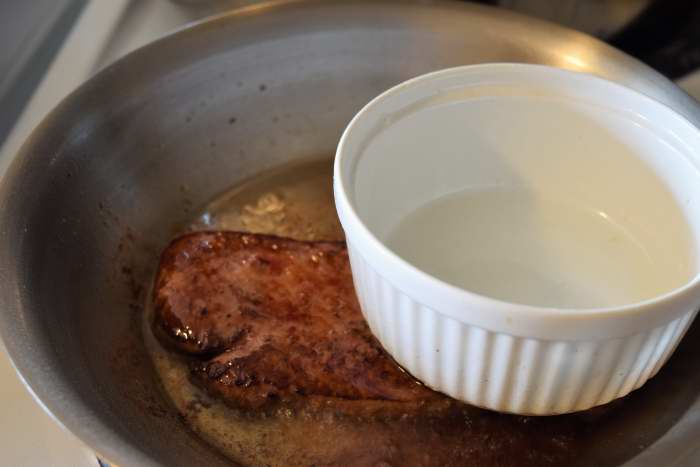 It scooches up a bit, so it's okay to weight it. Don't squeeze it.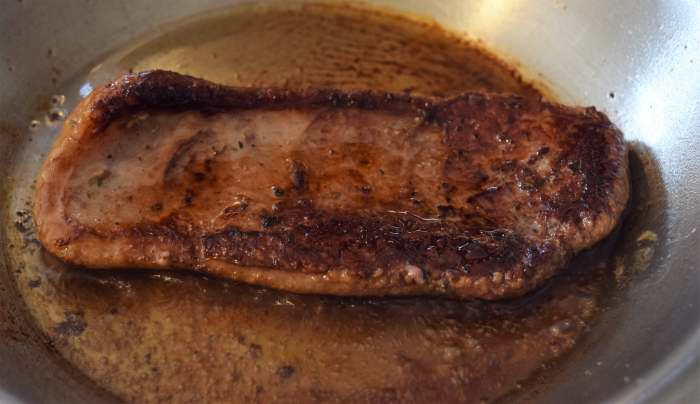 Drain and reserve the fat occasionally, reduce the heat.
It's going to get very dark, but will not taste burnt.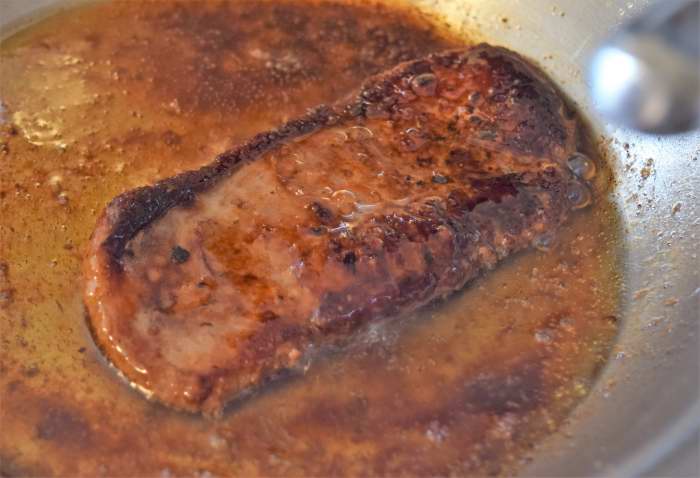 Eventually you get here, and you're not done with it, but remove it to a dish.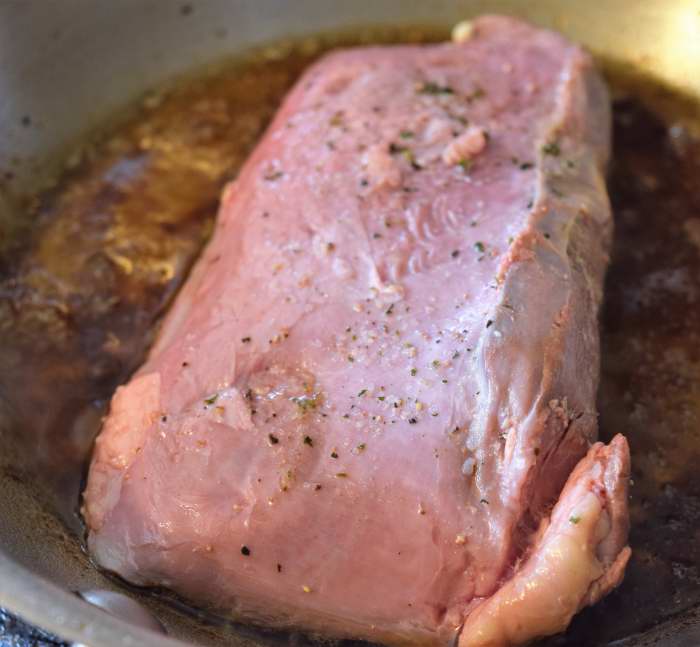 In goes the breast itself, medium heat.
Sizzle, no pop.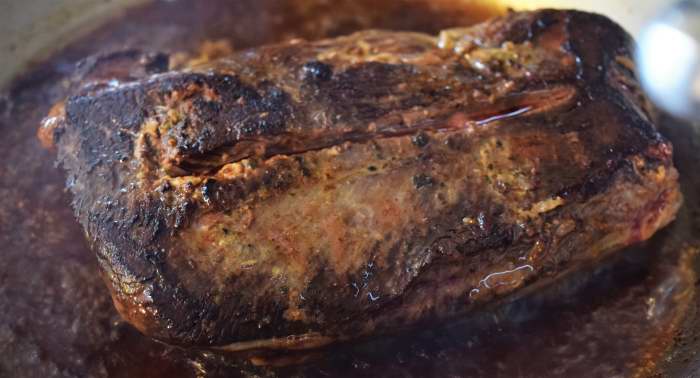 Lots of myoglobin, you're going to get good Maillard.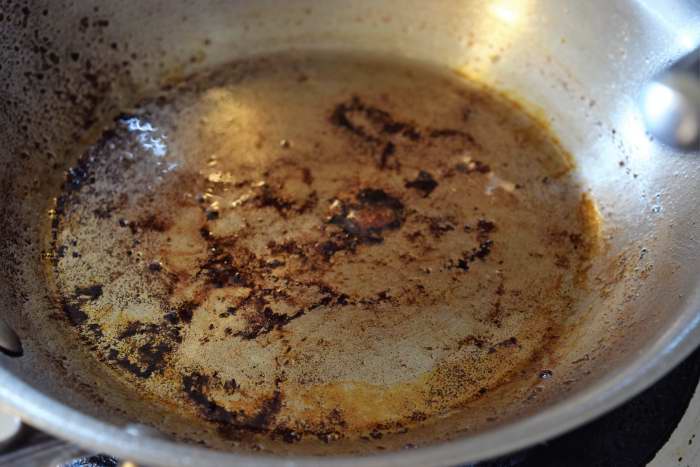 Once it's heated through, remove from the pan, drain out any extra fat.
Put the breast in that dish.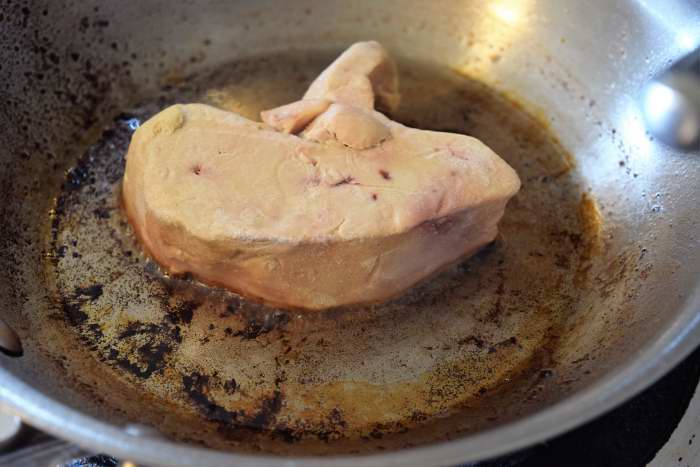 Add the foie gras to the pan.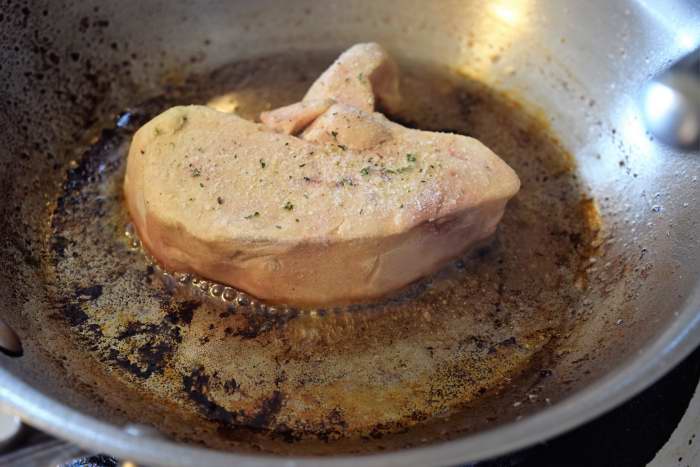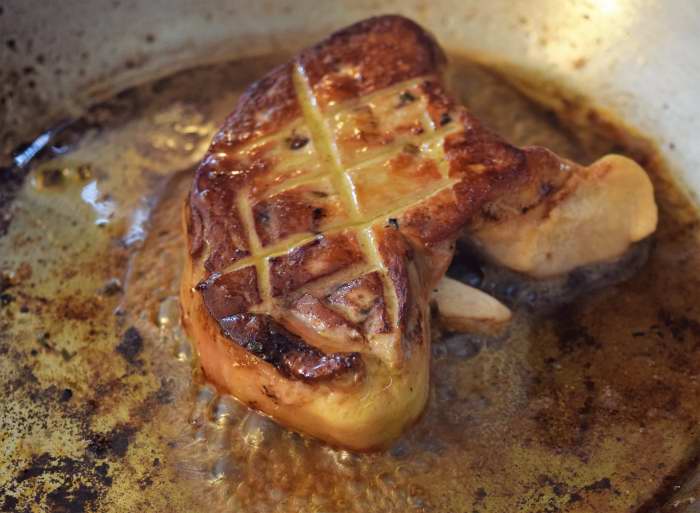 I always cut hash marks into it.
If I forget, I just draw them in while it's cooking.
Foie Gras can be cooked frozen, too, not as hard as people seem to think.
You fry it.
Not much more to it than that.
It's like bacon.
It's gonna shrink.
The fat is good.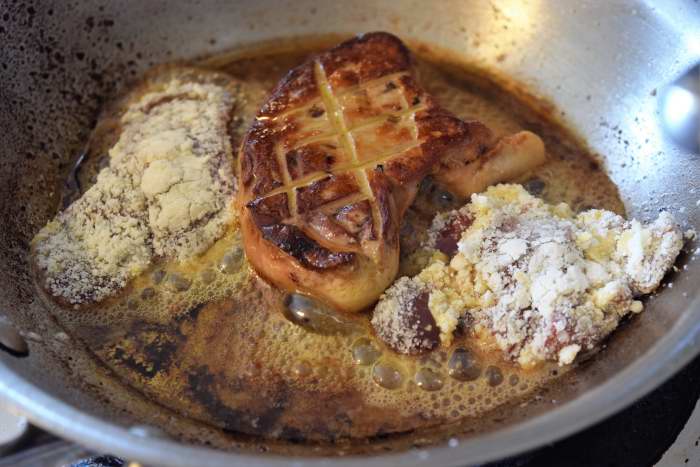 Add the chicken liver, there should be plenty of oil in the pan from the liver.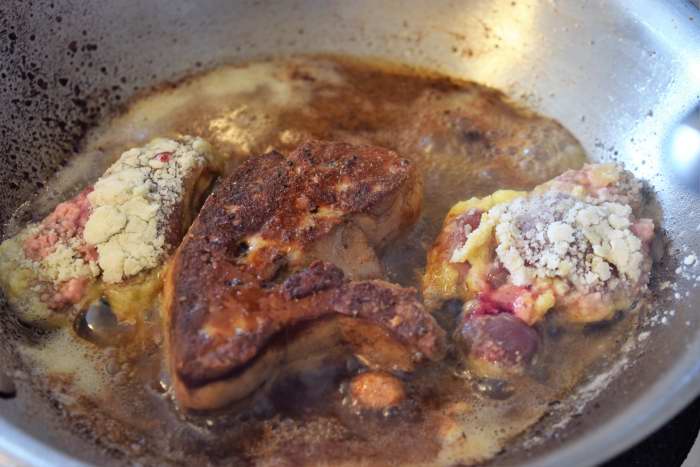 You'll see myoglobin collect on the top, and the edges of the liver are brown.
Flip them.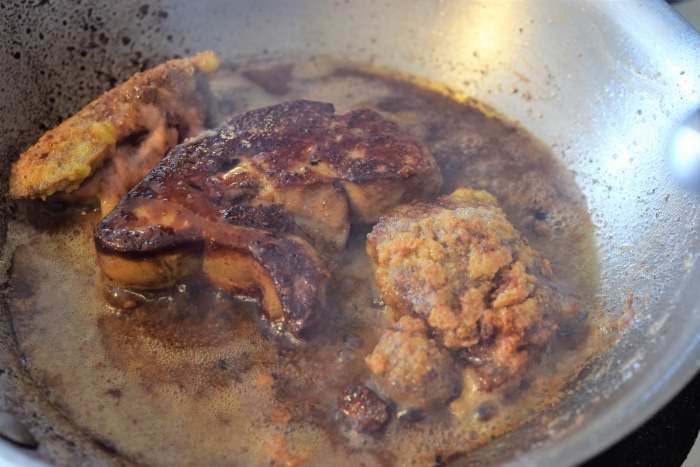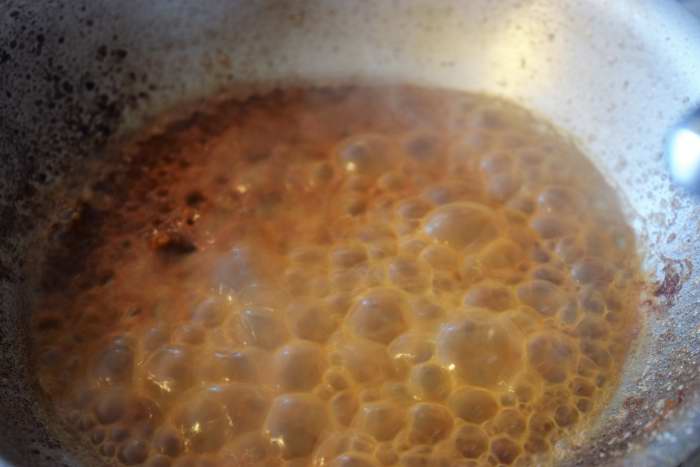 Remove the liver and the liver from the pan, put them in the dish with the duck breast and skin.
Deglaze the pan. I used water.
Add the cranberry paste and the apricot jam to the deglaze, and set aside for later.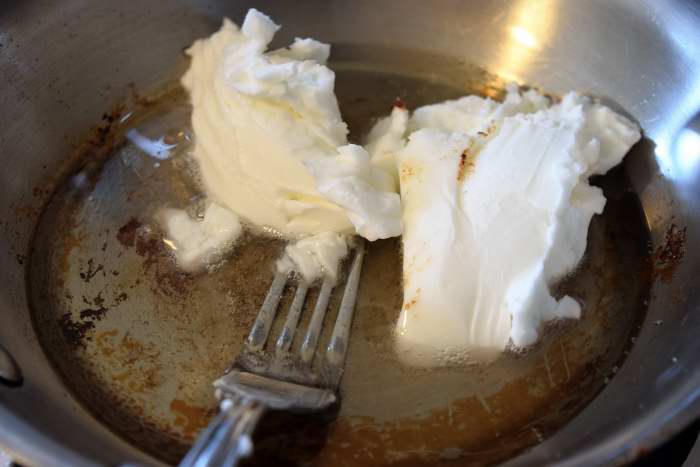 Wipe out the pan with a dry towel, and add some shortening.
That's right, shortening.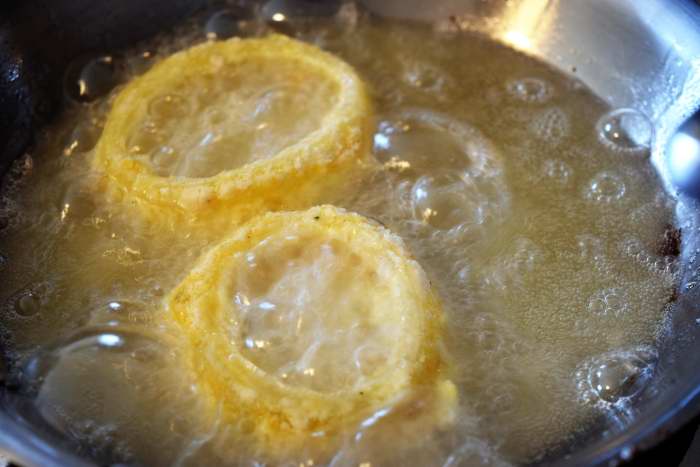 Heat the shortening to 325F/163C, and lower the rings in.
They are not fully submerged.
This is "French Frying" as opposed to "Deep Frying," even though French Fries are deep fried.
Never try to understand the French.
I understand the French, but not from trying.
There is no such thing as "Flash Frying" except in Fast Food marketing think tanks.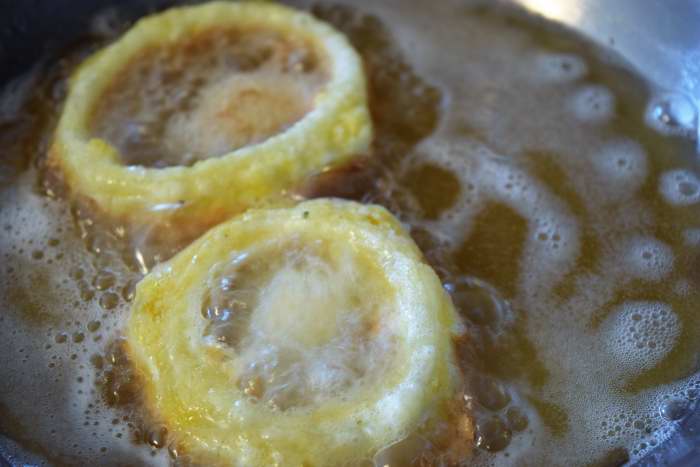 You can see the color changing, without disturbing the rings.
Don't disturb the rings.
Not now, anyway.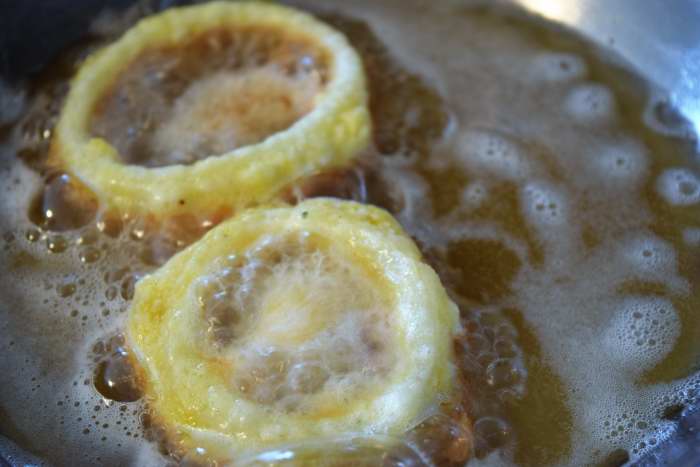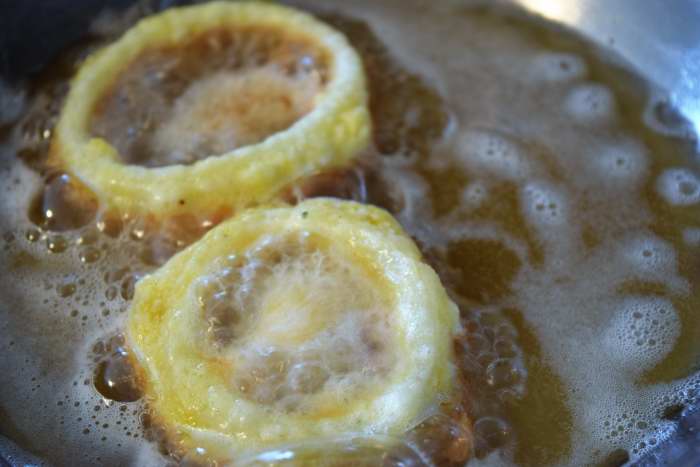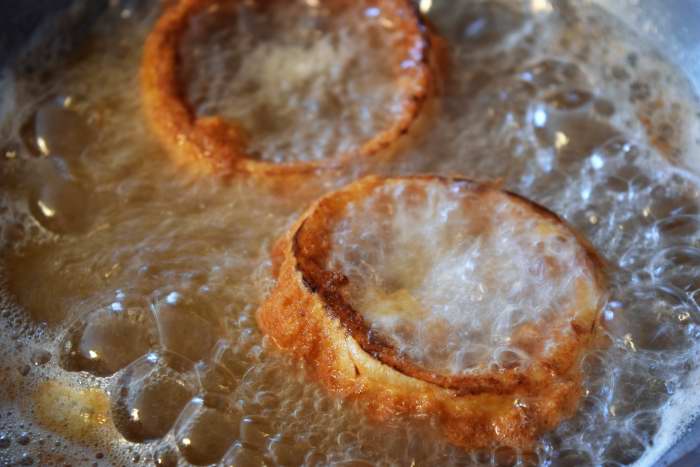 Flip, and, in a few seconds, they are done. That's just the way they cook.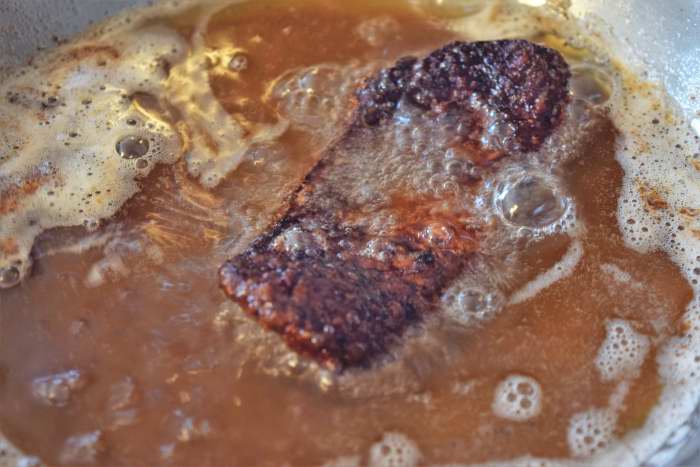 Deep fry the skin to finish rendering it.
Put it back in the dish with the other stuff.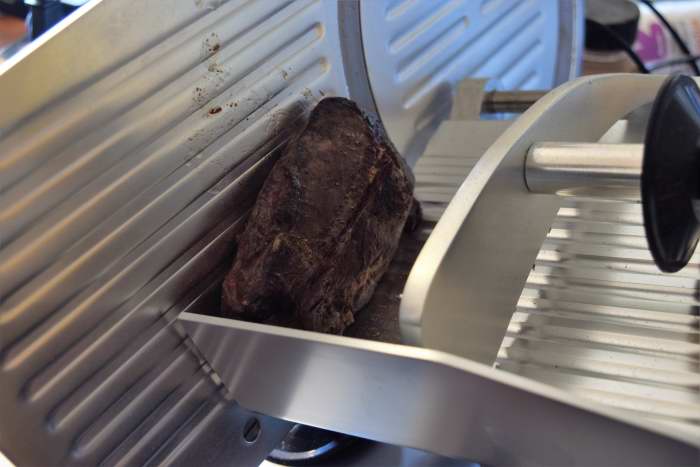 I used the slicer to do the breast, but it can be done by hand, on the bias, as thin as possible.
Slicers go for under $400, which a lot of us pay for those superblenders.
I'd rather have the slicer.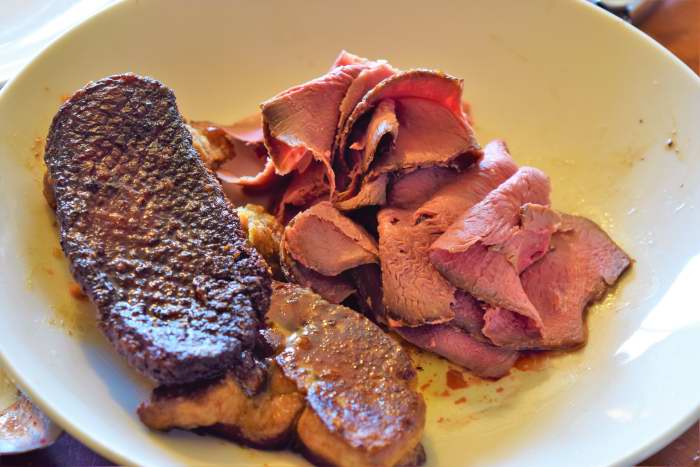 Into the dish with all the other stuff.
My wife is very patient with the mess, but I see no reason to tempt fate.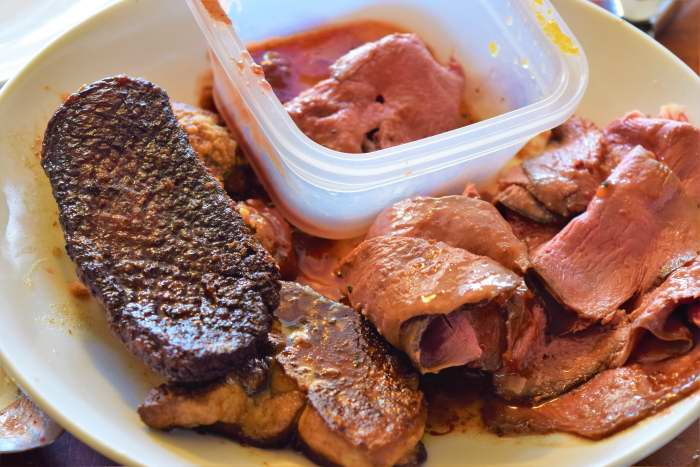 Start loading the slices into the vessel with the cranberry stuff in it.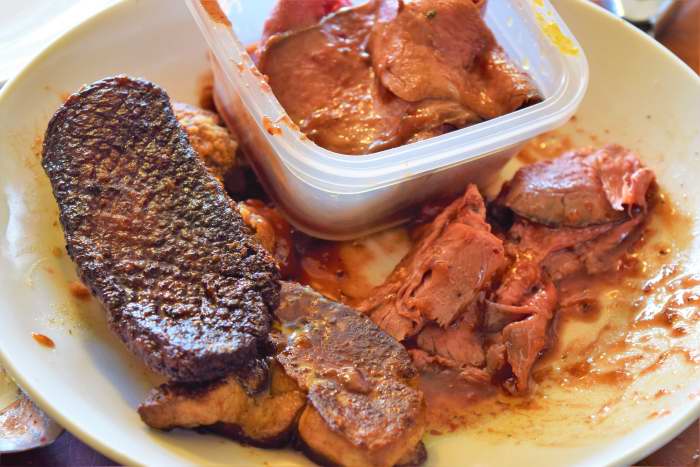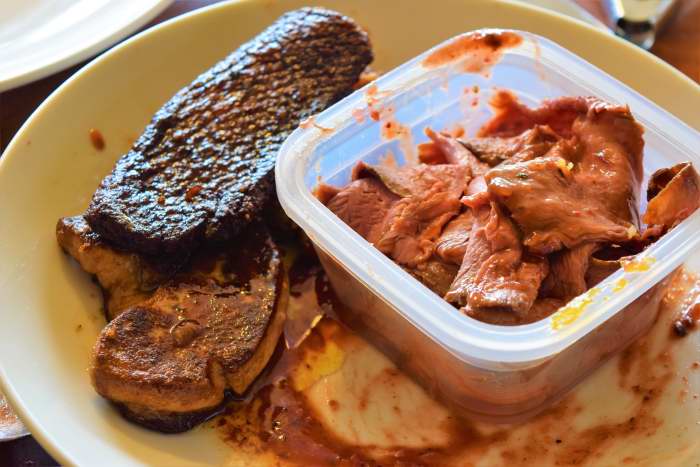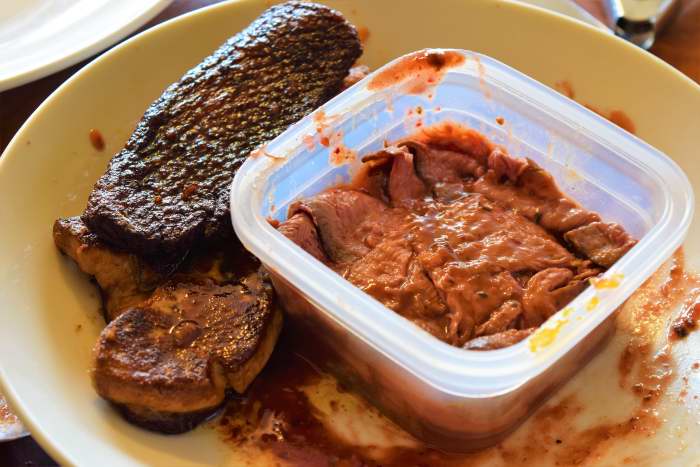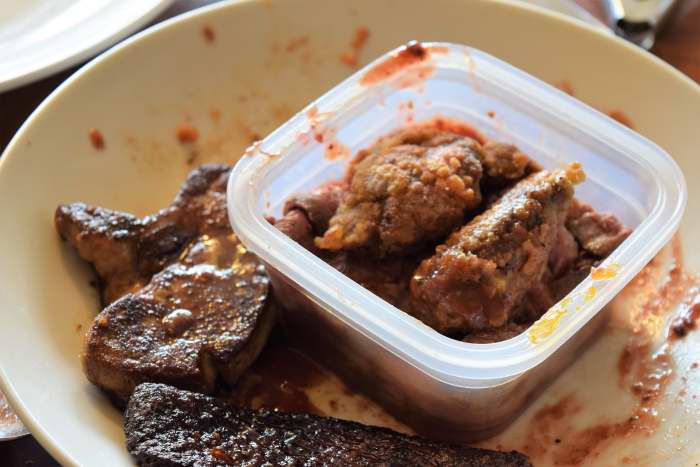 Put the chicken livers in it.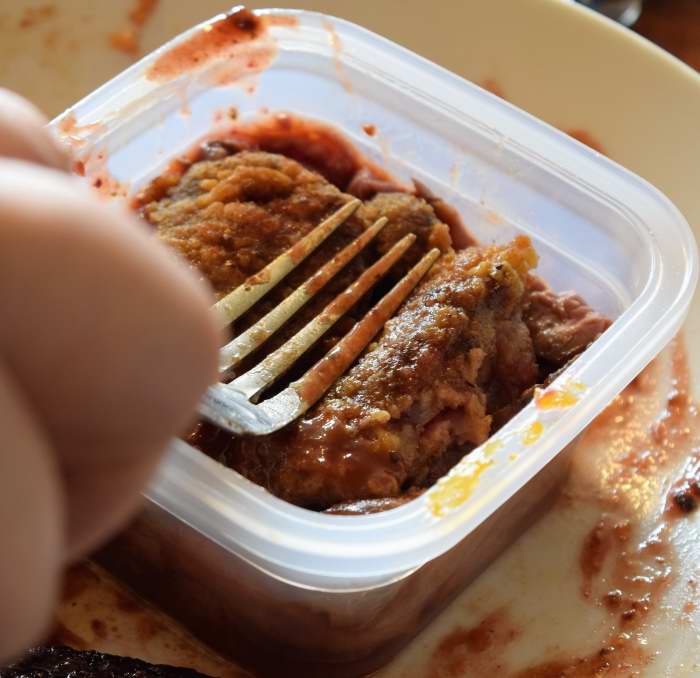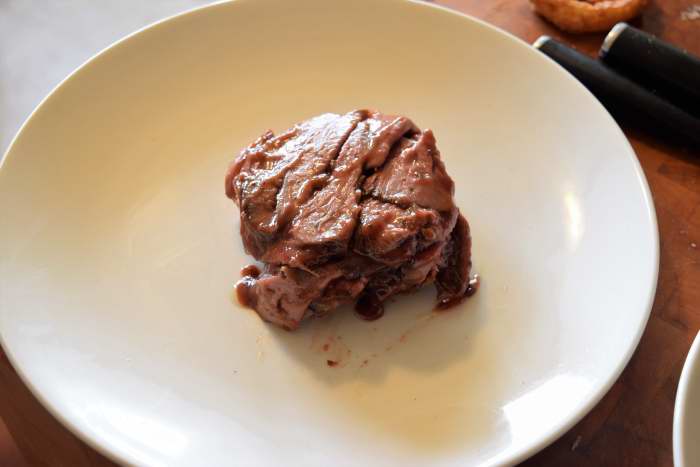 Flip the little vessel on to the plate.
If you didn't have the little vessel, just pile them up like BBQ or whatever.
Chicken livers are on the bottom now.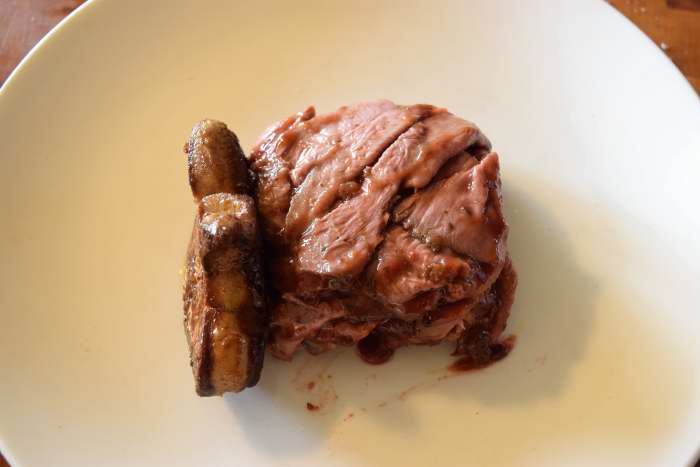 Stand the foie gras up, leaning as it might.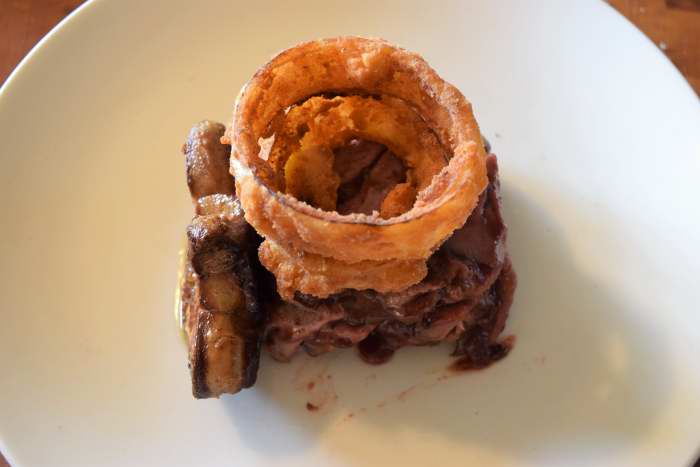 Put the onion rings on there.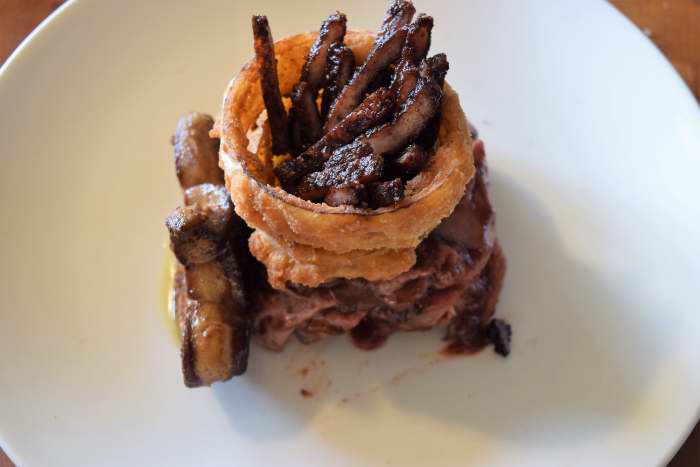 Cut the duck skin into little strips and put them in there, with the date.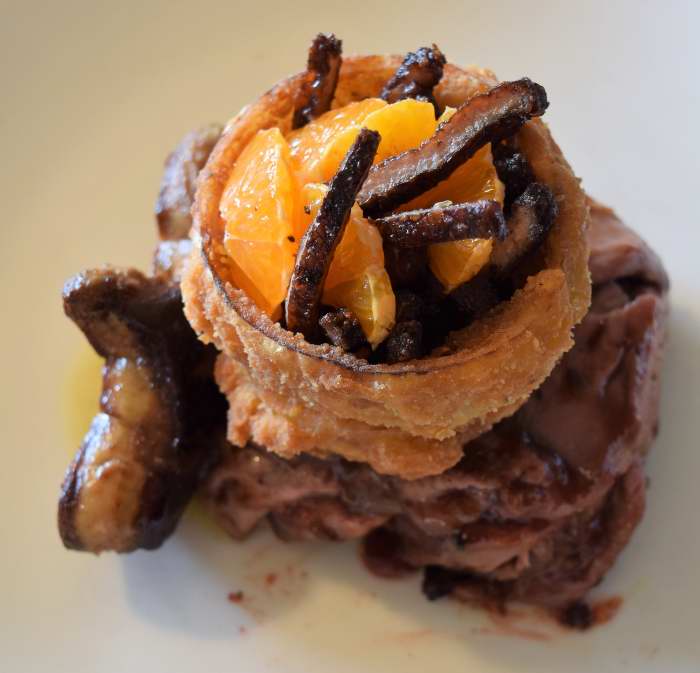 Then the oranges.
I couldn't find the Balsamic syrup, it's here somewhere.
All I could find was ketchup, mustard and mayo.
Fail.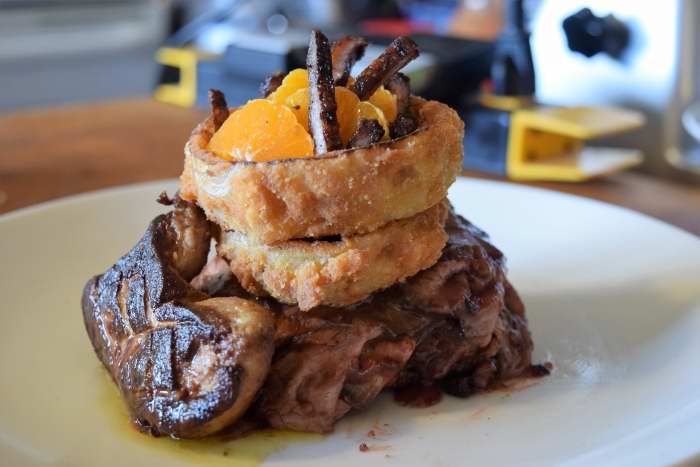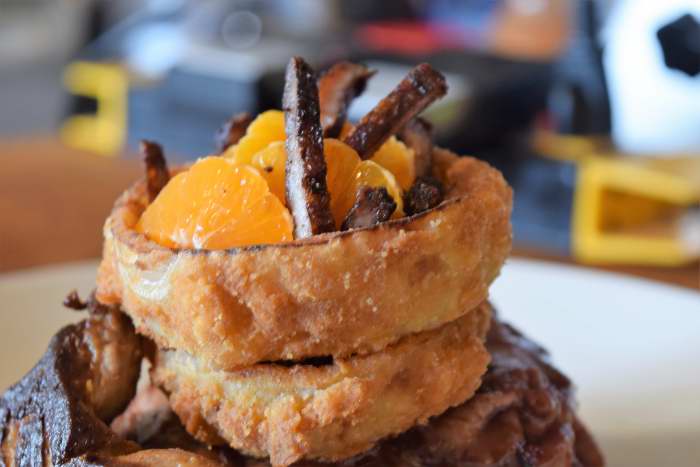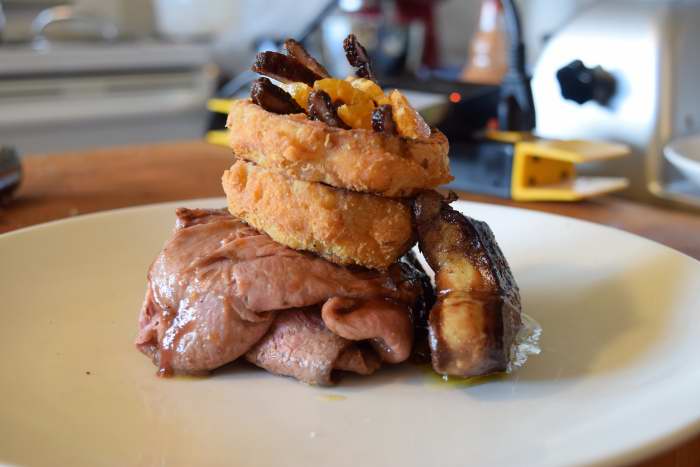 More money, with the surge protector strip in the background.