Sure, Beets working for a living.
People don't know if they like beets or not. If you put them on the salad bar, they will take them. All canned food shelves in the market have them. They're usually there in the produce section. Somebody must be buying them, but that doesn't mean they're eating them. There's usually an open can in the fridge, who knows how long THAT'S been in there? If you ask people if they like beets, they usually say they do, but there's always a slight hesitation, a cast off glance, like they think they SHOULD like them, but please, don't give them any right now.
If you say, "Oh, good, I made some Borscht," they will reveal their true feelings, recoiling in horror, albeit languidly. I love the face they make. I try to make them say "Borscht," but I can tell they don't really want to. Borscht, the word, and even Beet, the word, may be a little clumsy.
Beets do have a problem. Nothing else is really that color. Until it gets close to beets, then, EVERYTHING is that color. They stain your fingers, the cutting board, the pasta, the artichokes, the onions, and the pigment is so intense, they may even be staining each other; how could we tell?
Beets the heck out of me (you knew it was coming).
The flavor is good. The texture is good. A little firm. A little tender. There's a lot of natural sugar in them, and "Sugar Beets" are used to make sugar in many parts of the world; but they are not the same thing. The beets that we are familiar with benefit from a little bit of sugar, and salt and pepper pick them up, too, and then a little vinegar, and some EVOO, wow, hey, that's good. Mint. Garlic. Even clotted cream of some sort–sour cream, crème fraiche, yogurt, etc–find an empty spot to place it. There's a trick here. Actually, sort of a reverse trick. Just serve them by themselves. Don't mix them up with anything other than the things I mentioned, drain them well, and arrange them on a plate in such a way that they look nice, which is not difficult, because they are uniform and sturdy.
 183Fx2 hours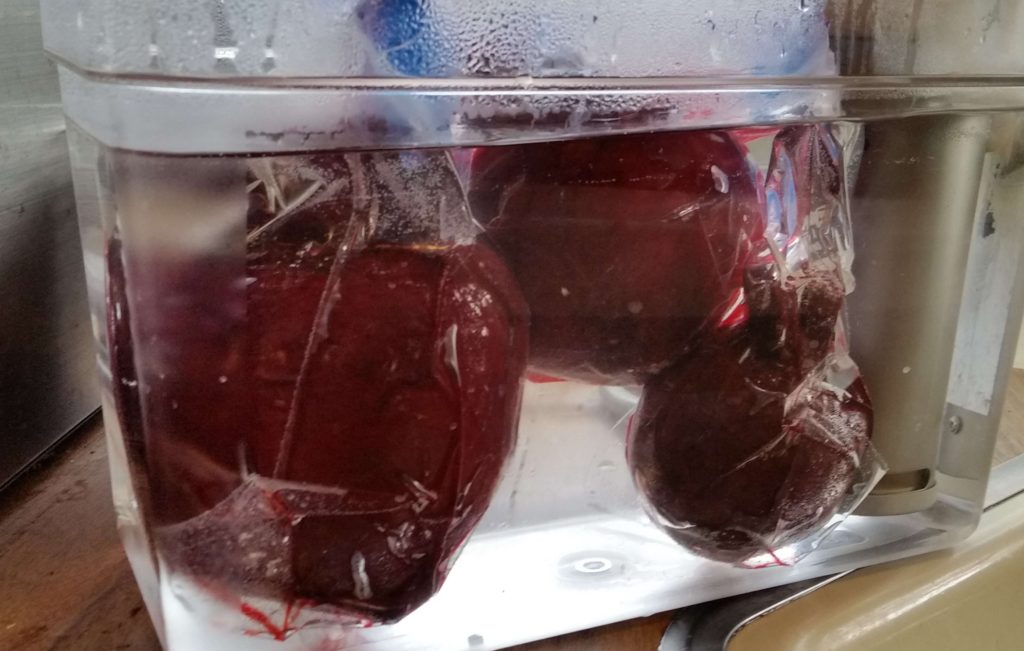 They're easy to load into Ziploc Quart bags.
I try to find the largest beets, load one per bag, and then they will keep sealed in the fridge for a loooooooong time.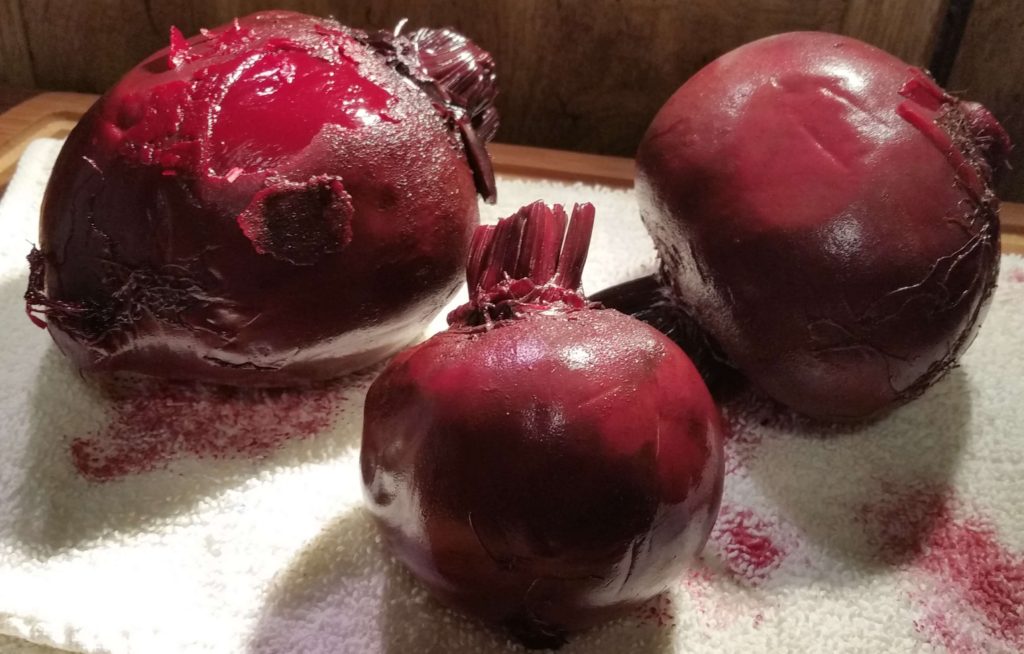 Shock them cold.
The skin comes off very easily if you rub your beet with a clean towel. There, I said it.
When you're done, that towel goes in the laundry. Don't even TRY to rinse it out.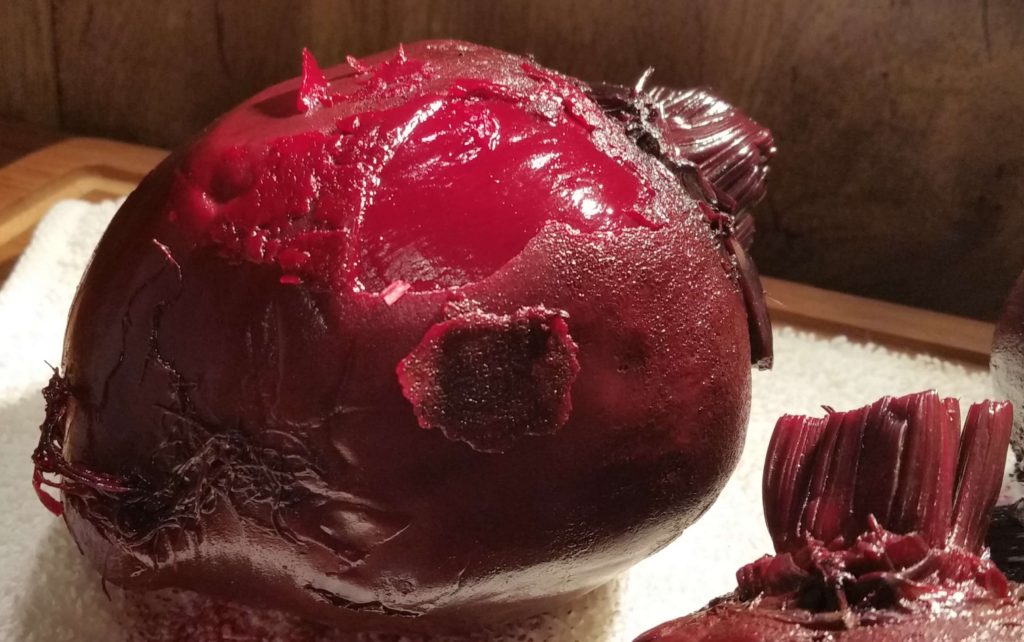 See?
This much of the stalk is edible, if not really servable.
Snacks for the cook. Dipped in a little mayo.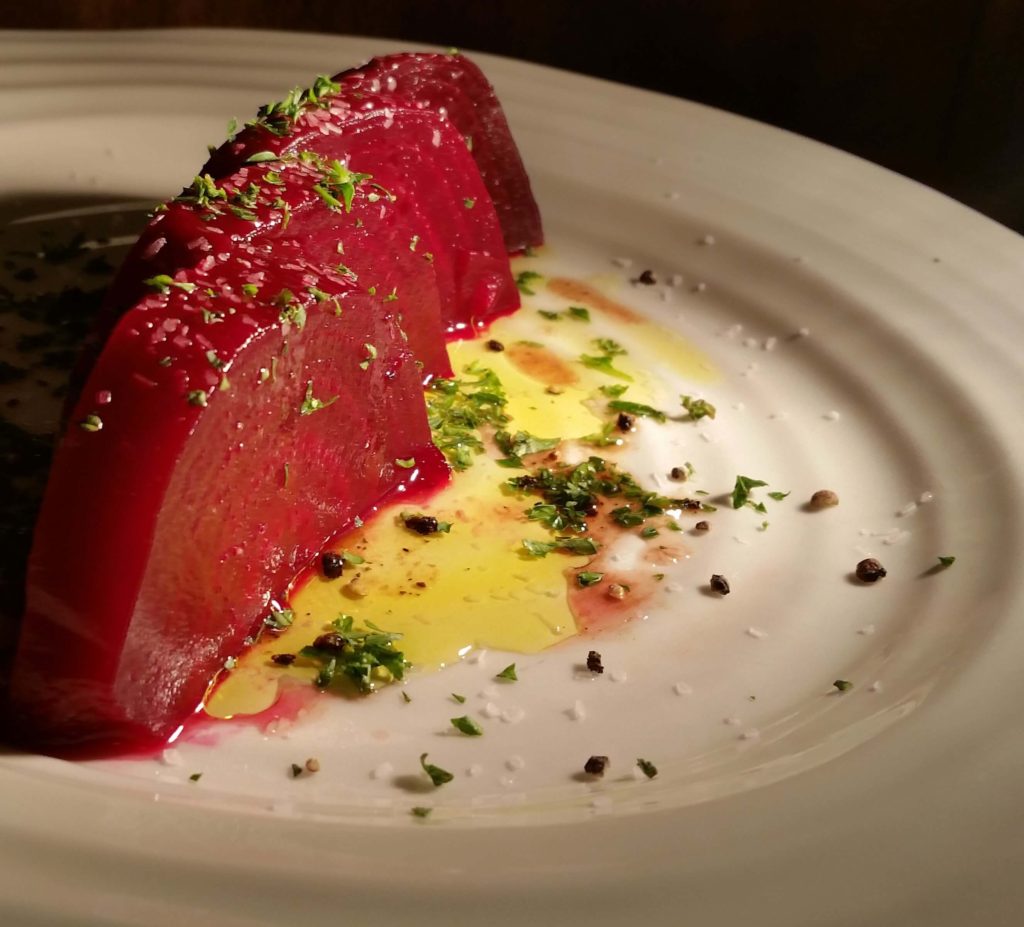 Here's one version, like I mentioned.
You can see the kosher salt sprinkled on the plate. That's a thing now, with the Himalayan salt and that stuff. Tres Chi-chi.
People raise their eyes when I say "mint," but it's very mild, and refreshing. Nobody ever made a funny face when they tasted it, and it stays green longer than Basil.
EVOO, and some Umami Vinegar.
Barbabietole autoportante. Wow, that sounds cool. "Free Standing Beets."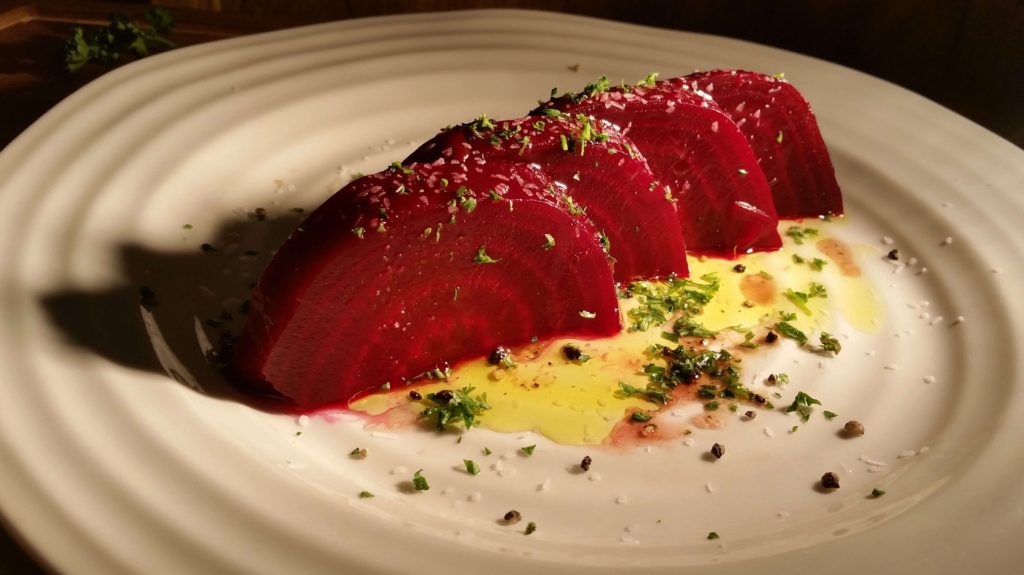 A word about shingling.
Back in the old days, we were strongly encouraged to make sure that, in this case, the beet that was at the front should always be on the left side of the plate.
We were told, most people spear with their left, and our sophisticated guests should not be required to cross over.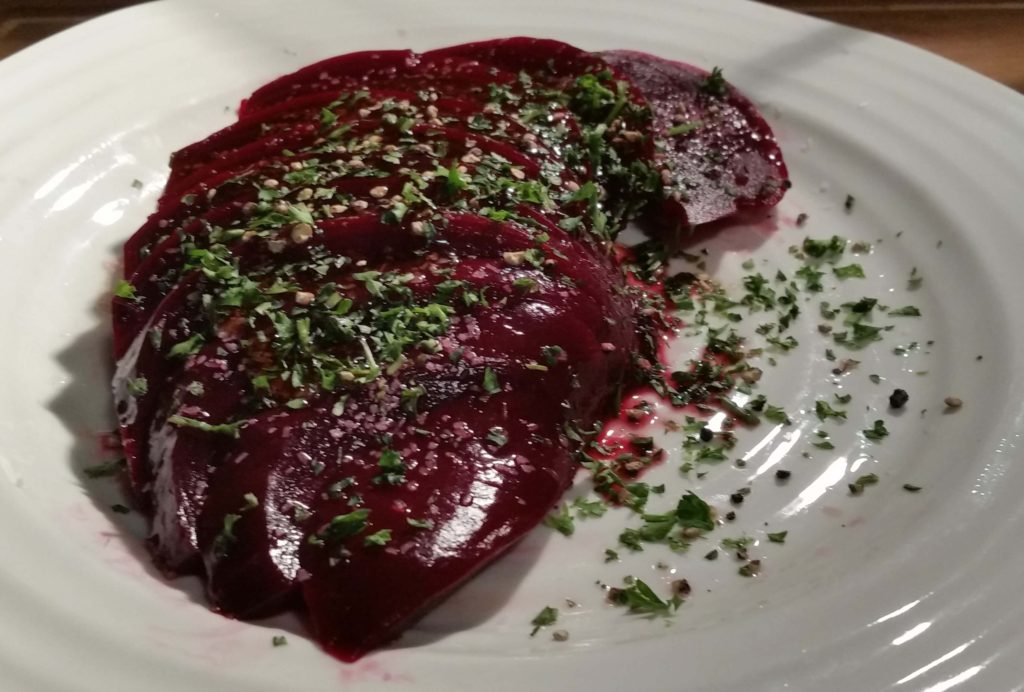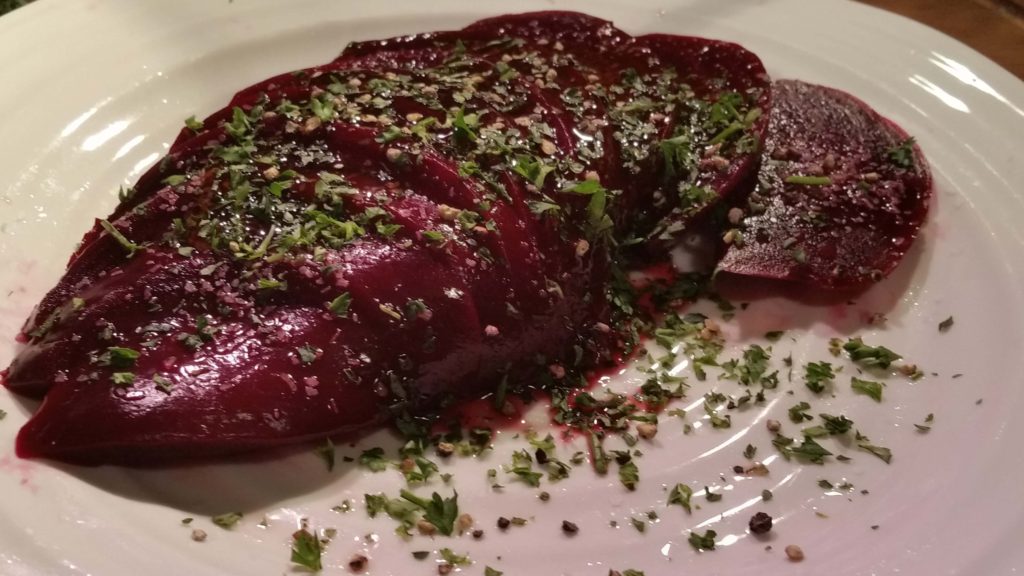 At the risk of criticizing my own work, this really would look good with a scoop/dollop of sour cream or Mascarpone over in that DMZ.
Sadly, I'm out.
Barbabietole, noci e fichi. It really does sound cool in Italian.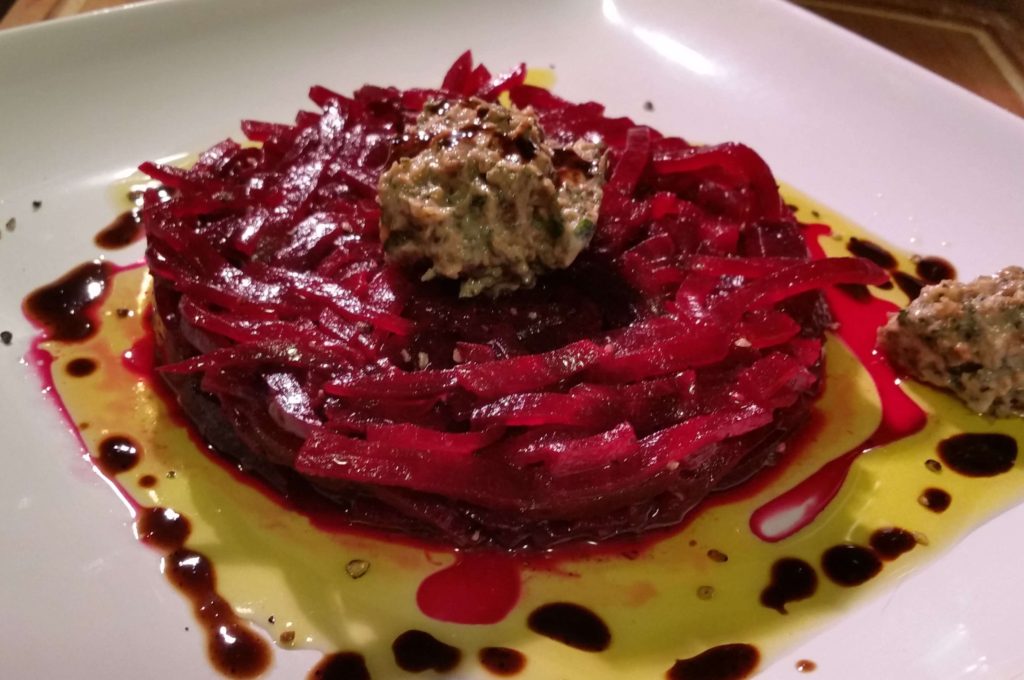 Sometimes, you think something's gonna come out great, and, well, it just doesn't.
Sometimes, you're pretty sure that something isn't going to amount to much, but you just have to keep moving forward. Nobody admits to feeling that way, but most of us feel that way every day at some point. Just do it. Get it done.
You decide. Shredded Sous Vide Beets, Fig Remoulade with Minted Yogurt and Walnuts.
That puddle thing really does it for me. Little bit of Kecap Manis or Balsamic Syrup.
Beet juice just starting to leak out a little bit into the EVOO.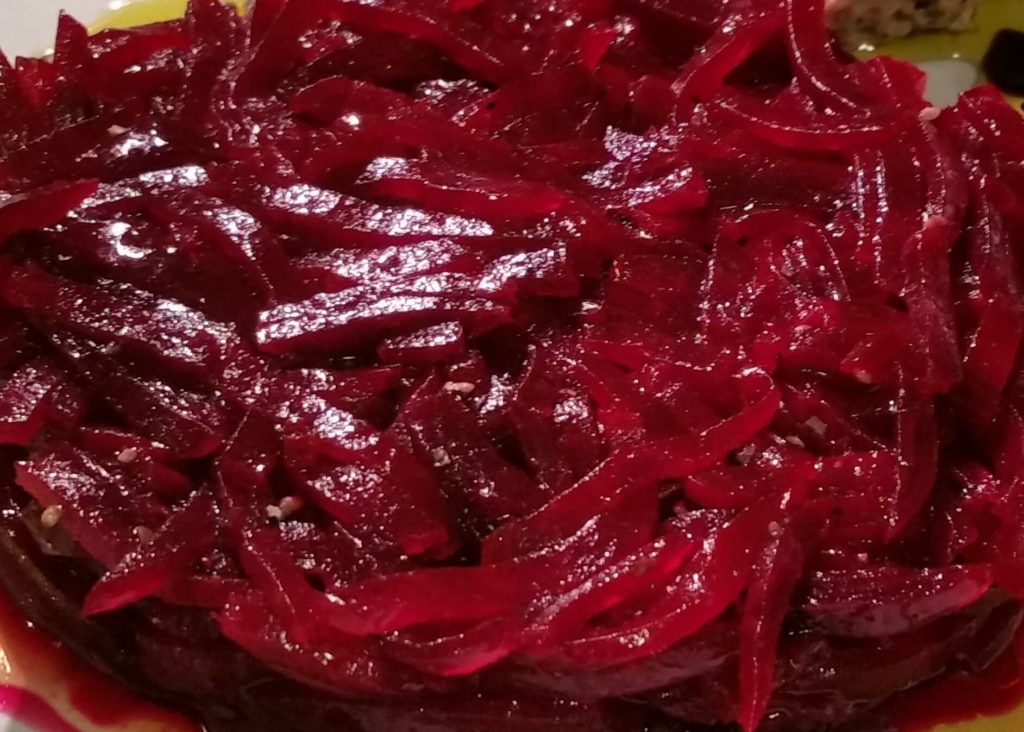 Thing up close. I gotta say, that really is a cool color.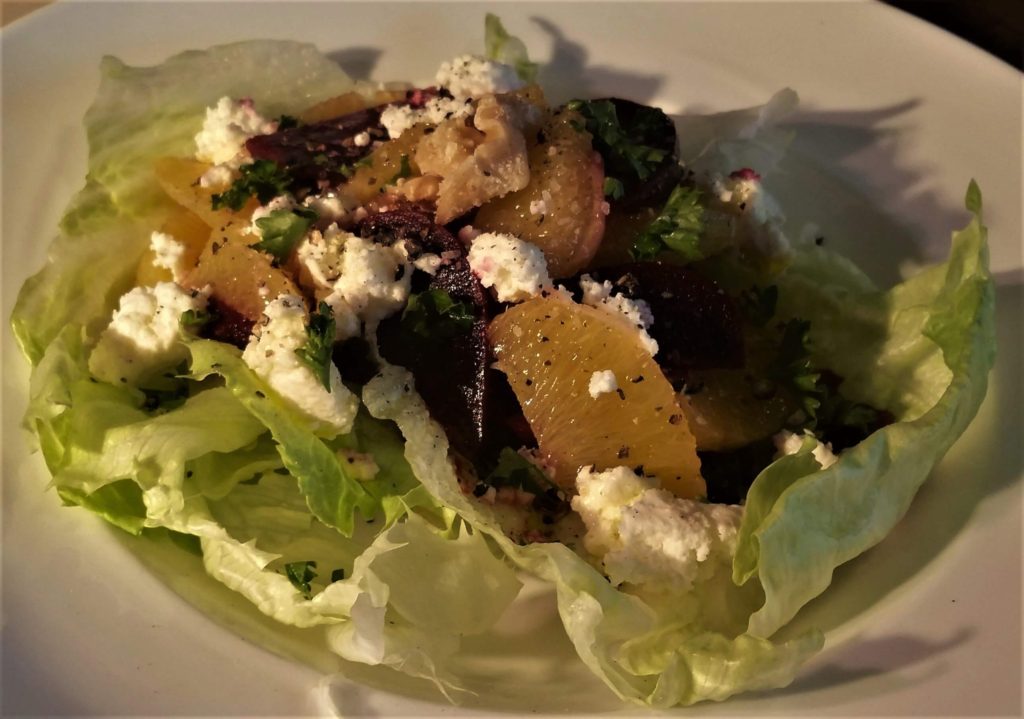 The simple combination of sous vide beets, orange slices, home made fresh cheese crumbles, Umami Vinegar, EVOO, salt and fresh ground black pepper really CAN'T be beat.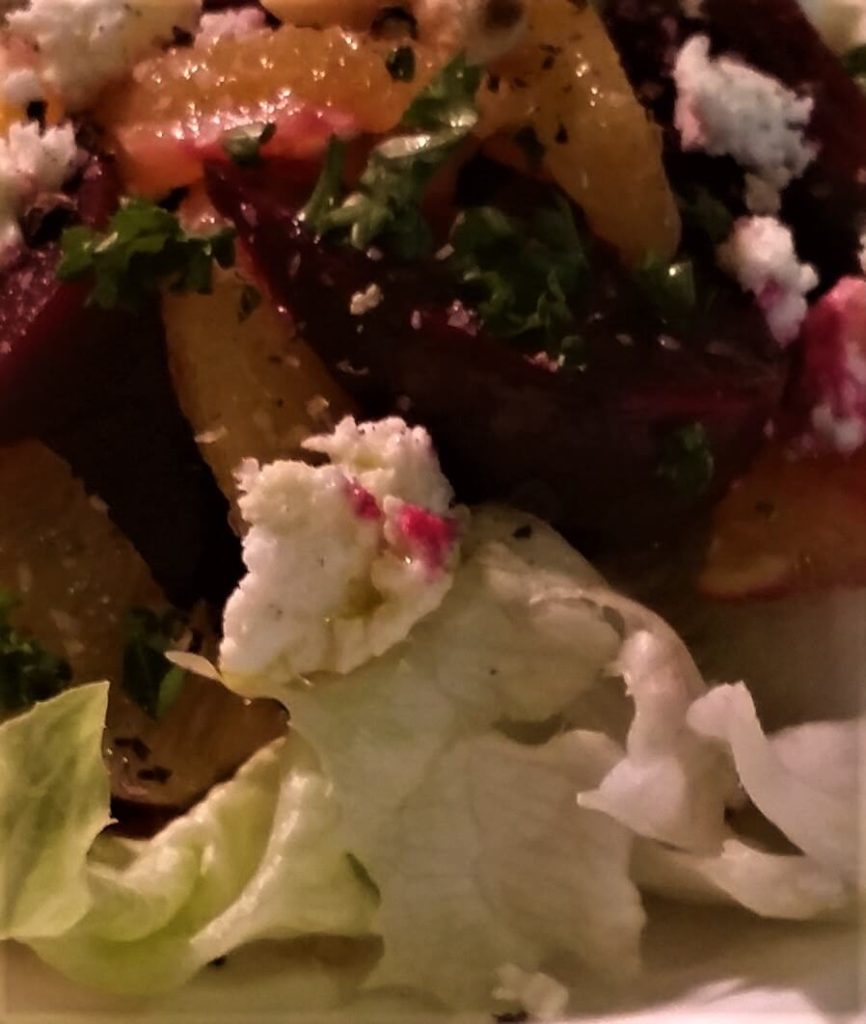 It even stands up to a super close look.