When being wrong is reassuring
Part of me really wanted to be the guy who invented/discovered Potatosotto, the fabulous interweaving of the economy and availability of potatoes with the texture and snooty cachet of risotto. Another part of me asked who I thought I was kidding, and why anyone would really care that potatoes could be made to come out like the traditional, trendy and heavily debated Italian rice dish. As it turned out, it didn't matter, because it's already been done, and described, in many different ways. They all work, to a greater or lesser extent, although I have seen some major fails when chefs just pretend that diced potatoes are actually risotto. They are not interchangeable, and potatoes dissolving in an over seasoned goo does not Fake Risotto make. Well, I thought, at least I could be the guy who made it work with sous vide. That should count for something.
All that being said, there is a raison d'etre for potatosotto. Risotto, real risotto is expensive, if you can even find it, but potatoes are cheap, and they're very easy to find. Not everybody likes risotto, although they're ashamed to admit it. Pretty much everybody likes potatoes. People complain that risotto is a pain in the neck to make, which it can be. Potatosotto is not only easy to make, it is easy to imagine. It makes sense. It's an easy sell, because it can be described as sort of like scalloped potatoes, or au gratin potatoes, except the potatoes are chopped up small. Because of the method used, the potatoes keep some texture, and don't dissolve into mashed potatoes they way they do in soups and other dishes.
Laundry is boiled. Cheese is MELTED.
You can make it with cheese, or without cheese. You can put cream in it or not, without getting yelled at by the risotto police that always seem to show up at the dinner table these days. Nobody can tell you that your potatosotto isn't really potatosotto, because, well, there's no tradition behind it yet. Who's to say? Potatosotto reminds us that, on some level, everything is fake, and nothing is authentic, and even vice versa. Not to worry. In a few years, once potatosotto has appeared in fast food restaurants and in the frozen food section, we can argue about how it was made in its original incarnation, back in Norm's trailer. Who knows, perhaps my name will be mentioned!
We're really going to push the envelope, and make potatosotto with Russet potatoes, and red potatoes, too. I tried a bunch of different models to prove to myself that the method would at least have to be a little different between the two basic kinds of potatoes, but I failed, which is a good thing. That means we only have to remember one method.
Ingredients for the Potatosotto
4 oz. peeled Russet, cut into uniform chunks.
The smaller you cut the pieces by hand to begin with, the more uniform they will be when you finish them in the machine.
pinch salt
4 oz. neutral stock or water
2 oz. butter.
1 oz. shaved Reggiano (or Asiago, or whatever you like).
As much chopped parsley as you can muster. I like chopped parsley.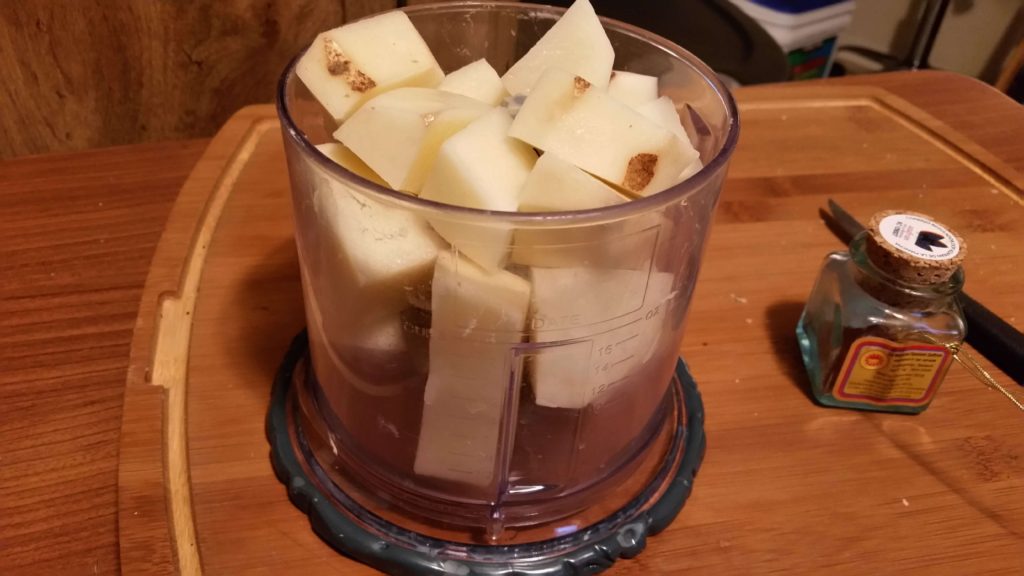 The mini food processor works good to do this. If you pulse and watch, the potatoes assume the approximate size of rice kernels in just a few seconds.
For you people who have access to a Buffalo Chopper, they work great for mass producing this. That's actually where I got the idea. We used to make Potato Leek soup in 50 gallon batches, back in the 70's when I worked in this French place. We sold it to go, too, people loved it. 50 gallons of soup took about 9 gallons of chopped potatoes, and we used buckets to measure, not scales. I'm gonna have to tell that story one of these days, I can still remember the menu, and the prep list. I wouldn't say "good times" like I do some things, but, well, "Those were the days."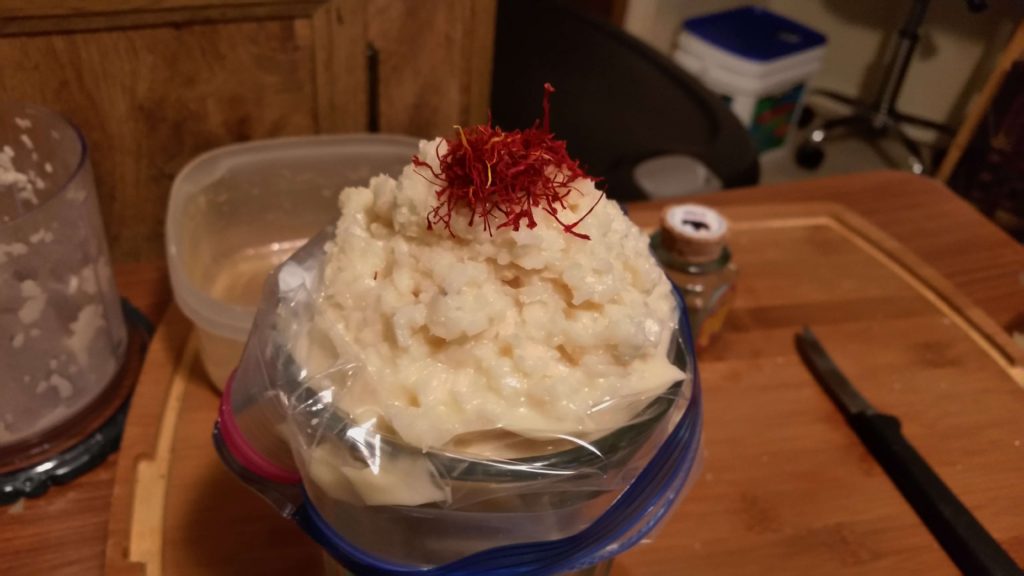 Load into a Ziploc Quart Bag sitting in a 16 oz. glass, that's the easiest way. No, I don't mean YOU should sit in a 16 oz. glass, I mean the bag sits in a 16 oz. glass.
Add enough stock or water to double the tare weight.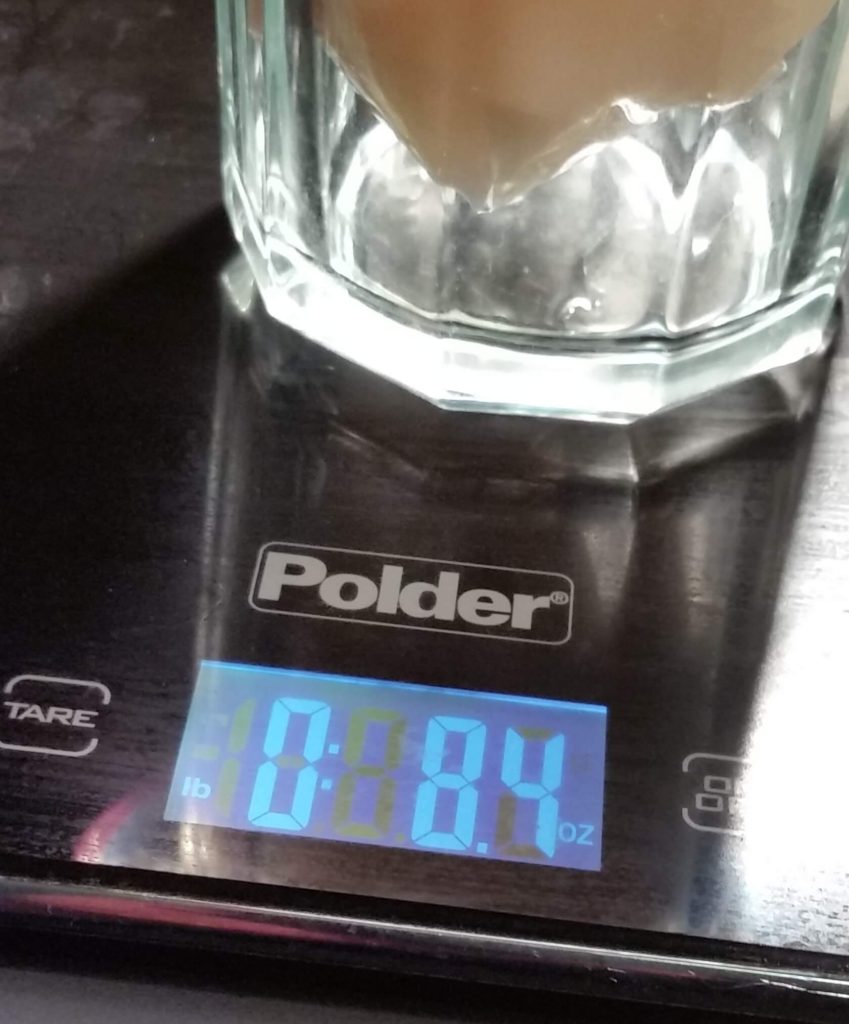 Remove the air from the bag using the immersion displacement method, and process Sous Vide @183Fx1 hour.
We may run out of oil, or even space, but we will NEVER run out of starch.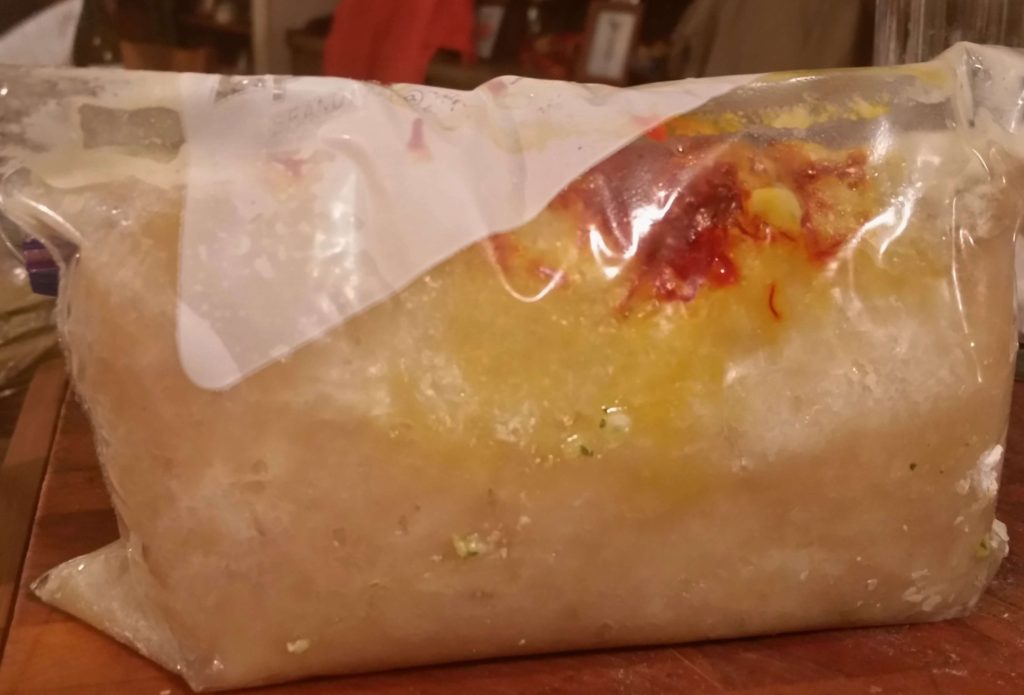 After an hour, it will look like this. It's a little camera shy.
Shock it a little bit, just to make it easier to unload from the bag.
I haven't tried stopping the process now and finishing later, so I don't know if that will work yet or not.

I sautéed some Sous Vide Chicken breasts while I waited for the potatosotto, so this is the pan with just a little bit of residue in it.
Absolutely may as well utilize.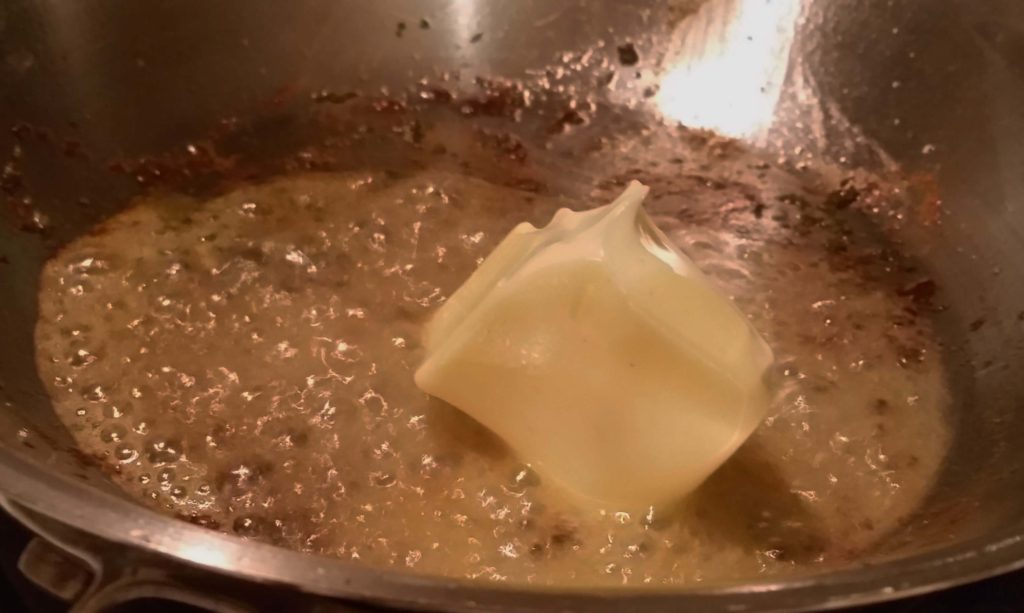 Add the butter to the pan and let it melt.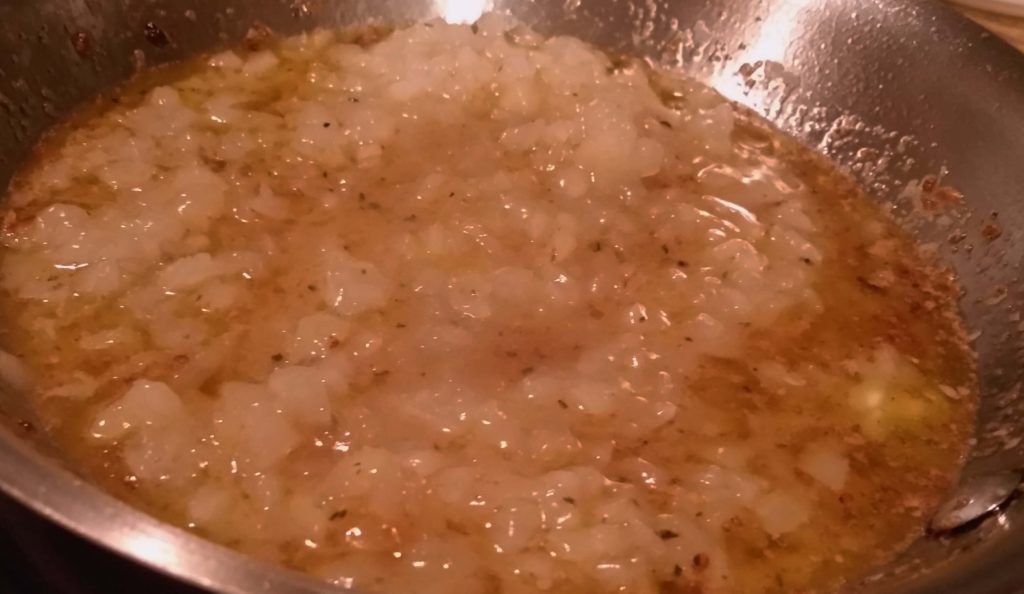 Unload the potatoes from the bag.
Turn up the heat all the way.
We all knew this was coming. Time to add the PARSLEY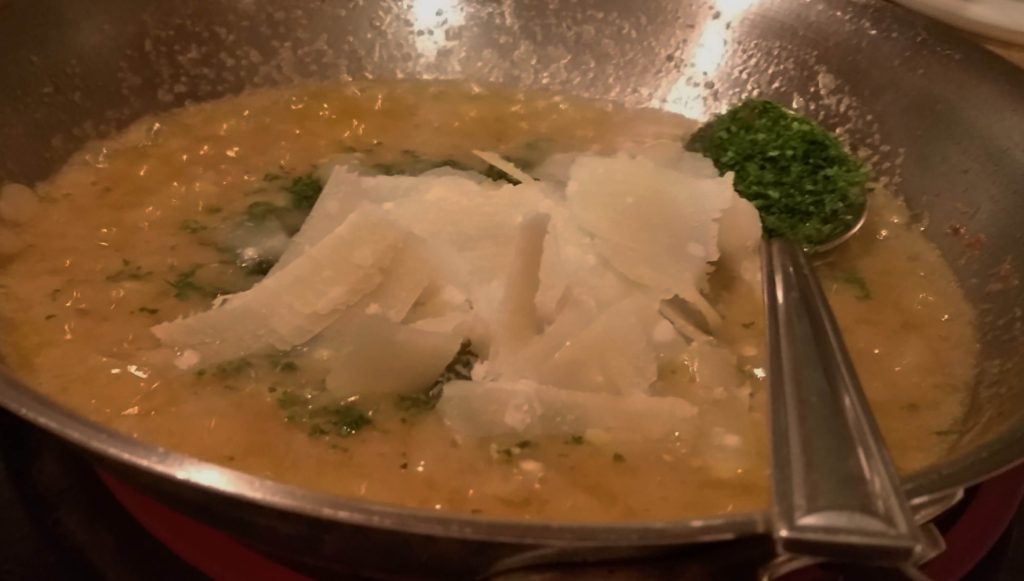 As the potatoes come to a boil with the butter, the emulsion will instantly form. Starch+H2O+Butter=easy emulsion.
Add the cheese and the parsley, and turn off the burner.
I never cook cheese.
Or parsley.
Have you ever heard somebody say "This cheese tastes a little underdone to me," or "THIS PARSLEY ISN'T EVEN COOKED!"?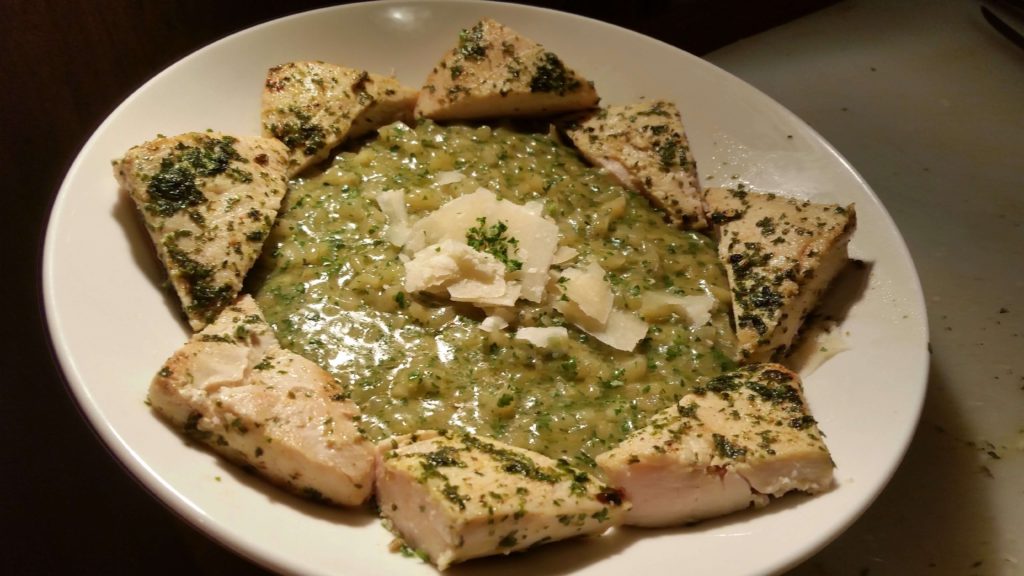 This is what'ch'all get.
The chicken doesn't appear by itself. You have to actually make it. Surely, you knew this.
It's in another article, probably under "Chicken," or "Poultry," come to think of it.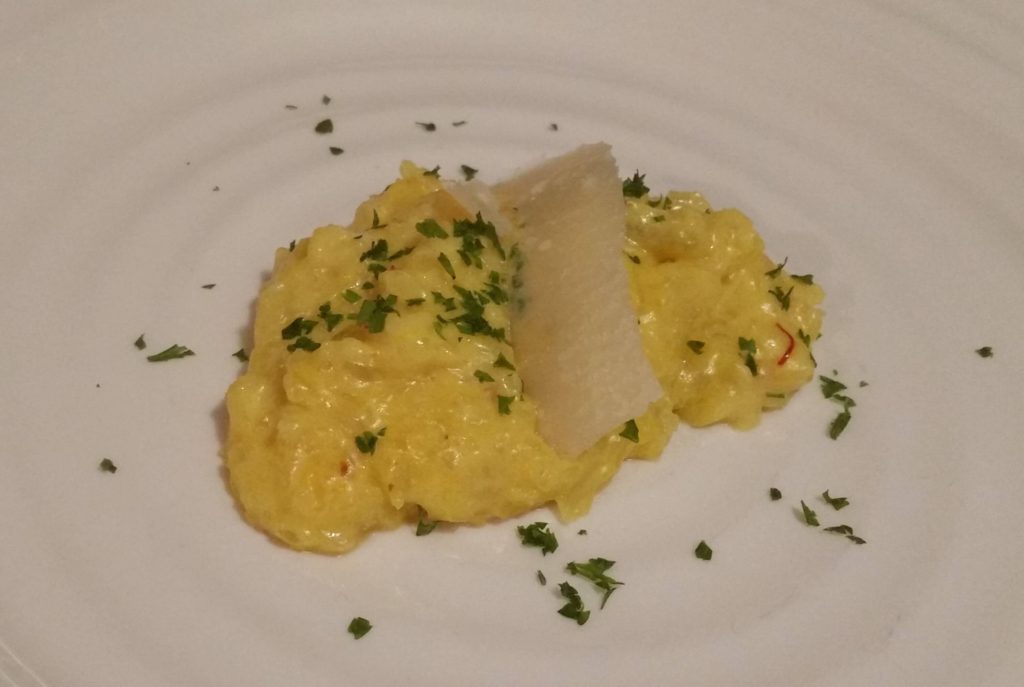 Same thing, with a little bit of cream and saffron. Very versatile.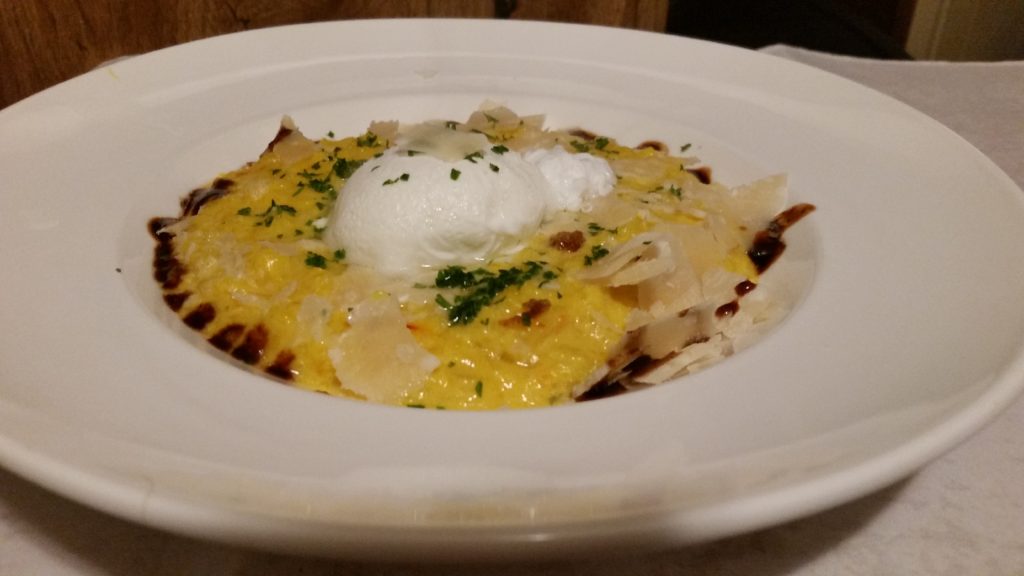 Next day's breakfast, the saffron potatosoto with a poached egg and some balsamic syrup.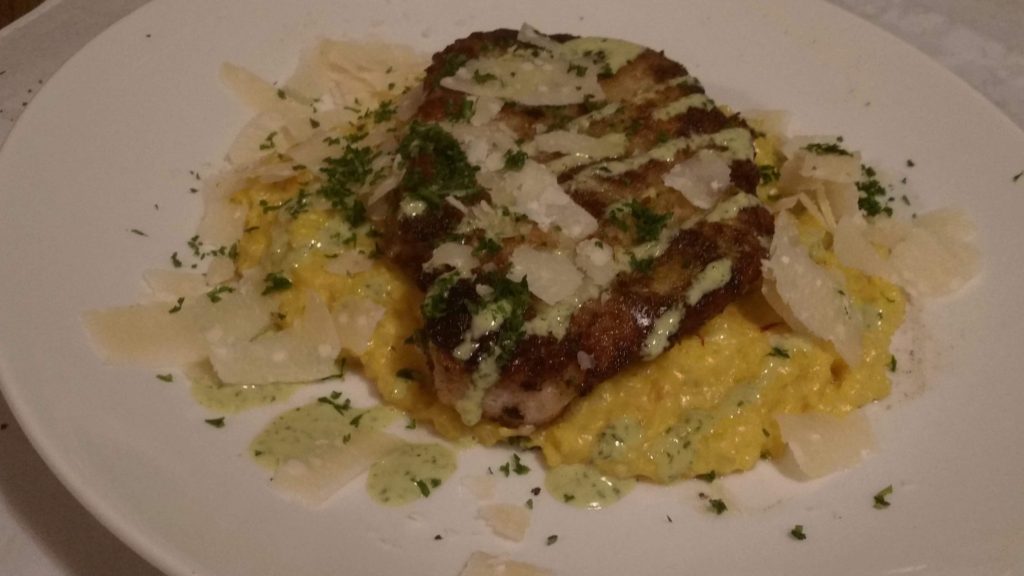 Chicken Fried Pork Loin, a little parsley aioli, I mean, why not? Again, another article. Under "Pork."
Why are there "New Potatoes," but no "Old Potatoes"?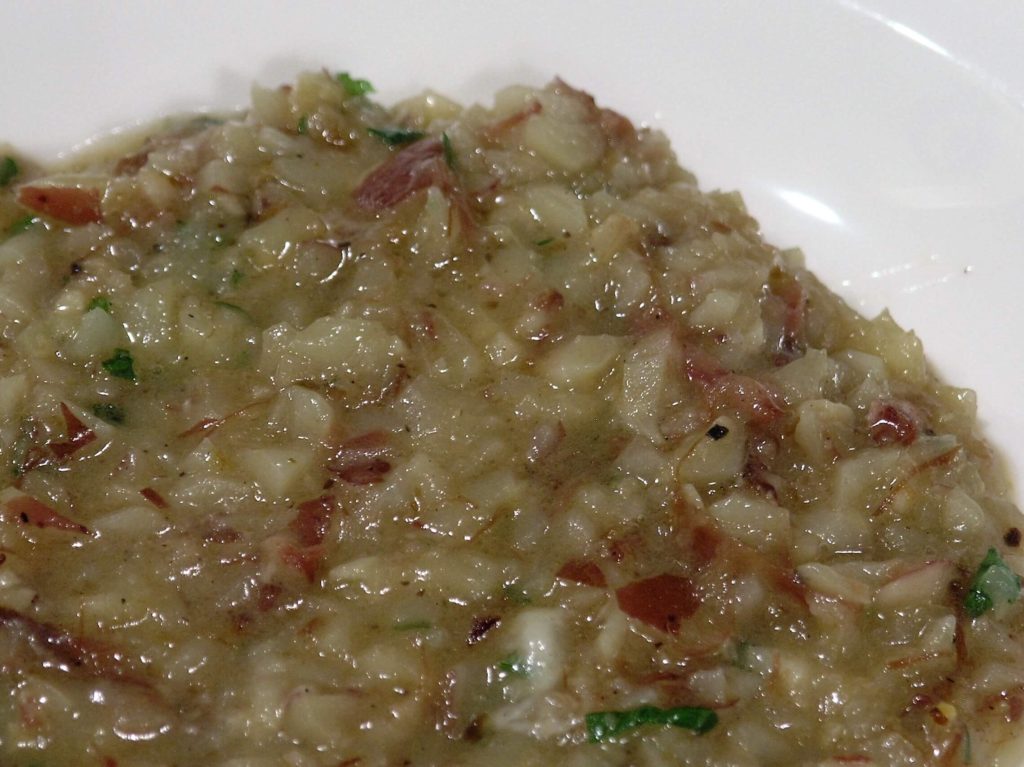 You can see the little pieces of red peel, but it looks kind of appealing. And, of course the parsley.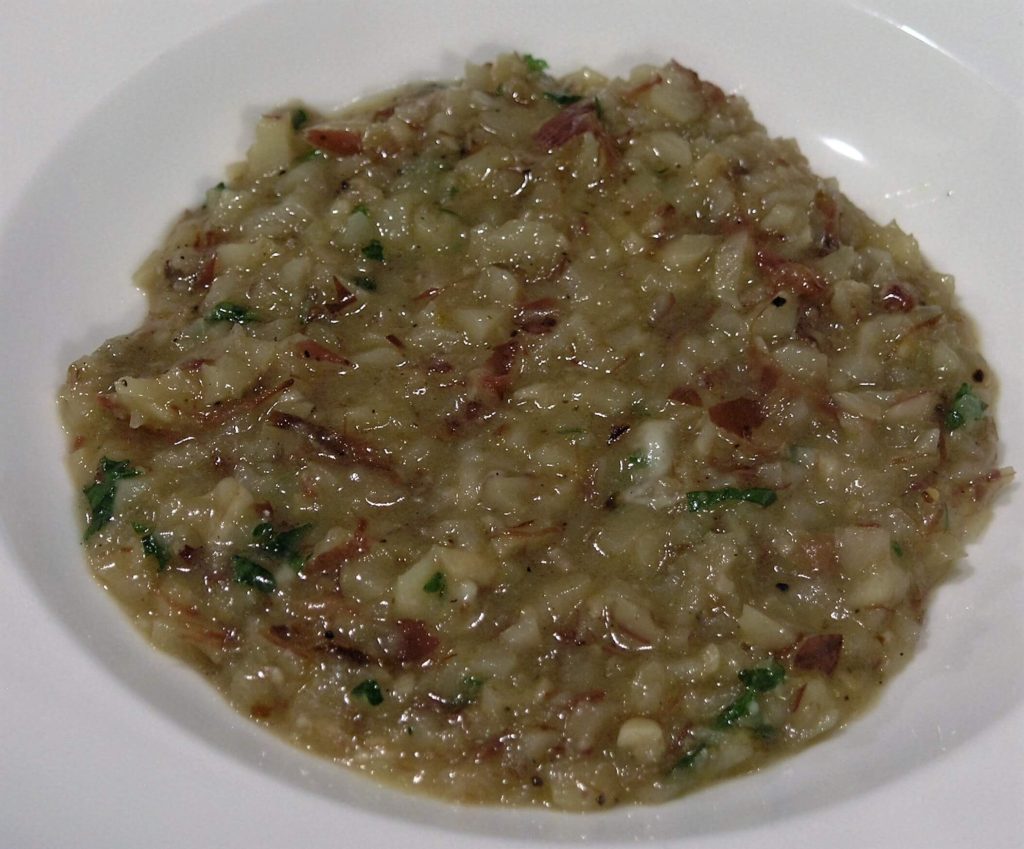 No cream, but I did saute some garlic in the pan first, and added some Reggiano after the butter.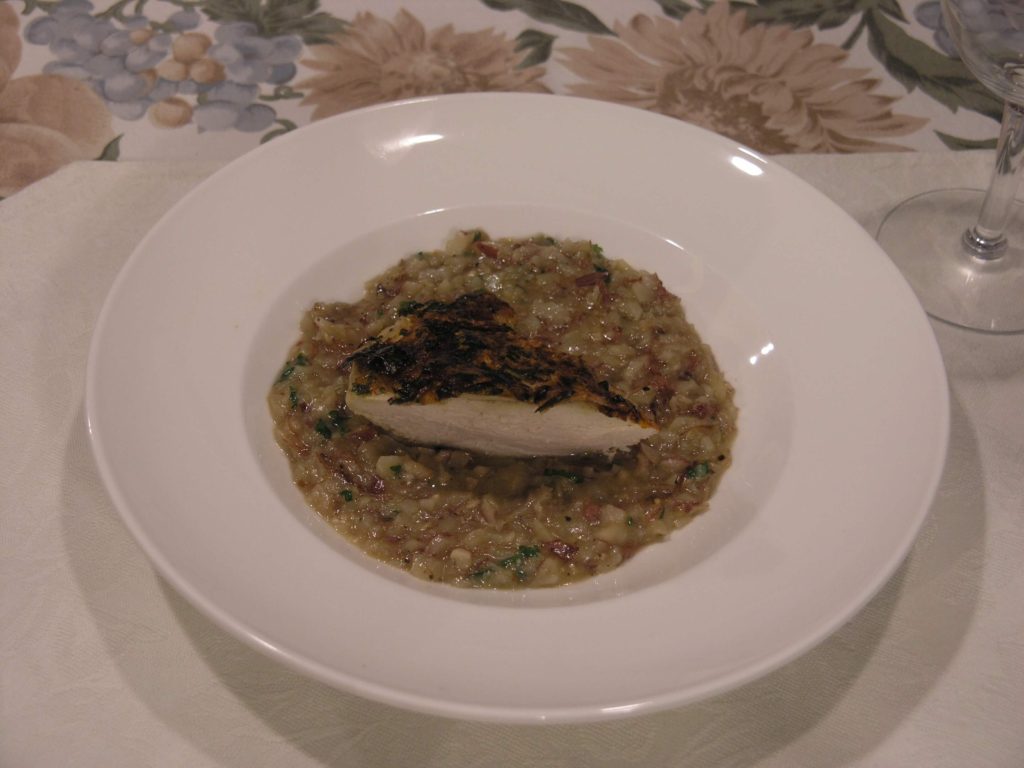 I had pan seared some chicken in the pan, so I was able to incorporate drippings into the final incarnation.
Wow factor, terrific flavors, and really-well, economical.
Who needs risotto?
I love risotto. We have Sous Vide applications that make risotto a snap, too.
Don't tell the polizia di moda.

 For more articles on Risotto, the REAL thing, click here and here
As always…what's not to love?