Welcome to the Workshop.
Sous Vide didn't occur in a vacuum. Well, Sous Vide DOES occur in a vacuum, but it didn't originate in one. What I mean to say is it didn't just happen by itself. Sous Vide is another milestone in human beings' long time quest to make the most of our senses — vision, smell, and taste, as they pertain to food. Food safety is more of a short term/long term concern. The food we eat may make us feel good for the moment, but if it is not safe, we may become extremely uncomfortable a little while later. Bad TV is kinda like that, and, politics, let's say. The law of unintended consequences.
Music is part of the same same quest, for auditory stimulation. All such sensations create that sense of comfort and well being that we all seek. It's no wonder we pursue them to such perverse lengths.
There is a point to this. I didn't just wake up one day and say "Sous Vide, here I come!" I had already been a steadily working chef for thirty years before I really took an interest in it. I had been aware of it for a while, I had seen it done in a few hotels and such. We created this website to acknowledge the arrival of Sous Vide technology in the retail market. Large food producers have been using it since the early 70's, but, until recently, equipment was quite an investment for the home practitioner.
I still have occasion to demonstrate food preparation that Sous-Vide isn't commonly applied to. This happened recently, as a friend asked me to see if I could represent, if not precisely replicate a dish he had enjoyed at L'Atelier de Robuchon in Las Vegas.
Not much to go on, Mr. Spade
I had a picture, and the menu description, and my friend's hazy account of the blissful experience. Chefs don't typically do impressions of other chefs (you should see my Gordon Ramsey), but we really SHOULD be able to pay tribute to the greats. The sincerest form of flattery, right? I actually love this kind of challenge, an opportunity to prove that I still got it. There's always one more mission. Just when you think you're OUT, they PULL you back IN.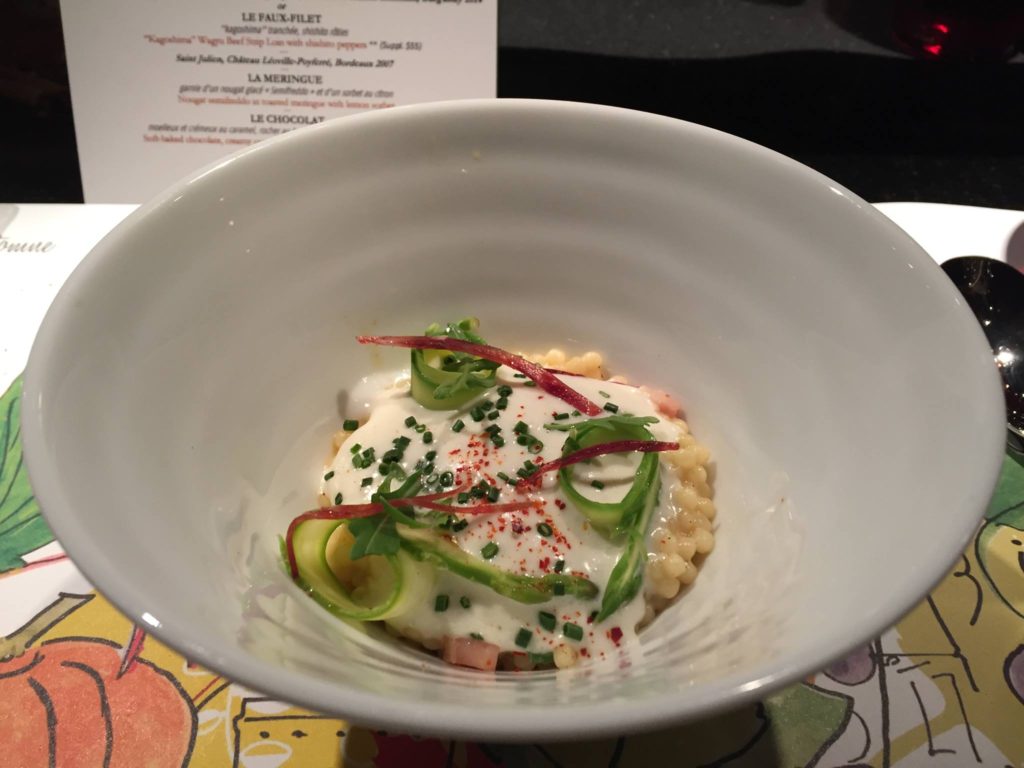 Here's what we started with, taken in the restaurant at the MGM.
The dish was described as "Semi-soft boiled egg on a risotto of pearl pasta with smoked bacon and green asparagus," pretty much a literal translation from the French. "Mollet" is the French word for a soft poached or soft boiled egg. It also means "calf," as in the calf of your leg. The French have always been inscrutable. I had picked up a little of the romantic romance language while on safari in the Congo, a story for another day.
Fair enough, I kind of get it. Sort of a variant of the popular Pasta Carbonara, with the obligatory French twist. I can see some chives on top there, and my friend said the creamy topping was probably Creme Fraiche.
Those red strings look like the pepper threads that have been showing up in presentations for a while now, but they could be anything from beets to pickled red cabbage — I really didn't have time to ponder. I got to work. It was Tuesday.
There was a deadline to completion of the assignment. When you're a chef, there always is.
"Your mission (Chef), should you choose/decide to accept it, … as always, should you or any of your team be caught, the F+B Director will disavow any knowledge of your actions. This Tweet will self-destruct in five seconds. Good luck, Chef."
I would have preferred to limit ingredients to products that I had on hand, but after taking a quick inventory, I was forced to implement a contingency plan.
We who are about to hack, salute you!
Whenever I need someone to disappear into a crowd, I send my wife (played by Barbara Bain in the original version).
Simultaneously alluring and neutral, nobody would pick her to be an expert in both incendiaries and feng shui. She's a very resourceful and dangerous woman.
We had asparagus, but it was the pencil variety. The ones in the picture were much thicker, thereby easier to slice and bend.
There was no bacon in the field office larder either — we had just procured a new batch to be cured and smoked.
The acquisition list included a red bell pepper, and hopefully some orzo.
She set her GPS for the Clackamas Safeway.
She added whipped cream to the voucher on her own volition. She's authorized to tart up her cover when necessary.
Unfortunately, opposing forces had already intervened, hacking into my Schwab account and duping the computer into believing that my ATM account was overdrawn. CURSES. By the time I had straightened it all out, my wife had been forced to abort and withdraw. No matter. We are nothing if not creative.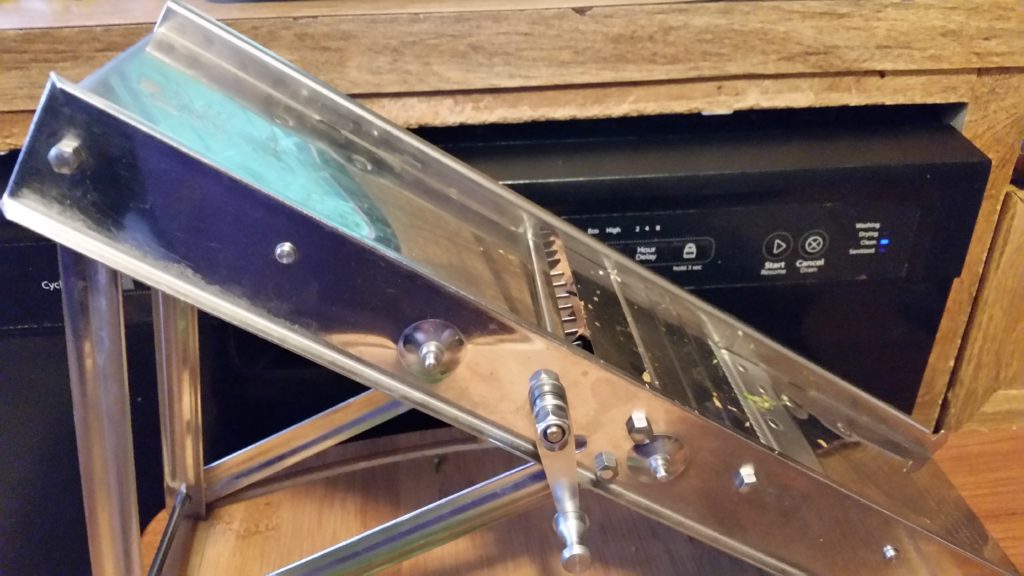 I took out my trusty French Mandolin. She's been with me since the beginning, and we have gone on many missions together. She was hard, cold and reassuring in my hands. Steel. Stainless. French. I hoped I could still depend on her.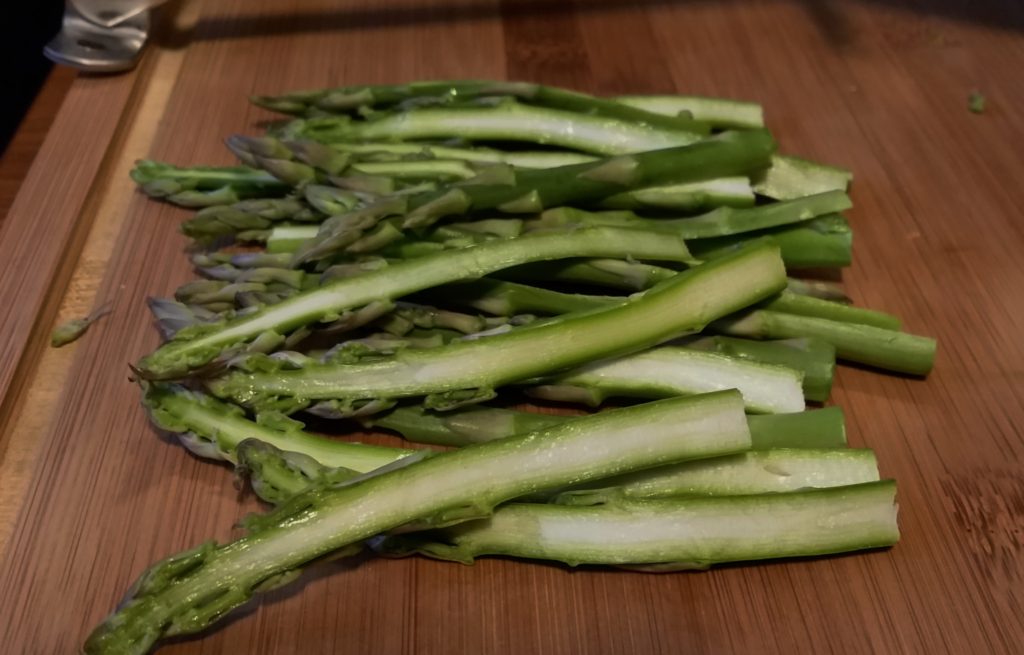 So far, so good. Even though we couldn't achieve slices that were flat on both sides, I was confident that the lengthwise halves would be flexible, as long as they were cooked properly. Too crisp, they would break. Too done, they would lose the vibrant color. We breathed a sigh — first challenge met, in spite of the cyber attack.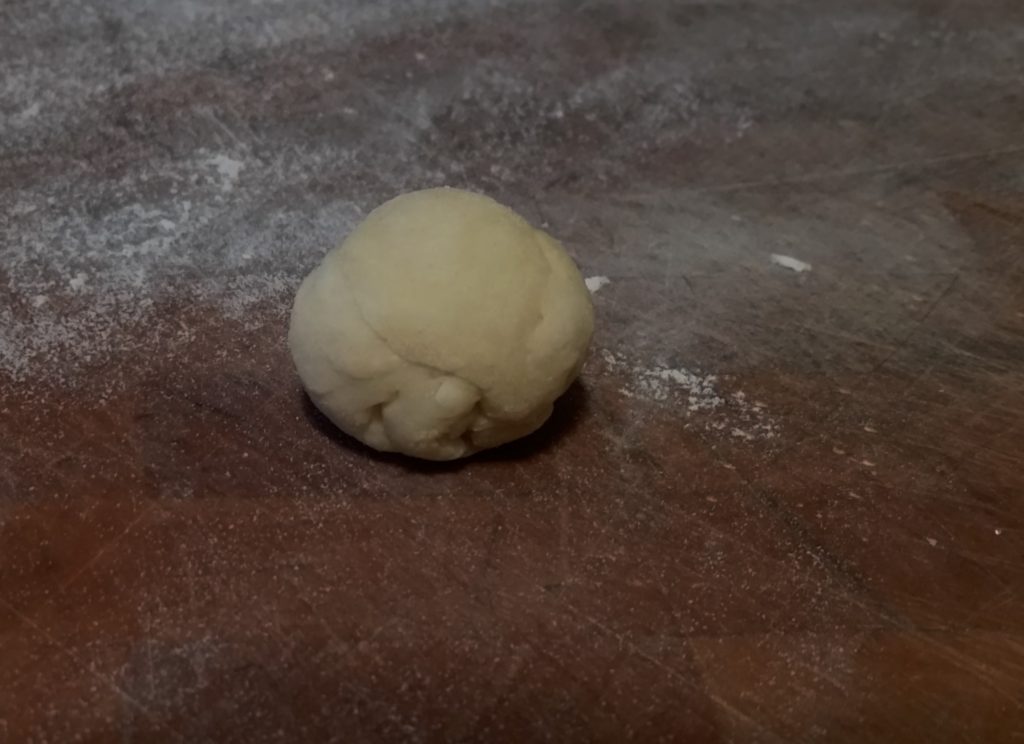 Next challenge. With the Orzo purchase stymied, I realized I would have to make the pasta myself.
I thought wistfully about every Italian chef I had suffered under. They would have expected not only success, but casual confidence in its performance.
I made the dough. It would have to be egg, I decided.
Every chef, every secret agent KNOWS that anxiety and haste are the enemy.
Carefully weighing each dough ball to 7 grams, also known as a "Q" or 2 eight-balls, I used the scale. I didn't need to. The years of practice paid off.
If you remember the 60's, you probably weren't there.

It would have been easy to succumb to the temptation to roll out all the balls, so they could be all sliced at once, but I knew better.
Hands splayed, every square of the 12″ board was needed to achieve the necessary uniformity, within limits.
Cluttering the board with more rods could cause the entire mission to fail.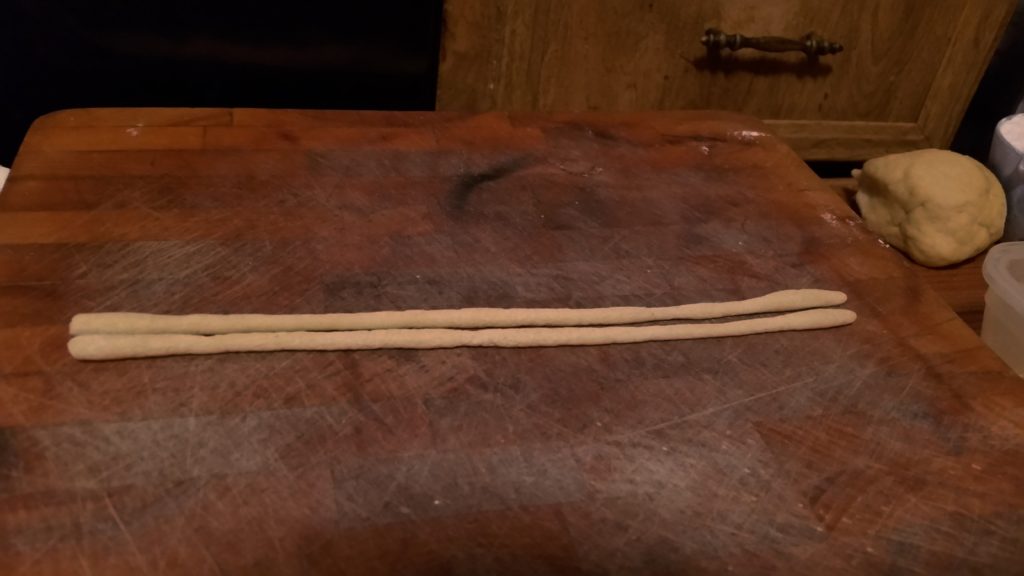 After the first roll out, I cut the rod in half, and rolled the two halves out again. It was painstaking. I reminded myself to breathe.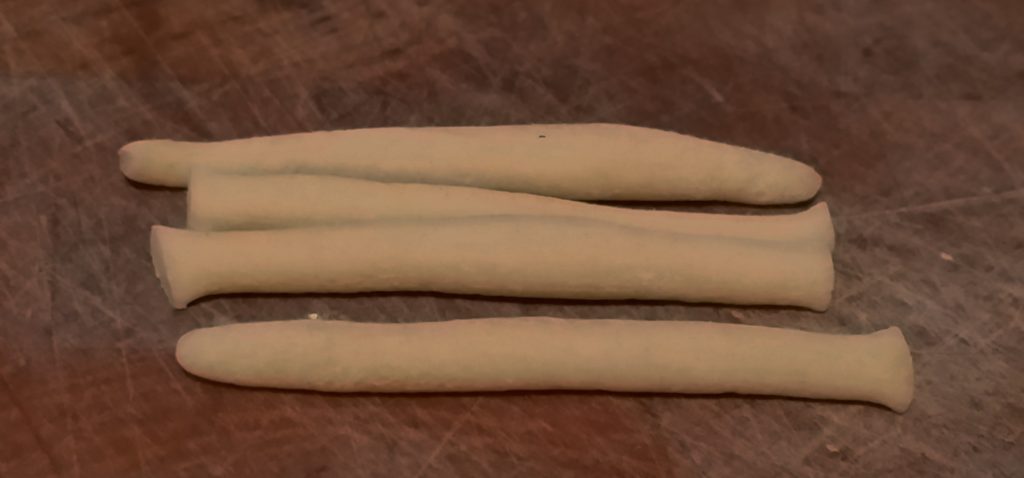 I cut each rod in half, and into half again. At least I could slice four at a time.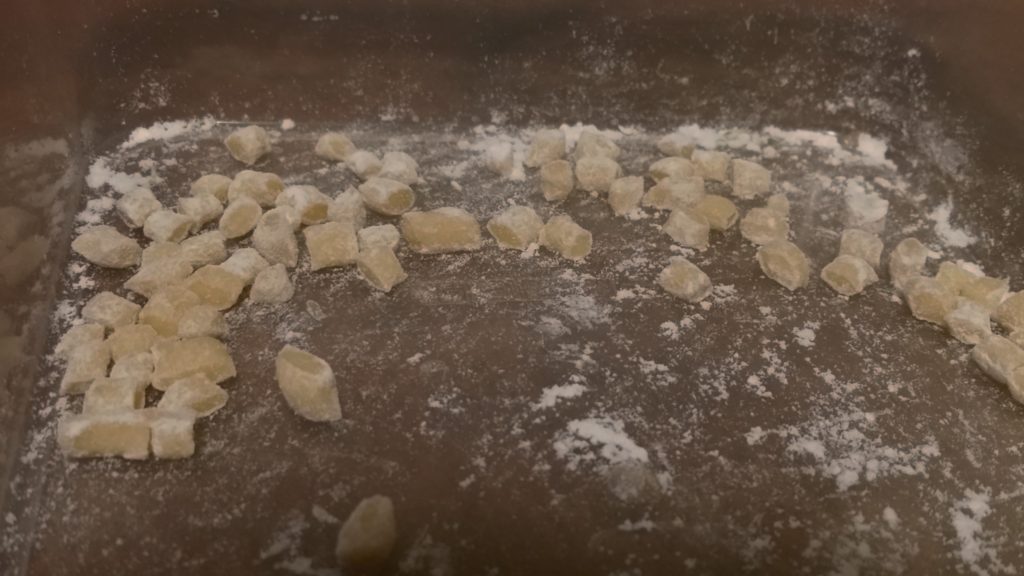 I knew this was going to take a while. Somebody put on a cup of coffee. I take mine black.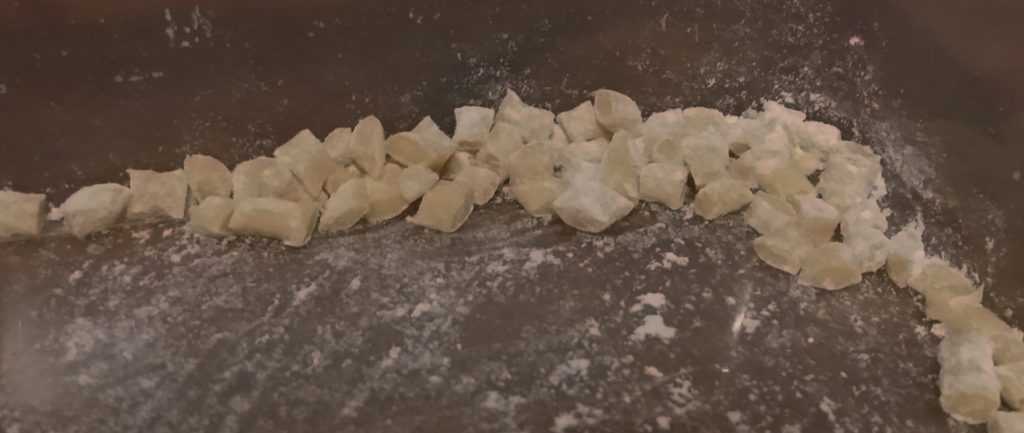 When you're digging an escape tunnel, or staking out a suspect, you have to occupy your mind to keep from going bonkers. I listened to Johnny Hiland.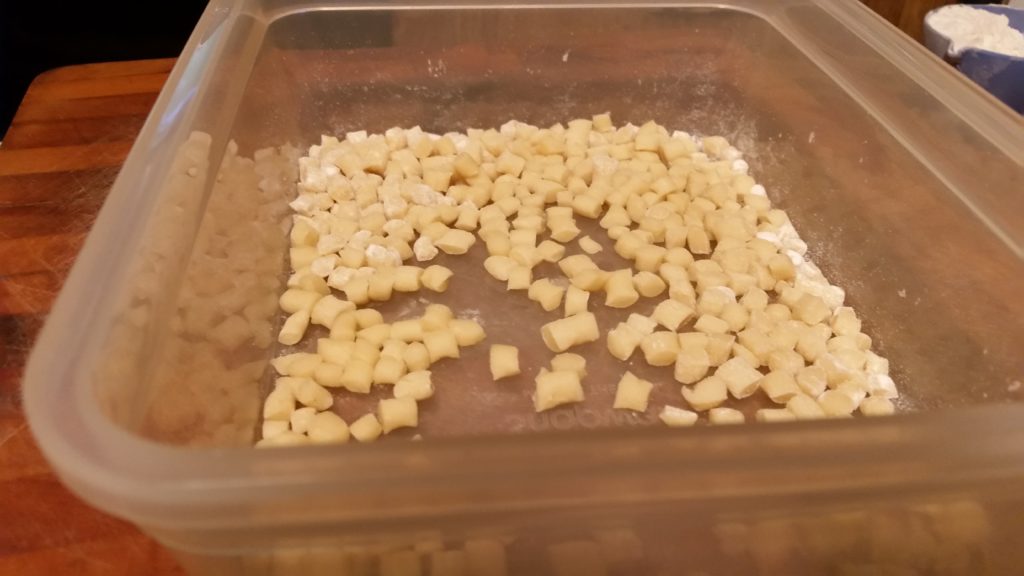 I knew that portions for 8 course tasting menus were small, I took some comfort in that.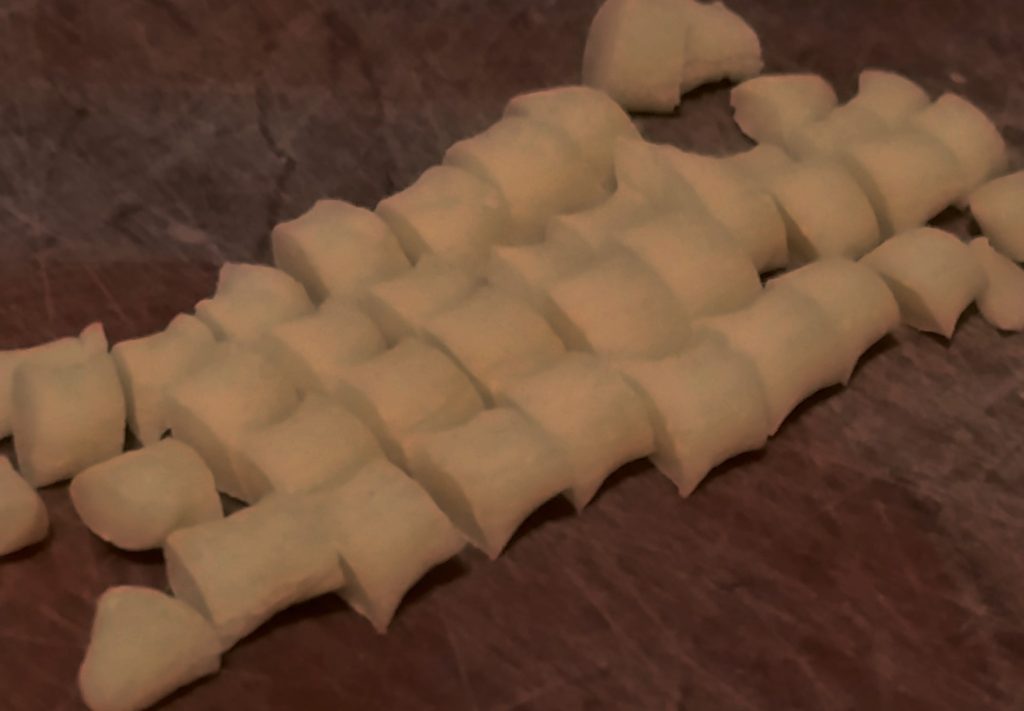 Tiny navels of Venus
There is a sort of Zen-like orderliness to it.
No time to reflect, there was still the issue of the bacon.
I had cured some pork loin to make Lonzino, but it wasn't even really pink yet, just getting ready to hang to dry.
Then it hit me. I had sous vide skin-on chicken in the fridge.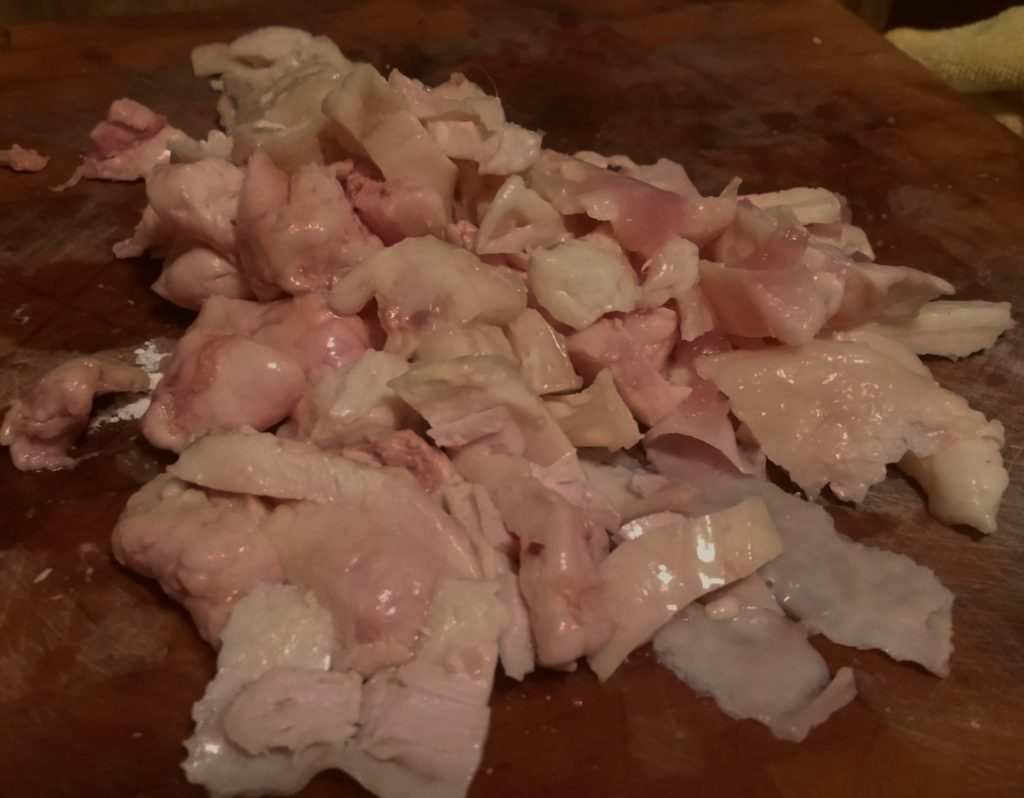 I harvested the purge to make the risotto, and scavenged the skin from the breasts and legs.
I cut it up, and set it to render in some vegetable oil on the hot plate in the lab.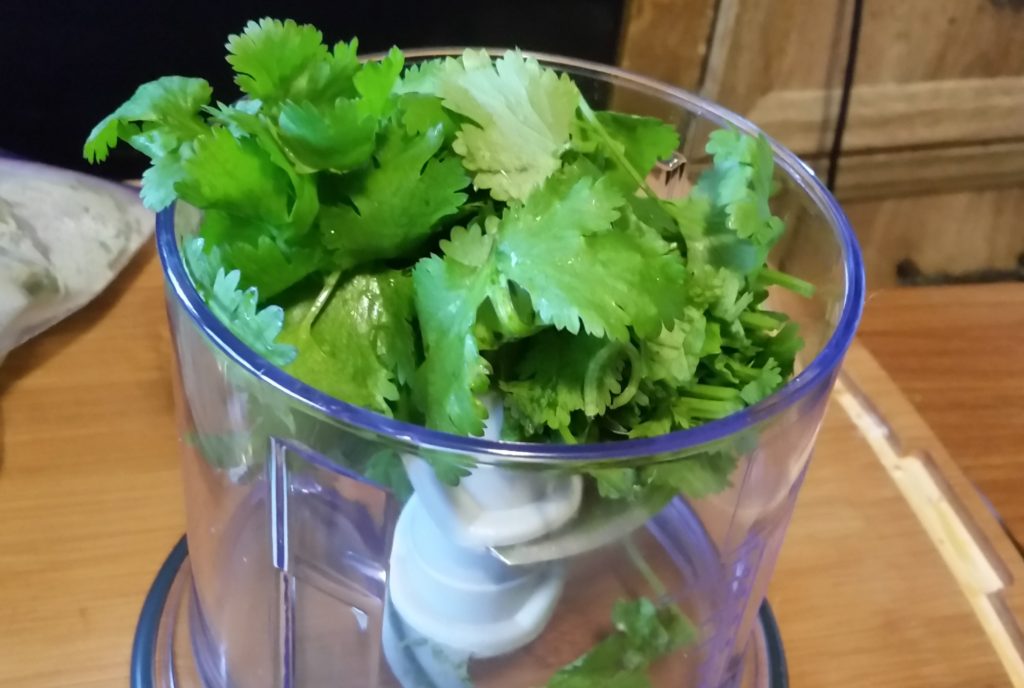 As the aroma from the chicken skin began to permeate the air, I gathered up the fresh herbs. I decided to combine cilantro…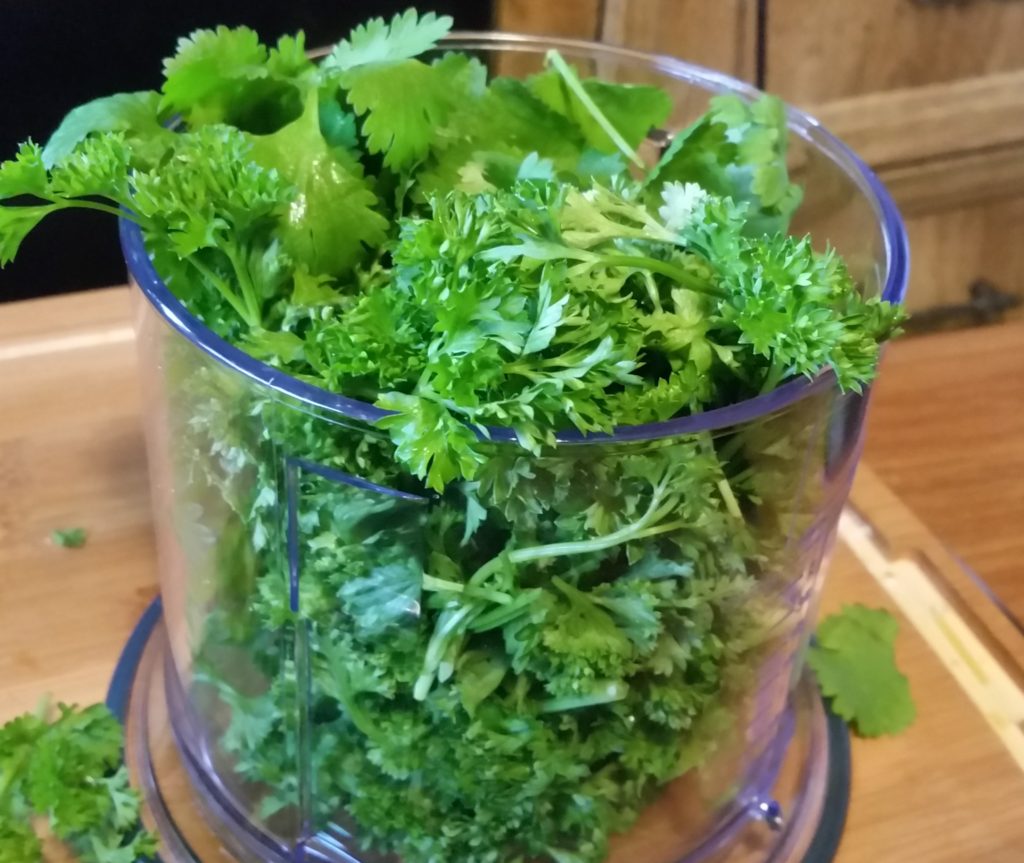 … and parsley.
I put them in the standard issue Ninja mini chopper. If you don't run the blade through the dishwasher, you can dedicate it to chop parsley and it will never get dull.
This is a boon to any chef who loves chopped parsley as much as I do.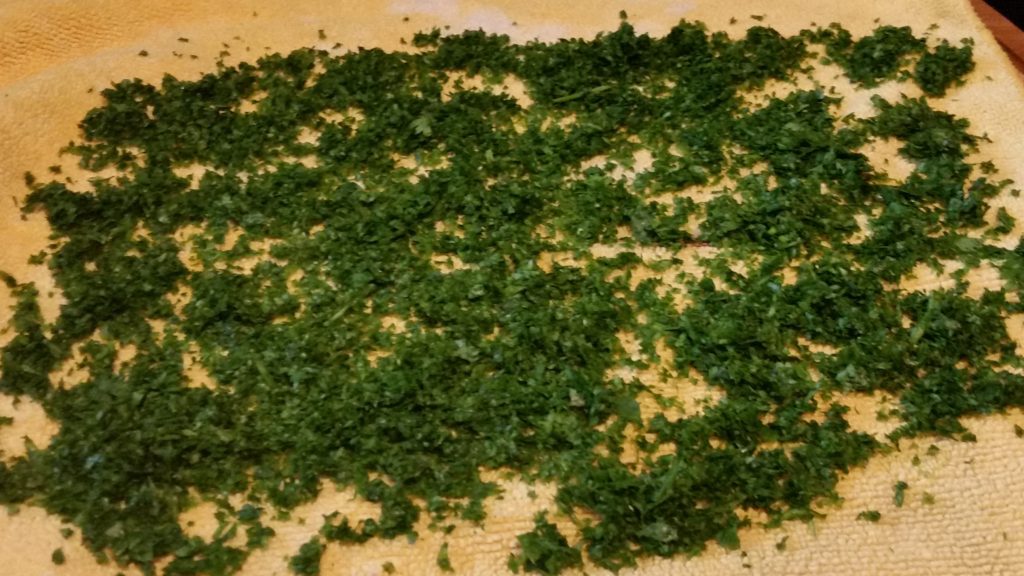 The team was feeling drained but optimistic as we worked into the night.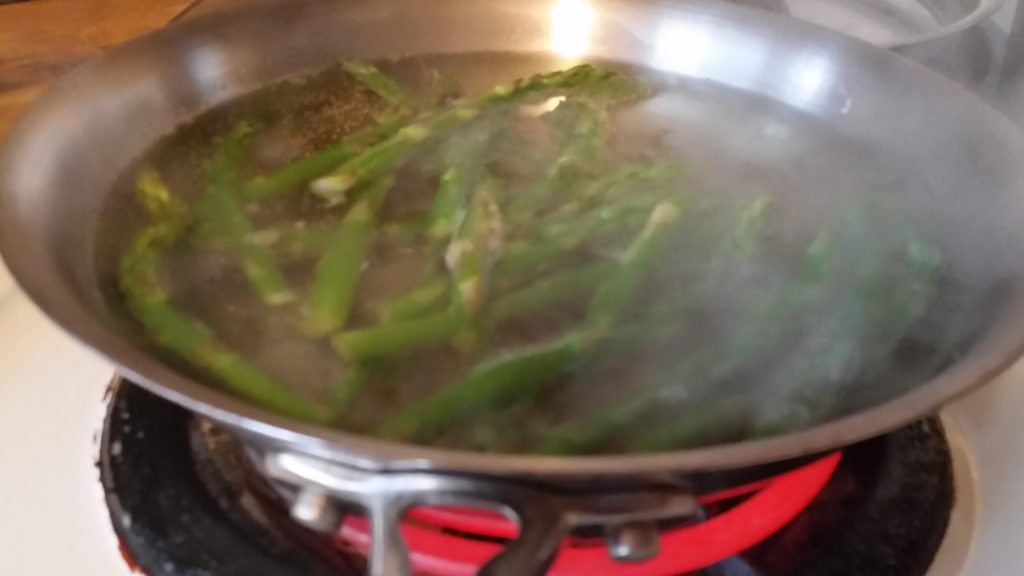 "Steaming" is not the same as "Boiling"
I blanched the asparagus in furiously boiling water, once, twice, and a third time.
I knew this would be a sticky point, but it had to work, there was no way to conceal the grassy stalks in Robuchon's presentation. They were a feature, shapely, prominent.
The issue of the pepper threads plagued our minds. We weren't even sure how they were made, we had always purchased them in Asian markets.
We weren't even sure they were what Robuchon used. And then it came to me.
I still had a little pasta dough left. I could stain it with smoked paprika, roll it out, and cut it into angel hair. Deep fried, it just might work.
I cocked an eye at my associates. They cocked their eyes at me. We sat there cock-eyed for a few minutes.
Somebody made coffee. I take mine black. Did I mention that? And my narrative like my eggs — hard boiled.
We got a call from HQ. They nixed the photo sequence depicting the crispy pasta threads and the béchamel tutorial, something about ongoing TSA concerns. Turns out the smoked paprika may have originated in Algeria, and the Nutmeg in some other hot spot.
We didn't ask questions. We never do.
You'll just have to believe me. They were rolled out to "8" on the Atlas. Loose lips, sink ships.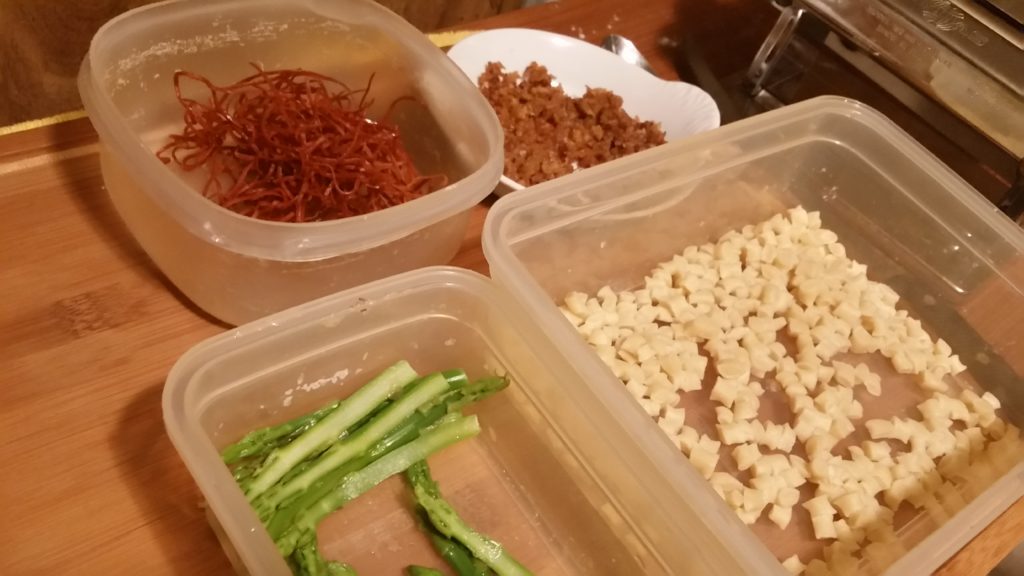 Finally, we had some mise en place.
The crisp pasta exceeded our visual expectations, and the chicken skin bacon would have fooled Oscar Mayer.
Time to make it all come together.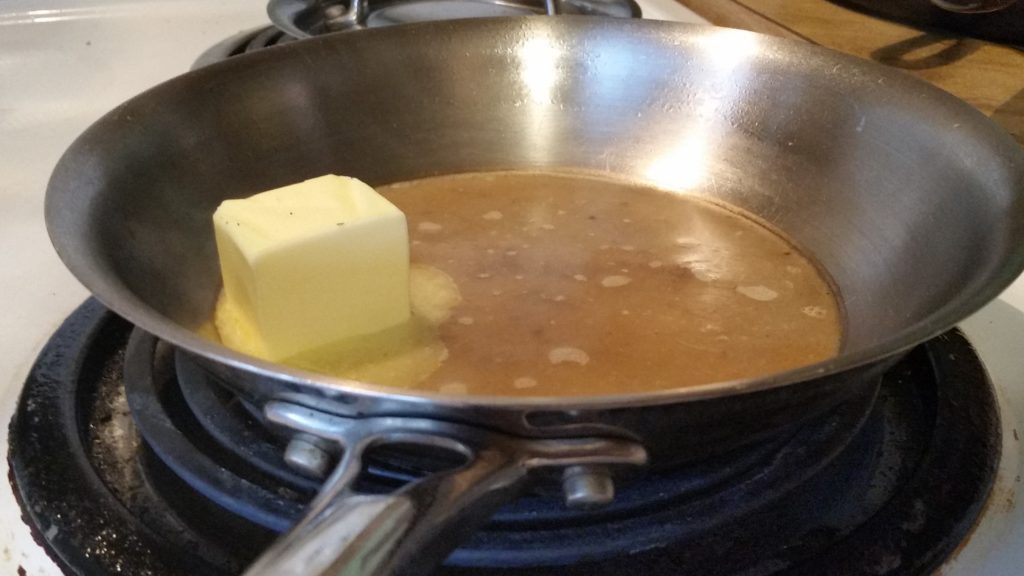 I deglazed the pan that we had fried the chicken fat in. Albumins collect on the bottom. Once they dissolved, we added some purge from the chickens, brought it to a boil, and strained it through standard issue paper towels suspended in a sieve. We moistened the paper towels, so that the SousJus would not cling to them.
Then, 2 oz. of butter. We remembered our training.
Sauces are delivery systems for butter and salt. That is a basic premise.
Our mission was too important to entertain romantic notions or to humor quasi-nutritional dogma.
 Introducing the most perfect shape in nature

The poached egg was carefully lowered into the bowl, as if it were some sort of weapons based payload.
If the white cracks and the yolk escapes prematurely, all is lost.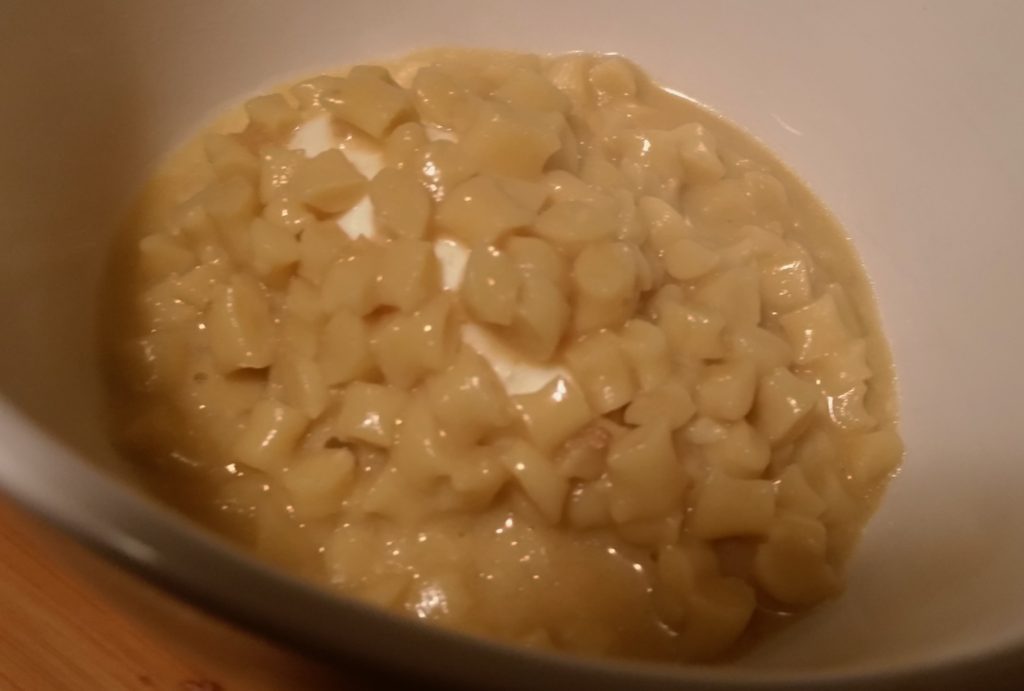 The nano-gnocchi were used to surround the egg, showing through ever so slightly, so as to invite the diner into its unctuous goodness.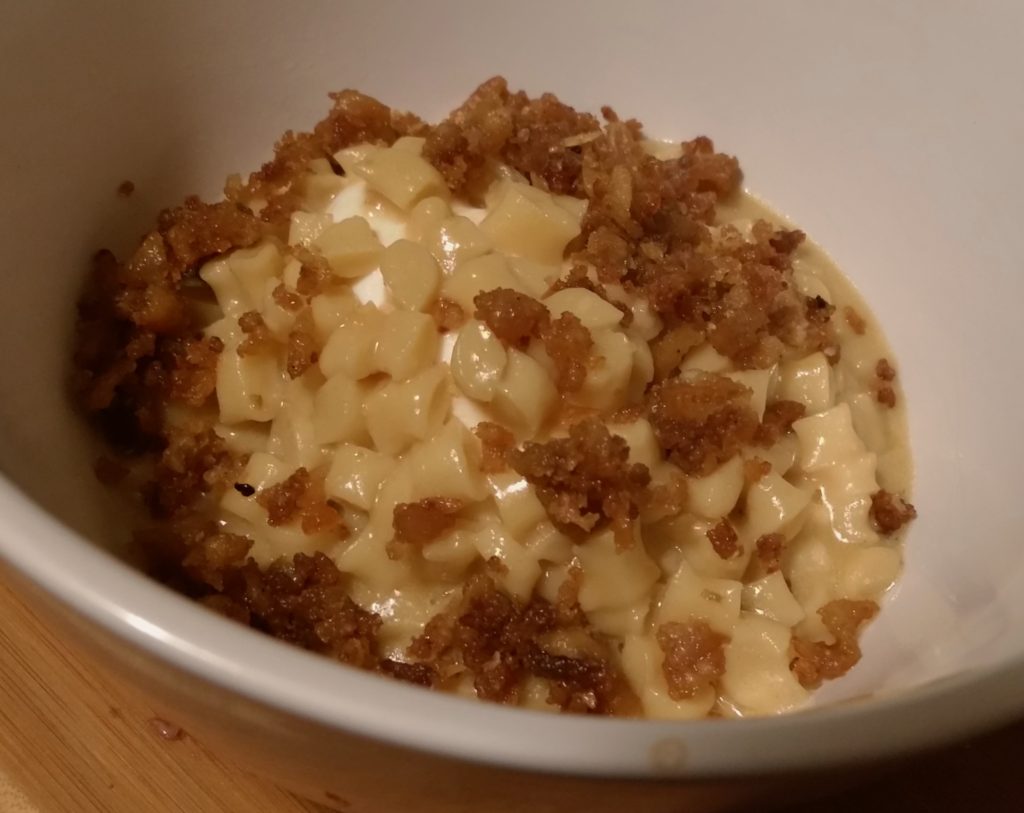 We applied the chicken skin bacon. It looks sprinkled, but I can assure you, each piece was individually placed.
We pray that this method never falls into the wrong hands. It could signal the end of freedom as we know it.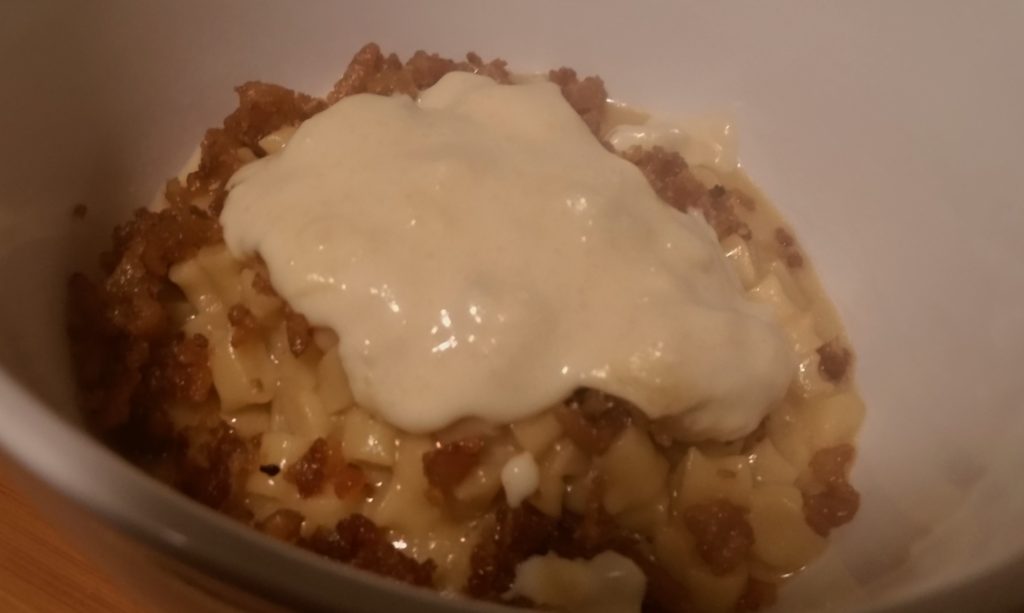 We substituted a light béchamel for the crème fraiche. Crème fraiche is one of those things.
Chances are, the store wouldn't have had it — the lightly clotted cream is easy to make, but it must be allowed 24 hours to culture properly.
We didn't have that luxury. Too much was at stake.
This is no time for a commercial.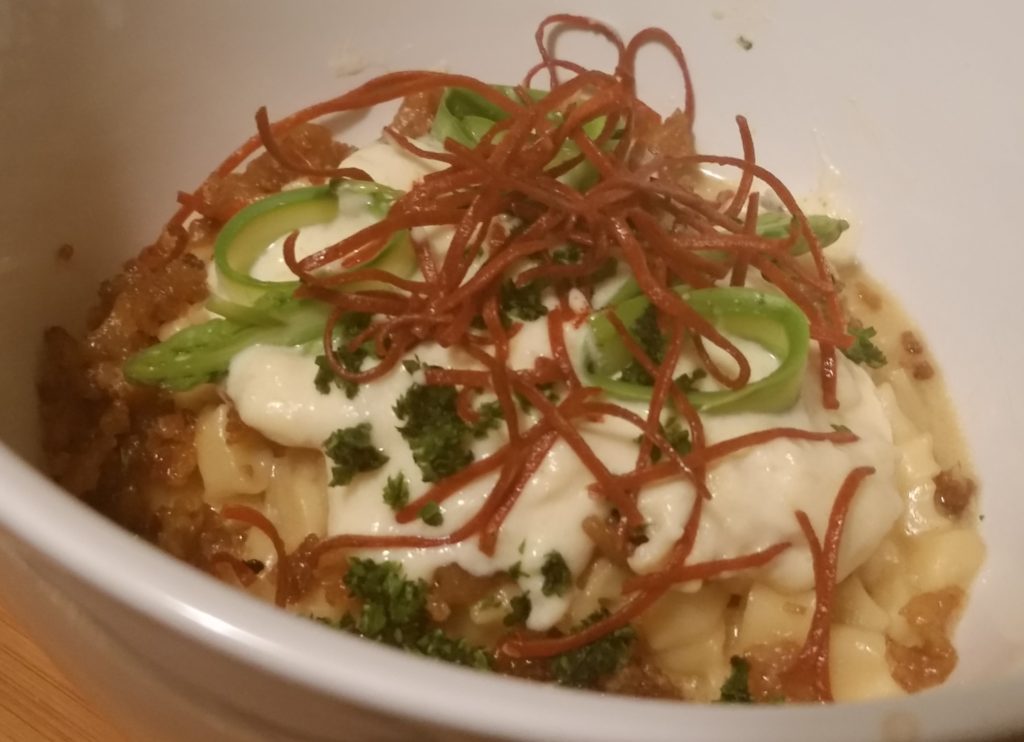 With uncharacteristically trembling hands, I carefully rolled and placed the asparagus.
I breathed a sigh of relief that we weren't serving a party of 60 bigwigs from the Pentagon in the banquet facility.
All those career soldiers with scrambled eggs on their hats had high expectations, while being notoriously lousy tippers. Brass. Pfffft.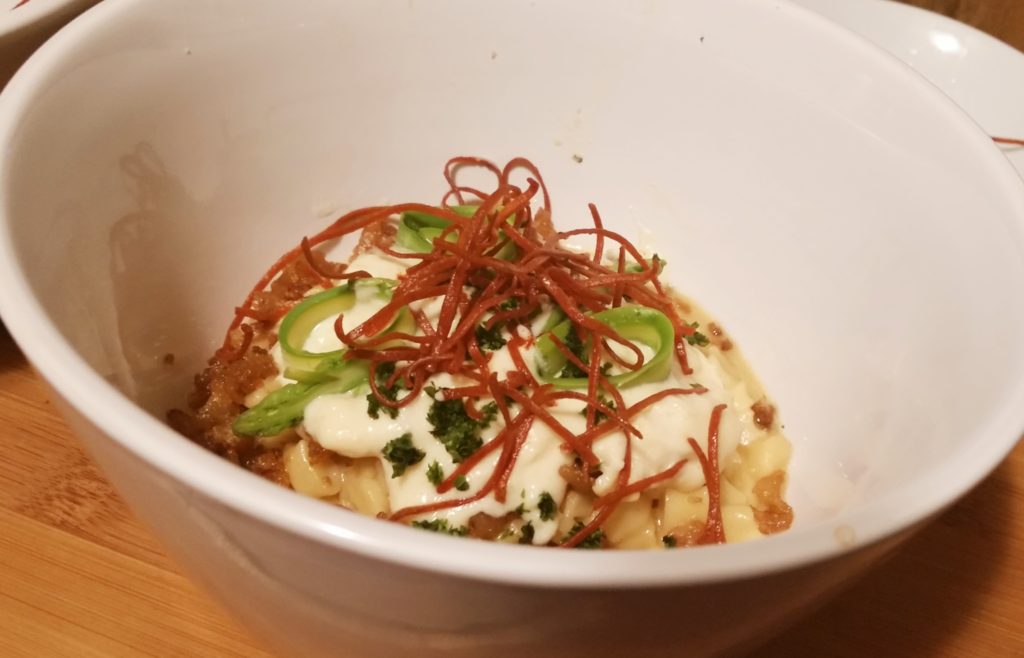 Angle, depth, and a hasty departure, all very important. I doubt that any of you are old enough to remember the half Cuban eight that B-47's implemented in order to deliver their payload, and then GTH out of Dodge.
Graceful, inspiring, and ominously Kubrickesque.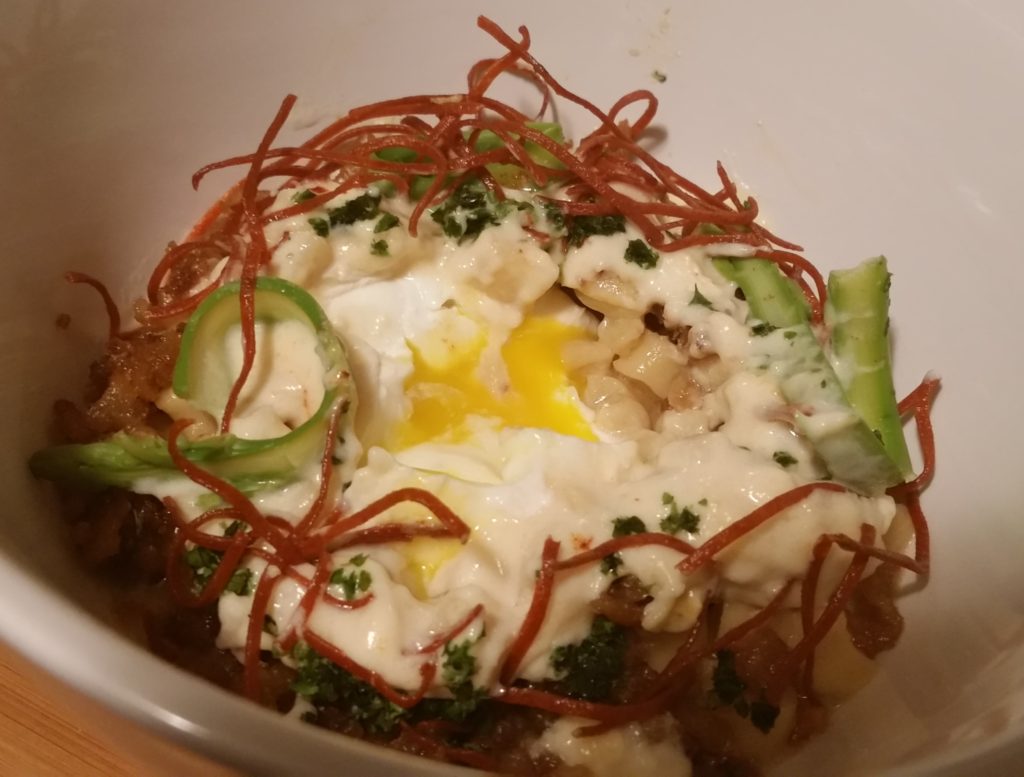 The moment of truth. It looks like we will live to cook another day.
May the Farcis be with you.
Epilogue
Special thanks to two of my heroes, Dashiell Hammett and Raymond Chandler.
Also, hats off to Bruce Geller.
Here's lookin' at you, Kid.