There's a Chicken in the Kitchen!
Making fried chicken at home creates a lot of anxiety. Most likely, it's going to be pink ON the bone, dry AS a bone, or BOTH. Fresh out of the pan, veins in our teeth, and then, after corrective actions, inedibly parched. Either way, making it is messy.
One note on pink chicken. Salmonella is the pathogen associated with undercooked chicken. But Salmonella is not pink. Salmonella is odorless, colorless, and tasteless, like most pathogens. Given the proper processing, the chicken could be safe and quite pink at the same time. Good luck convincing restaurant customers or your friends of that. The texture is weird, too. Just let it go.
Surrender the Pink
As cheap as fresh chicken still is, these were all pretty good reasons people decided to get their buckets of bird from the Colonel or Popeye. Making the mashed potatoes can really be messy, too. Sous vide coleslaw and sous vide cornbread still don't exist at press time. But sous vide CAN eliminate a lot of the mess involving the chicken and the mashed potatoes. The gravy is a snap, too.
If sous vide really wants to go mainstream, the strategy will HAVE to include fried chicken. That doesn't mean you put some buttermilk in a bag and pull out some extra crispy a little later. This is part of the confusion about sous vide. Crockpots and microwave ovens are typically the LAST stages in the cooking process. Sous vide is typically an intermediate process, designed not only to provide a delicious and safe product but to give us the opportunity to FINISH meals MORE quickly. Just for today's example, I bought two whole chickens (it's fine to buy them already cut), and then I made 9 packages — 4 single breasts, four legs and thighs, and all the wings in one bag. Since there's only two of us, that's almost a week's worth of chicken.
We don't eat chicken every day. But, since the chicken is pasteurized via sous vide, it will keep refrigerated for a long, long time — at least a week. It also freezes better than raw chicken. MUCH better. There's no air in the bag, and hardly any external water to crystallize either. The moisture is all inside the chicken.
So, each time we decide to have chicken for dinner, we can prepare it any way we want. Cacciatore one day, Coq au Vin the next, Lemon Chicken, whatever. Ha, ha. Lemon chicken. I watch too many reruns of Raymond. All chicken recipes can start with the chicken processed the same way.
140Fx4 hours.
Different temperatures and times can be used, but they are all engineered to achieve the same result; pasteurization without the damage inherent in open air cooking methods.
Ingredients (serves 2):
2 each 6 oz. breast of chicken, or equivalent. I use what they call Airline Breasts, which is skin on, shoulder joint attached. You can really do it with the boneless skinless breasts, or bone-in chicken, and it doesn't even have to be breasts. Legs and thighs work great too. People always want to know how to get that crisp skin after sous vide, and it's my job to accommodate them.
1 recipe Easy Peasy Chicken Crust
1 recipe Sous Vide Mashed Potatoes
you can use 6 oz. Sous Vide Demi Glace, but, one step at a time. McCormick makes a good product for this. You will need about 2 Tablespoons of the powder, dissolved in
2 Tablespoons of melted butter. This will be explained after we have fried the chicken.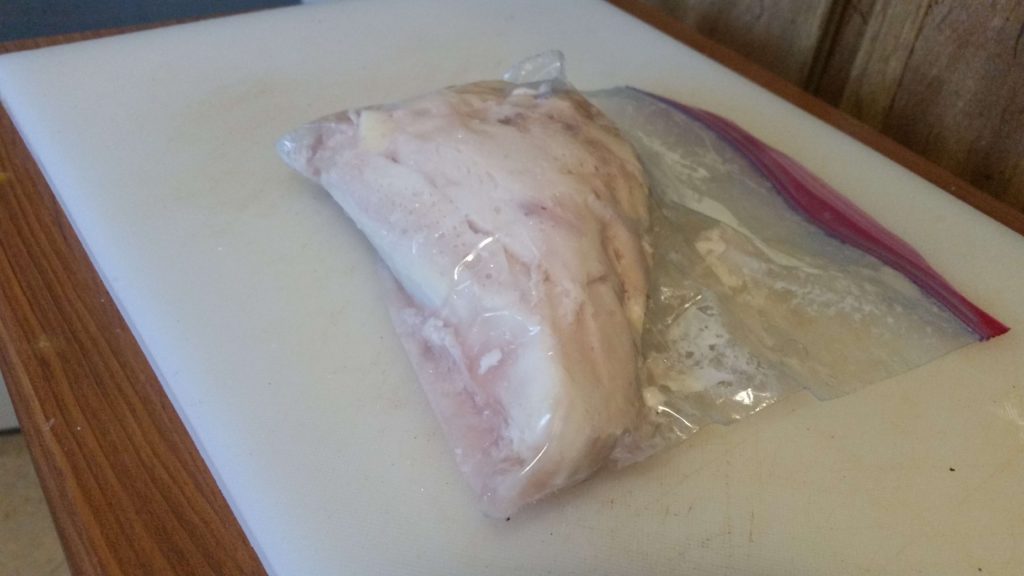 After processing, the package is shocked in cold/ice water until it achieves 70F. After that, it can be refrigerated without compromising the internal temperature of your refrigerator. This is important not only for the chicken but for the other foods that it shares space with.
I save the juices that accumulate in the bag for further processing, they have a lot of flavor. There won't be much in this package, so today only, we will discard it.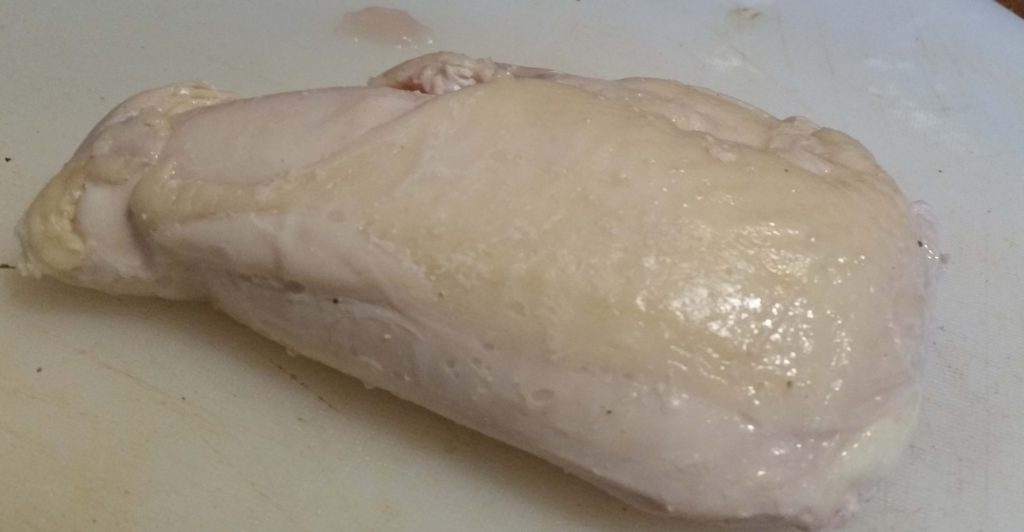 Dry the surface of the chicken.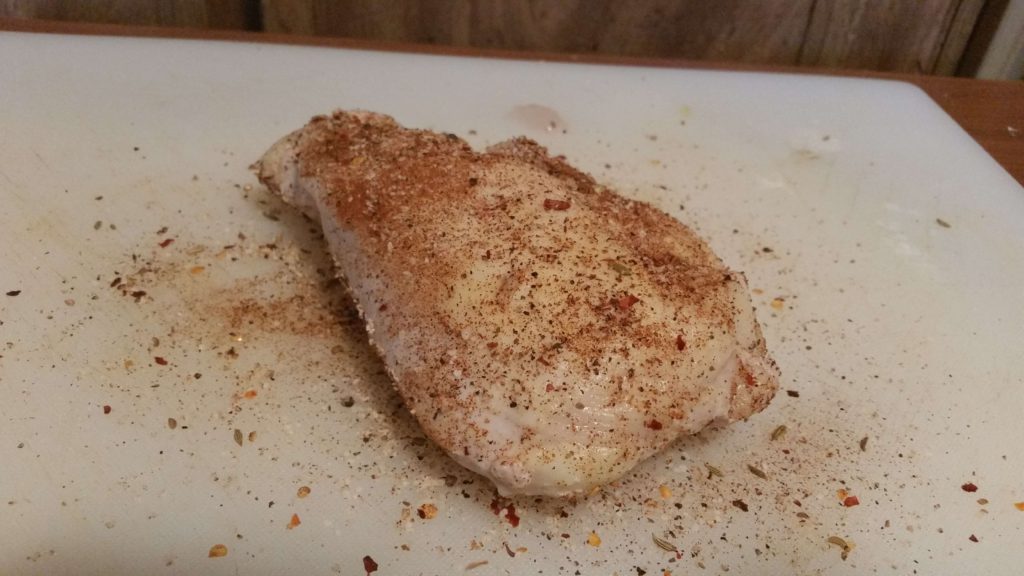 Sprinkle with your favorite seasonings. I used salt, pepper, smoked paprika.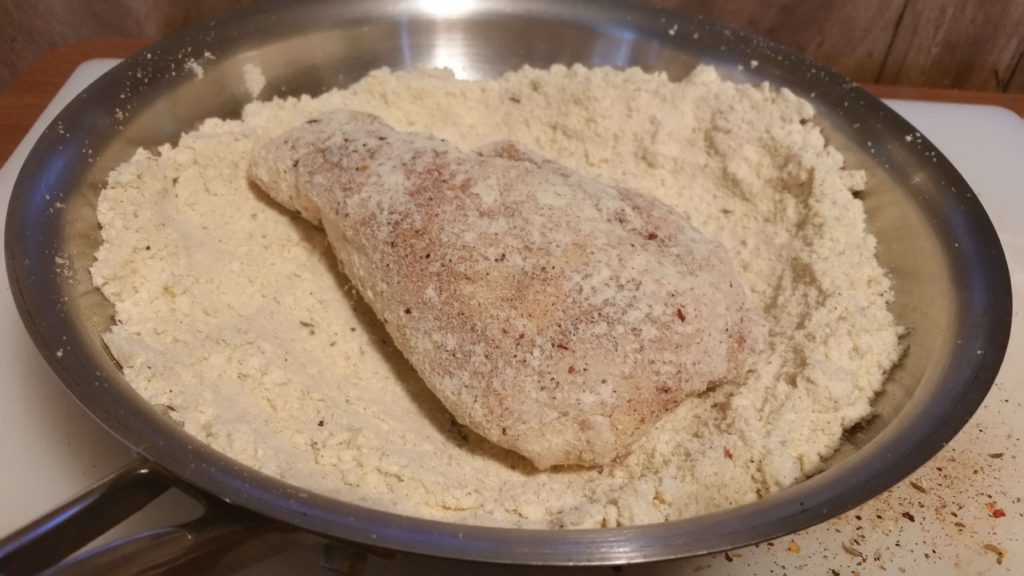 Roll in an ample amount of the breading mix, press it in. It won't look like very much is sticking, but, for this recipe, that's what we want. Heavy breadings prevent the crisping of the skin.
Save the excess mix, and keep refrigerated. If it gets lumps or debris, it can be sifted.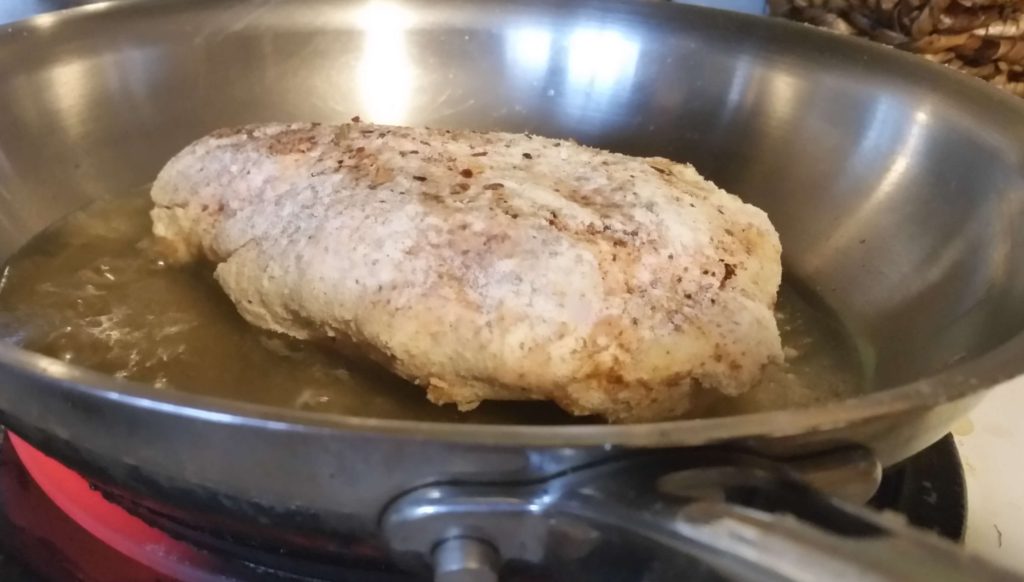 Heat a pan to 300F, and add 2 oz. oil. Not the other way around. Always heat the pan first, unless you are planning to deep fry. This prevents the burning of oil.
Even though there is only one piece of chicken, the pan can still become crowded. Better that the pan is too big than too small.
Free Range, even in the pan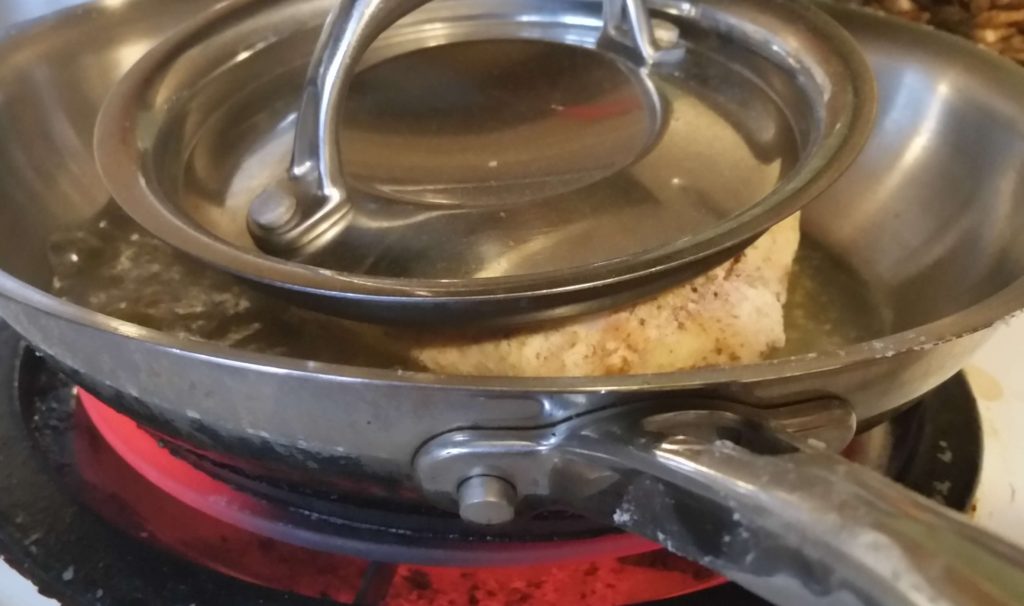 There is a time to weight meat, and there is a time NOT to weight meat. The steady application of a little weight will accelerate the cooking/heating process, and flatten the breast just enough to get an even crust.
Some cooks cannot resist the urge to press their spatulas as hard as they can on a burger in an effort to speed up the process, but this only removes juice. It's hard to ruin a burger, but that will do it. In the biz, we call that SHOEMAKER style.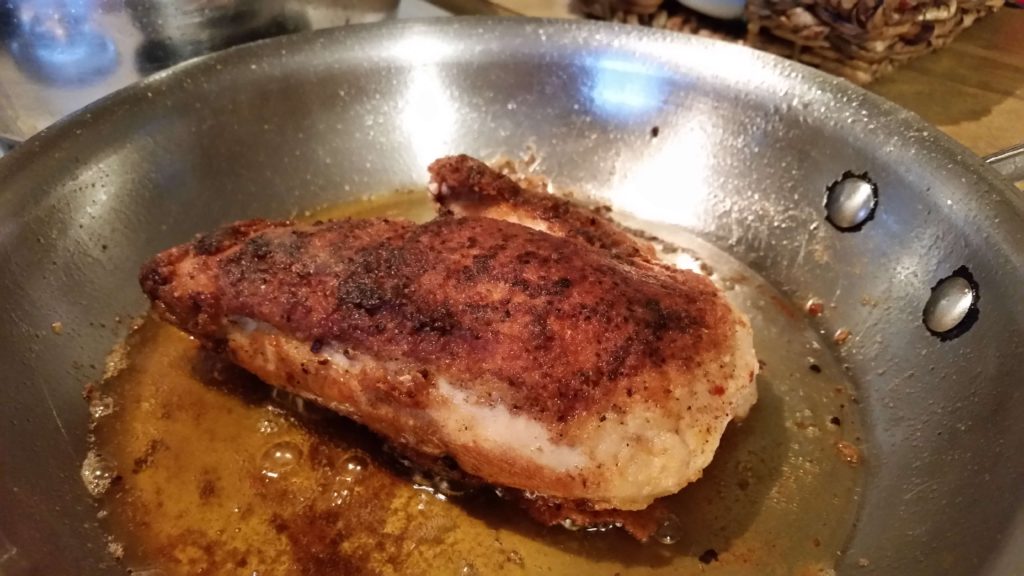 Avoid excessive turning. You really want to get the breast as brown and crisp as you want it the first time around. This helps prevent splatter.
Once you have achieved the desired color, turn the chicken and finish on the other side. The first side takes longer than the first, and it's okay to measure internal temp with a probe. Mouth hot is 135F, and, since the chicken is already pasteurized, there is no necessity to achieve higher temperatures.
Remove the chicken from the pan and set aside. We're almost done, assuming you made the mashed potatoes. If you didn't, don't panic, but it's gonna be a while now.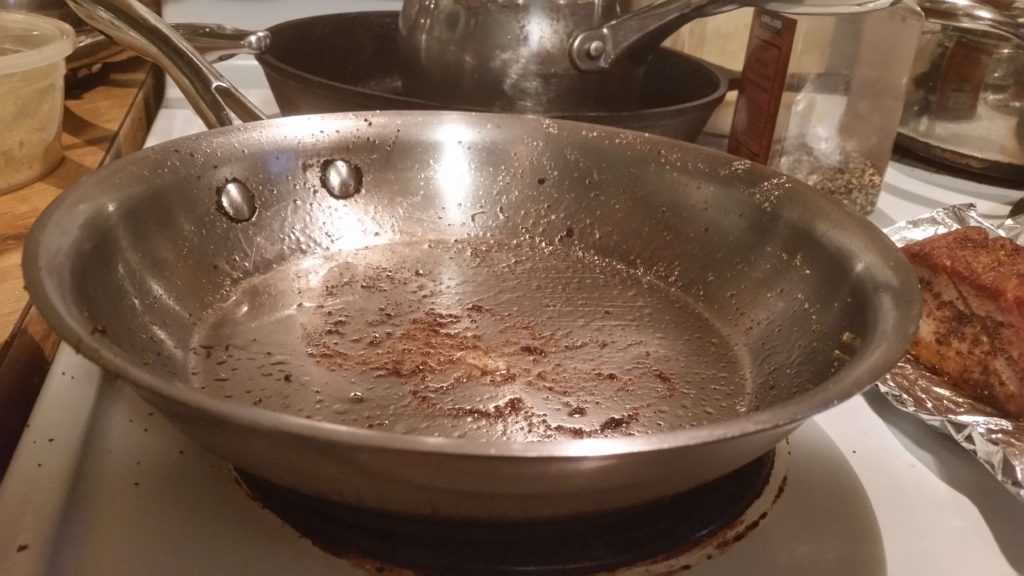 This is a frying pan. Also known as a saute pan. Same thing.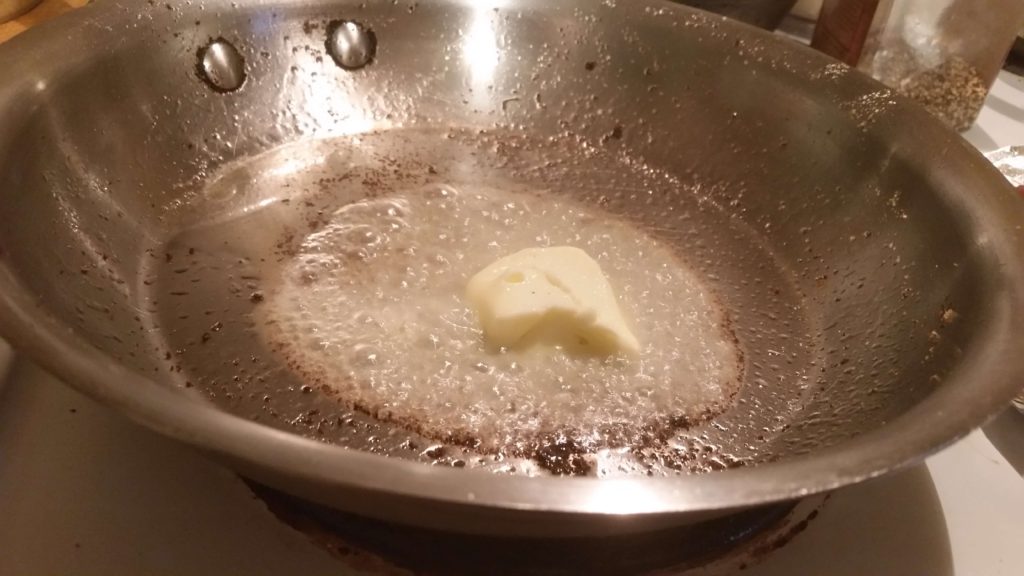 Add the butter, and…
the Gravy mix that we spoke of unless you have demi-glace.
Let it bubble for a minute or two.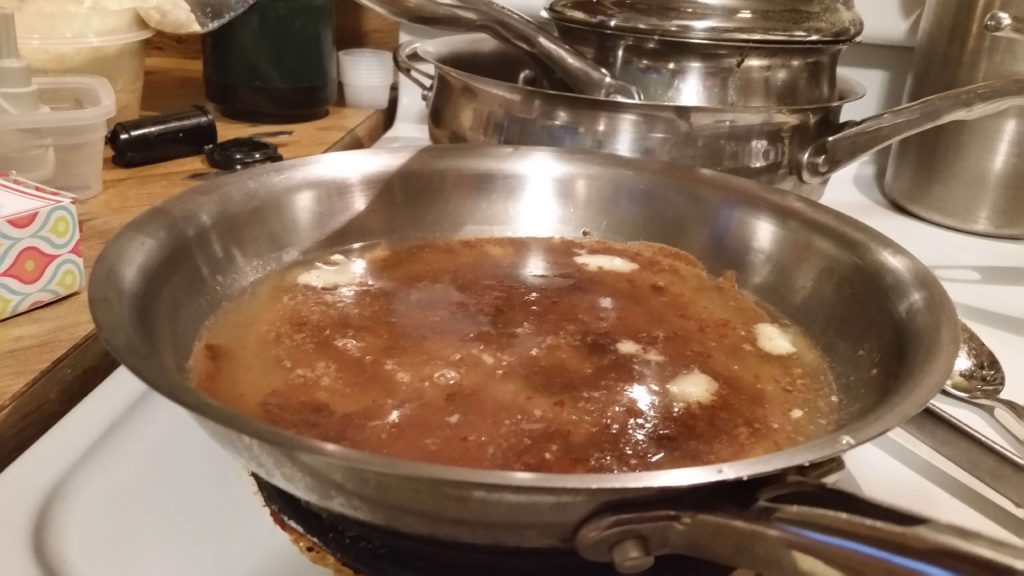 Stir to dissolve, and add 2 cups of water or neutral (unseasoned) stock.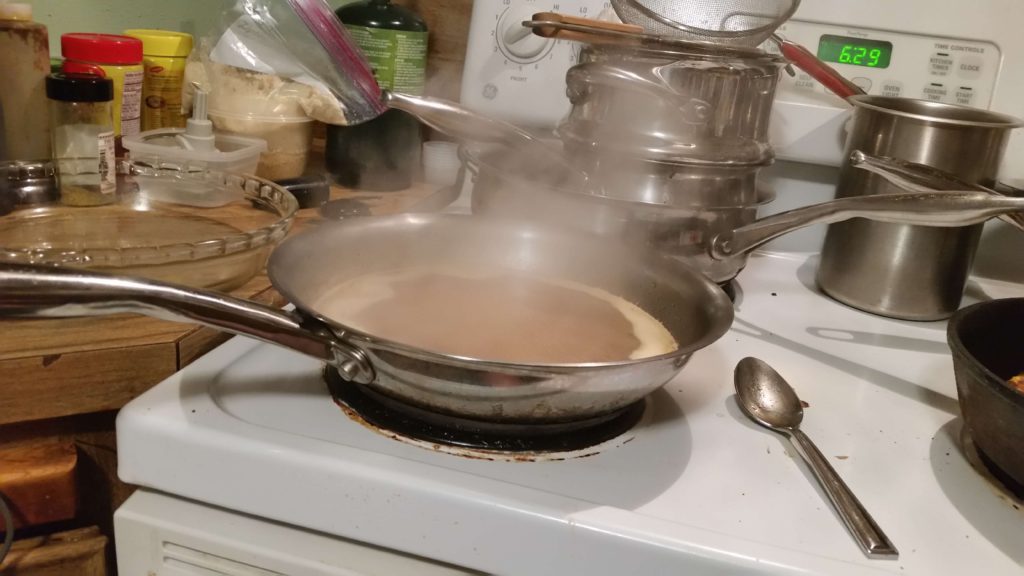 Bring  to boil, stirring, and let it simmer for a few minutes. The bubbles will slowly get larger.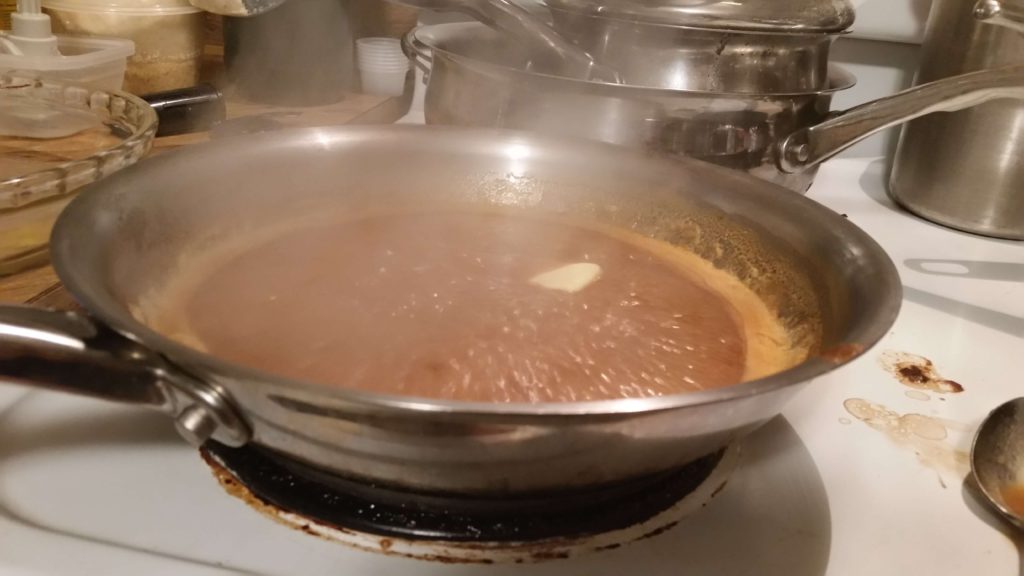 add a pat of butter, it will add some finesse to the appearance.
strain if necessary. I find that if you dissolve the powder in butter, it comes out quite smooth.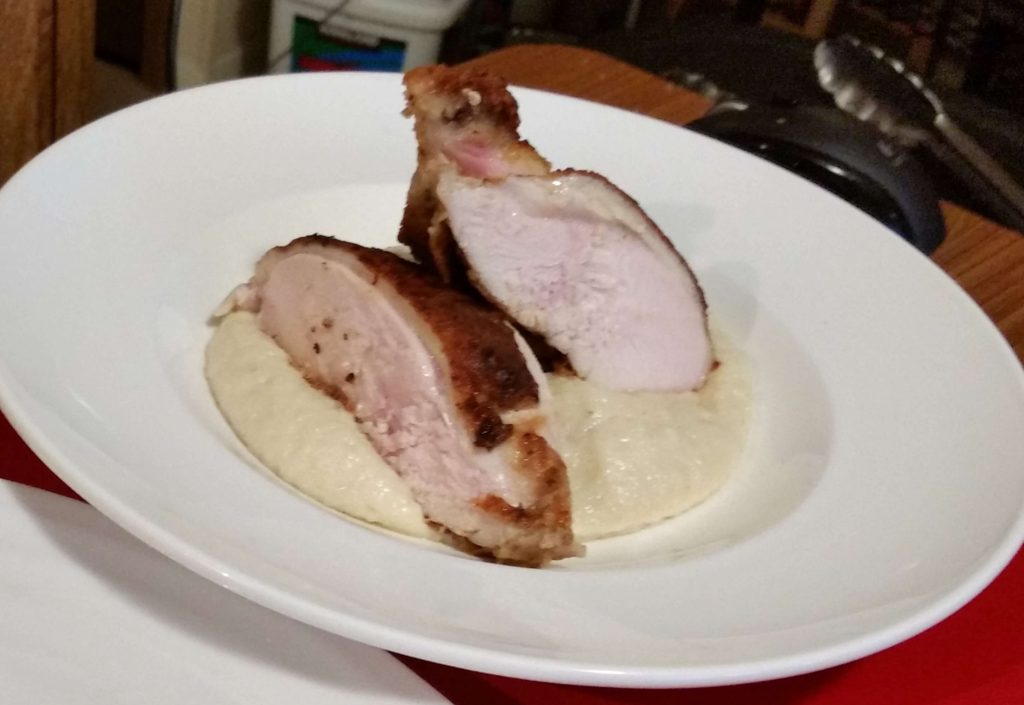 In the bowl, still looks good, even without the sauce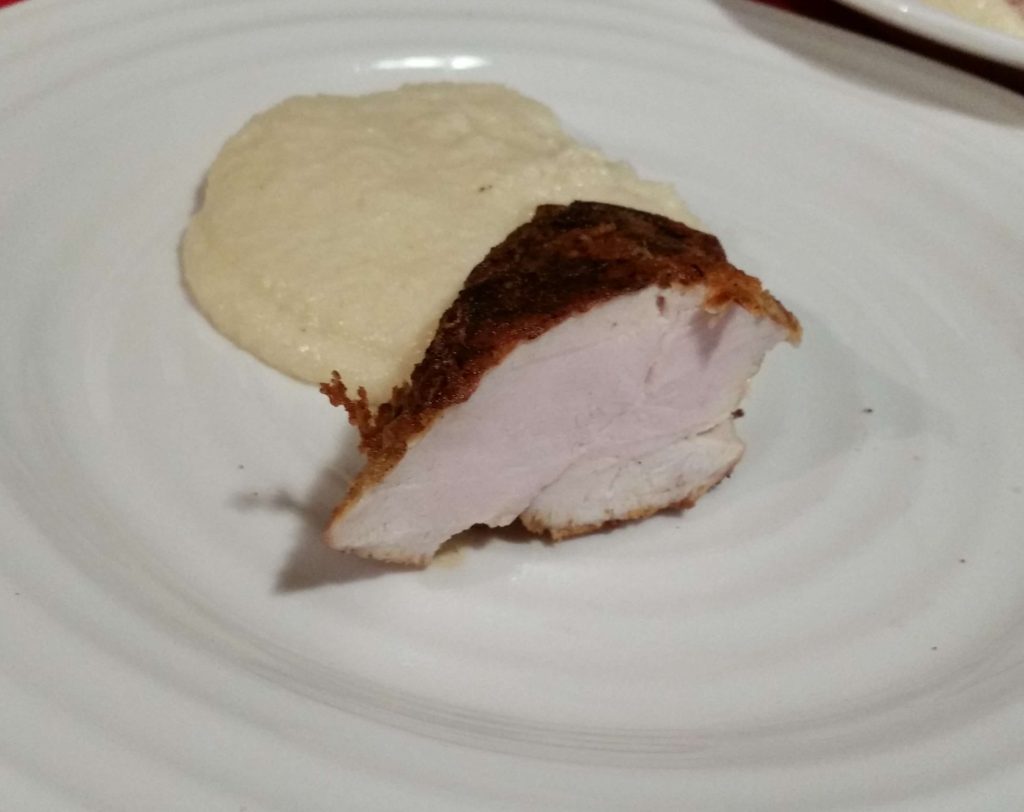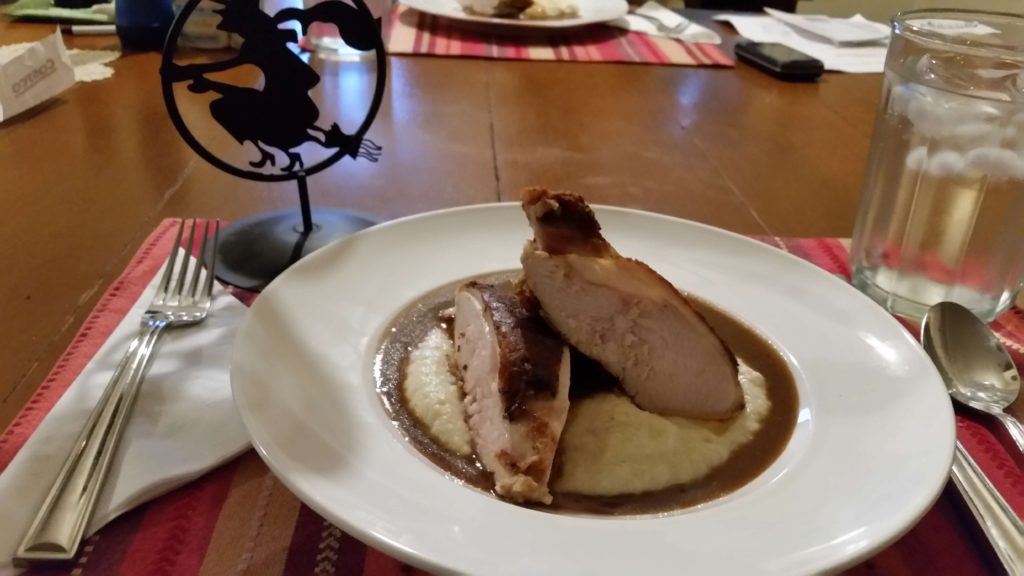 My wife always does a good job getting the holiday decorations up. Not a lot, just enough, tasty.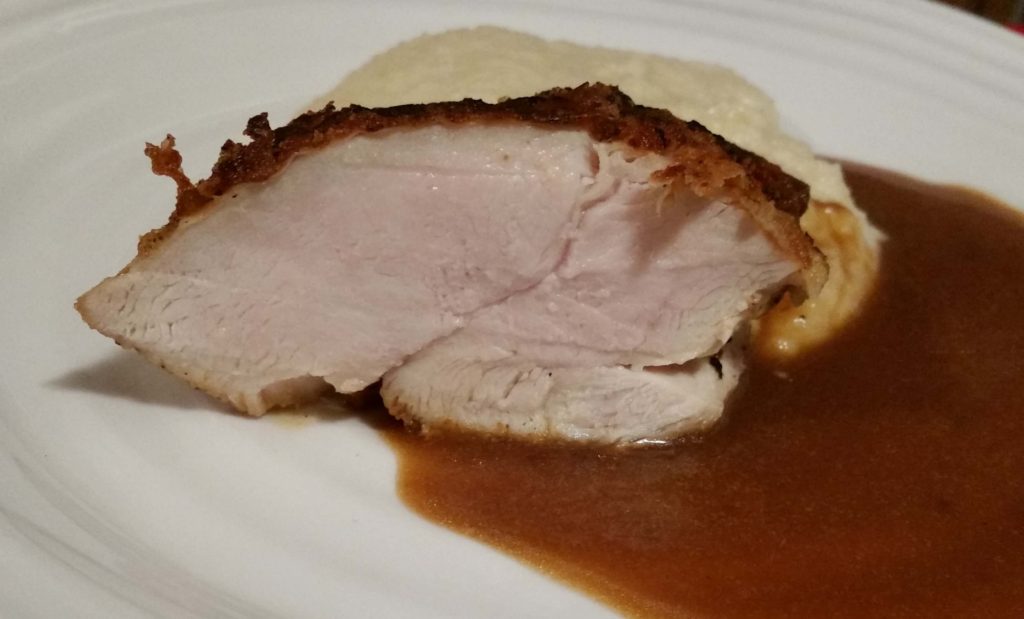 Looks moist, not a hint of pink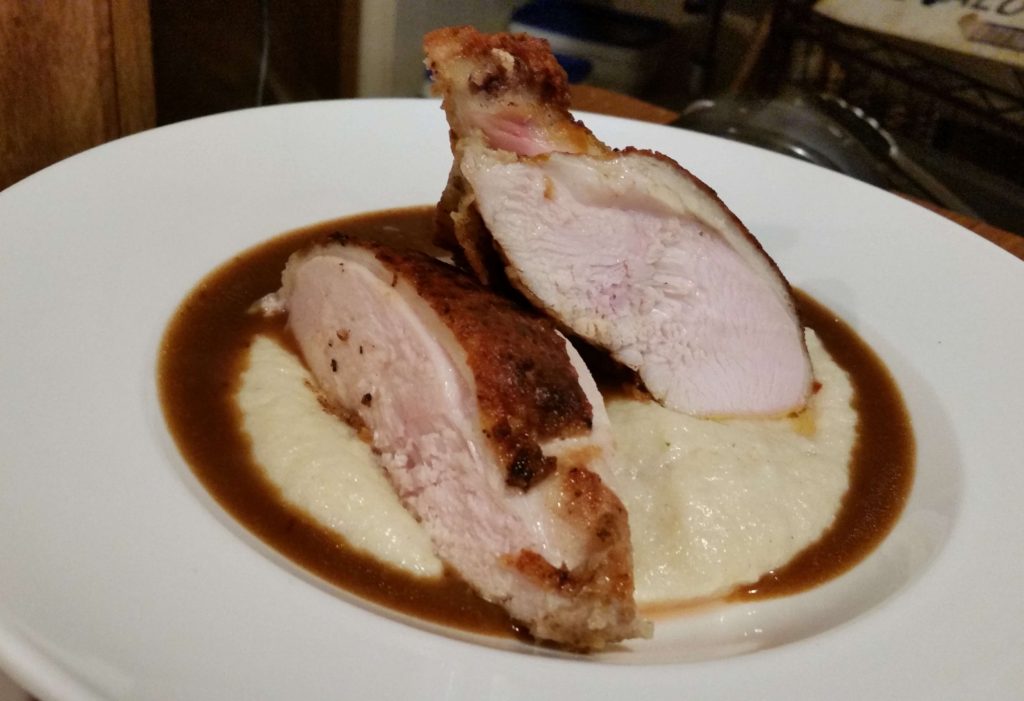 Who needs Buttermilk?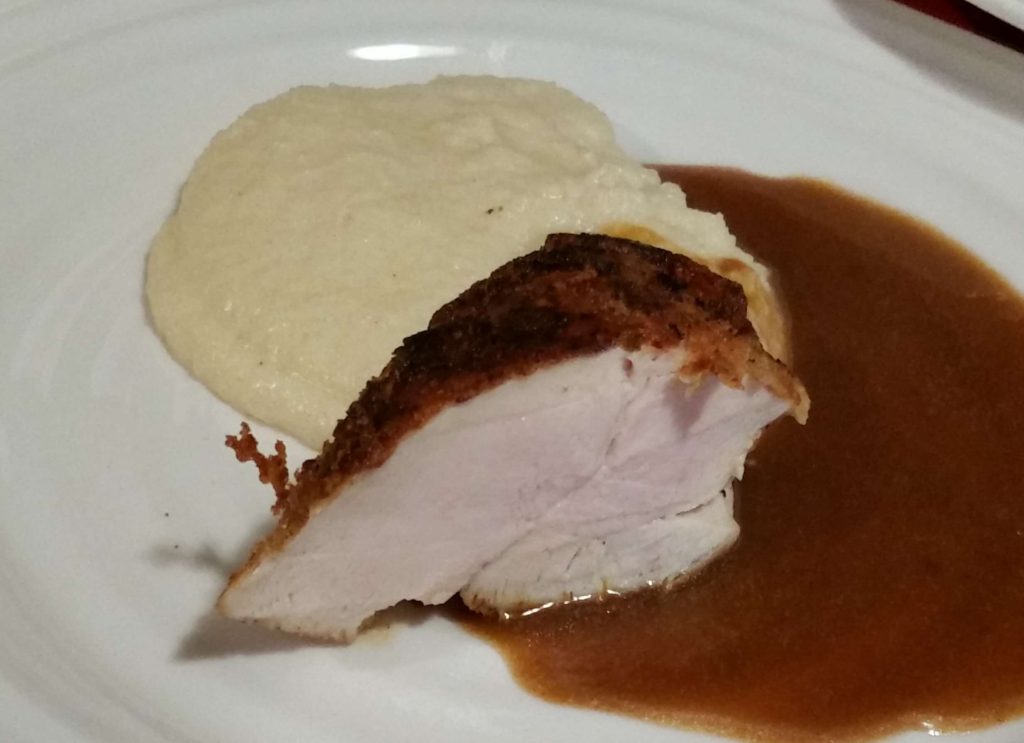 Not to worry, I'm going to make a Buttermilk Fried Chicken real soon.
For more discussions of Sous Vide Chicken dishes, click here and here.