Meat isn't everything
Many vegetables can benefit from SV processing, but they require a different approach than proteins. The process still pasteurizes and preserves, but vegetables require much higher temperatures to denature. I was surprised to discover this, but after processing a potato @140F for a couple of days, there was no denying it.  Additionally, so-called green vegetables — green beans, members of the cabbage family like broccoli, kohlrabi, brussels sprouts, even cauliflower, and green leafies all emit gasses when exposed to heat that stain the vegetables black and give them an off taste.
Here's the basic idea: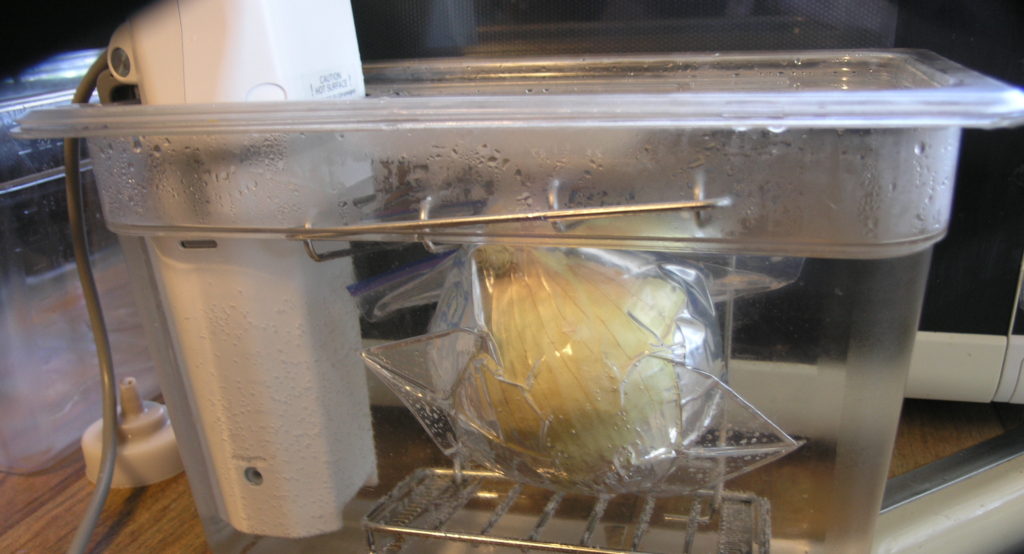 Root and Winter Vegetables:
Potatoes
Carrots
Onions,
Sweet Anise
Beets,
Parsnips,
Turnips,
Radishes
Pumpkin
Butternut Squash
Acorn
Hubbard
183Fx1 hour minimum, PLUS time to pass pinch, based on thickness, not weight.  Large russets can take up to 2.5 hours. I use Ziploc Quart Bags for all of these now.
Green Vegetables AND Green Leafies:
Green beans

Broccoli

Brussels sprouts

Cabbage

Spinach

Chard

Frisee

Mustard

Dandelion
183Fx one half hour minimum, UNSEALED + time to achieve desired results. Hang a Ziploc or comparable bag on the side of your vessel, so that gas can escape.
Final Step
Serve or Shock and Store.