I love planning out the week's menus, calculating just how much parsley and onions I will need, logging my ideas for each daily cycle. And there's only two of us! Even so, on any given day, all my plans will get scrapped for one reason or another. Maybe I decide the pork belly hasn't cured long enough, or maybe I'm just not in the mood for Gnocchi. My wife rarely makes requests.  She might not love all the exotic stuff, but I make sure that I have the capability to exclude one ingredient or another for her plate. Today, of all days, she reminded me that I hadn't made pizza in a long time. What a great opportunity to combine BBQ and Sous Vide with some Pizza – Sous-B-Q™ Beef Tri-tip Pizza!
Rut roh.  No mozzarella in the house, only cheddar and parmesan. Hmmm.  Chefs adapt, cooks adapt, the wind changes. So, I poked around and came up with this.
The Toppings
6 oz. grated Tillamook Medium.
2 oz grated Parmesan.
1 large tomato, torched and peeled.
1/2 roasted yellow pepper, cut into strips.
2 oz chopped onion.
A little bit of chopped parsley.  Little bit.
6 oz sous vide beef tri-tip, I modified the basic process to utilize 129Fx24 for a few demos.
Sous-B-Q ™ Smokehouse Pizza Sauce
Ingredients:
2 oz tomato paste.
2 oz. water
S+P
1 oz EVOO
Your favorite Italian seasonings, just a little bit, or, none.
A few drops liquid smoke, that's what makes it Sous-B-Q ™.
Pinch of sugar
A few drops of Worcestershire sauce.
Anything else that sounds good, with the BBQ sauce profile in mind.  French dressing, ketchup, some Umami, we're not creating a tradition here, we're just throwing it together.
Blend all ingredients.
Dough:
1 cup flour.
1 teaspoon yeast.
pinch salt.
1/3 cup hot tap water.
Procedure:
In a food processor, in a mixer, with your hands, combine all the ingredients to get a basic, simple, easy dough–you can even do it in a Ziploc Quart bag.
Drop the dough ball into a pot or plastic vessel with hot tap water in it, and it will float to the top in about ten minutes.  It is now proofed.
Flour your cutting board, and mix until the surface of the dough is a little drier, just smoosh it around.
Roll it out, press it out, throw it in the air, whatever works.  If it starts to stick to the board, sprinkle a little flour down there.
I had already processed a whole Choice Tri-tip@129Fx24 hours, just to reassure people that it wouldn't dissolve at that duration.  I bought it with the peel on for $2.48/lb. Even after removing the substantial amount of fat, I ended up with a lean tri-tip that cost $4/lb, a price that's hard to find even wholesale.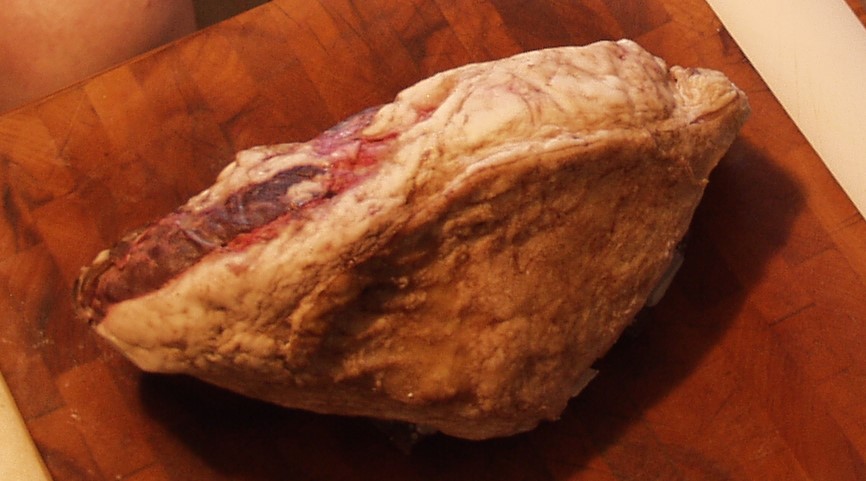 I shocked it in a cold bath down to 70F and then refrigerated overnight.
We've got the meat, too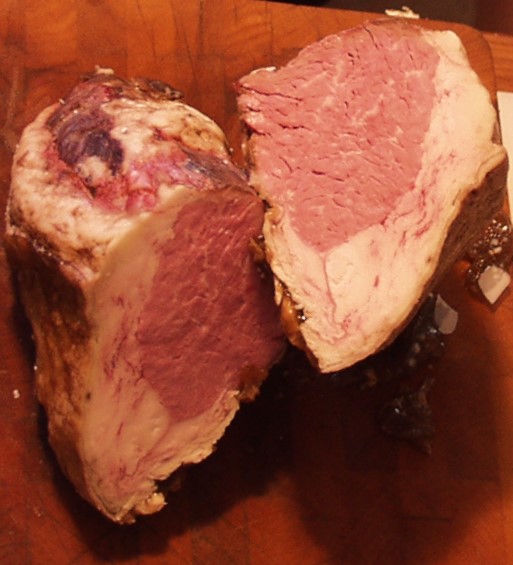 Even @129F, I expect some exsanguination after a lengthy cook time.  Actually, exsanguination is a misnomer, because there's no blood in the original piece of meat. Myoglobin is responsible for the color of rare meat, and it dissipates with time, as well as temperature. That being said, the color is still good.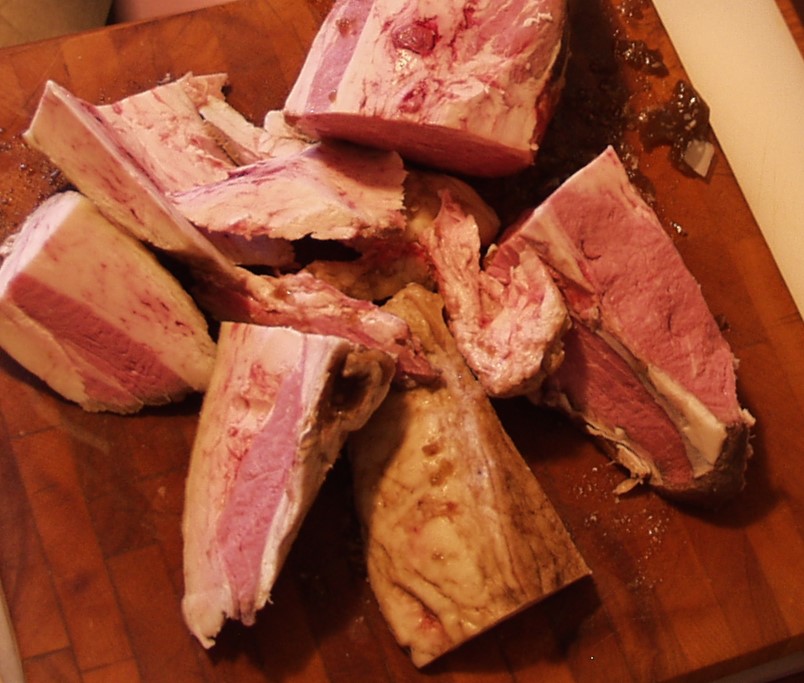 I trim the cut, not trying to be perfect. I snack on the little scraps of meat left on the fat. Beta testing.  Leave some fat on the meat, too.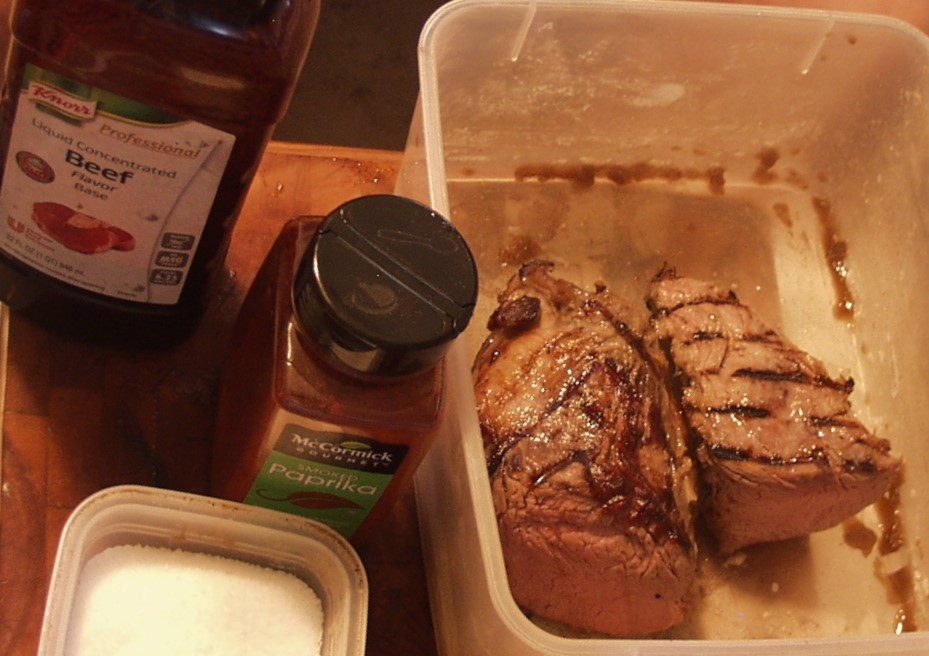 Once again, we defy convention. I seared the cold tri-tip in my cast iron pan, nekkid, nekkid, nekkid, to get some Maillard and render some fat. AFTER that…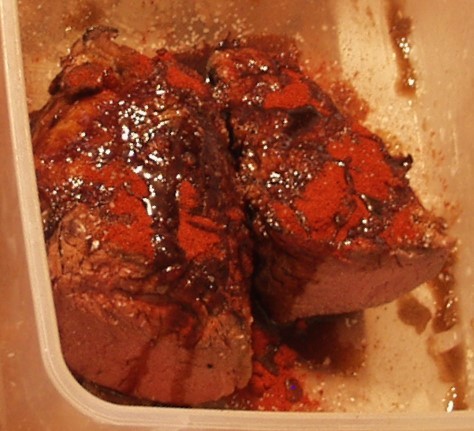 Sprinkle, but do not measure (!) some smoked paprika, salt, and I drizzled a little bit of Knorr Beef Stock, which is extremely Umami-rich.

Make sure the meat is coated and set aside. As we know, these substances cannot penetrate the meat.  They do, however, stick to the surface. Our tongues really can't tell the difference.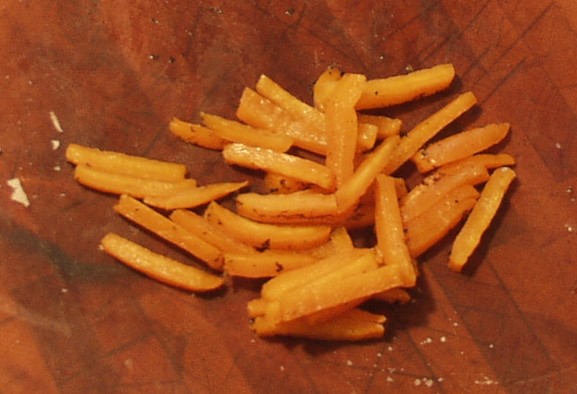 The roasted orange peppers that I had hanging out in the fridge.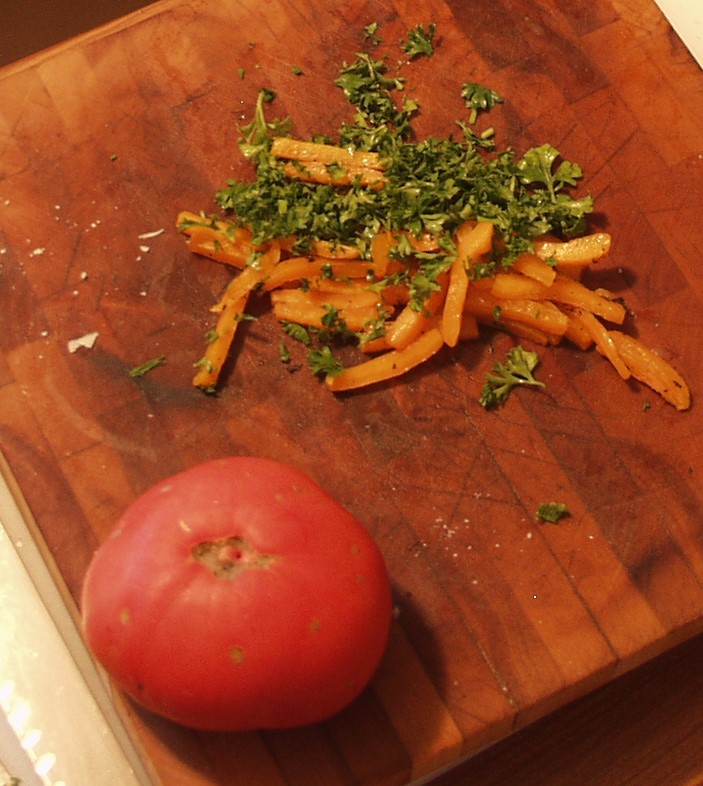 There's almost always parsley around, and this tomato came from Justy's, they have the best stuff.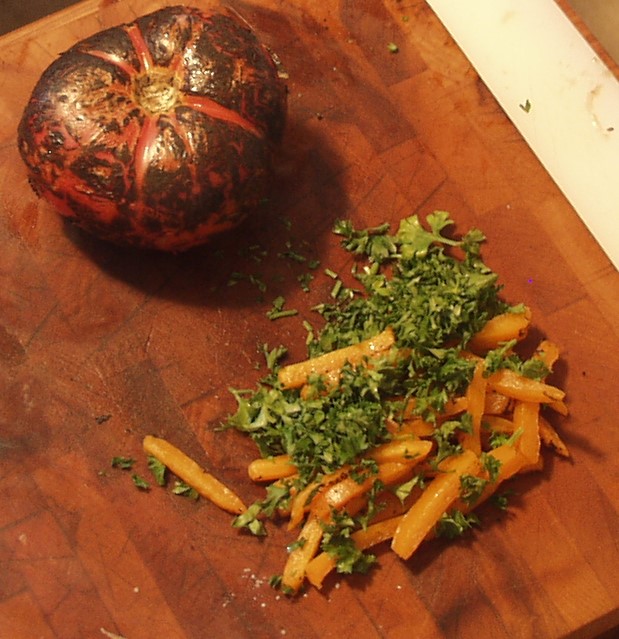 I don't always peel the tomatoes, and the skins on these are thin. Even so, a little cachet.
Beautiful pizza things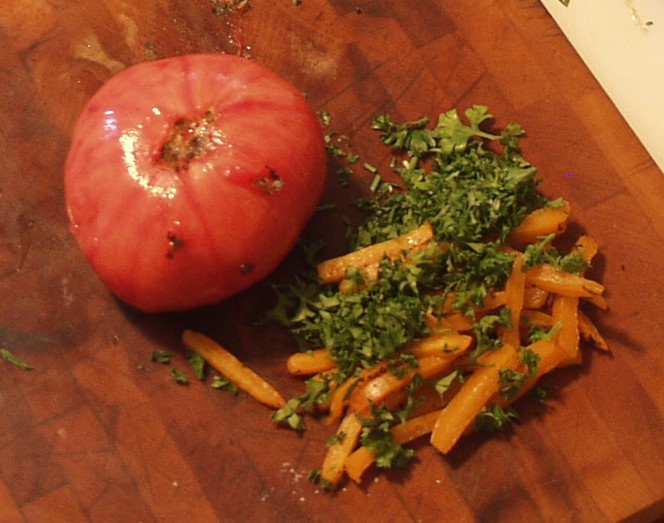 Dry towel, wet towel, your fingers, cold running water, it all works.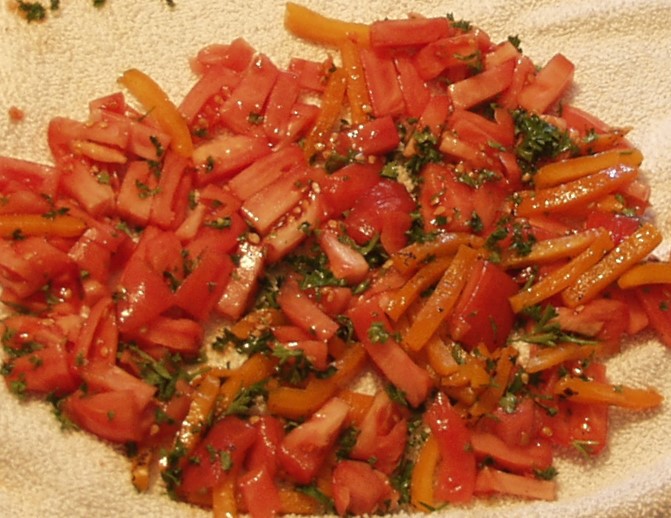 I tossed the toppings together and lay it on a towel to drain a little. No need to get a bunch of little containers dirty.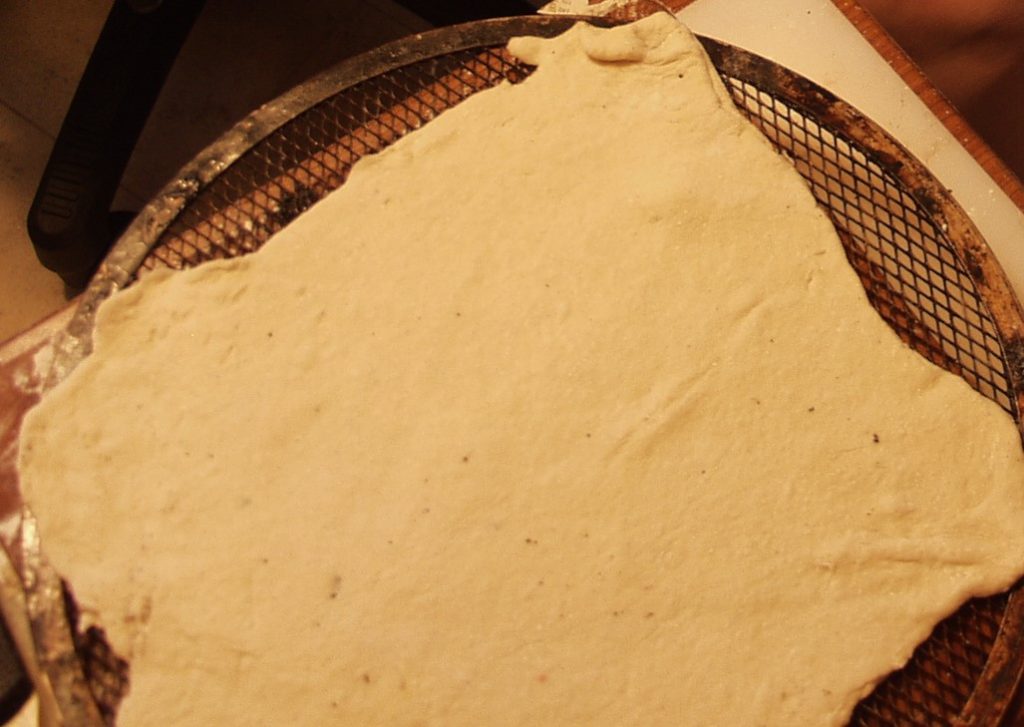 Pizza Dough, it's a thing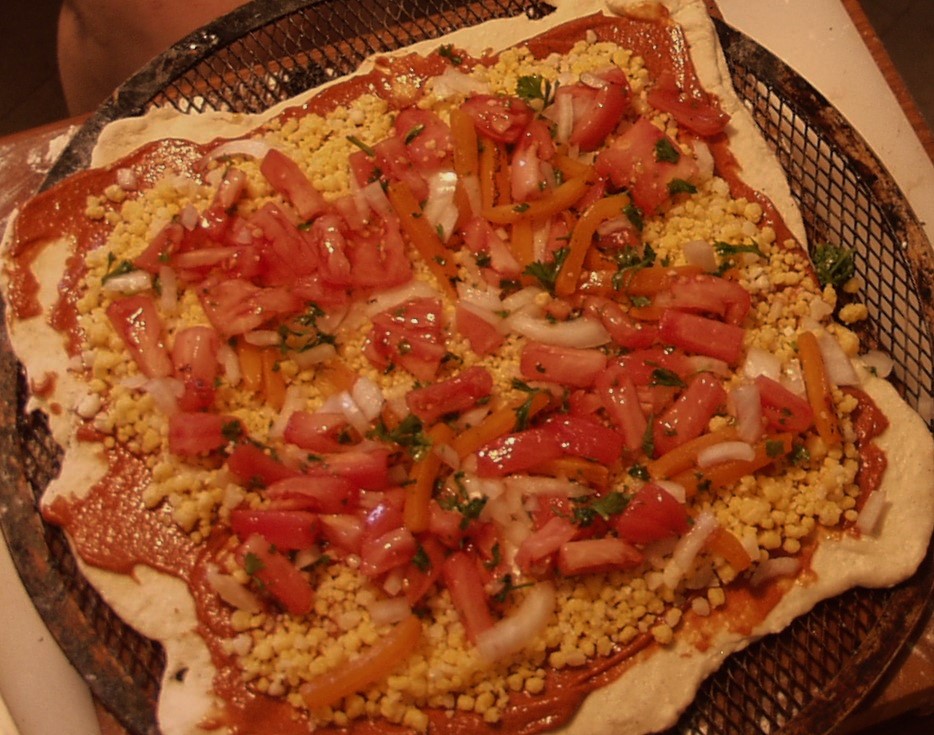 Square, round, I get mixed up.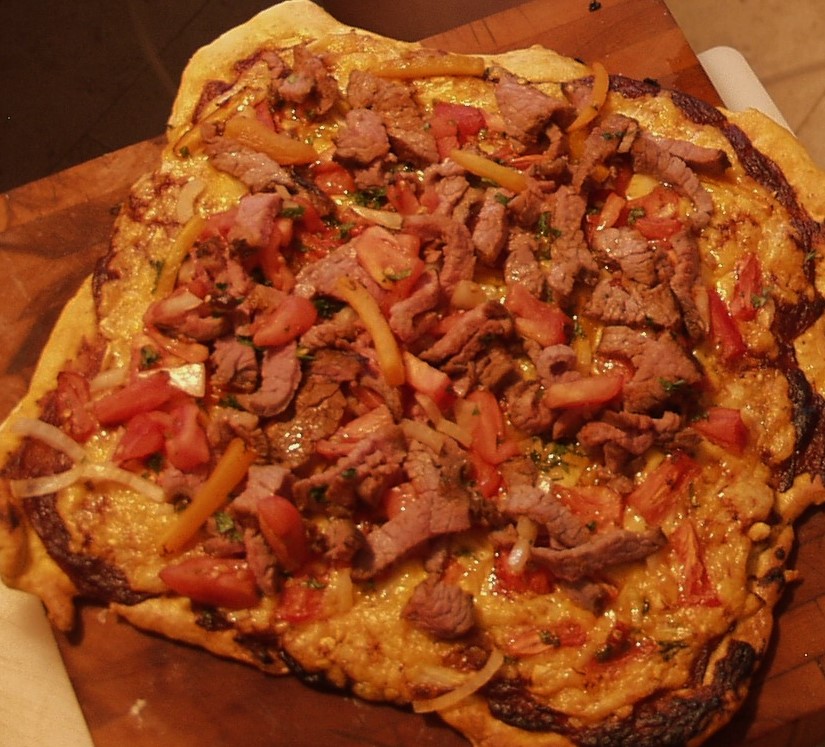 I'm tellin' ya, this is good.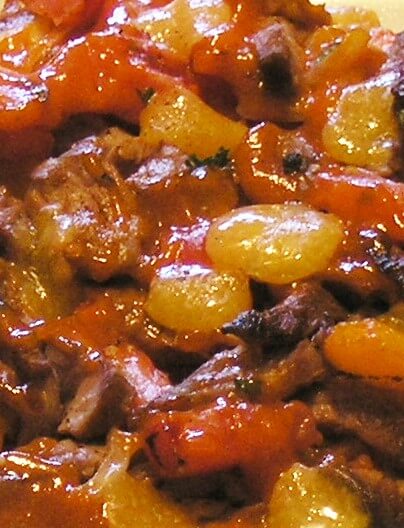 People who think the appearance of food is of minimal value are minimalizing the amazing combination of colors that pizza almost always offers. Standard pizza ingredients encompass the entire rainbow while requiring no aforethought on the part of the preparer. We really do eat with our eyes before our mouths–especially children.  I don't mean we eat children. I mean children depend on their eyes to determine palatability.  Candy packaging and cigarette packaging are compelling evidence of this.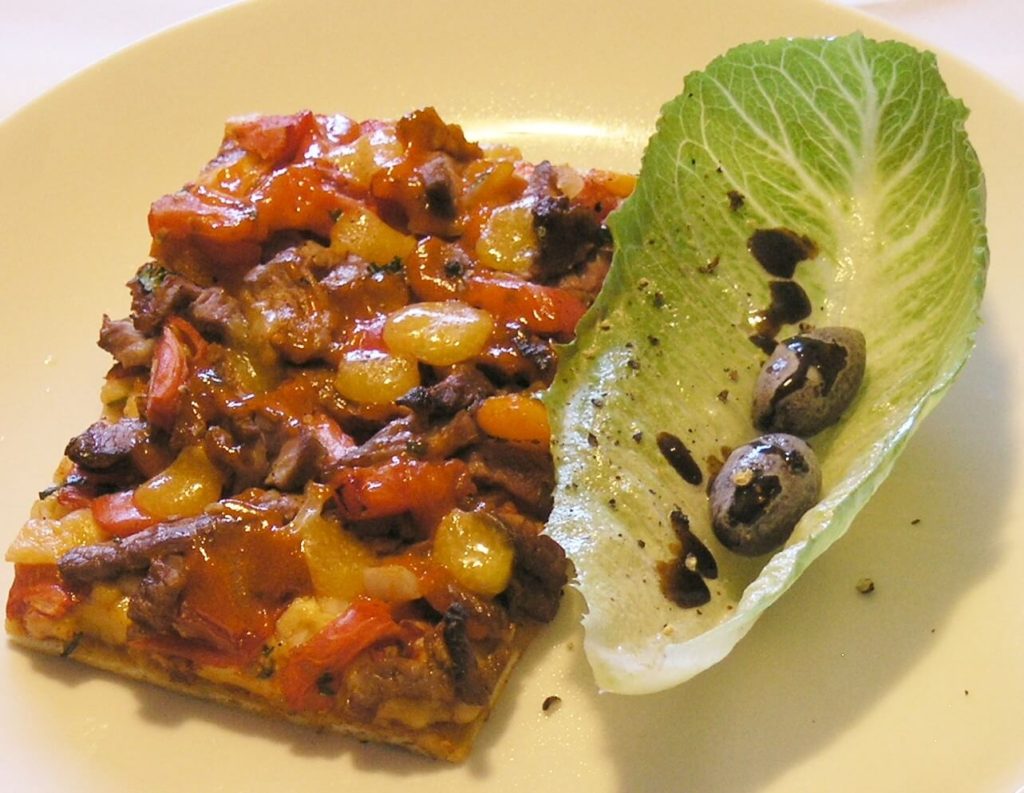 So there we have it. Pizza elevated to a higher level through the use of Sous-B-Q. A little bit of Sous Vide, judiciously applied, can turn a simple dish like pizza into the best in comfort food. Let us know how it works for you.