Butternut Gnocchi, Cavatelli, Conchiglie — I make them all. That's the good news. The bad news? They all come out looking the same. I may as well call them caterpillars or silk worms. After all, the Italians have some pretty creepy names for pasta–angel hair, vermicelli (little worms), straw and hay (paglia e fieno).  I take solace in knowing that they are all good at holding sauce, and that's the main thing.
By the way, there really are such things as Butternuts, but that's not what we're making pasta out of today. We're talking about Butternut SQUASH, and I bet most people already figured that out. I don't think I've ever even SEEN an actual Butternut. Cavatelli translates to "little hollows," so, well, we got that.
Butternut Cavatelli it is, then…
The debate rages on about the authenticity and legitimacy of putting flavorings into pasta. These days, I take a pretty dim view of so-called purism and authenticism. Those standards always seem to degenerate into some form of rigid, dogmatic elitism. For every ancient recipe that is quoted as the inalterable paradigm, there is an older, even MORE authentic model of which the "authentic" version is merely a sacrilegious, blasphemous spawn. Even Fettuccine Alfredo, that staple of every quasi-Italian restaurant in America, is typically corrupted by the mere addition of cream — no cream in the original version, not to mention chicken, fish, or any of the other myriad "upgrades."
Butternut squash, like pumpkin, has no real flavor of its own. In our minds, the enjoyable flavors of winter squash are cinnamon, cloves, etc. I bought some cardamom from The Spice House, so we're going to use some of that, along with nutmeg and cinnamon.
Who has a gram scale these days? Weren't they illegal for a while in the 80's?  For me, I measure grams and fractions of ounces by looking at the spice package and trying to figure it out from there.  That only works if the package was full, to begin with, of course. When that happens, I do what scientists do.  Just put a little in there.  Maybe a little more.  Okay, that's good.
Ingredients:
Sous Vide process an entire Butternut Squash @183Fx2 hours. Harvest approx. 12 oz. of flesh, after removing the seeds and skin.
1 gram of cardamon.
1/2 gram of cinnamon.
1/2 gram of nutmeg.
pinch of salt.
1 egg.
1 Tablespoon of neutral oil.
1.5 cups flour, with more for adjustments and dusting.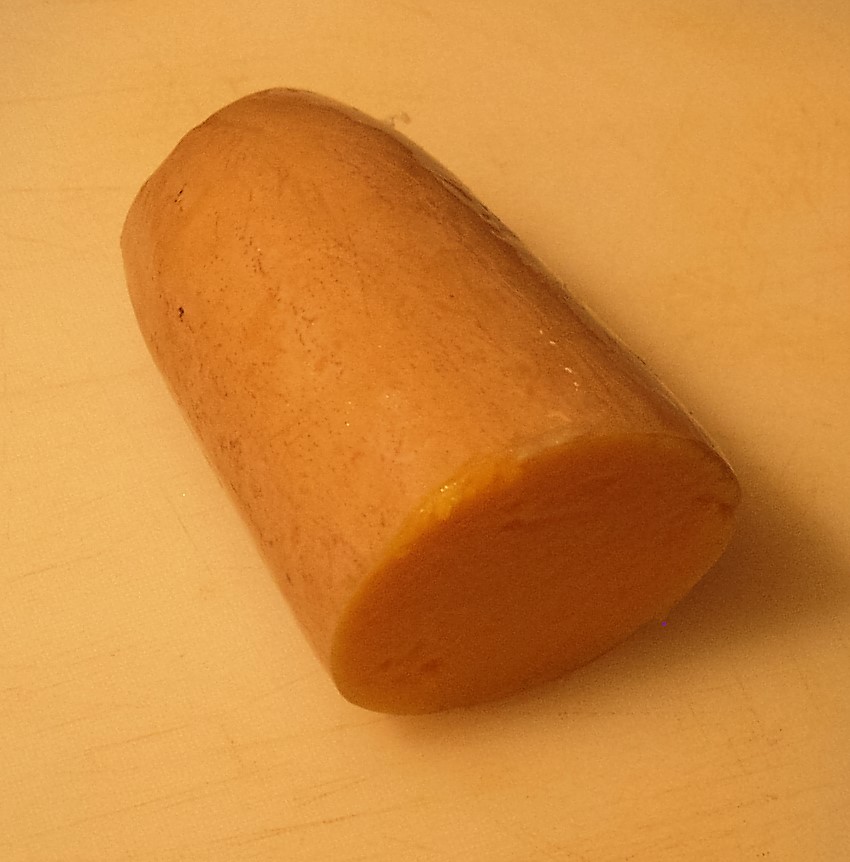 We're going to use the really sturdy end of the Squash for this application, even though the seeded end works fine too. I separate them before I even cook the squash because the textures are really quite different from each other.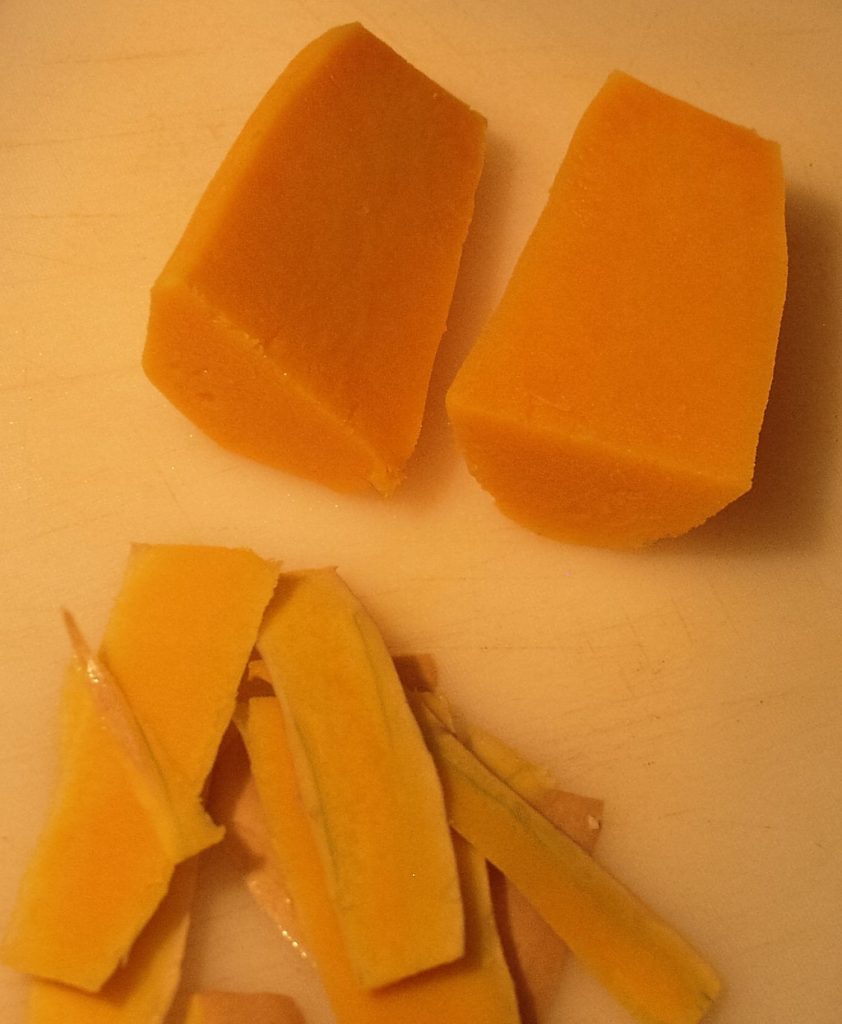 Winter squash are hard as rocks, and a real chore to peel when raw. If you cook them by conventional means, they tend to fall apart, which makes them impossible to grill.
Sous Vide does a good job of addressing this issue because the squash is never exposed to liquid or even steam, so it retains its structural integrity. It's so much easier to peel after processing, more like peeling a kiwi fruit.
Just stand it on its end and slice off the peel.
Time to Squash the Scale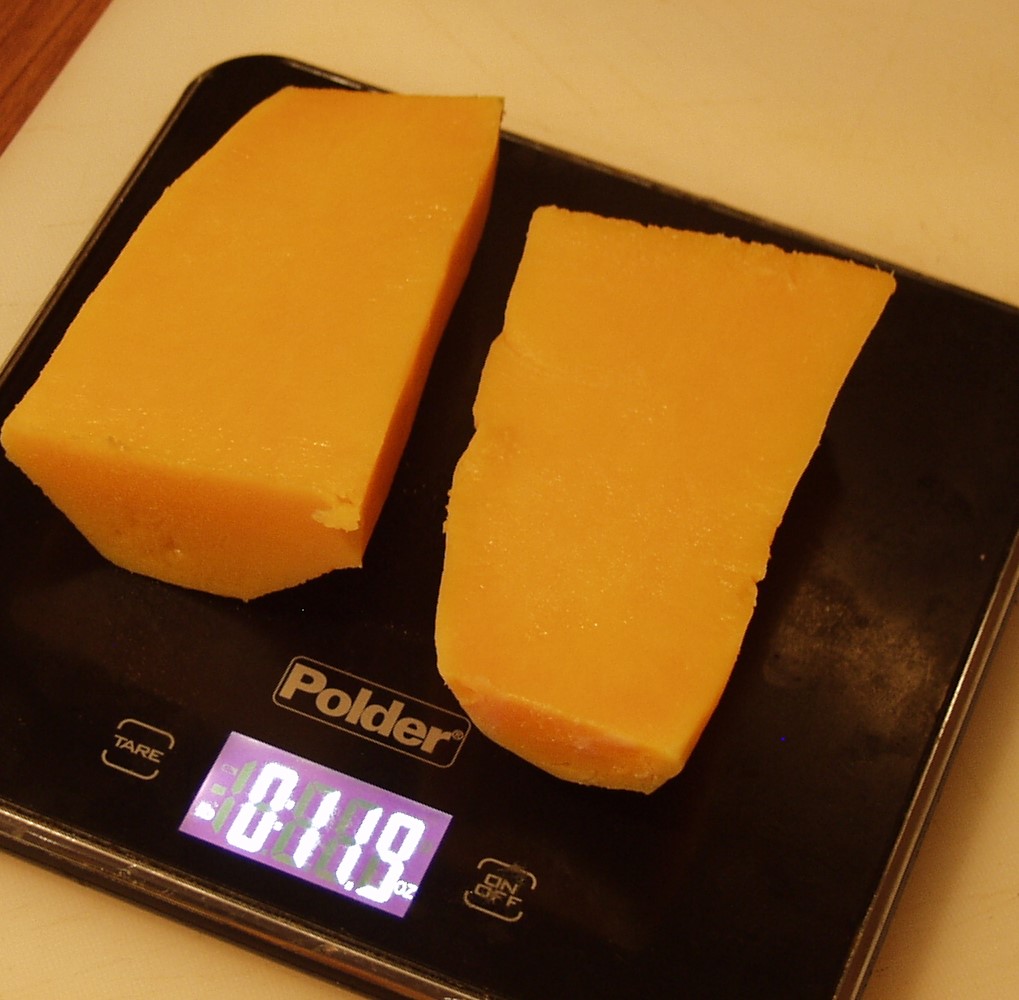 After peeling, we have approx 12 oz. We're going to dry it because water is the enemy of this type of pasta dough.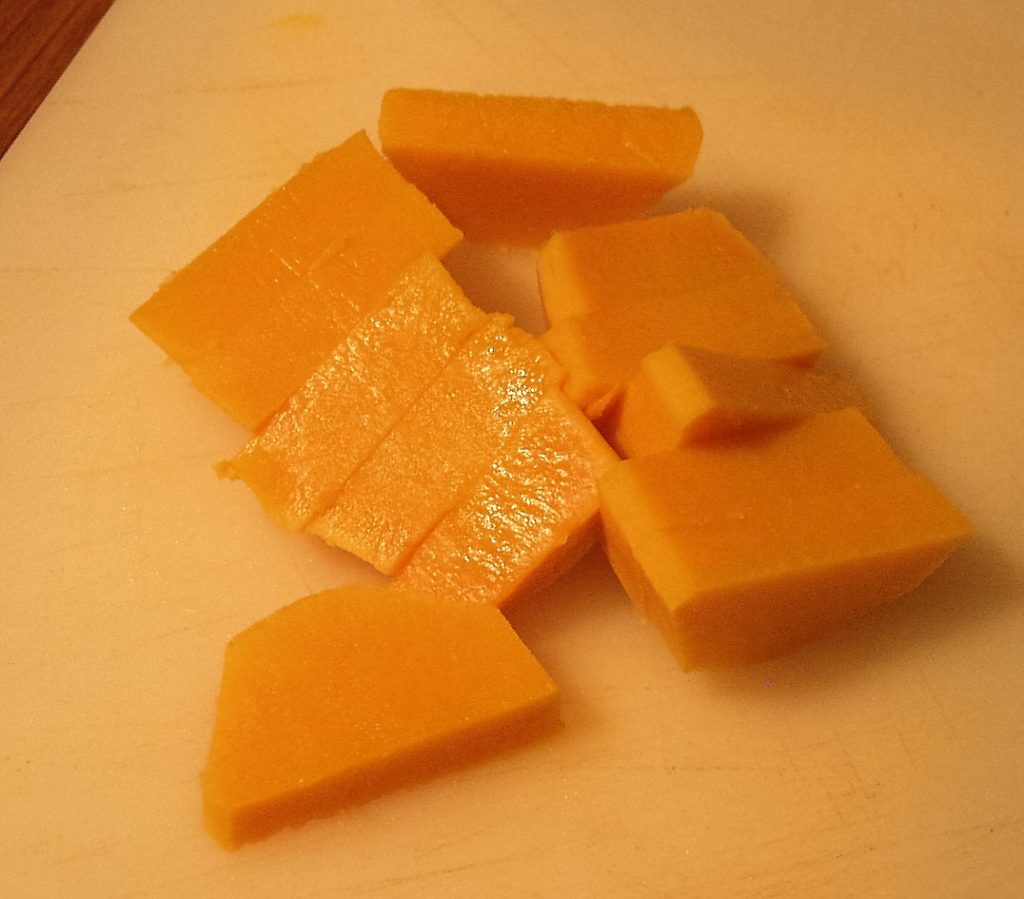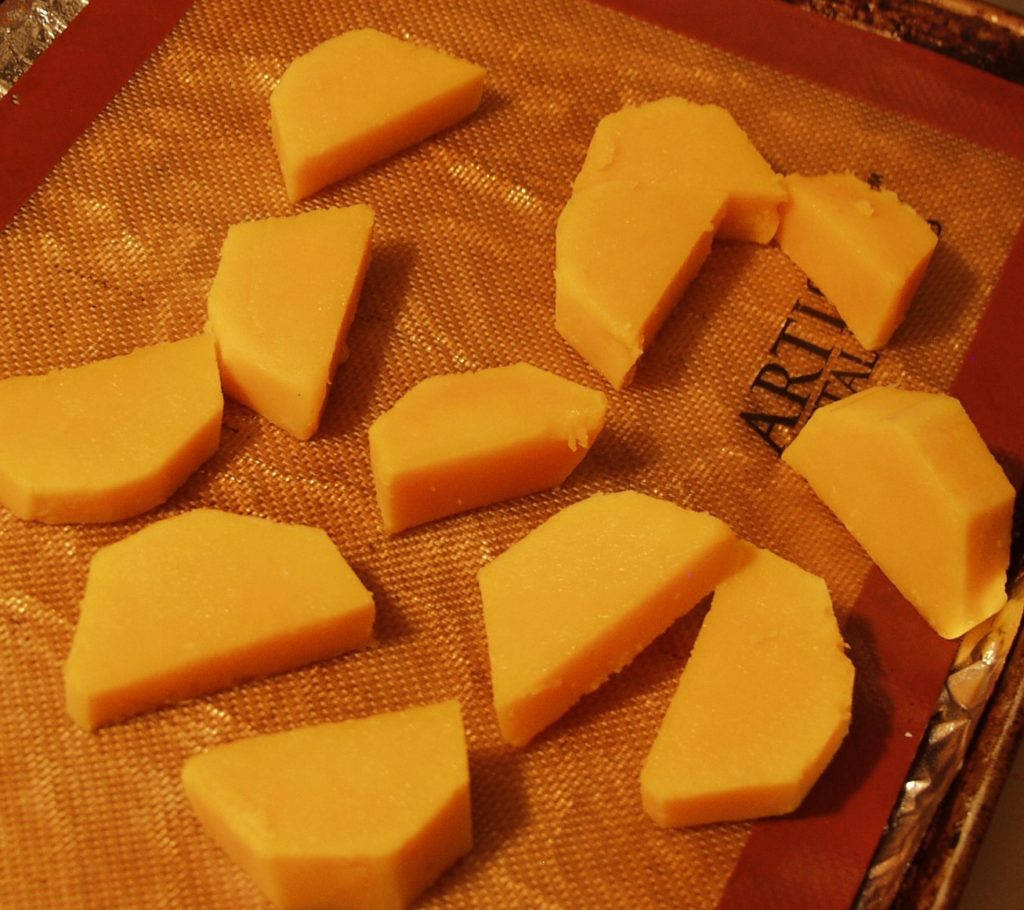 Spread them out on a non-stick surface–these silicone mats are great for that. Just don't fold them, and even a dull knife will cut right through them.
Bake @190F for approximately 2 hours.
We want them to lose about 1/3 of their total weight.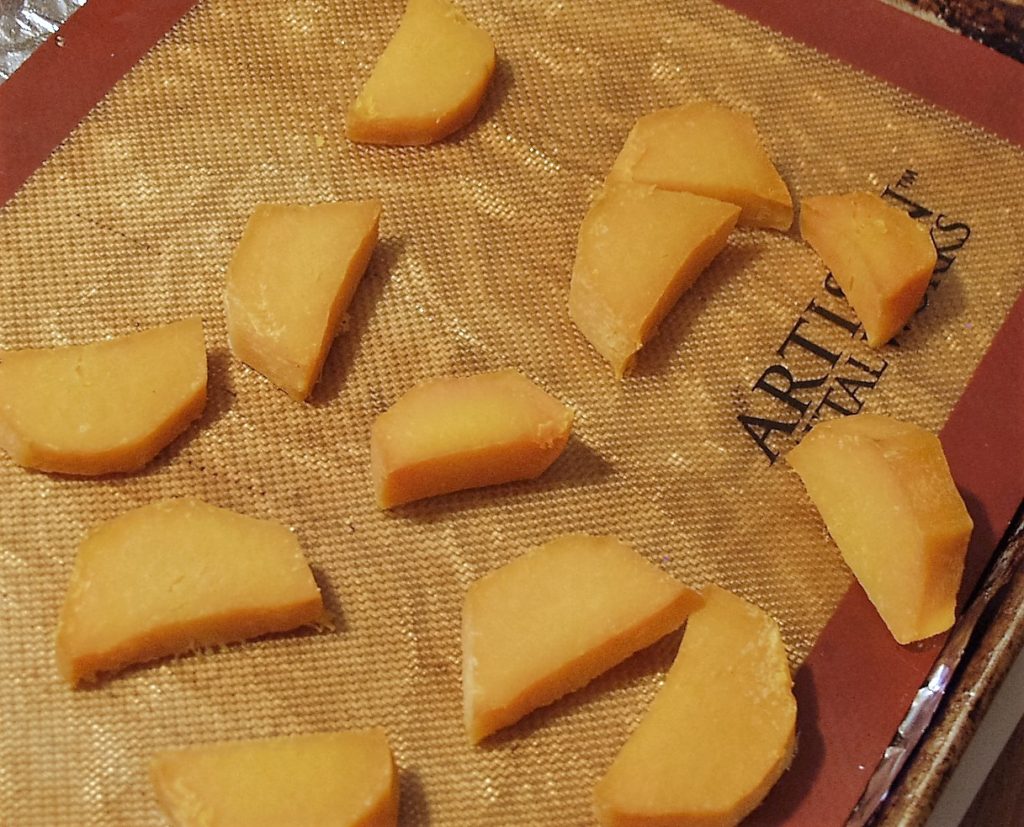 Looks about right. Let's weigh them.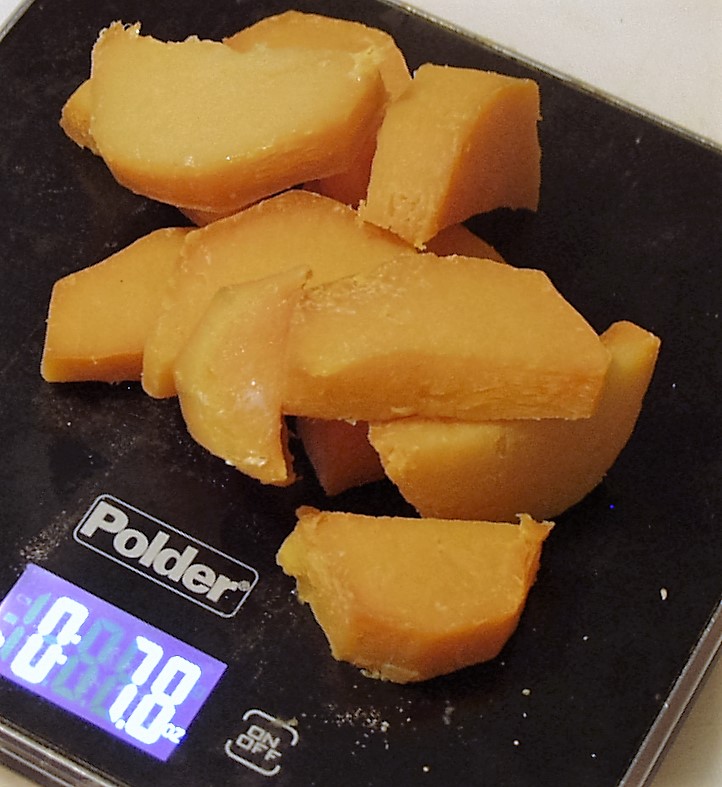 SUCCESS!
Allow to cool to at least room temperature, or refrigerate overnight if you started late in the day.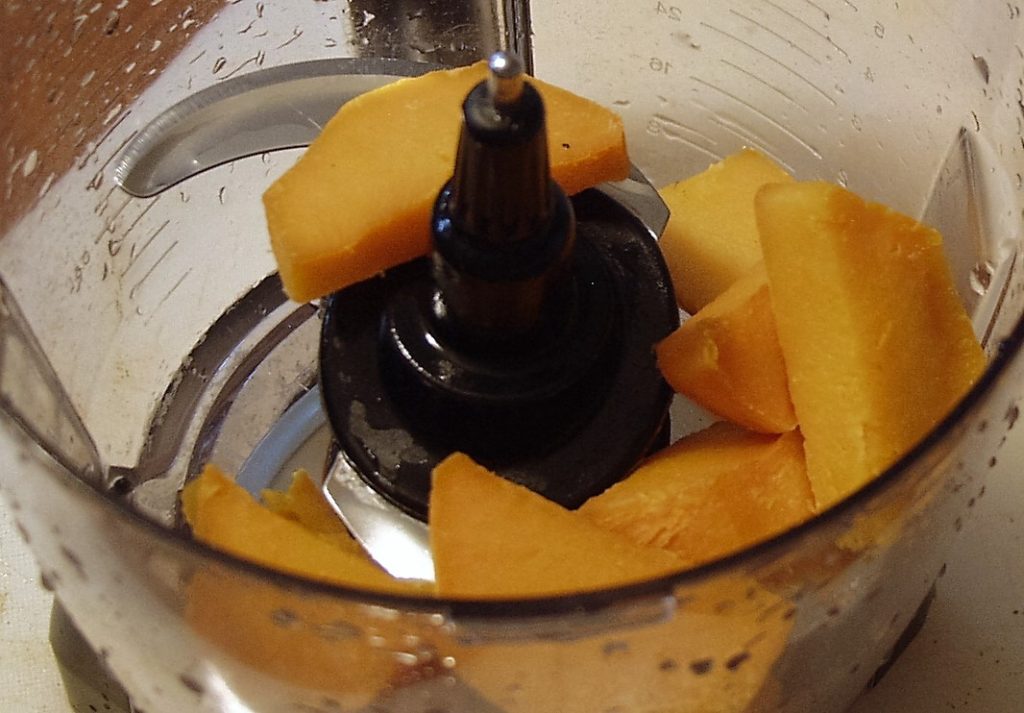 Into the hopper of your favorite food processor.
Stand By to Emulsify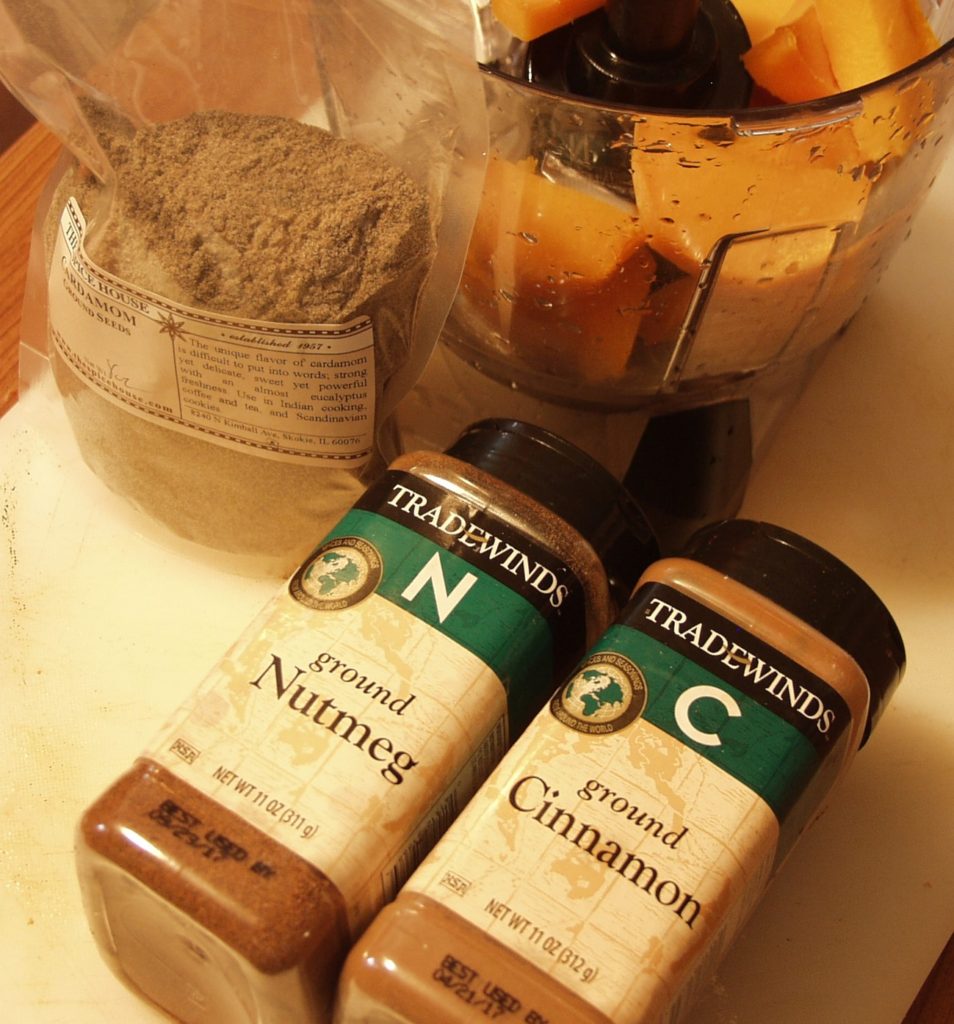 We've gathered up our spices.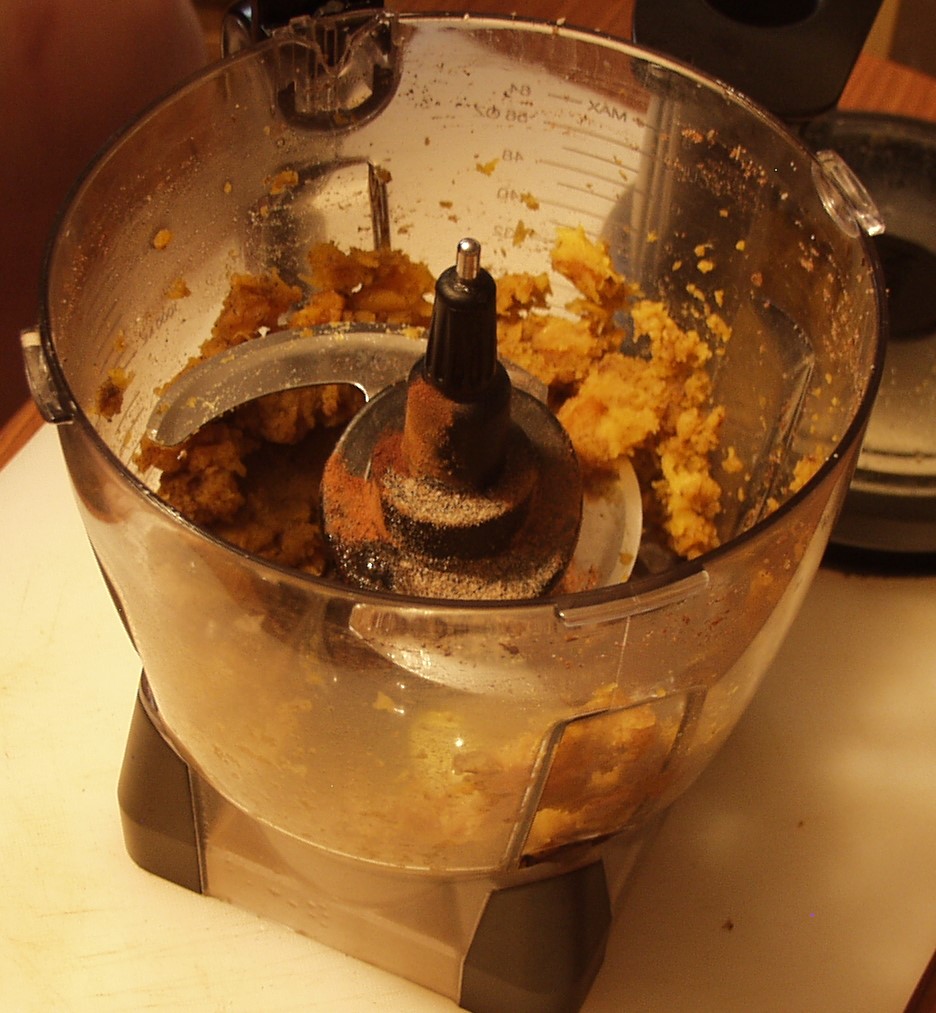 Add the cardamon, cinnamon, nutmeg, salt, and oil.
You can see some in there, so, that must be about right.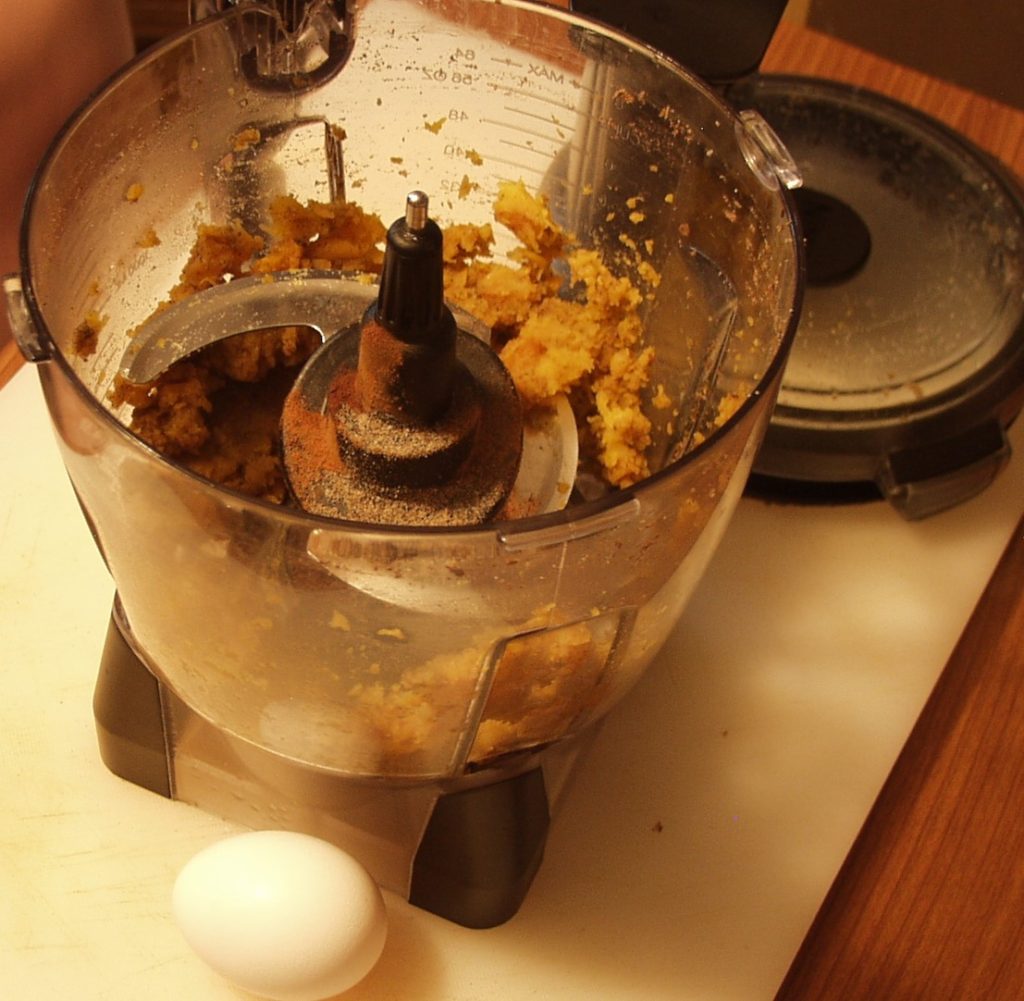 Pulse a little bit, and now we're going to do something that I tell my students not to do.  We're going to put an egg in it.
If you want to know why you don't put eggs in gnocchi and these types of pasta, read the post on Gnocchi.
Let's just say we're going to take a fashion risk.
If these cavatelli really looked like shells, which was my intention, we could have called it Egg Shell Pasta.  Oh, well.

Even with the egg, it's not going to process completely smooth, because the squash is so dry.  That's okay.
Who Weighs FLOUR?
Recipe authors are determined to offer precise amounts of each ingredient, and use approximates as little as possible.  If you're not careful, you can end up with ALL approximates. If you have love in your heart, the dough will tell you how much flour it needs, just as risotto will tell you how much moisture it needs,
Calculated on the basis of the amounts of the egg and squash, this dough should need 1.5 cups of flour.  Why?
The egg accounts for 2 oz. of liquid, by weight.
Even in the dried state, the squash is more than half water, which will be ABOUT 5 oz, again, by weight.  That means you have about 7 oz of liquid equivalent, BY WEIGHT.
Time to open the vault.  I'm always amazed to find out that cooks don't know that 1 CUP of flour does NOT weigh 8 oz. One cup of flour weighs FIVE oz.  So, 1.5 cups of flour will weigh just about 7.5 oz.
Wow.  That's almost exactly the same as the WEIGHT of the liquid.  And that's no coincidence.
Americans have been attempting to reconcile weight with volume in food for a long time, and it really does complicate things.  Attempts to persuade people to adopt the metric system have not been well received.
A pint's a pound, the world around, but only as it pertains to WATER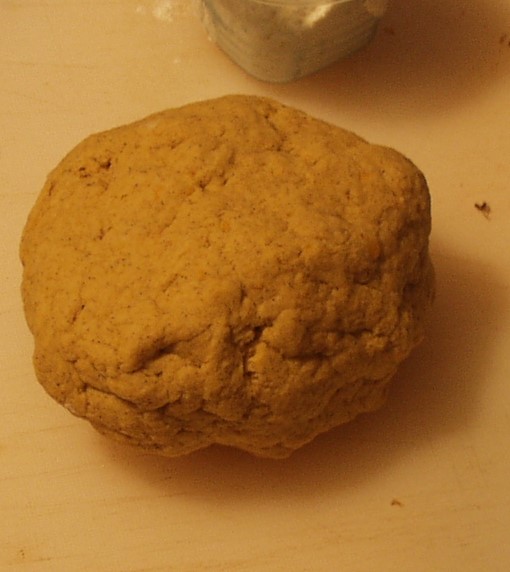 Process the dough until it forms a ball.
You can also use a mixer, or your hands, to do this.  However, if you do, make sure the squash is fully pureed.  In a food processor, the machine will take care of that.
The resulting dough is stiff enough to stand on its own but pliable and even a little sticky, more so than regular pasta dough.  There's a reason for that, too, as we shall see.
Pinch, or cut, a three oz piece of the dough, and roll it into a rod. This is easier than it sounds.  Here's how.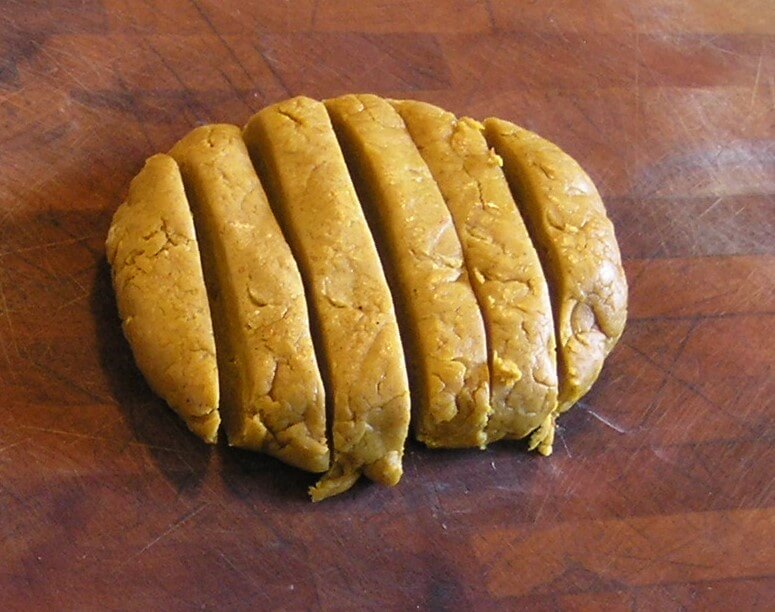 Flatten the ball of dough a little bit and cut a three-ounce strip, or just pinch off a piece. Each of these logs will make two strips.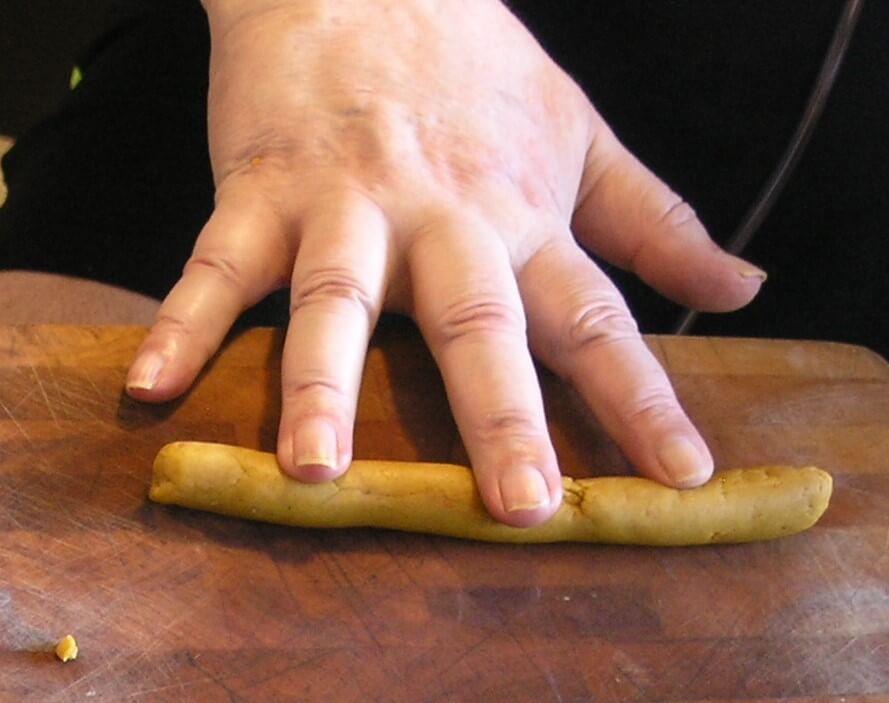 Don't put flour on the board, it should be very dry, but the moist dough will take up flour, which will cause problems.
Splay your fingers, and gently roll a piece of dough into a rod.
Pretend it's Play-Doh.  The two substances are really not that different.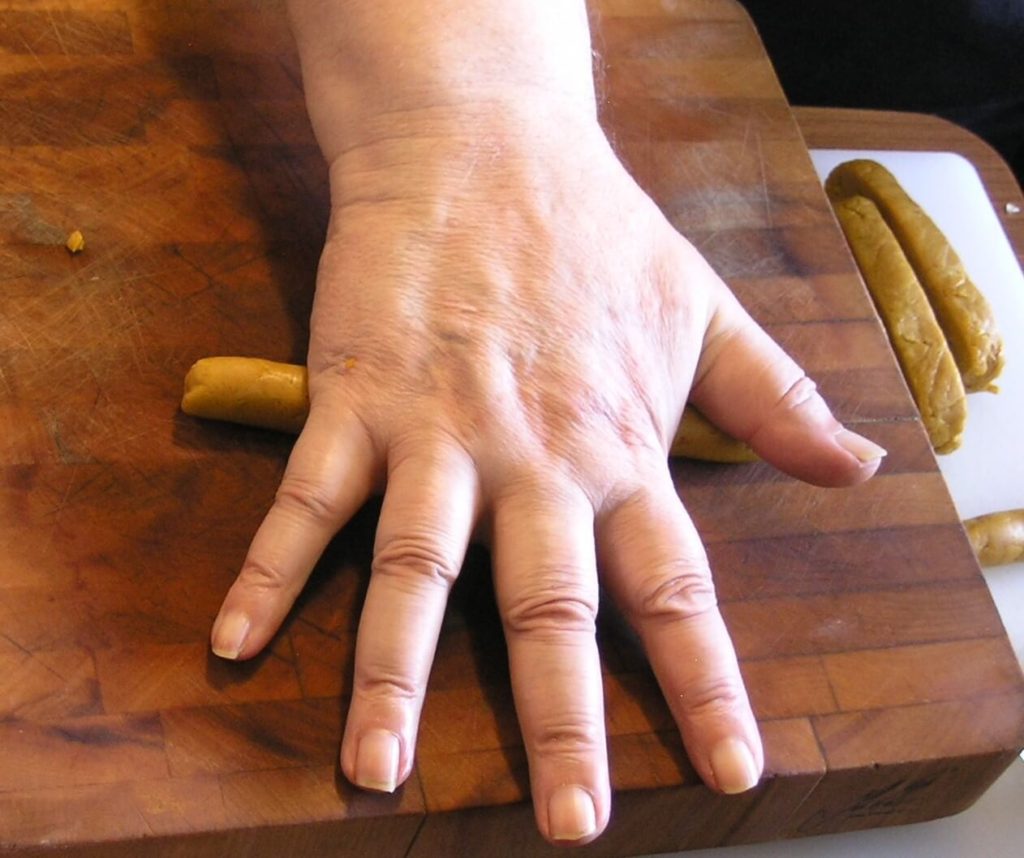 Gently roll it back and forth until you get it as long and as thin as the board will allow.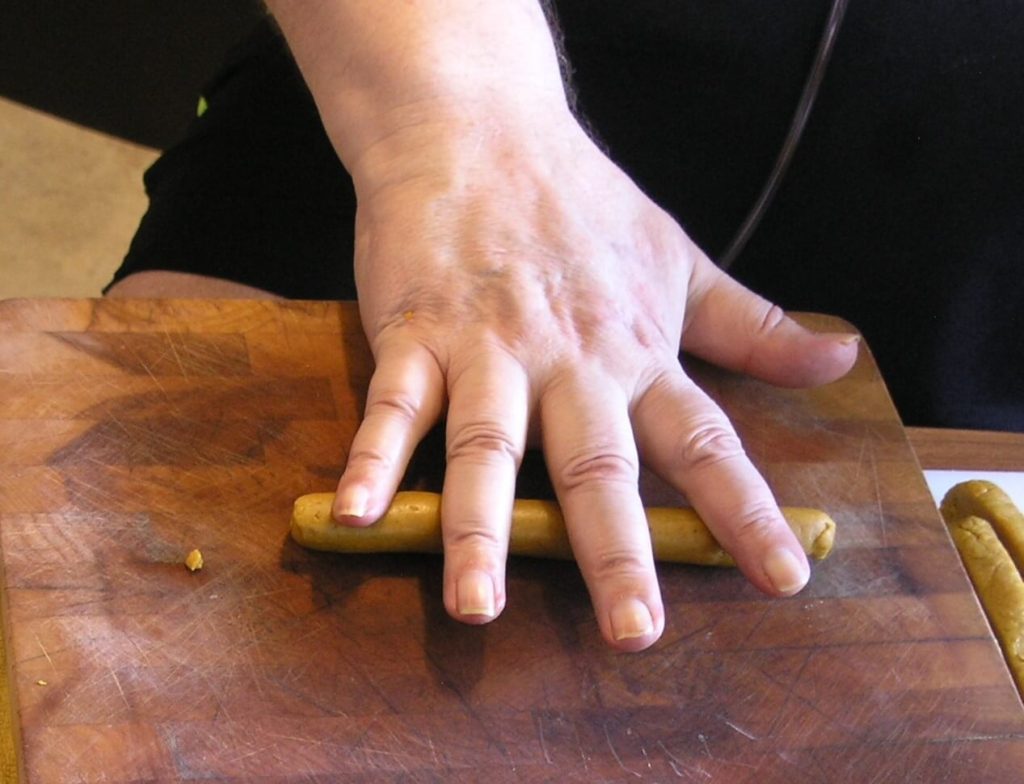 Back and forth — I've seen guys roll these cylinders with both hands until they were four feet long and barely an inch thick, but that's not really necessary.  The Chinese do a similar kind of thing, just ask Marco Polo.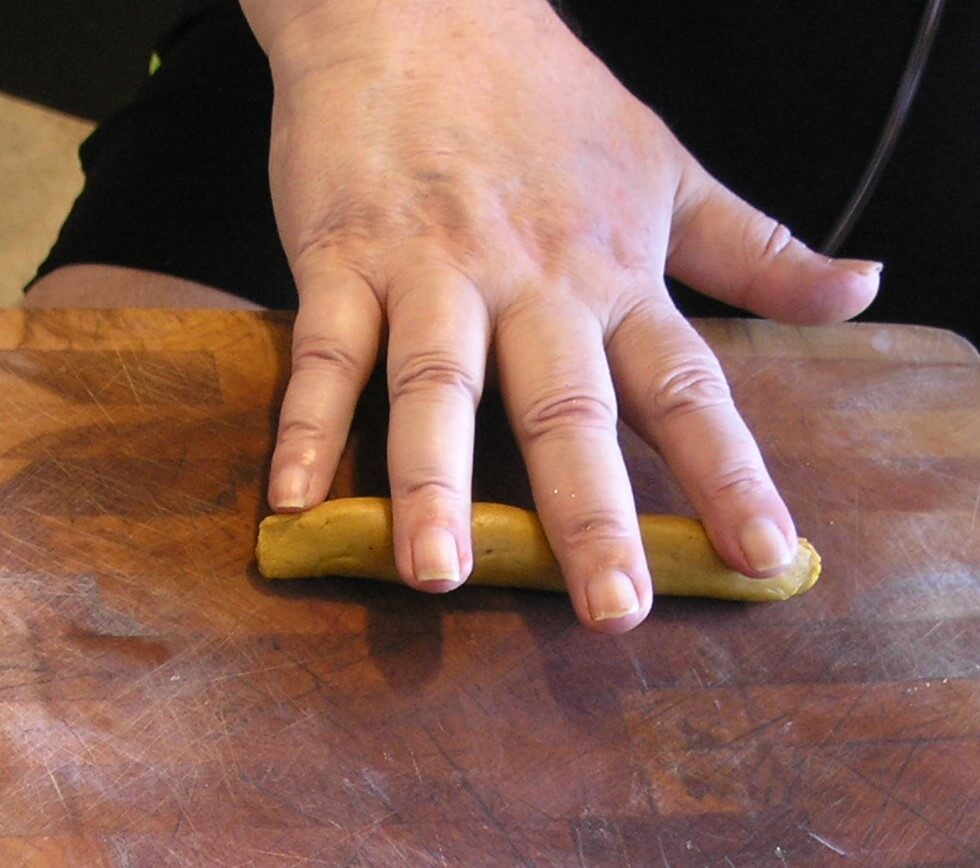 For me, it's kind of relaxing.  "Don't talk to Norm–he's making pasta!"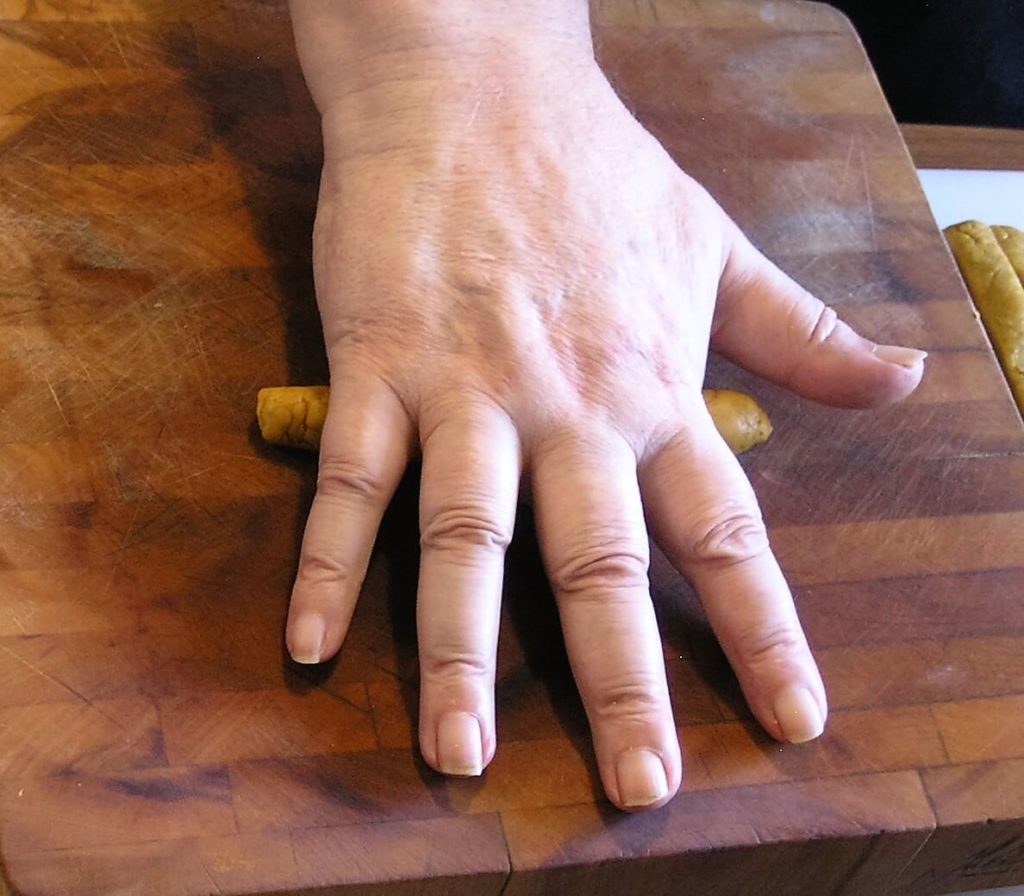 Sometimes I kind of forget what I'm doing, and just sit there and roll it back and forth, contemplating the origin of the universe.  Very Zen.
Here comes the fun part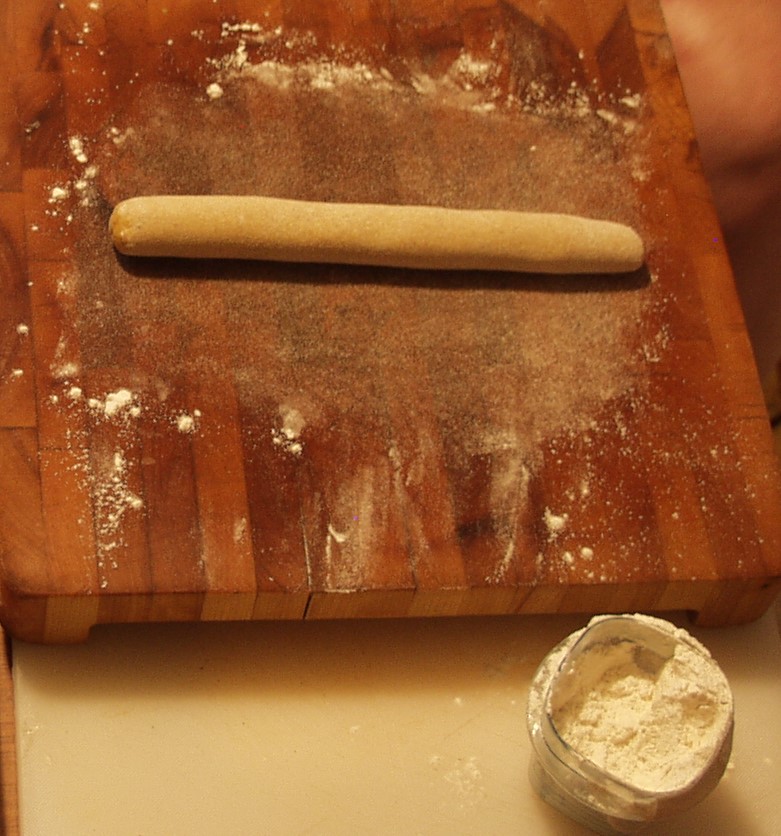 Eventually, you get a fairly uniform rod.  The pros can do this with great precision, but that's really not necessary, in this case.  You can see, I shook just a tiny bit of flour after the rod was formed.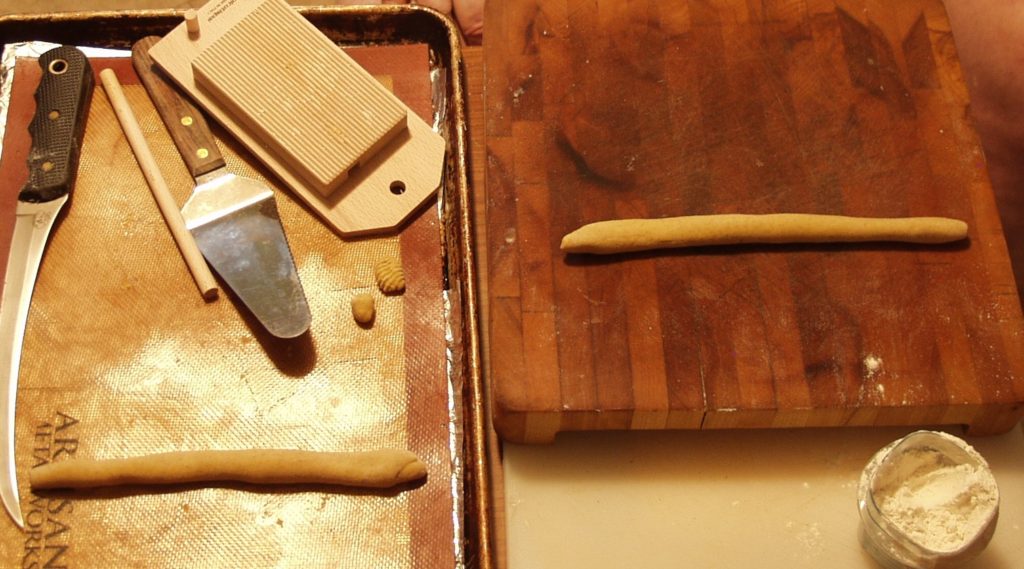 Eventually, you get a fairly uniform rod.  Again, the pros achieve amazing precision in this, but it's not necessary, don't sweat it.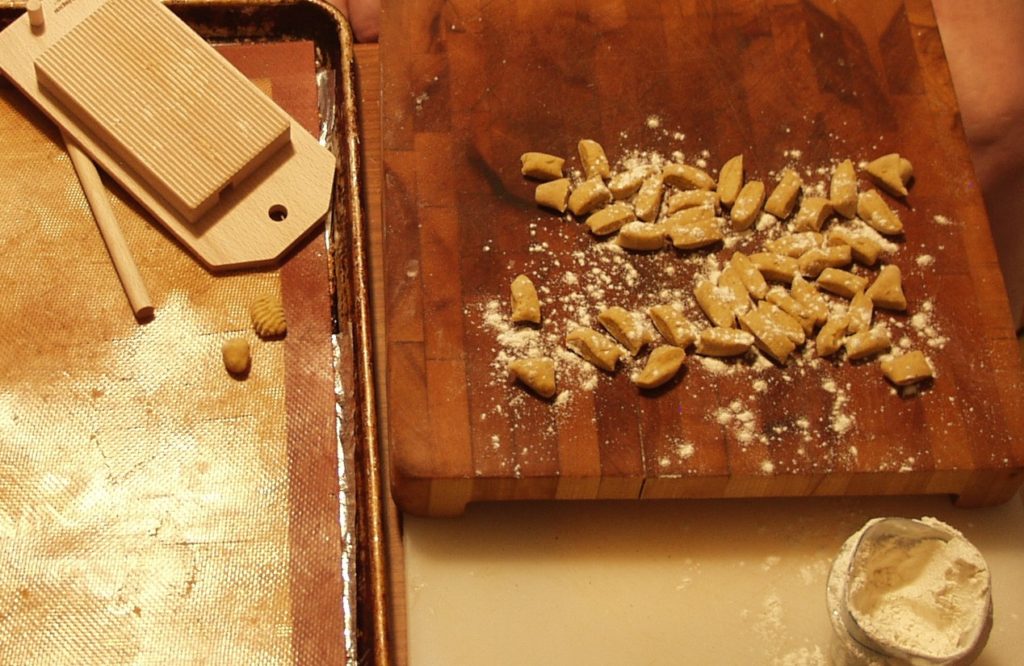 Cut the rod into uniform pieces–any size works, but the smaller they are, the cooler they look.  It IS important to get them all the same WEIGHT in this step.
This is the part they don't tell you in the books and videos.  DUST THE DUMPLINGS WITH A LITTLE FLOUR.  This will prevent them from sticking to your board, your fingers, whatever.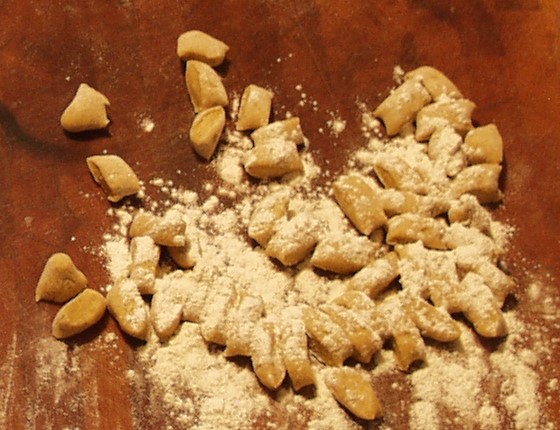 It seems incongruous to avoid flour when rolling out the rods, only to sprinkle so generously at this point, and this is where people get stuck.  It's really quite logical, but, when you're entering unfamiliar territory, logic is replaced by adrenalin.
Anxiety and haste are the bane of all cooks.  You gots to roll with it.
Promise you'll send me flours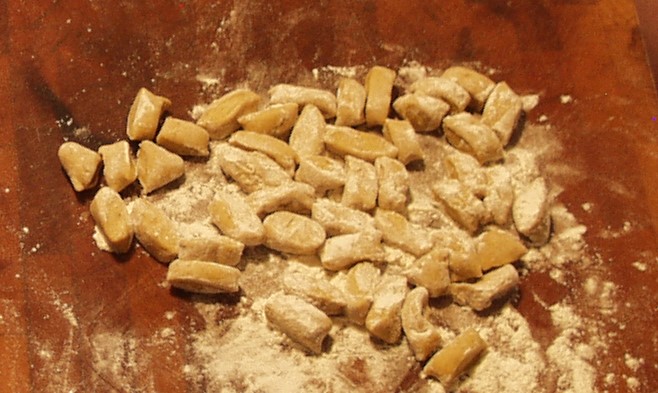 Gently toss the dumplings with the flour, now that we've calmed down a little bit.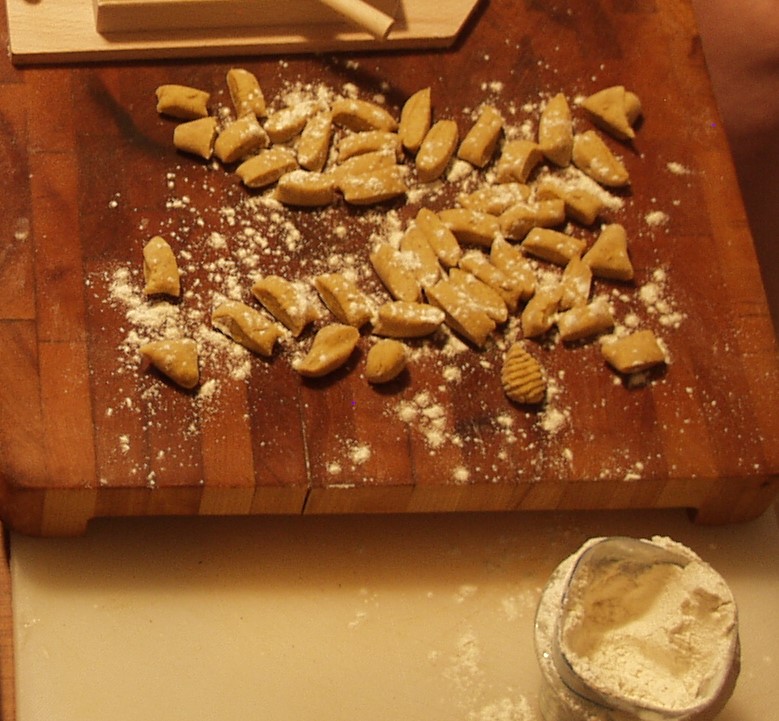 I did a quick test, down in the bottom right.  If absolutely necessary, and the dough is just too wet, you can reprocess with a little more flour.  This one looks good.
Whatever you do, don't throw it out.  Put it in the fridge and try again tomorrow.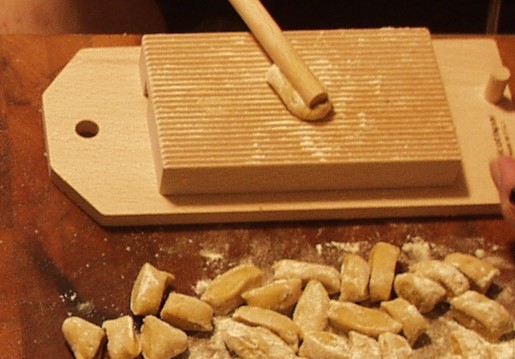 Again, this is not as difficult as it looks.  You don't need a gnocchi board, but they're cheap and cool.  The Beechwood is dry and brittle, so it stays sharp.  Don't get it wet, and an old toothbrush is the best way to remove dough if it clumps, which it won't after you've gotten used to it.
There are videos on Youtube that show this step pretty well, but I describe it as enough pressure to create the ridges, and, then, just a little flick to the right and the dumpling flies off into the pan that you remembered to put over there.
I've seen it done on the tines of a fork, even on a sushi mat.  All good, the Cavatelli police will not come knocking on your door.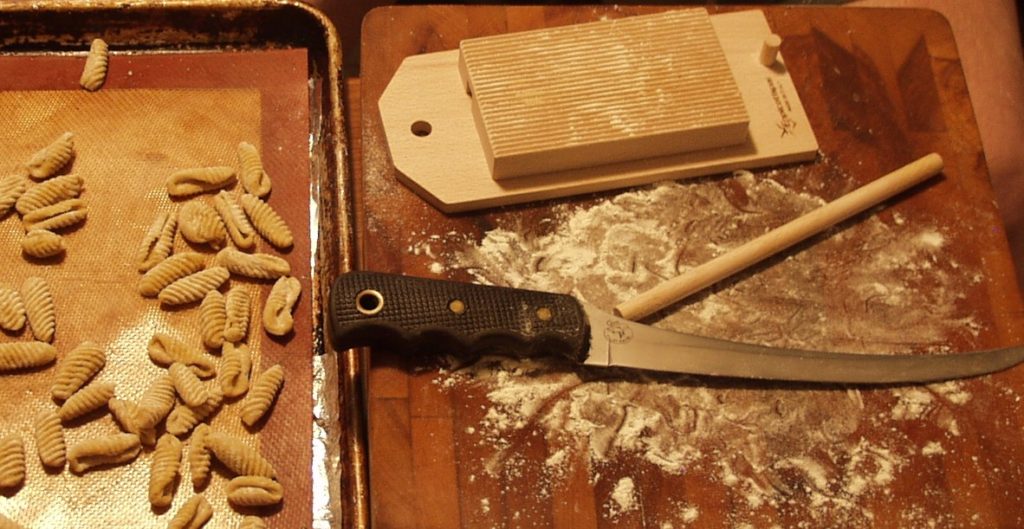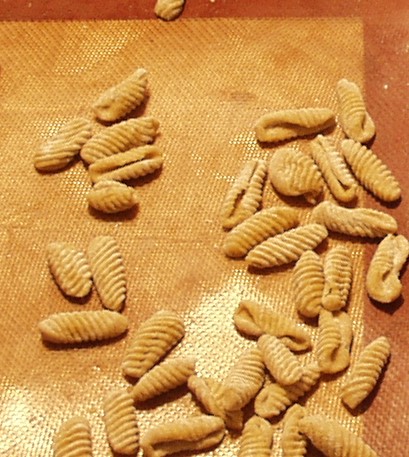 Up close, they really do look cool.

I made a giant one, just for kicks.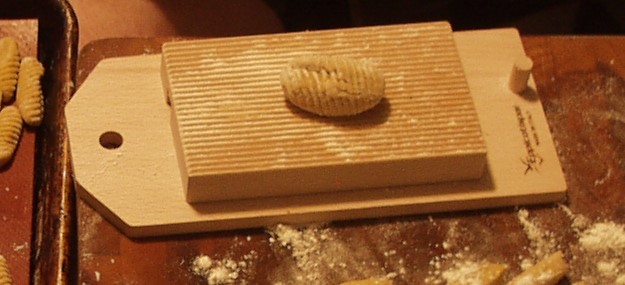 Gotta have some fun with it.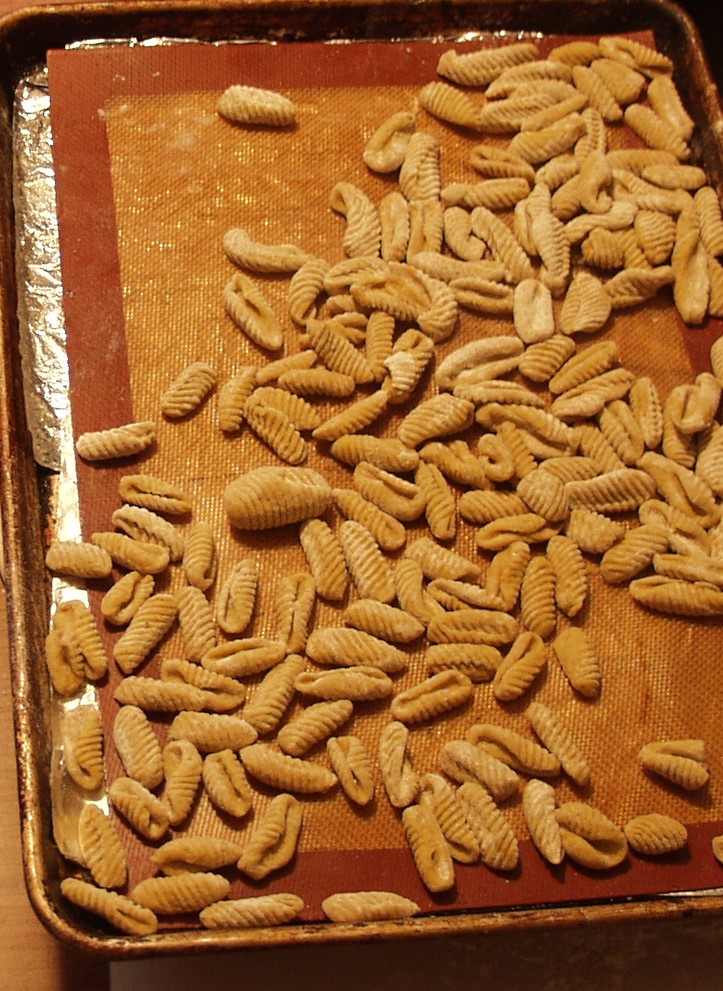 For me, this took about an hour, even taking pics in between, but, you have to be willing to invest some time in it, because time is love, and that's all there is to it.  I skipped a rerun of Law and Order that I've seen so many times, I know the dialogue.  Not really that much of a sacrifice.
I cannot overemphasize the importance of cooking our pasta in plentiful, BOILING (as opposed to steaming) water.  Big, violent bubbles, 212F.
After a minute or two, they will ALL have floated to the top.  At this time, you can serve them, but it's better to shock and preserve them.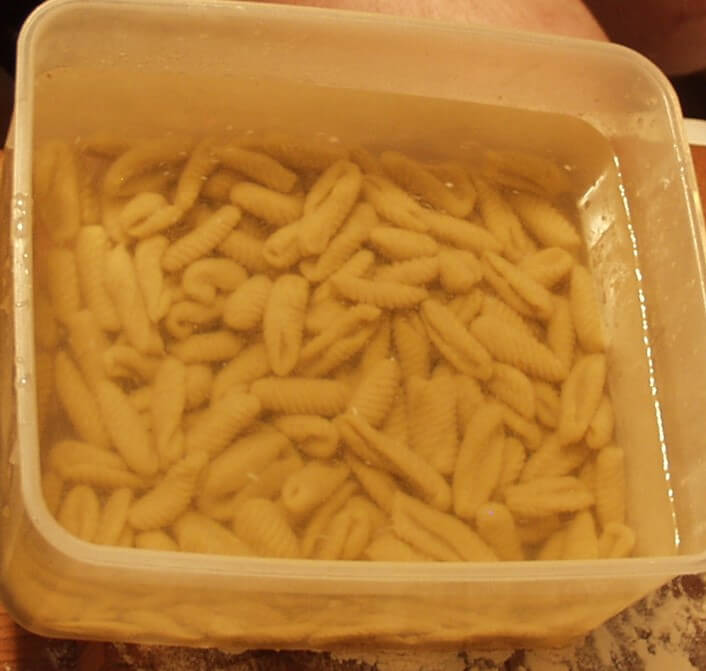 So, into a plentiful amount of cold tap water they go. If you have lots of ice, which I don't, use that too. Just be sure it melts before you fish them out, so they're not sitting in cold water in the fridge.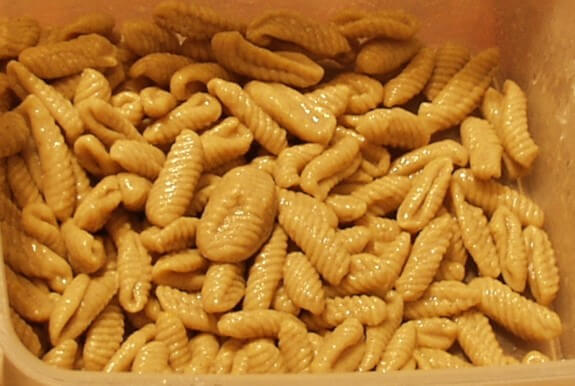 Drain WELL. I strain them and then toss them in a clean towel. They hold water in their contours, just like they hold sauce.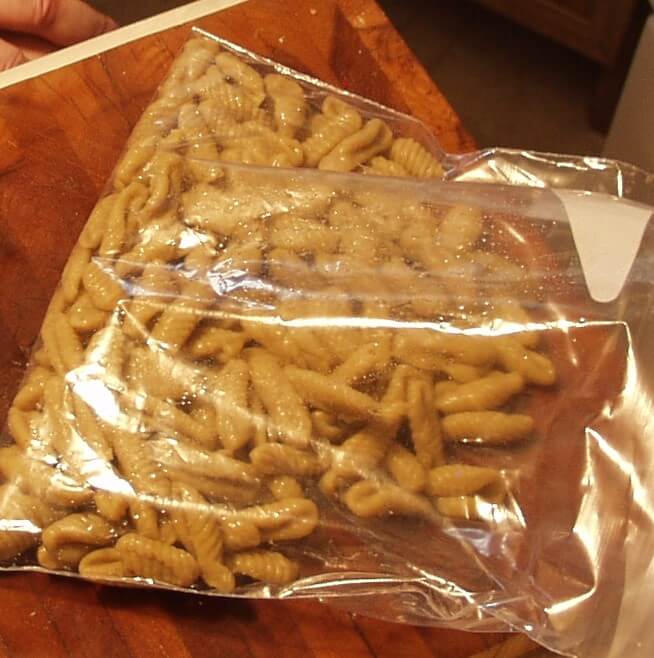 Put them in a Ziploc Gallon bag, so they have a little room to rattle, and a few drops of oil is okay, too.
When it's time to reheat the pasta, do so in 180F water.  They are too dense to heat in the sauce, as is most pasta.  It would be a shame to be hasty at this point, wouldn't it?