Poor Stew.  Stew has become the whipping boy of the American culinary culture.  Relegated in the post WWII era to the canned food shelf, this perfectly legitimate, rustic supper item became gloomily associated with dreary colored concoctions, languidly provided by incompetent cooks and lazy parents.  Usually, it was sparsely dotted with  fatty remnants of meat and vegetables cooked to death, cooked BEYOND death.  It was prison food.
The introduction of the crock pot didn't help.  It merely downgraded the concept even further, implying that we could just throw whatever we had around into this oval cauldron and have a delightful main course in 12 hours or so.  More often than not, we ended up facing an unrecognizable melange, replete with a reddish oil slick on top.  We figured that either we did it wrong, or, even worse, that was how it was supposed to be.
Maybe we can just call it something else
Efforts to rehabilitate the dish by calling it Beef Bourguignon, Belgian Beef, Braised Beef, et al, fell on deaf ears as American diners were savvy enough to see through the deception. After all, a pig with a fancy name is still a pig.
Made properly, Beef Stew is chock full of ingredients that we all enjoy on a regular basis.  Americans eat a lot of beef, no problem there.  Celery, carrots, onions, potatoes, all utilized widely.  Food manufacturing trends in the 50's consigned so many dishes to K-Ration quality levels.  Corned Beef hash, another example, and SPAM, the ultimate contradiction to the idea of fresh, locally grown ingredients.  Nowadays, the term is used to refer to anything undesirable that appears on our screens, an apt definition.  As awful as the meat and vegetables were, the sauce was even more troubling.  Please don't tell me how it's made.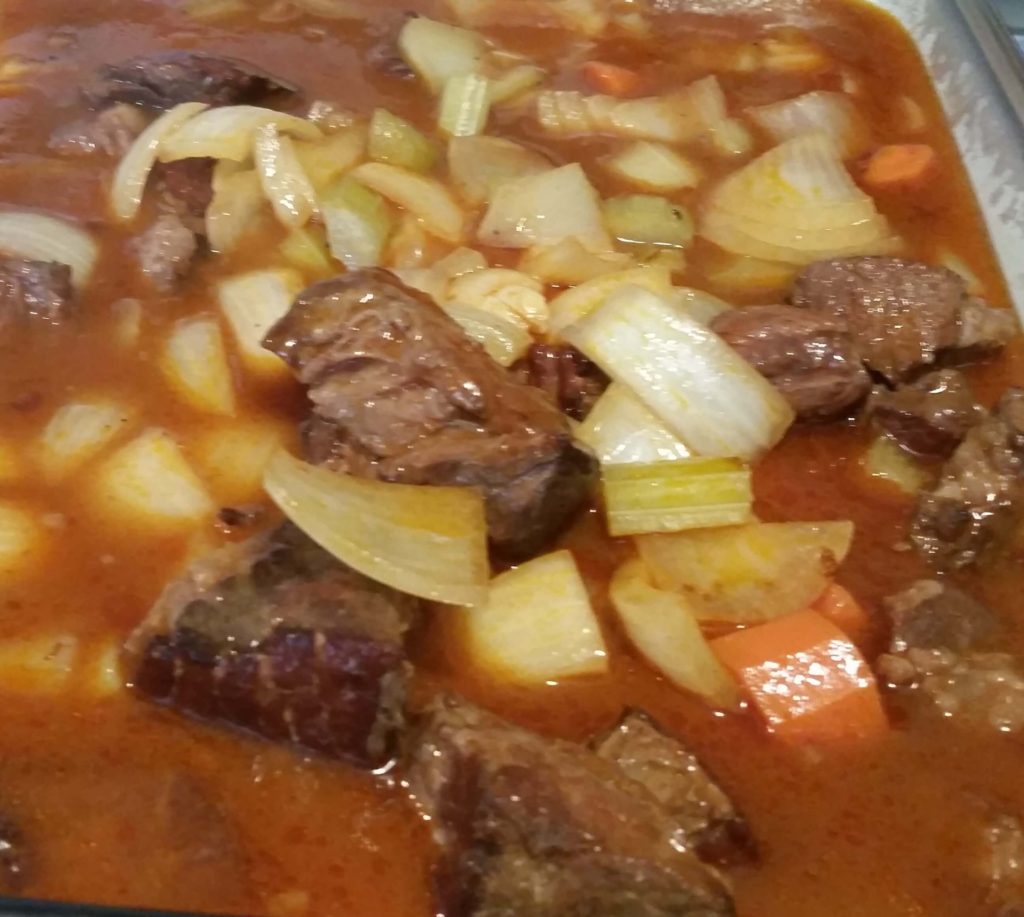 If this doesn't look good to you, well, doesn't that look good?
Ingredients:
2 lbs. Sous Vide processed Beef Chuck or Top Round.
2 oz. neutral salad oil.
1-2 carrots, peeled and cut into 1″ pieces.
1 large onion (or 2 small ones), also cut into 1″ pieces.
2-3 stalks of celery, cut into, that's right, 1″ pieces.
12 medium. mushrooms, sliced, quartered, or whole (optional). Process via Sous Vide with a little lemon juice @183F/X1 hour.  I do them simultaneously with the stew, and combine later.
1 T. chopped garlic (optional).
3 oz. tomato paste (half of one of those small cans).
1 cup generic red wine.
3/4 cup flour, approx.–I don't measure flour.  I GAUGE IT (SEE BELOW).
3 cups HOT water (or stock, unseasoned).
2 Tablespoons cornstarch, 2 oz. COLD water
1 recipe Sous Vide Mashed Potatoes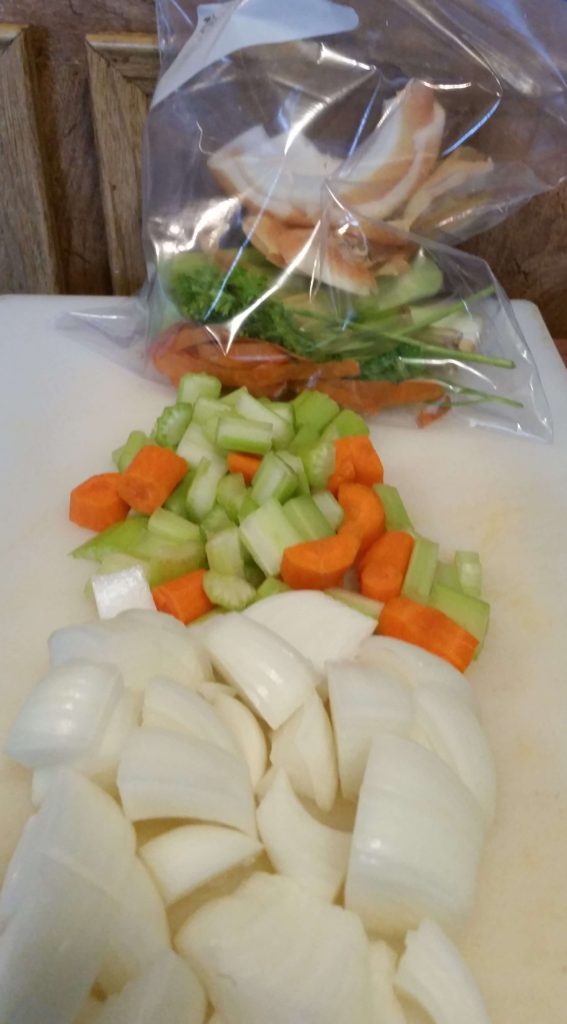 I cut the vegetables, and reserve the scraps in a Ziploc Gallon Bag, which doubles as the vessel I use to make stock. Sous Vide can ease the burden of dirty dishes, if applied thoughtfully.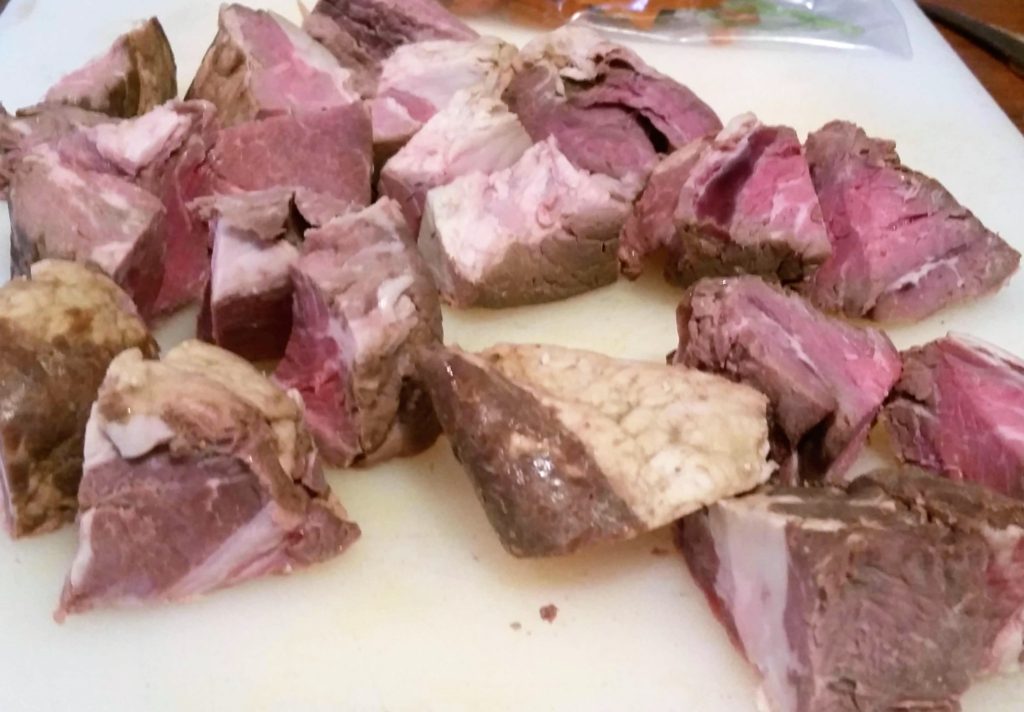 Since the beef was processed @129F, there is still myoglobin present.
My culinary school instructor always said "it's better to have fat on the meat, than to have meat on the fat." Kenneth Wolf was a truly great man.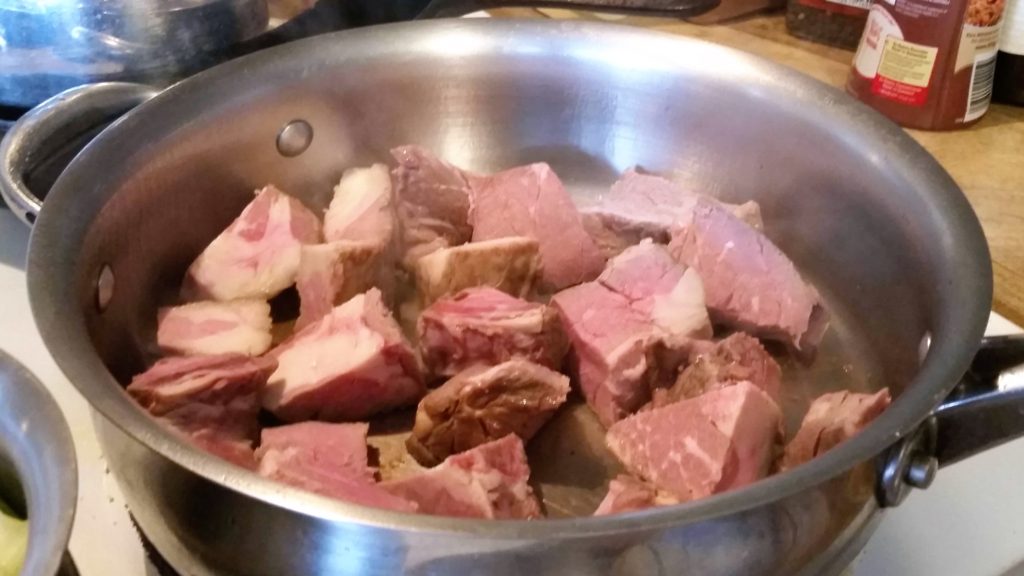 Heat a thick bottomed pan to about 300F–not cast-iron–the acidity in the tomatoes reacts with it.  Gauging the heat of your pan is much easier if you have one of those infrared thermometers.
Add the meat, no stacking allowed.  There must be a little space between each piece.  Really.  It matters.  You want the meat to get brown before its water starts draining out.  It should begin to sizzle, but not pop, as soon as it hits the pan.
This is what Brown can do for you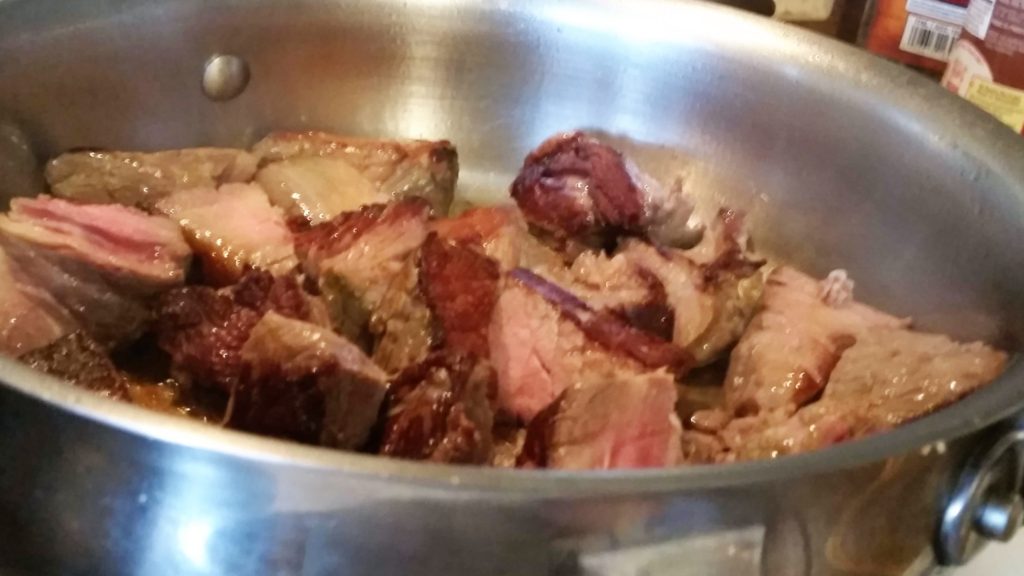 Patiently brown the meat.  Leave it alone, give it time–the more you stir, the longer it will take to brown.  If you really stir too much, it will stop browning and just simmer in its own water.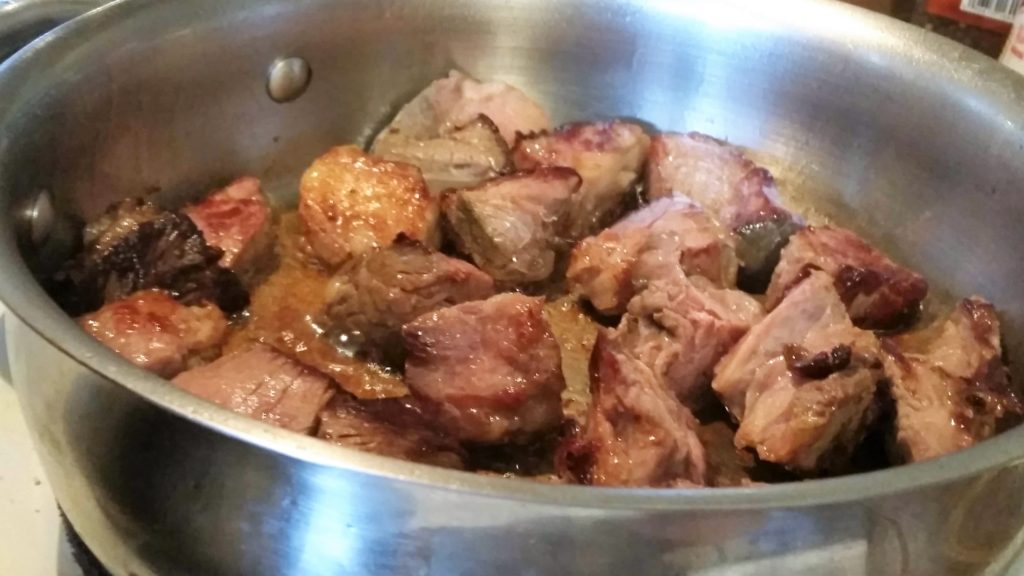 See what I mean?  Use your tongs to turn the pieces, they should not stick.  One at a time, brown each and every side. The investment in time (love) will eventually distinguish the color of YOUR stew from all the other insipid, pale stuff everybody else serves.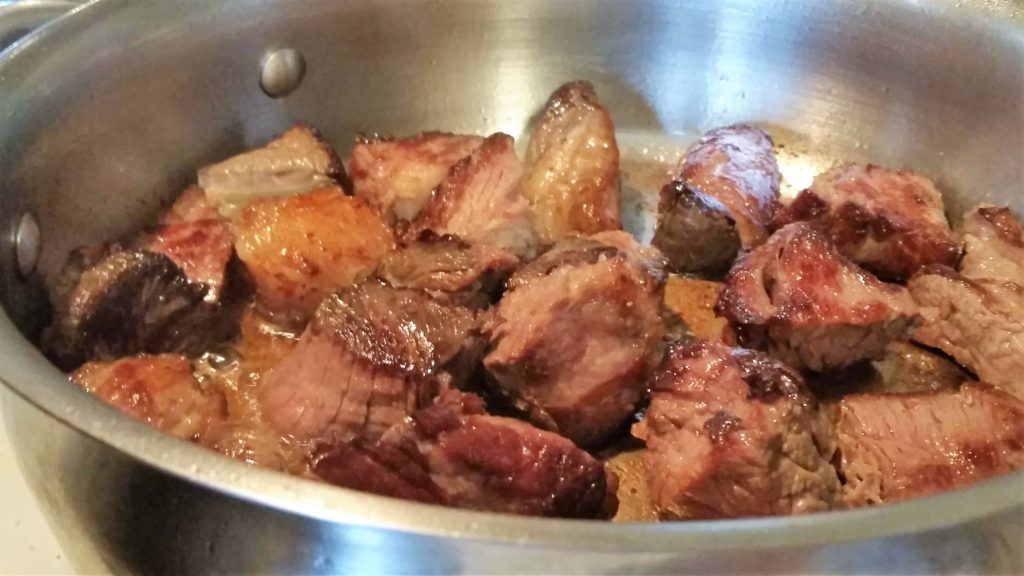 I know, it seems like an exercise in futility, but this is the most important step to be patient with.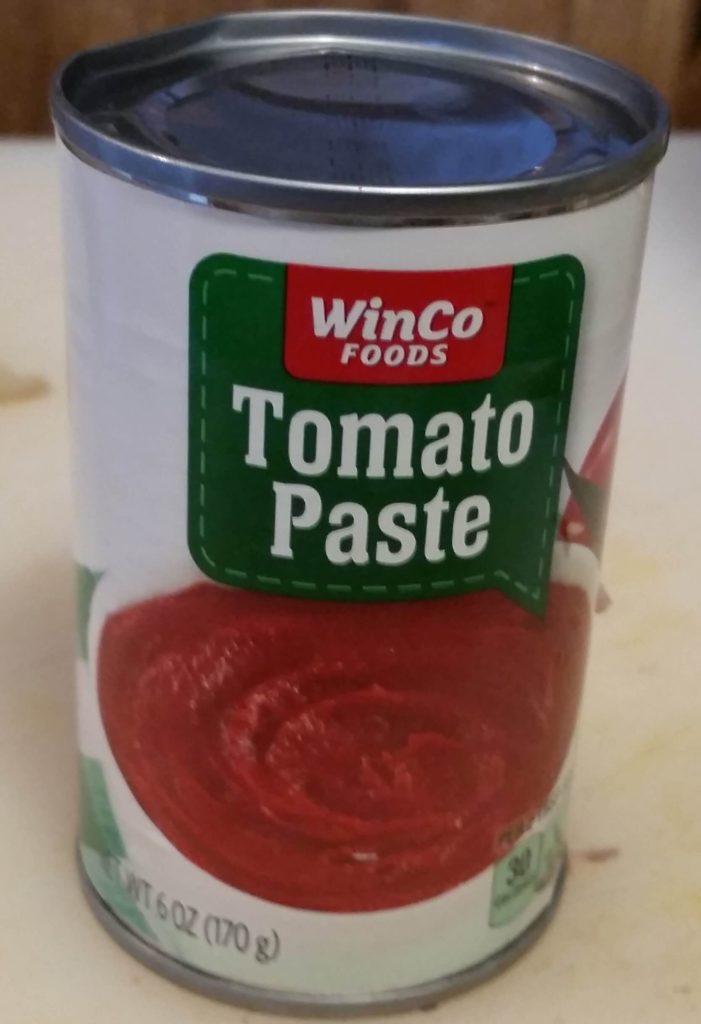 Pretty sure we're all familiar with this product–HALF can.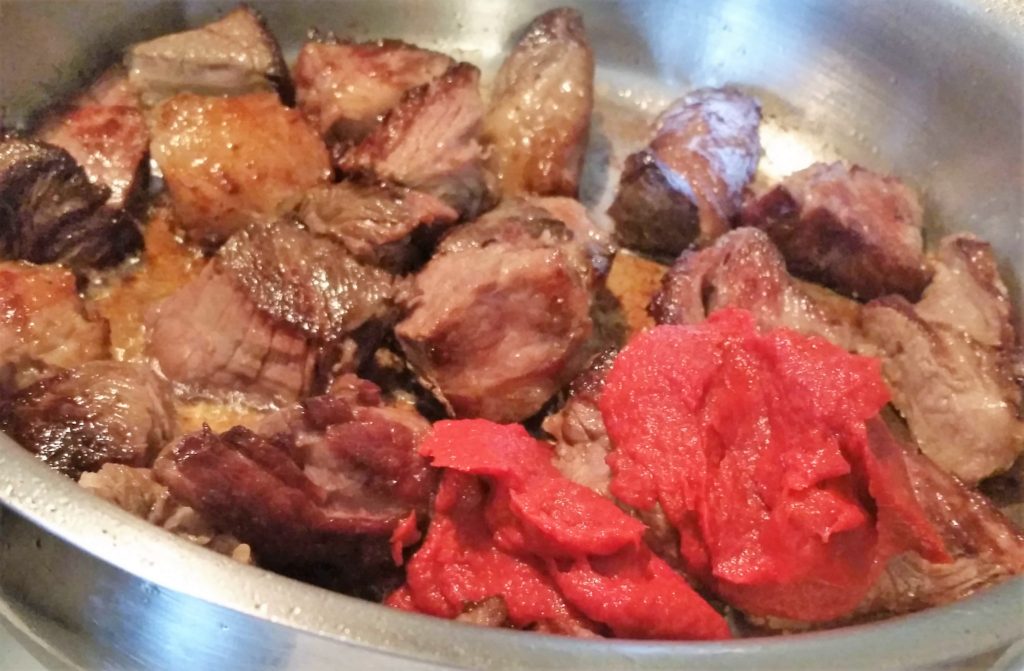 Color My World
The pan should be sizzling, not popping or spitting at you.  Add the tomato paste.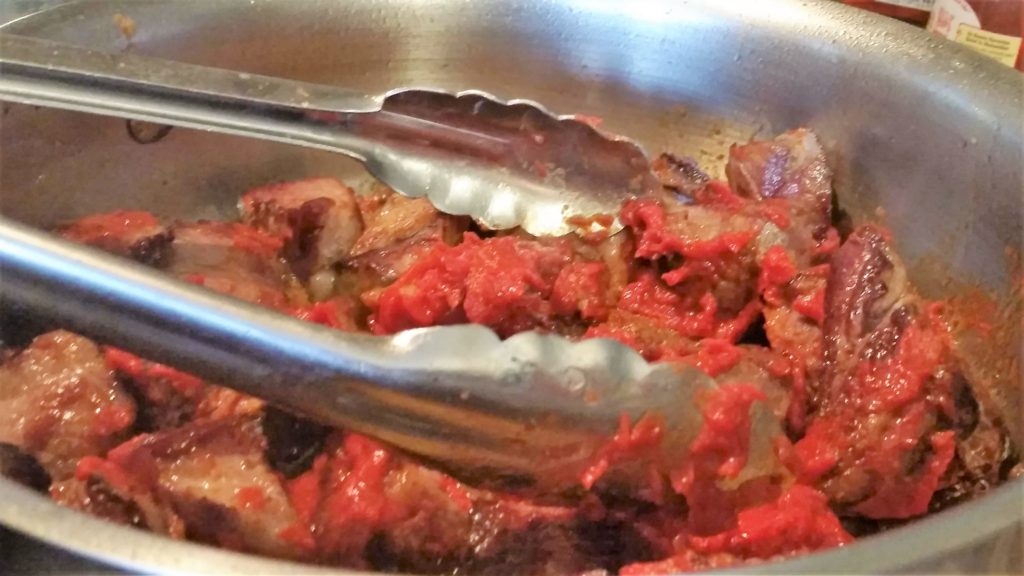 Stir the paste in so that it coats all the meat.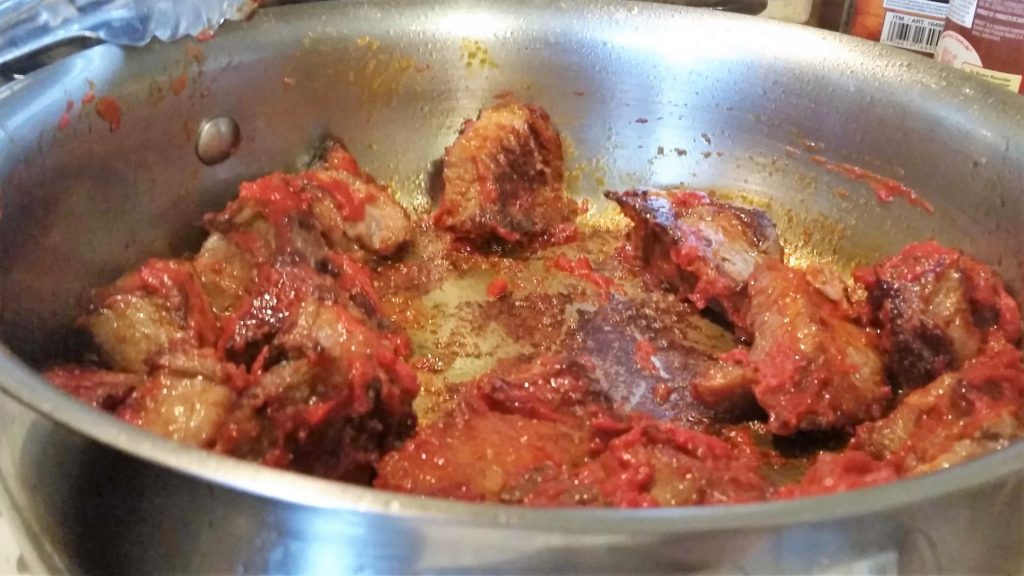 You can see, the tomato paste will brown a little bit, too, and gravitate to the bottom of the pan.  Just don't let it go so long that it starts to smoke and smell.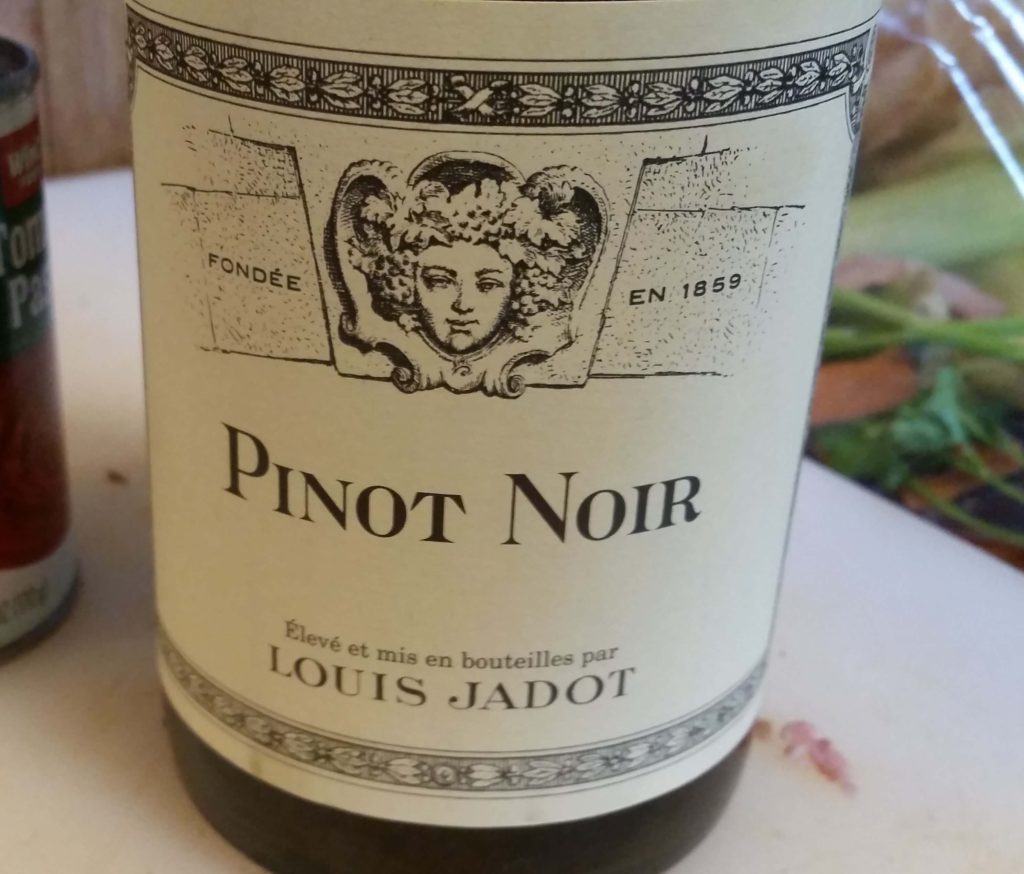 I used whatever wine my wife had around, but it doesn't even have to be THIS good.  Pour it in, and you get some steam.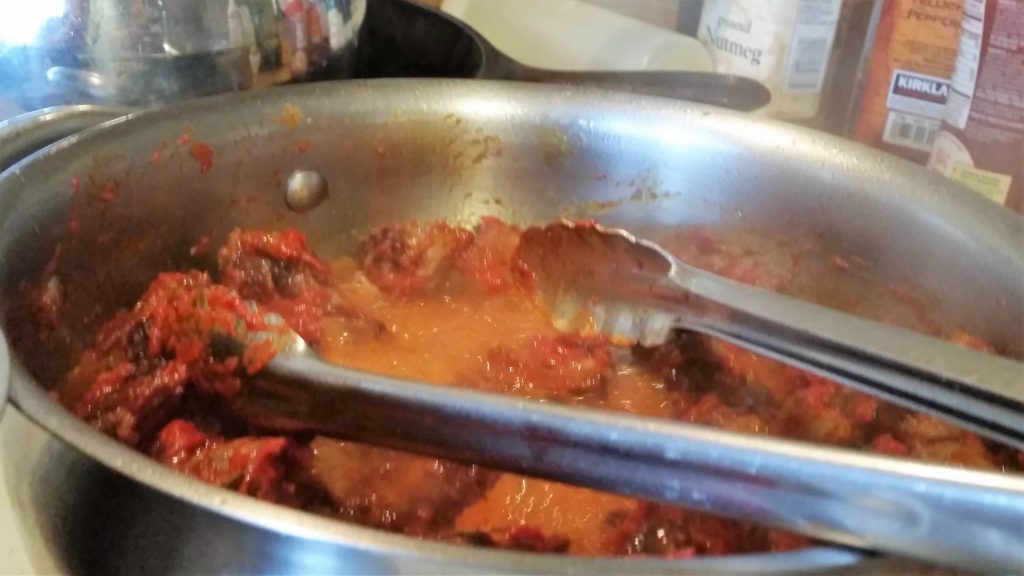 Let the wine reduce, you can stir to keep everything evenly distributed.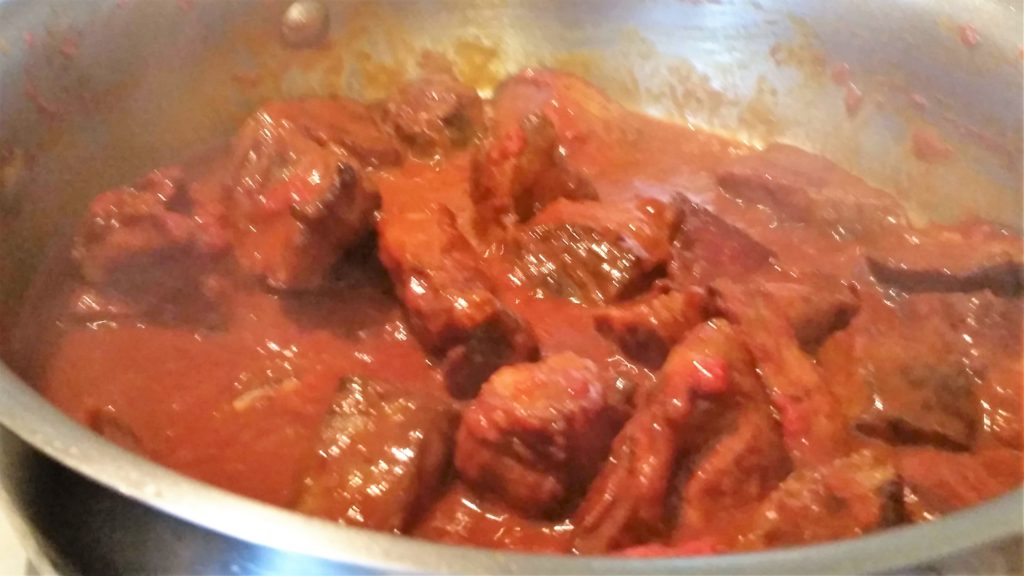 Again, let it simmer, we want to eliminate as much H20 as possible.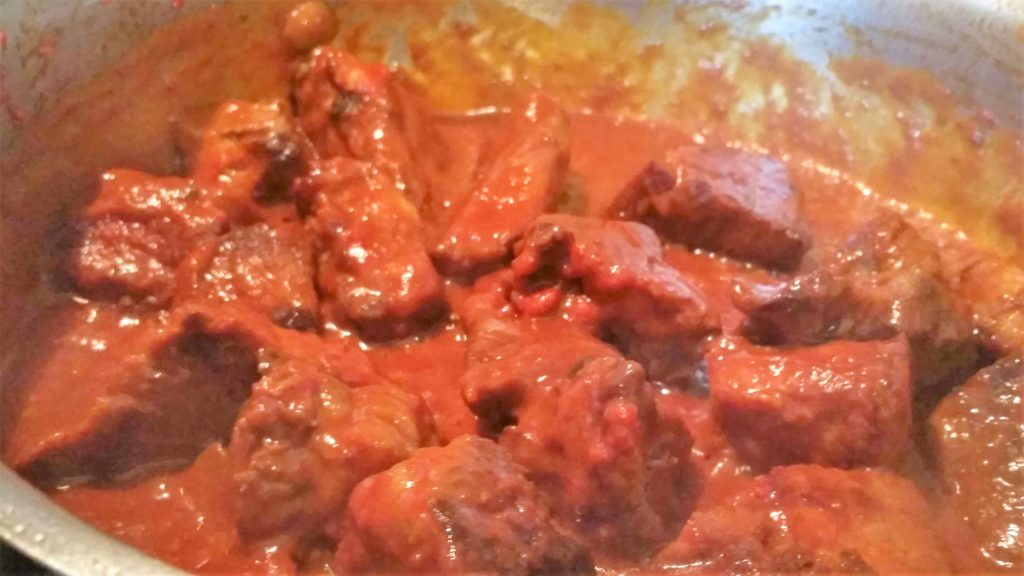 I included a lot of pictures to depict this, but it really only takes a couple of minutes.  You can see how the thickness is increasing.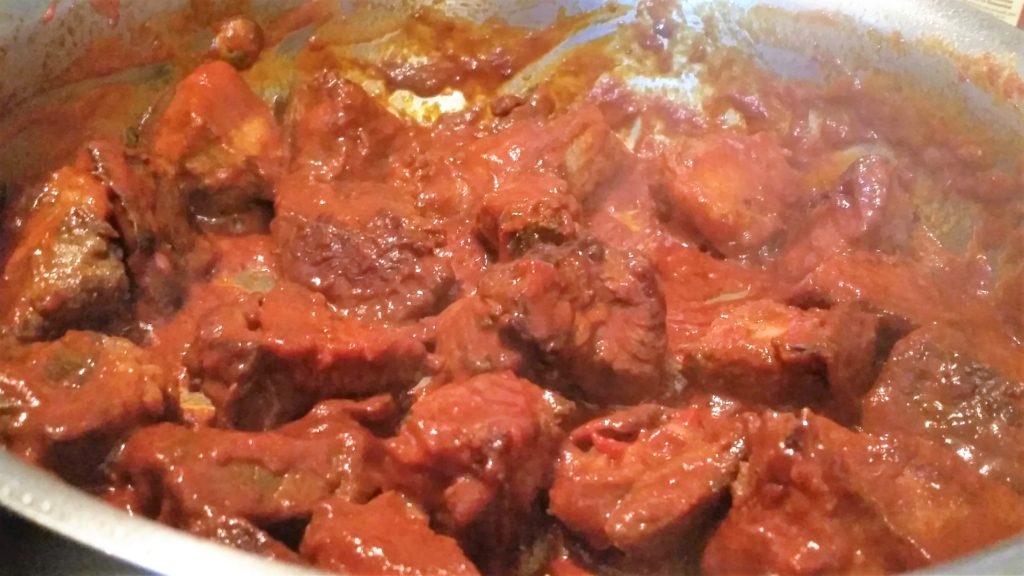 Finally, it will start to sizzle a little bit again, because there is so little water in it.
Snow Capped Mountains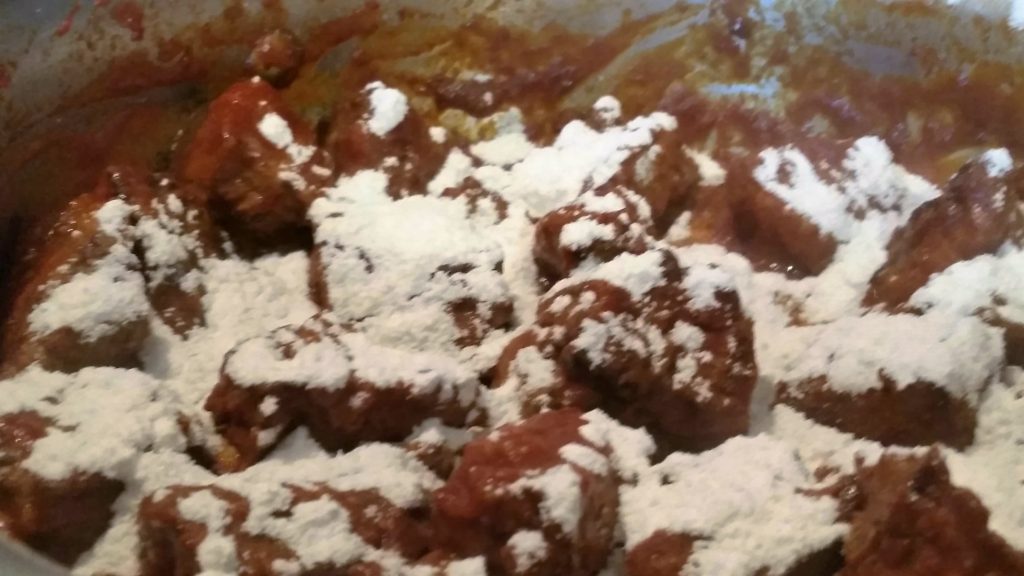 This is what I meant when I said I don't measure the flour–I GAUGE it.  Sprinkle the top just enough to make it look like Sedona in Winter.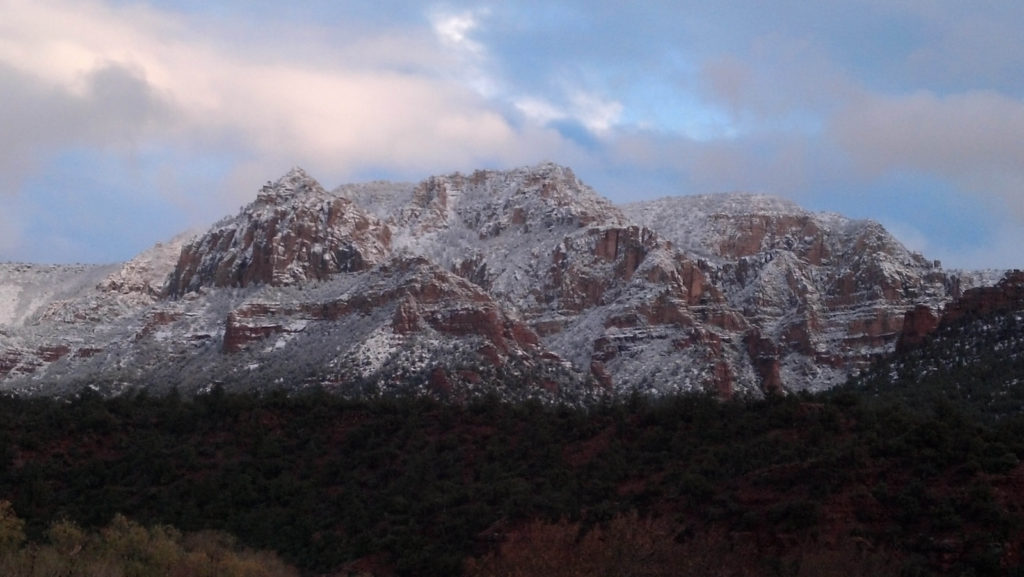 Try to use your imagination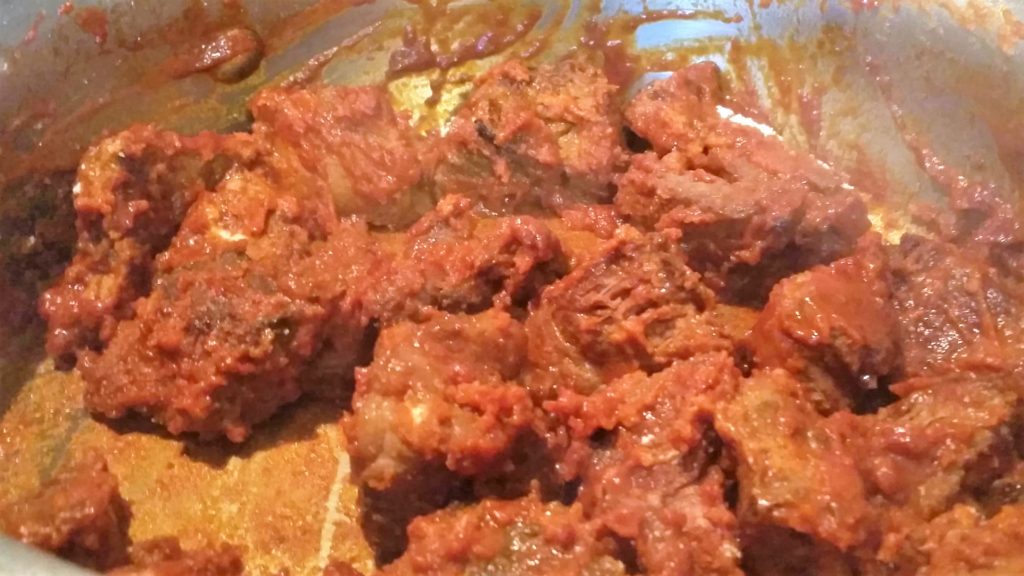 Put in just enough to make it look like this–all the white is gone, but there's no fat puddling anywhere.  This step only takes a couple of seconds–no need to continue browning now.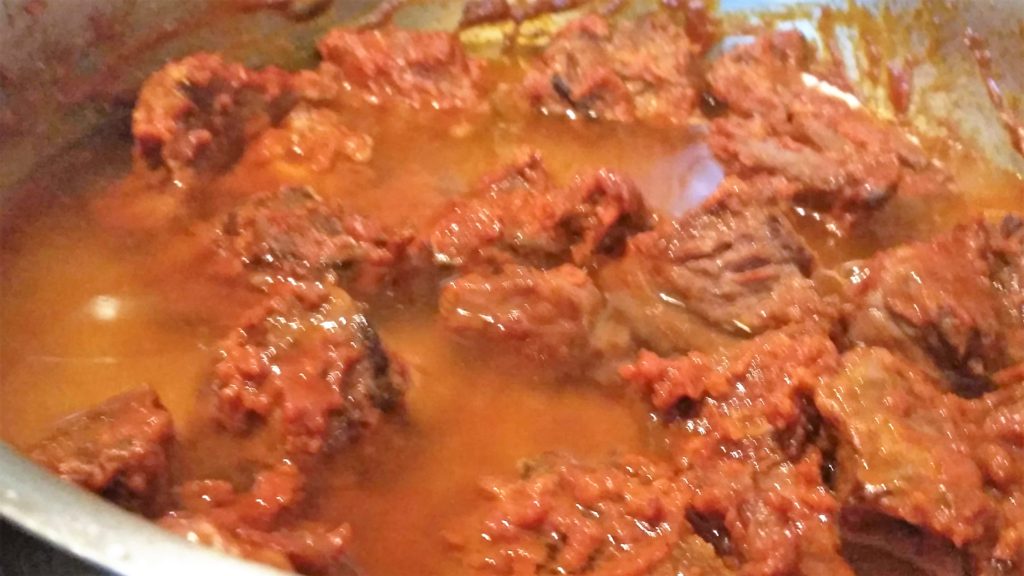 Add ONE CUP of water (half of what you plan to use).  Start stirring.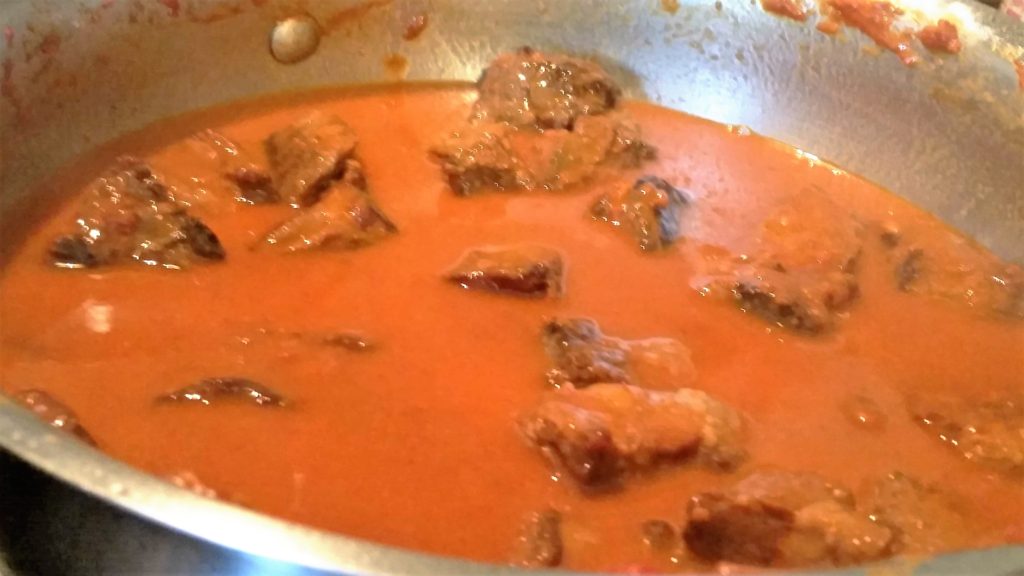 The flour/paste mixture will dissolve right away…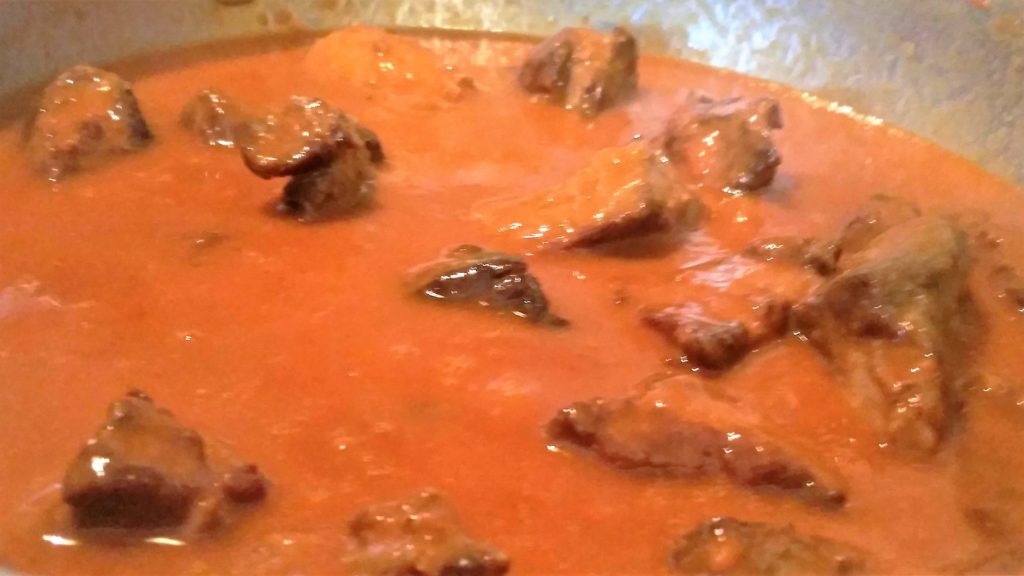 Continue to stir gently…if you look carefully right there in the middle, you can see a bubble starting to form.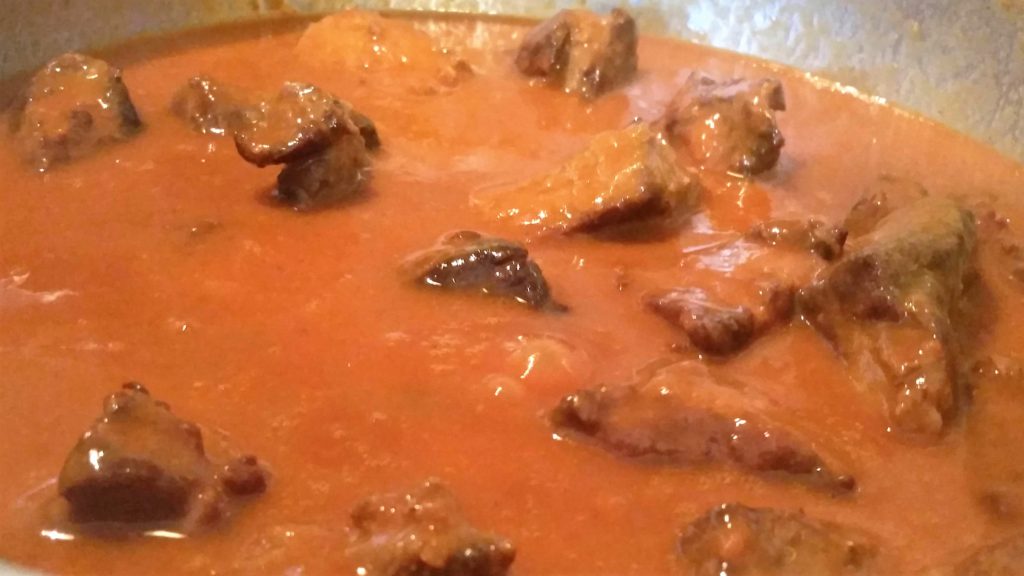 And, THERE!  In the middle, you can see the bubble–it's starting to simmer, quite thick.  You have successfully dissolved your thickening agent.  But, this will be too thick, so…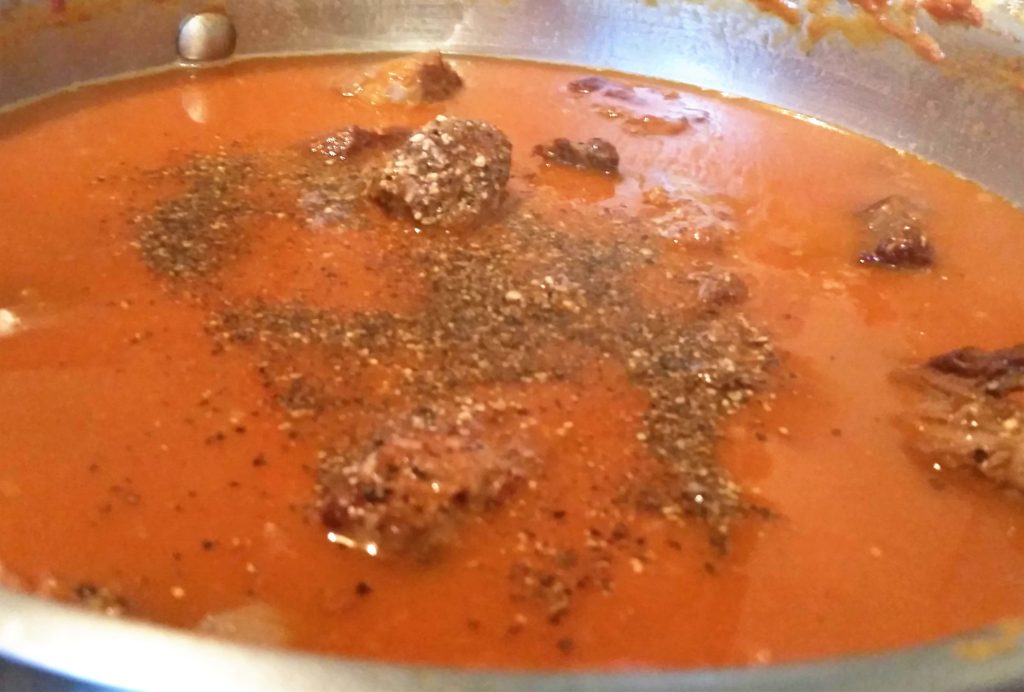 Add another cup of water or stock, a little bit of salt and pepper, we'll adjust that later, and return to simmer.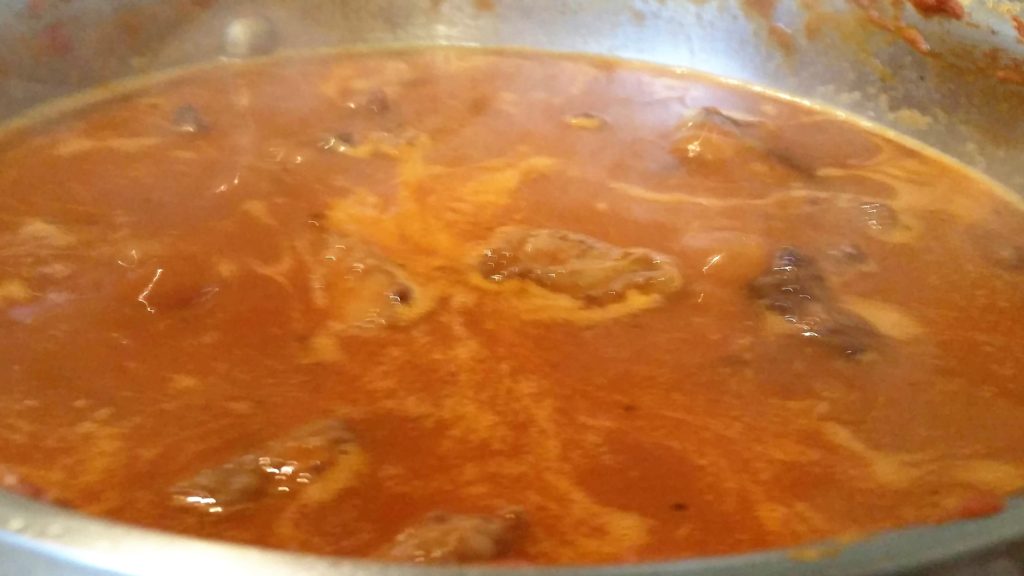 Now, the entire stew has returned to boil, which is important, because Sous Vide temperatures are not hot enough (183F) actually cook flour in this form.
Stew on This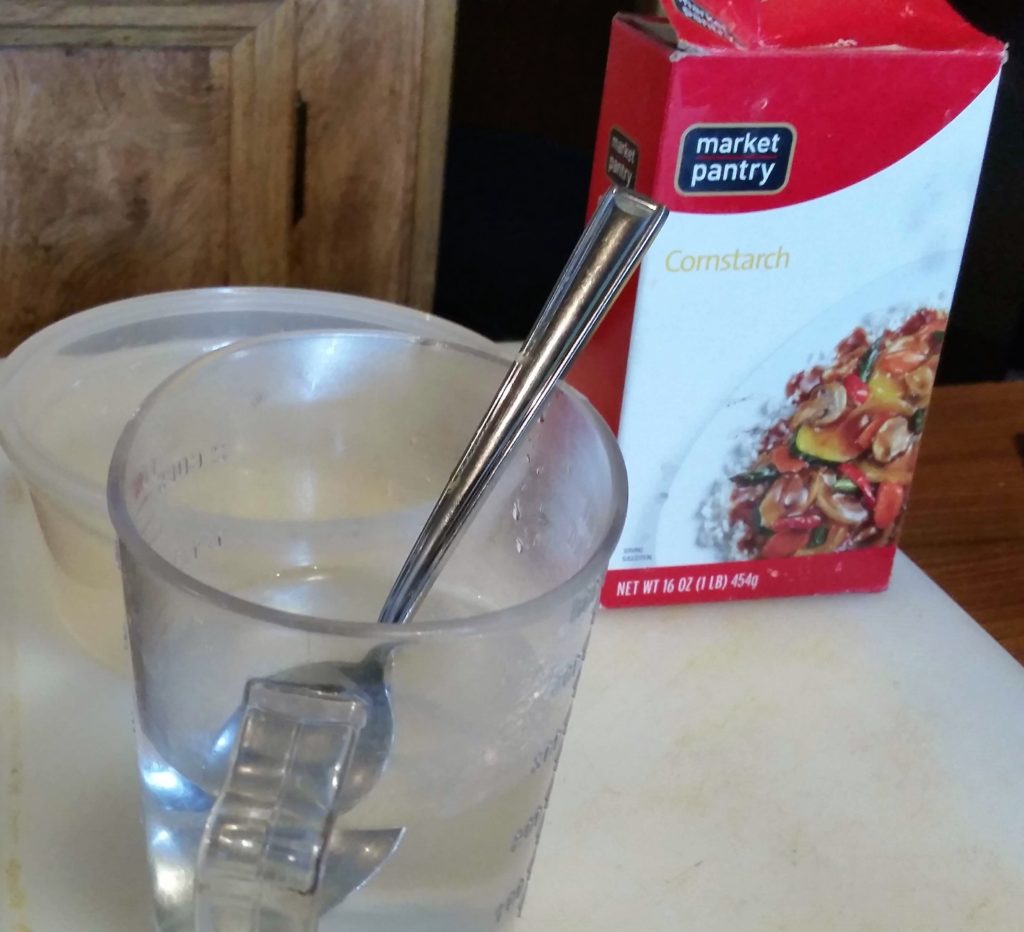 The stew should appear a little bit too THIN at this point, so we will correct that right now.  Get your trusty box of cornstarch.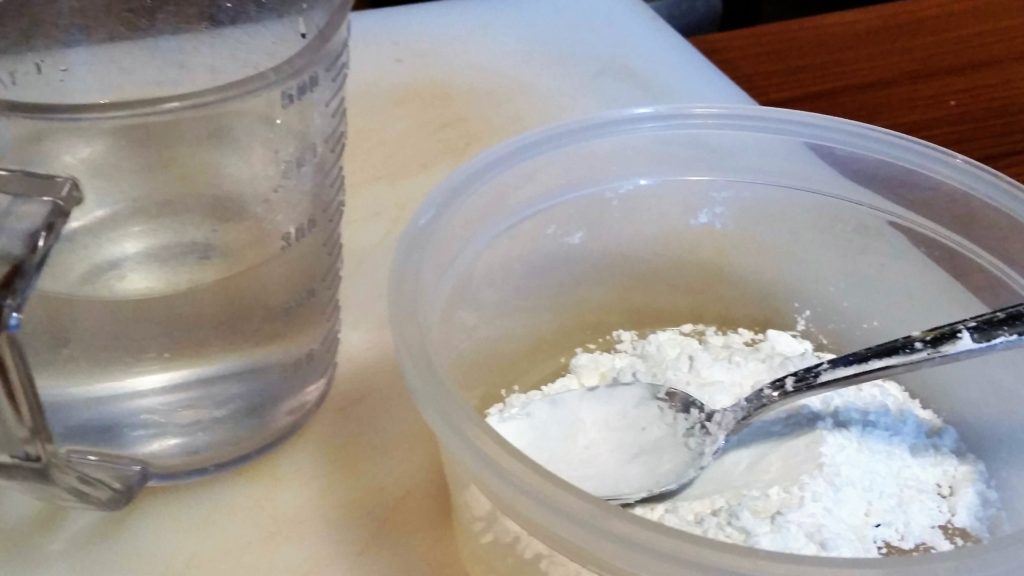 Put 2 Tablespoons of the starch in a bowl.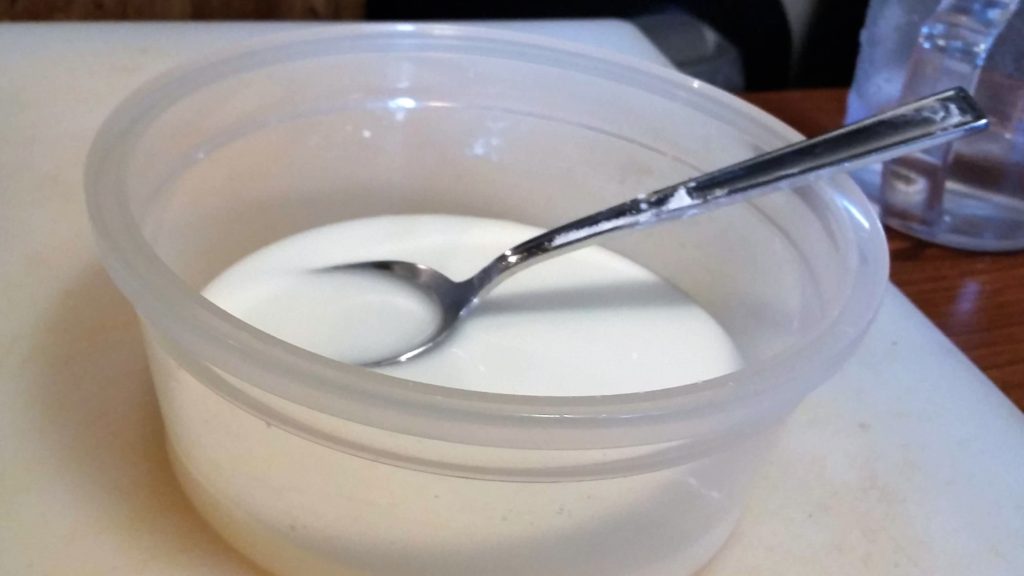 Add 2 oz. of water, to make a smooth slurry.
Add it to the simmering stock, which will thicken IMMEDIATELY.
Cornstarch has twice the thickening power of flour, so, pour slowly, and stir, until you get the EXACT thickness that YOU want.
After this, in the tank, it will not get thinner nor thicker.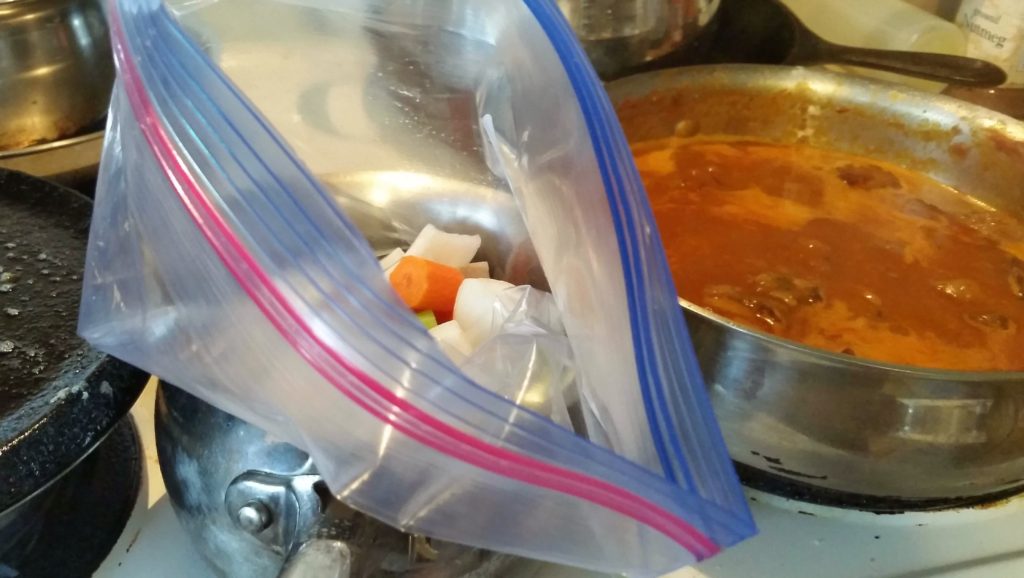 People frequently make the mistake of wanting to add the vegetables too early, perhaps with the intent of browning them.  Not necessary, and that's a sure way to end up with dissolved veggies.  Ick.
Once the stew has returned to that simmer, and you have added the cornstarch, turn off the heat and add the veggies that you cut before, and the garlic.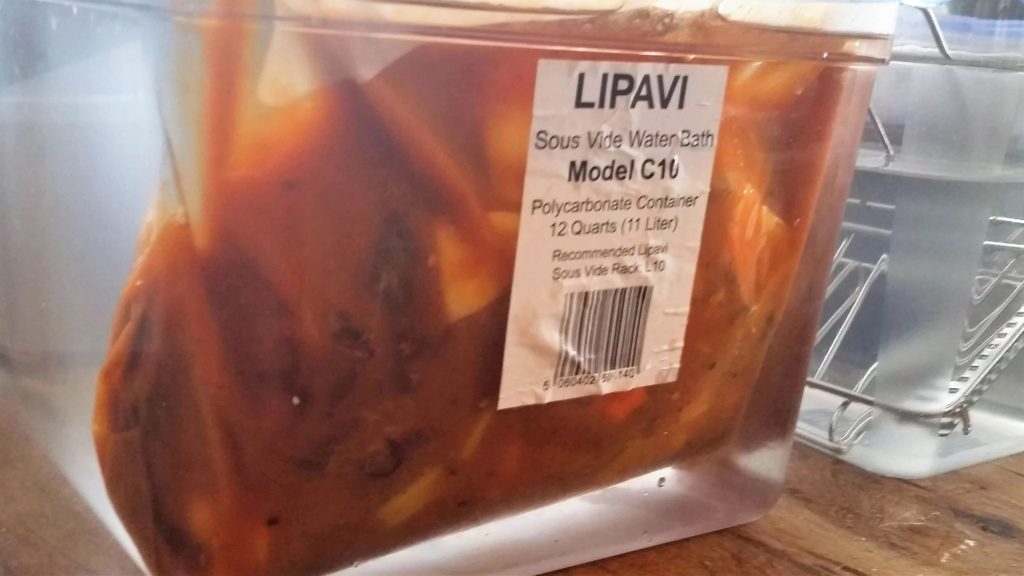 Carefully, and slowly, load everything into a Ziploc Gallon bag. Be patient–use a ladle–don't try to pour it.
Seal it up, and lower it into 183F water, for 2 hours.
Thanks to Sous Vide, the meat is already tender.  We are just waiting for the vegetables to cook in the sauce.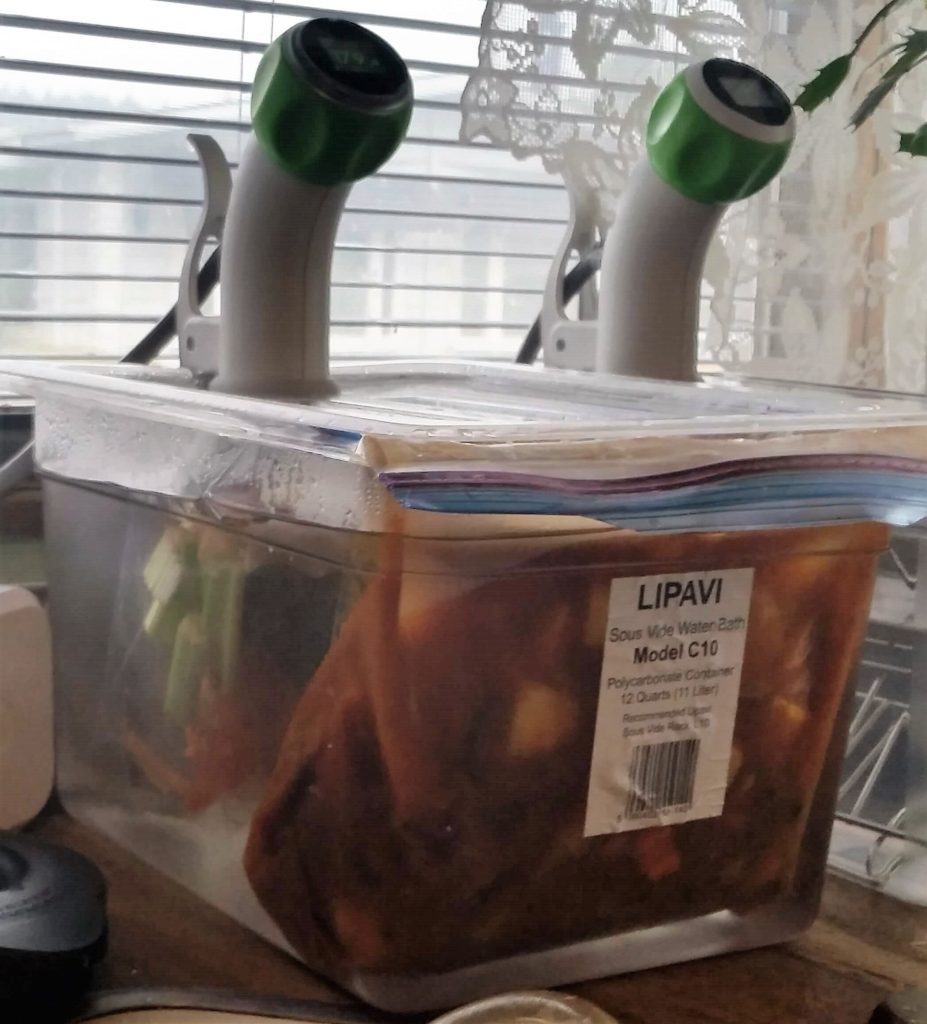 After two hours, you can pull it and serve it, or,
pull it , shock it, and refrigerate it, or,
reduce the heat to 140F and keep it there indefinitely.
At service. decorate with some of the mushrooms, or fold them in.  I like them whole.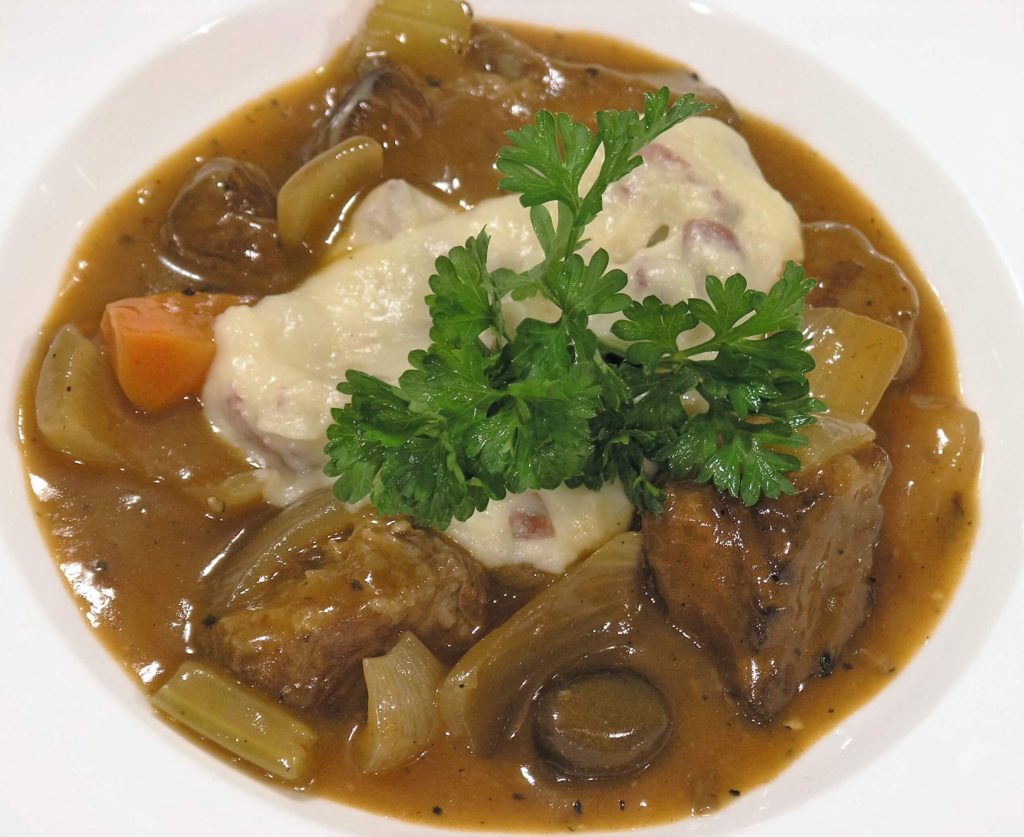 Look, Ma!  No Oil Slick!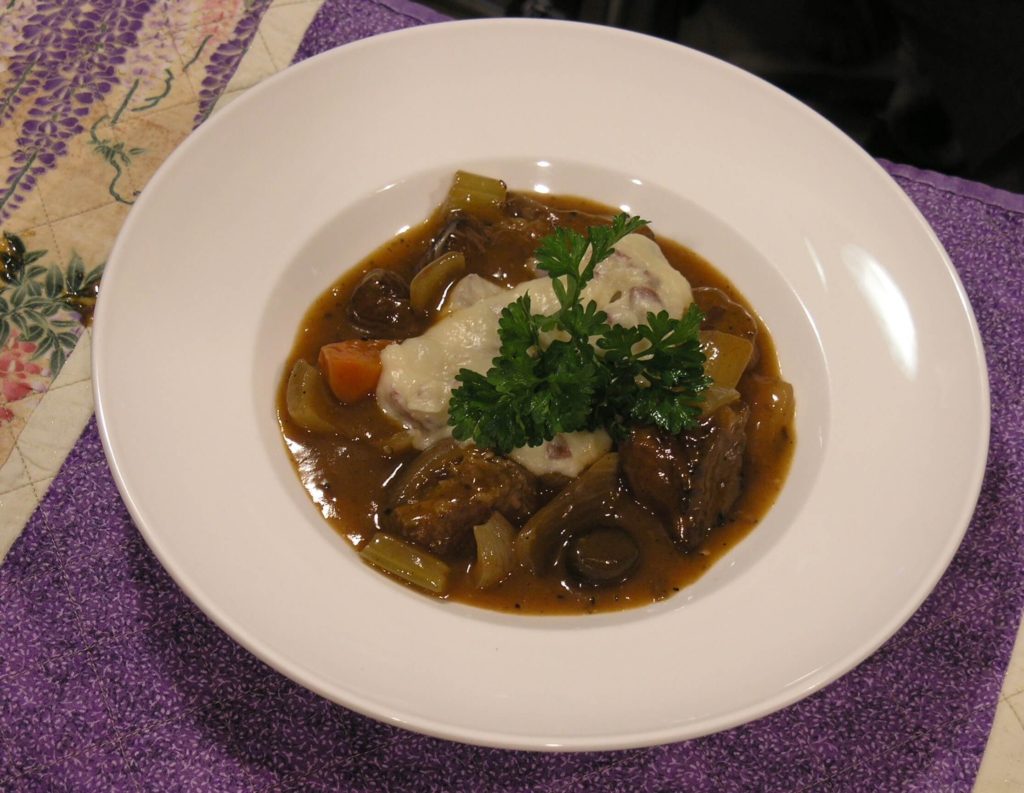 Parsley, parsley, parsley!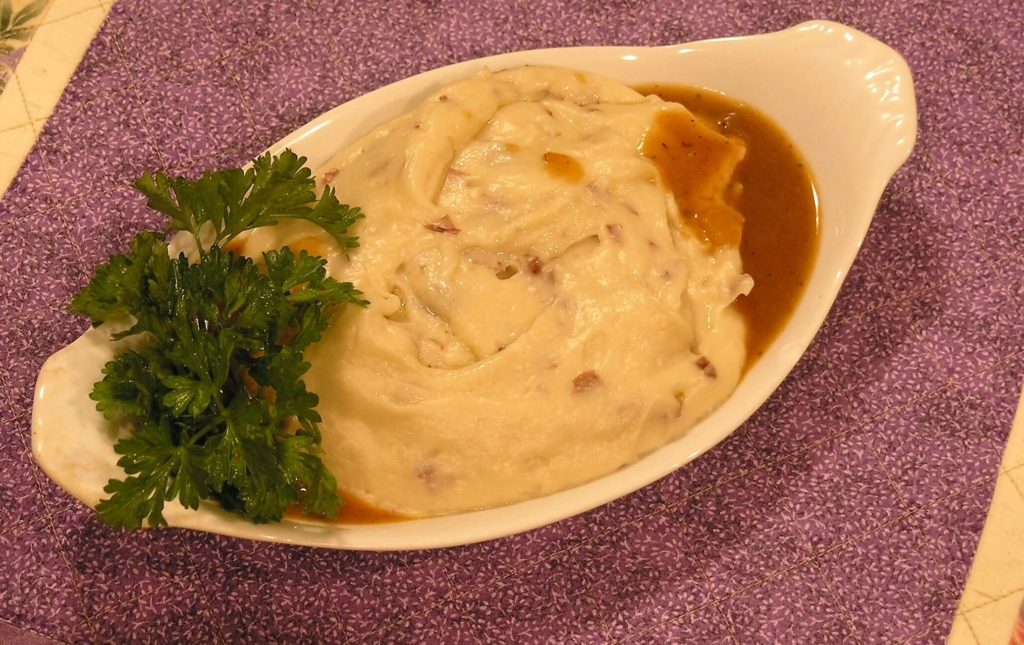 I used the Sous Vide Mashed Potato recipe, but I incorporated red (new) potatoes, otherwise exactly the same
You can put potatoes in the stew, if you prefer, cut to 1″ and added at the same time as the vegetables.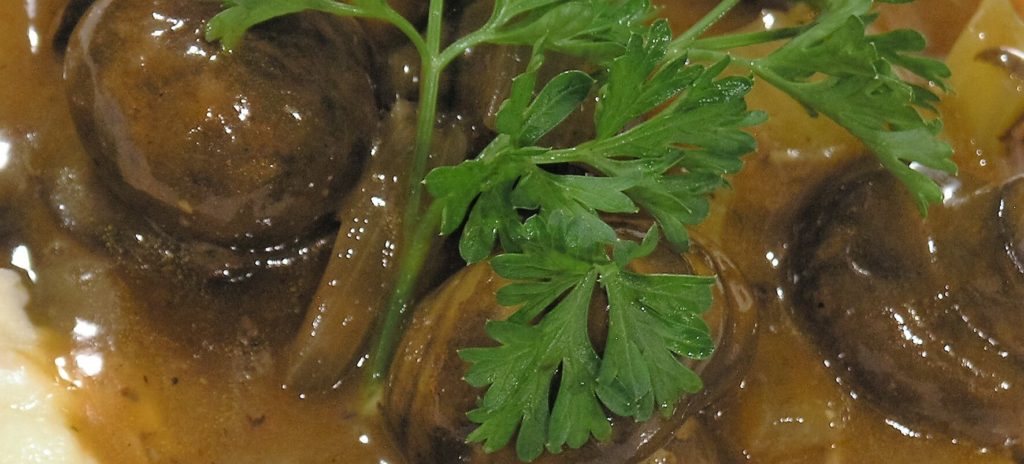 The sauce looks totally different than what usually passes for stew.  No cheating required, not a speck of beef base or Kitchen Bouquet, although there's no shame in using those products if you want.  I use them sometimes, Knorr makes some really good products for this application.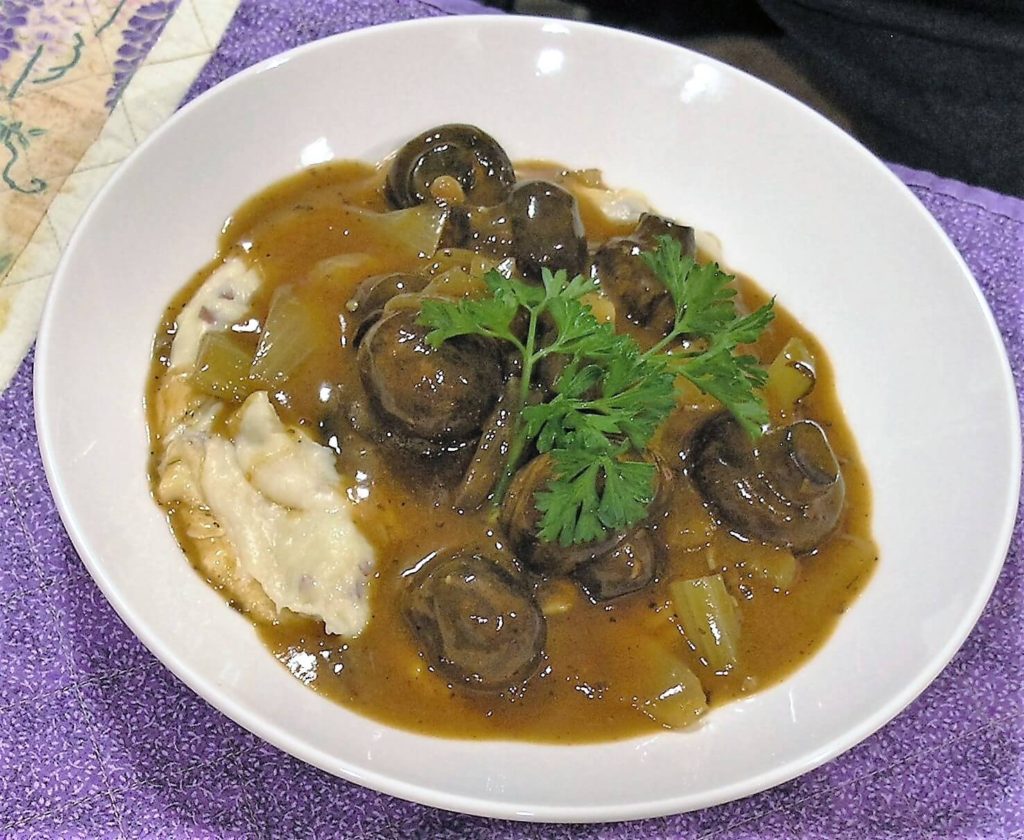 And there we have it.  Not hard.  Not awful.  Quite good.  Quite. When people ask what we're having for dinner, I just say "oh, this beef thing that I made."