Flash back to the mid 1950's, when I was a child in Louisiana.  My mom used to make us polenta for breakfast, but that's not what we called it.  We called it GRITS.  Grits were everywhere, served with every thing. Once we moved north (to Nebraska) in '59, I never saw grits again unless we were visiting family in Houston.  As soon as you crossed that extended Mason Dixon line, there they were, or weren't, depending on whether you were drivin' south or north.
Bland, lifeless, and almost always soupy, I never could find any love in grits, and what the heck is Hominy, anyway?  Some ground pepper and a little pat of quickly melting "oleo" provided whatever pale panache that impoverished dish had. Syrup didn't help, either.  Even so, everybody ate grits, and if there WEREN'T grits, the question as to their whereabouts would most certainly be posed.  "What? no GRITS?"
Polenta in the Polyester Age
Once the 70's rolled around, I discovered that ground dried corn, nixtamalized or otherwise, was actually a thing, a chic thing, a traditional thing, a delicious thing; you just had to have an Italian sensibility to give it some cachet.  Still served fairly plain, true to its plebeian roots, at least the Venetians put a little salt, a little butter, and maybe even a little dry cheese in there.  The next day, they fried up the chilled squares, just like grandma did, but, the plainness was replaced with tomato sauce, truffles, sausage, sardines, peas, and numerous other accoutrements.
Like gnocchi, risotto, and so many other old fashioned Italian dishes, for every method of making polenta, there are a thousand experts who will tell you that you are doing it wrong.  If you don't let them watch, and don't answer questions about how you made it or what you put in it, they are usually none the wiser.  The truth is, they are just wistfully longing for THEIR grandma, no shame in that.
I thought only BEARS ate porridge
Making polenta the "old fashioned" way CAN be grueling, pun intended. Typically, recipes call for you to slowly add the meal to boiling water, and then stir laboriously with a wooden spoon for what seems like an eternity until the porridge pulls away from the side of the pan. That pan will then have to be soaked for what seems like ANOTHER eternity in order to remove the asphalt-like reverse crust on the bottom. Heaven help you if you scorch the polenta, which cannot be rescued if that happens, and you get to start over. Good times!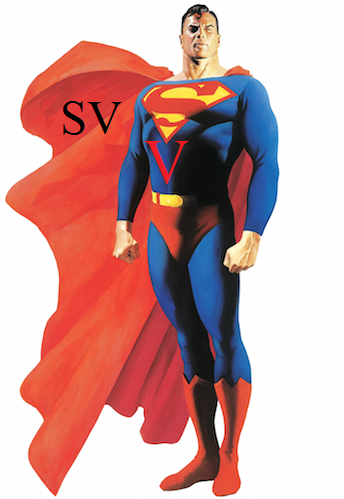 Sous Vide Saves the Day!
You can put away your wooden spoon and that thick bottomed paiolo, this is all you're going to need today:

Ingredients:
.5 cup – Polenta, yellow or white
1.5 – 2 cups – Stock of your choice (or H20), boiling hot. (The thin one will sag, the thick one will stand–whichever you prefer.)
pinch of salt
2 oz – butter, COLD
2 oz – Reggiano, Pecorino, Asiago, cheese or something like that.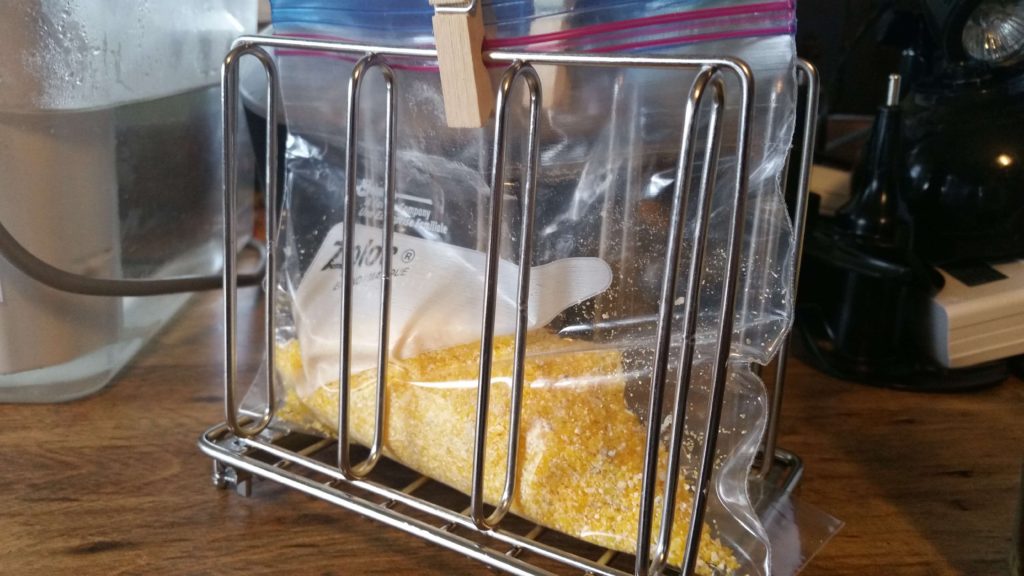 Put the dry polenta into a Ziploc Gallon bag and place it in a container that helps it stand up. I'm using a Lipavi L5 rack which is very handy for this kind of thing.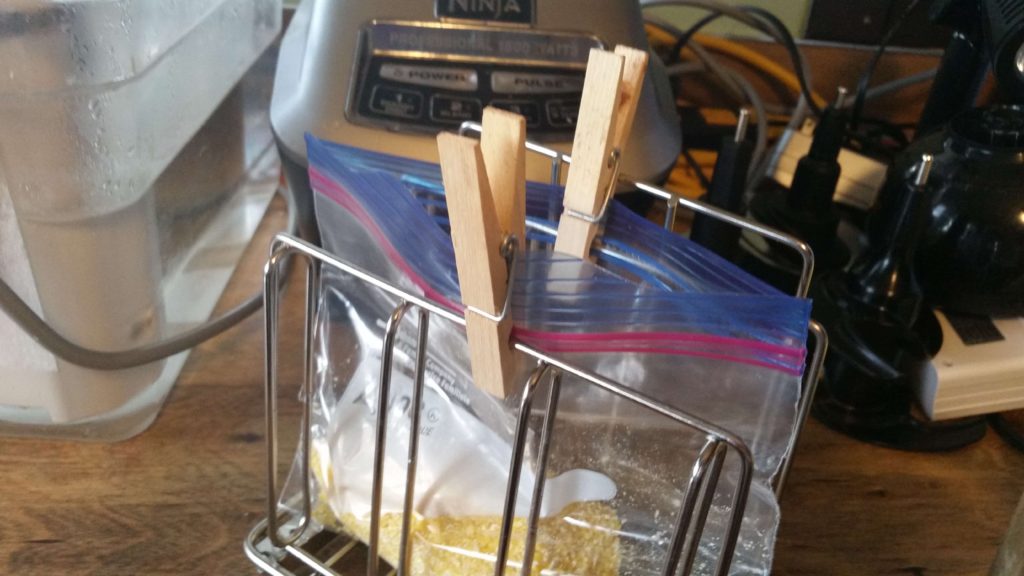 Add a pinch of salt, and pour the hot stock over.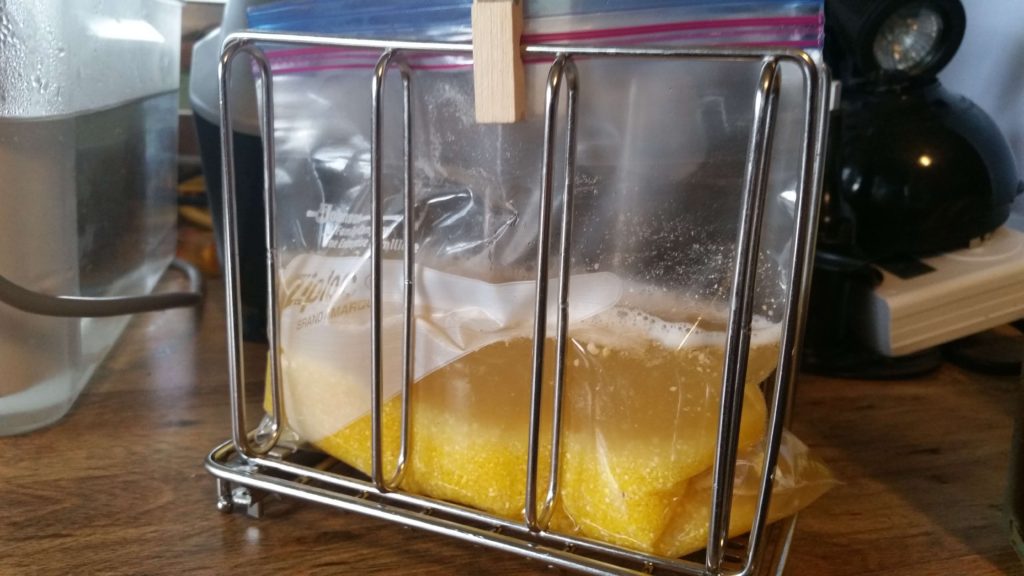 Stir just enough to distribute the grains.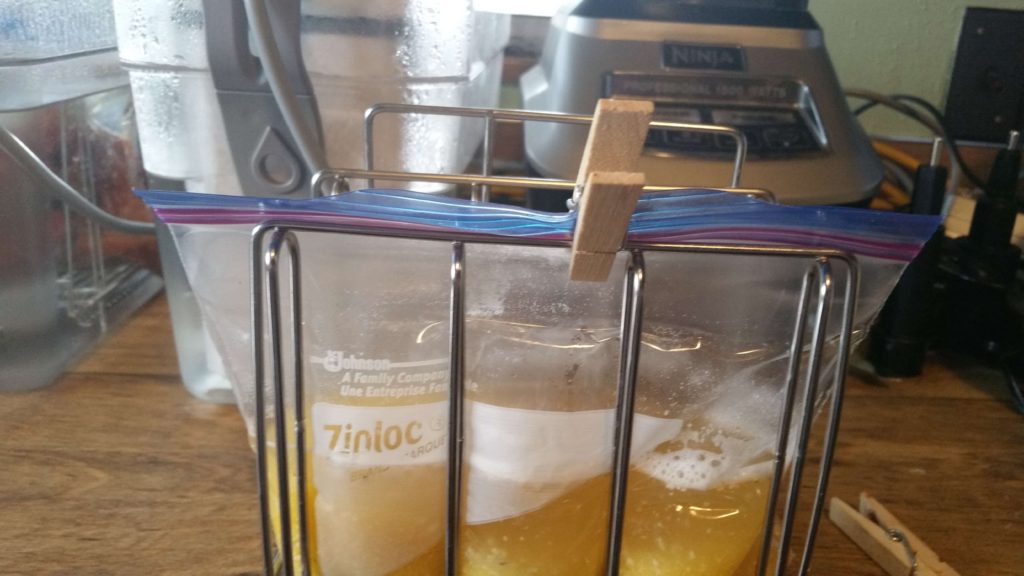 Seal the bag. You don't have to dip because there's so much liquid. If there's a little air in there, it's okay–it will still sink, and, even if it doesn't, there's no safety risk, because there's no raw meat in the bag.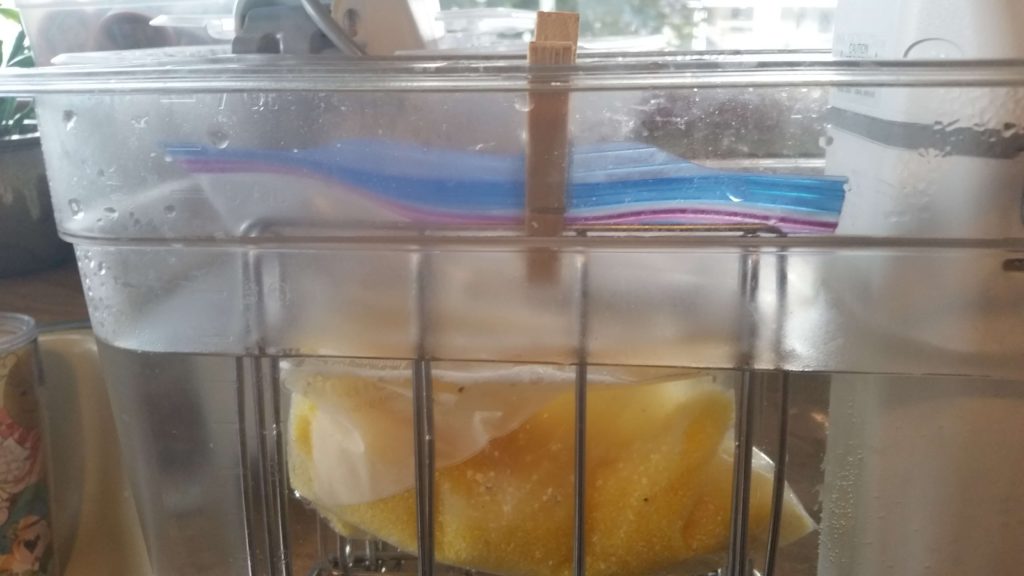 I still like to clothespin it to the vessel, just because. Clothespins are good for a lot of things.  If the Ziploc bag is properly closed, it will not leak.  HOWEVER, sometimes we think it's sealed, when it isn't, quite.  I'm not sure which is more disconcerting, discovering water inside the bag, or seeing clouds in the tank.  I guess both would be the answer.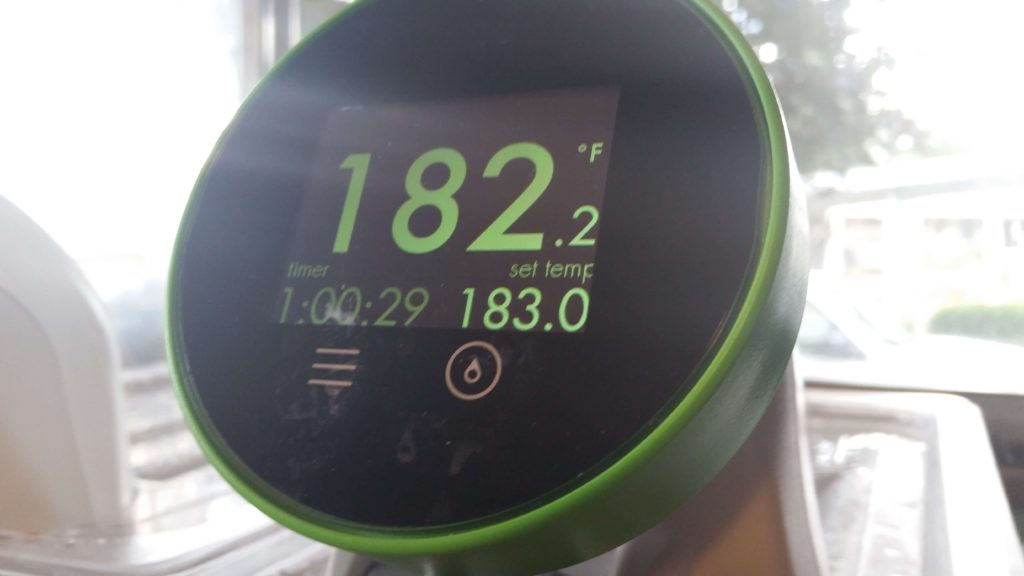 Set the controls for the surface of the sun. (I never go over this temperature in Sous Vide.)
Set your timer for one hour.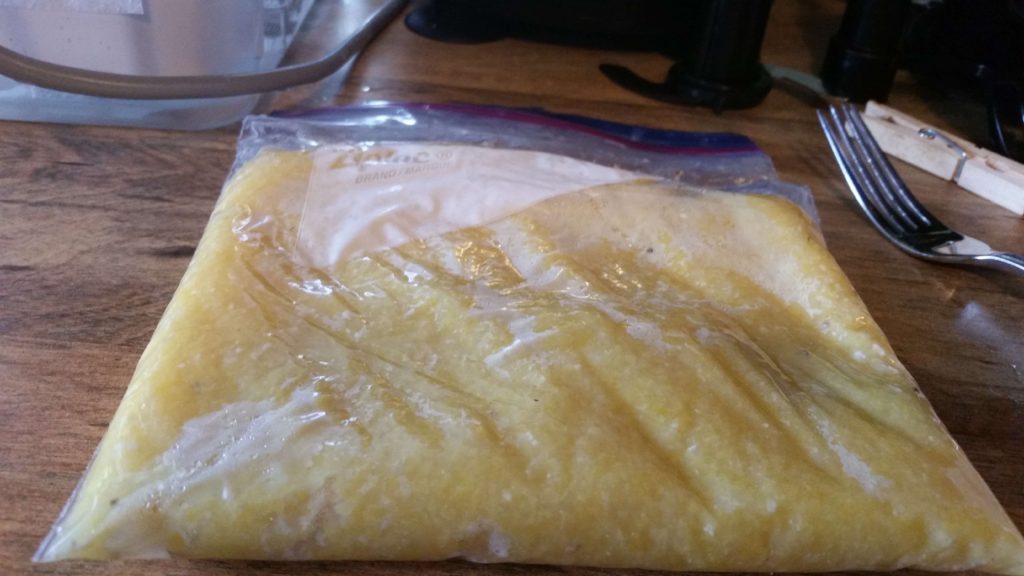 Removed from the tank after an hour, the bag of polenta looks like this.  There's a way to address lumps, if you see any. Read on.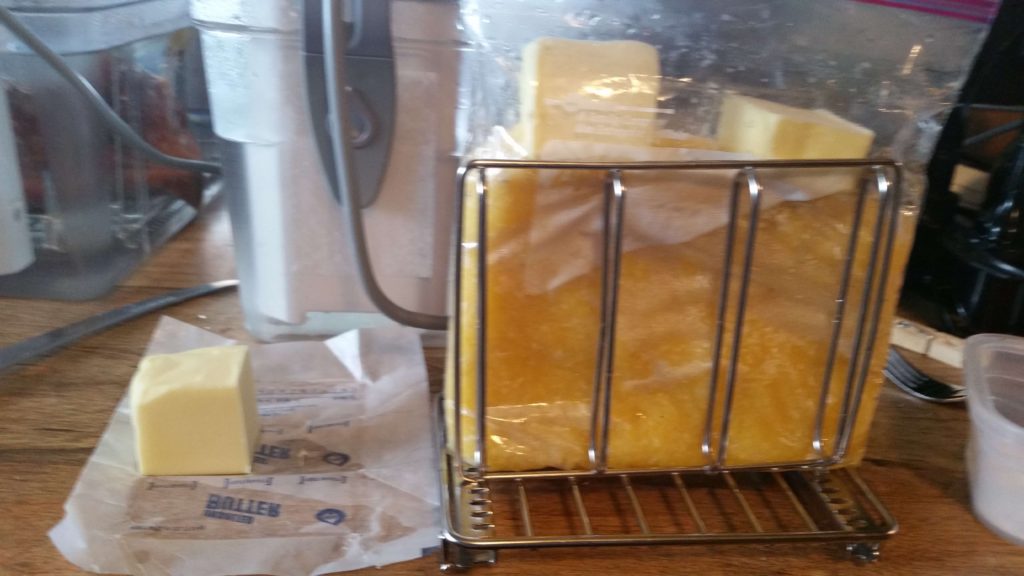 Add 2 oz. of COLD butter, another pinch of salt, reseal the bag, and give it a few minutes on the counter to melt.  Polenta stays hot a LONG time.  Don't get it on your skin, it sticks.  Just ask Al Green.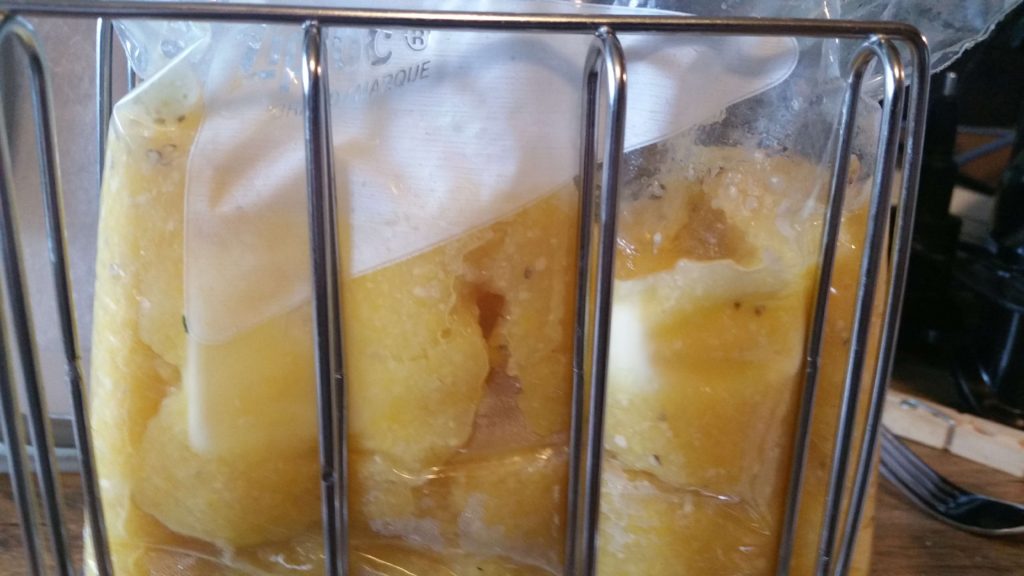 After a few minutes, the butter has melted.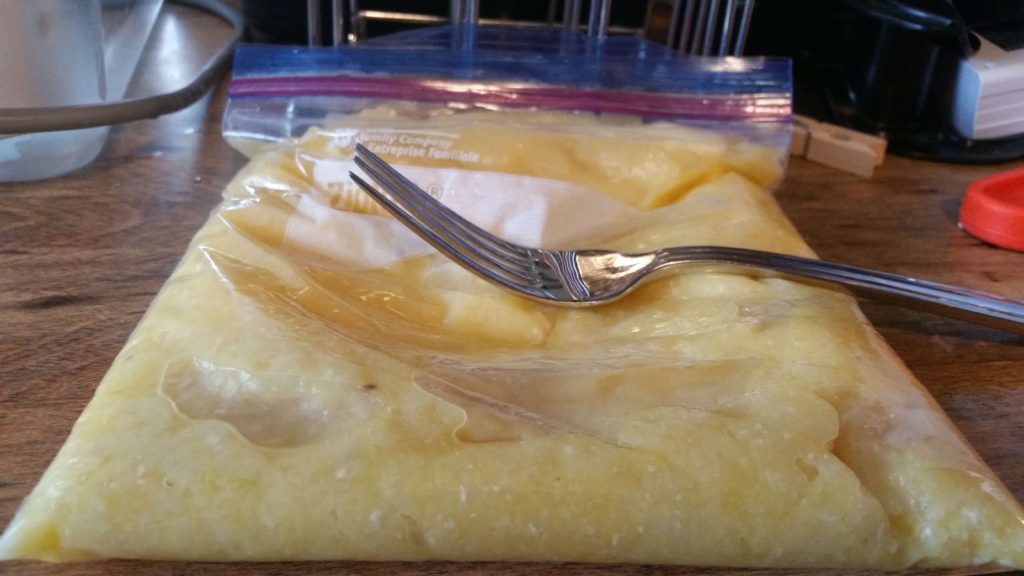 Lay the sealed bag down, and gently flatten the bag with the fork.  You will detect lumps this way, and they will break up, as the butter also spreads around.
That's all there is to it.
Serve now, as is, or, shock and chill and cut into squares when cold.  You will see this dish referred to in other articles on this site.
There is no such thing as Sous Vide Popcorn, but, I'm working on it.