That New York State of Mind
Almost everybody knows what a New York Steak is, and almost everybody knows what a Filet Mignon is.  Both names are deceptive and idiomatic but have become so ubiquitous on restaurant menus as to be very familiar.  The French word, Mignon, is actually an adjective meaning "cute," but you probably knew that.
That being said, whatever could a New York Mignon actually BE? Some clarification is definitely in order.  Generically, a New York steak refers to a cut from what is actually called Beef Top Loin, (not to be confused with Top Sirloin), again, a little vague. Even so, most of us are familiar with its shape–it's also referred to as a Strip Steak or even a Kansas City Strip.  I didn't know Kansas City HAD a strip, I thought that was just Las Vegas.  Anyway…
Porterhouse in Pieces
The Beef Tenderloin (adjacent to the NY, with a bone in between) is a long cylinder that yields distinctly ROUND steaks. So, a New York Mignon is a Beef Top Loin steak, made to appear ROUND (and cute). It may sound like I'm making this up, but I'm not. Suffice it to say that the Chef who showed me this cut many years ago promised me I would never see it anywhere unless he or I introduced it in some future menu.  And, true to his word, I really haven't ever seen it anywhere else.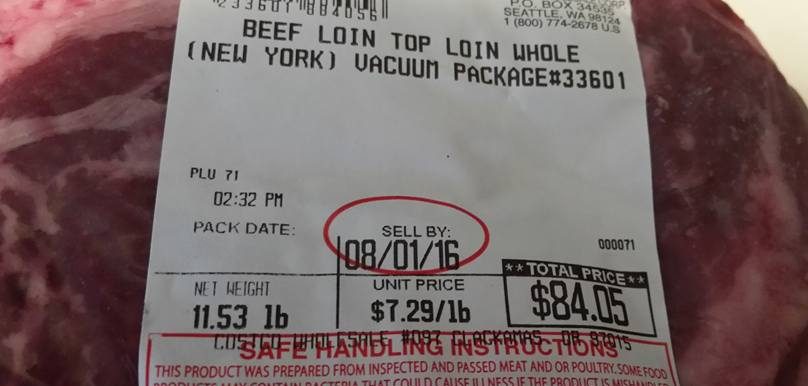 Here's the entire primal cut.  Or, rather, the pertinent info.  Not cheap, but probably the best bargain of the big three–Filet, New York, and Ribeye…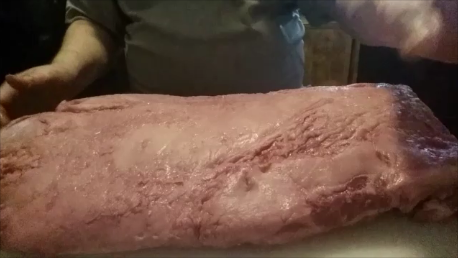 Lay the Strip Loin out with the fat cap up, dry it off well.
The thick layer of fat on top cap comes off pretty easy, just peel it with your hands, using a sharp boning knife to help it along.
Are we still in New York?  Yes, yes, we are…
After removing the fat cap, you can see the beginning of the nerve, or vein, end, which comprises about one-fourth of the whole piece of meat.  You can feel it and recognize it because the cut of meat starts to get a little larger and higher as you get to that end.  If you look at a Porterhouse steak, where the Filet is really large, and you look at the adjacent NY, you can see a strip of cartilage that runs through it.  That's the nerve end.
After removing that cartilage, we use the meat for Beef Stroganoff and other dishes where it can be cut into smaller strips.
Continue removing fat and silver skin.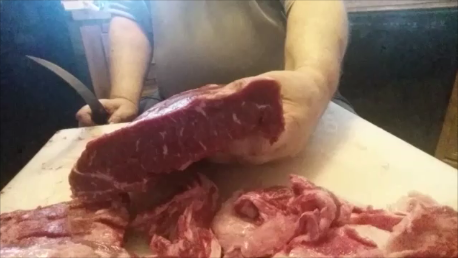 This is what you end up with.  The naked strip, literally. On the very far left, on the bottom of the strip, you can see a little "tailpiece" that is tender and highly prized.  We leave that on.
Then, rather than cutting into the typical strip shape, you split the whole thing down the middle, giving you two long cylinders.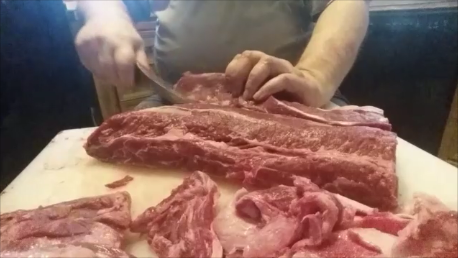 I can't believe you're really doing that!
There's a very thin line of silver skin that I follow as I split the Strip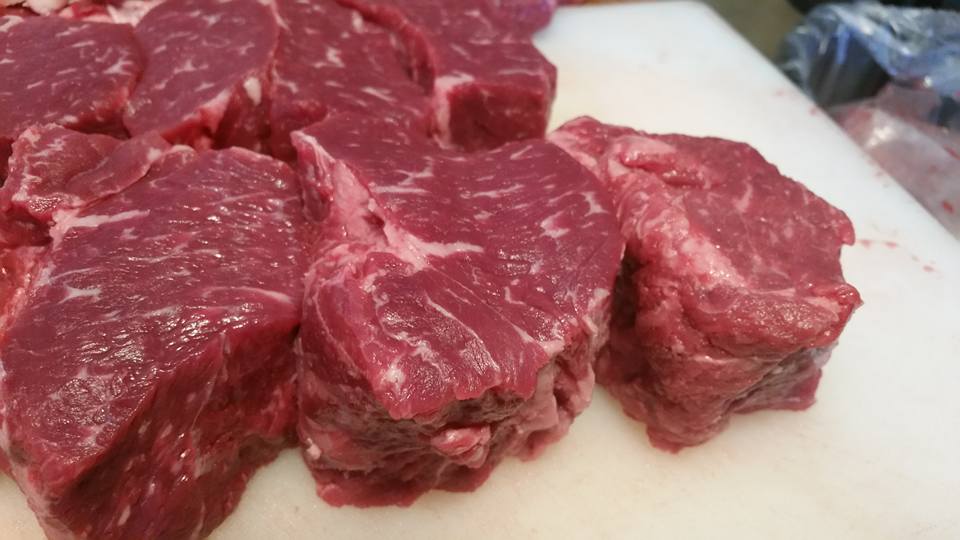 Here's what the steaks look like after being cut from the side that is slightly larger; for the man, as it were, about 8 oz..  You can see the tailpiece that we left on the New York.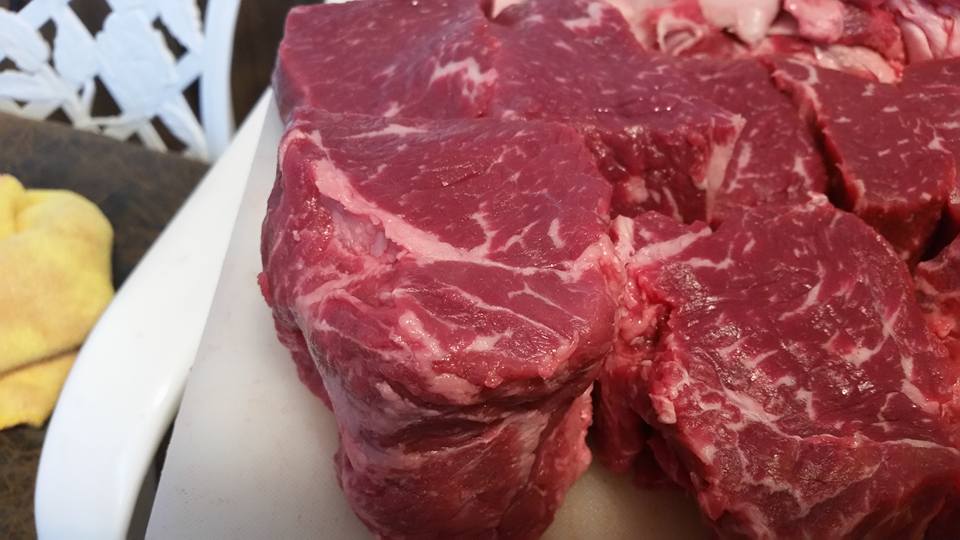 If you take a closer look at that tailpiece, it really does begin to resemble the Chateubriand end of the Tenderloin.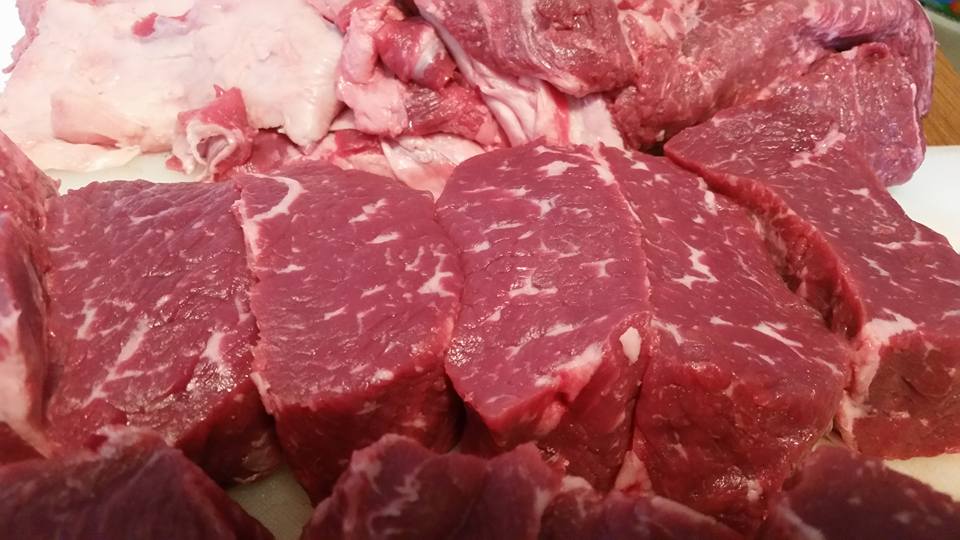 These are the cuts from the somewhat smaller side, for the Lady, as it were.  Leaner, and a wee bit smaller, about 6 oz.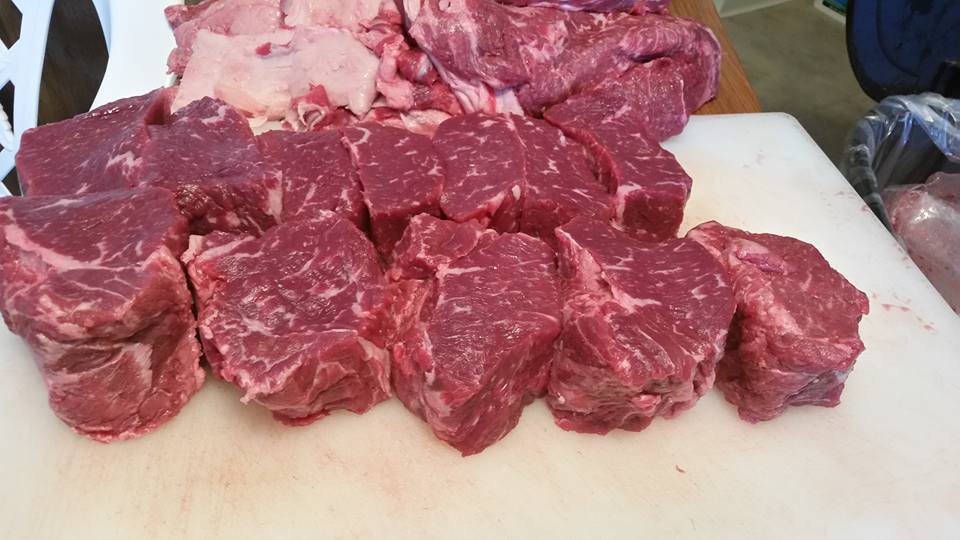 Here you can see both cuts, with the trim in the back.  All that trim can be ground into a fairly high-fat balance of ground beef, good for burgers, great for Bolognese and that sort of thing. The larger steaks are in the front row, smaller in the back.
There is no tenderization required, so I processed the steaks @129Fx4 hours.  This means they are pasteurized, even though that is not ALWAYS necessary in the case of steak. As a side note, steaks cooked by conventional means are rarely pasteurized, because it isn't necessary.  Beef is typically sterile inside, or it can't pass USDA inspection.  The surface, however, may become contaminated in the process of handling.  Even so, beef is MUCH denser than other meats, and much more resistant to their penetration.
Remove the steaks from the bag, make sure you collect the Sous Jus™ for clarification later.  The glass dish fools my camera, making everything appear a little paler than it really is.
I processed two packages, so we can do a few different applications, both fresh out of the bag, and, reserved for the next day…
This color is a little bit more representative
For this model, I didn't put any seasonings at all in the bags. Now, we lightly sprinkle both sides with S+P, in effect, treating as raw.
Put the Sous Jus in a container and return the steaks to the glass dish.
It takes a little getting used to, but this Sous Jus™ will not be used for these steaks, at least, not necessarily.  It becomes part of a rotation, so to speak, so that you always have some around.
Gather up the other components you plan on using–Sous Vide mushrooms, blanched broccoli.
No, not THAT Demi!
It's hard to keep demi around, but it's pretty important for this kind of dish.
Now that we have infrared thermometers, we can determine what a "hot pan" really means–in this case, about 500F on the surface.
If you add oil to the pan, it will start to smoke immediately, so I rub a few drops on the steak, or, use spray release–there's no shame in that.
My wife reminded me to open the door to the deck AND a window in the kitchen.  Most kitchen vents don't actually lead to the outside, they just filter the air and return it to the room.
In thirty seconds or less, you can flip your steak.  DO NOT CROWD THE PAN.  One or two is enough to keep even the experienced practitioner busy.
At this point, the heat can be reduced, especially if you are using an electric stove.
After removing the steaks from the pan, I usually rinse it out–if there is very dark residue in there, which happens, it can be bitter.  Deglazing is an important component of saute, but not always advisable.
As the pan slowly cools, I add a pat of butter, to coat the mushrooms.
Toss the mushrooms in the pan, and the butter will disappear.  If it doesn't, you put in too much.  Too much butter?  As a matter of fact, It can happen.
I add the demi to the pan, which is still hot enough to create some sizzle. A nice thick saute pan can hold heat pretty well.
Swilling really is the operative word for this process.  The demi is very gelatinous, so you watch it melt.
At this point, everything is hot, so remove from the burner.
Photographs rarely catch the sanguine appearance of a steak, but this would satisfy any diners who order Medium Rare.
Plating the steak, I shingled it out.  This is a long forgotten, old school kind of thing, but the piece farthest to the left is supposed to be in the front of the others.  This encourages the diner, poised with fork in left hand, to take his or her first bite from somewhere near the 7 o'clock position on the plate.
Dip the broccoli in hot salted water.
I made some souffle potatoes for this, but they are really more of an exercise in futility than anything else.  Sous Vide mashed potatoes would really fit the texture profile a little better.
Sous Vide Hollandaise on the broccoli.
Even so, it looks good to me.
This appears to be a good sign, but more than one of my mentors back in the old days would most likely say "SEE!?  TOO MUCH SAUCE!"
Here's an alternative presentation, with creamed spinach and heirloom tomatoes,  Sauce Foyot and demi.  The tomatoes released a little EVOO.
Those are grill marks on the fluted mushrooms.
For more discussions of Sous Vide processed beef, visit here.