Boiling and/or steaming potatoes has to be considered one of the simplest, most basic preparations for the novice cook. Even so, things can go wrong — the potato can dissolve, or cook unevenly. Processing potatoes via SV makes me wonder why it took me so long to even experiment with it.
Time Controls Texture

183FX 1 — 4 hours

 For our Sous Vide Grilled Russet Potatoes, we processed for one hour.  This maintains the potato's durability as much as possible.  If your plan is to make potato salad, it's best to opt for the 4 hour variant.
Is it a Potato, or a Steak? Potato Steak!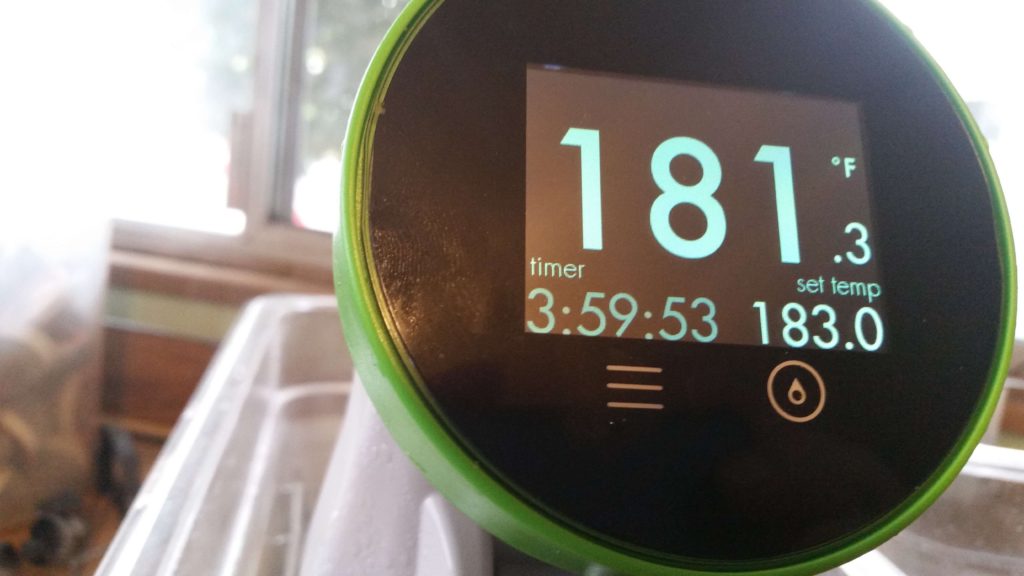 The Nomiku has a handy timer; I frequently have several projects working simultaneously, and my Circadian rhythm isn't what it used to be..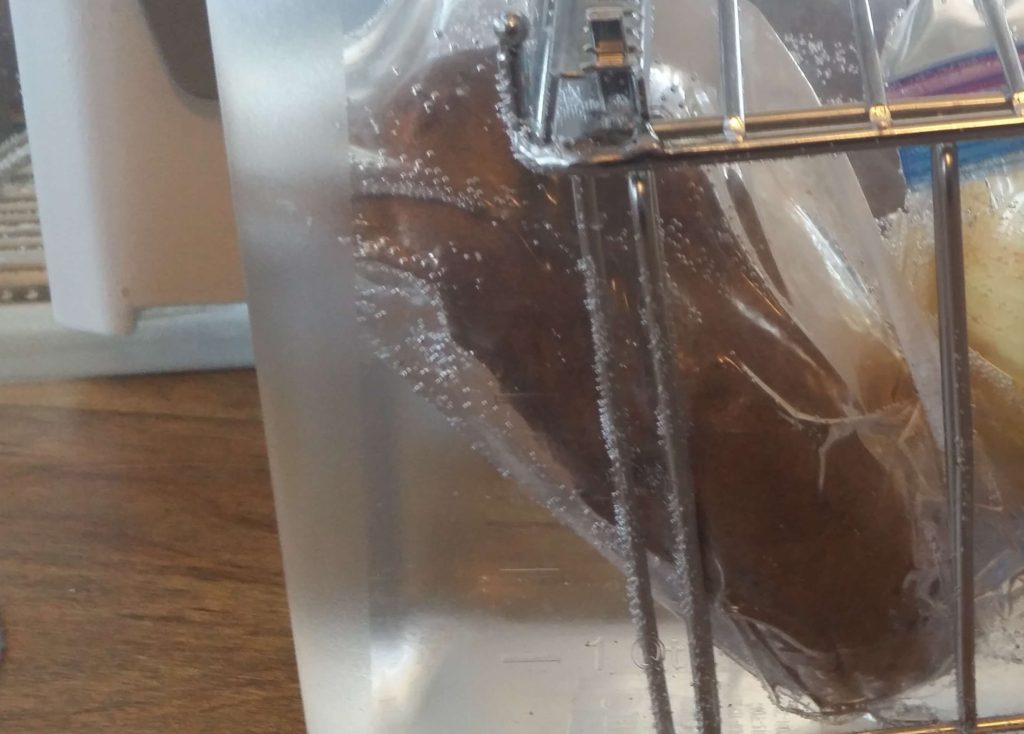 Using the Lipavi Racks, I invert them to help sink the potato.
Sous Vide Grilled Russet Potatoes – Ingredients:
1 Russet potato, approx. 1 lb, will yield 4 "steaks"
S+P to taste
1/2 oz. Blue Cheese
1/2 oz heavily reduced demi-glace, homemade or purchased (I keep a squirt bottle of it in the fridge).
a few drops Kecap Manis, a thickened soy sauce available in the Asian Market, or Balsamic Syrup.
Just a couple of drops of Ketchup.  THERE IS NO SHAME IN KETCHUP.  I like Heinz.
1 Tablespoon chopped parsley
Procedure:
Use a long, narrow knife, slightly moistened, to slice the potato into steaks–as you can see, I left a little peel on the corners. Because of the SV processing, the potato has a texture completely different than the traditional result.  It's more like slicing a block of cheese. Typically, your slices will be between 1/3″ and 1/2″. 1/4″ is kind of difficult to handle.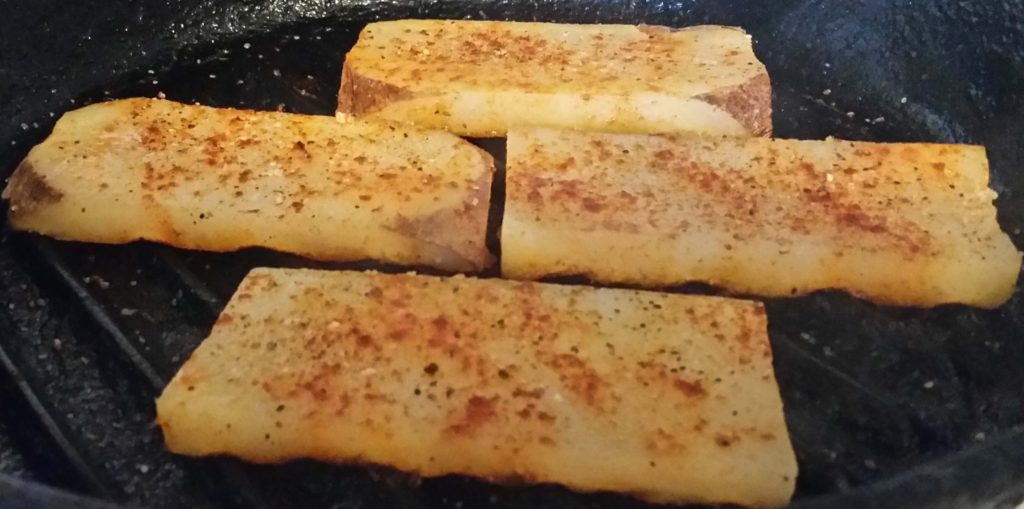 Coat lightly with oil (I plead guilty to using spray release–I think it's great), and lay in the medium-hot broiler pan.  This can also be done on a BBQ, but you pretty much have to stand there and watch it. Lift up slightly after a few minutes and you will see the darkness of the grill marks, and rotate 90 degrees.

I use a small fork to flip, so as not to leave tong marks.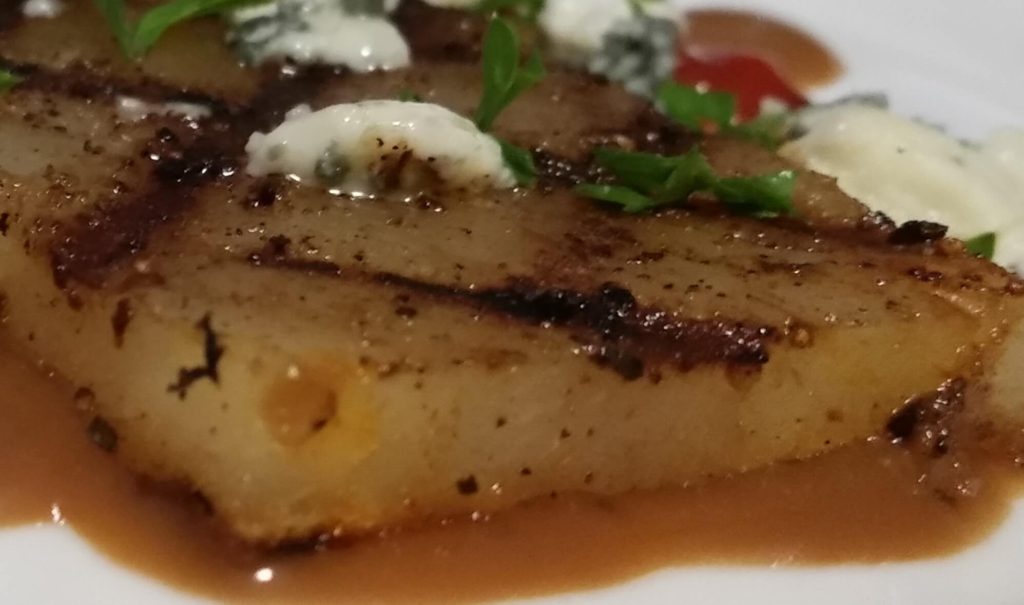 After marking on both sides, remove to a plate, and garnish with the remaining ingredients.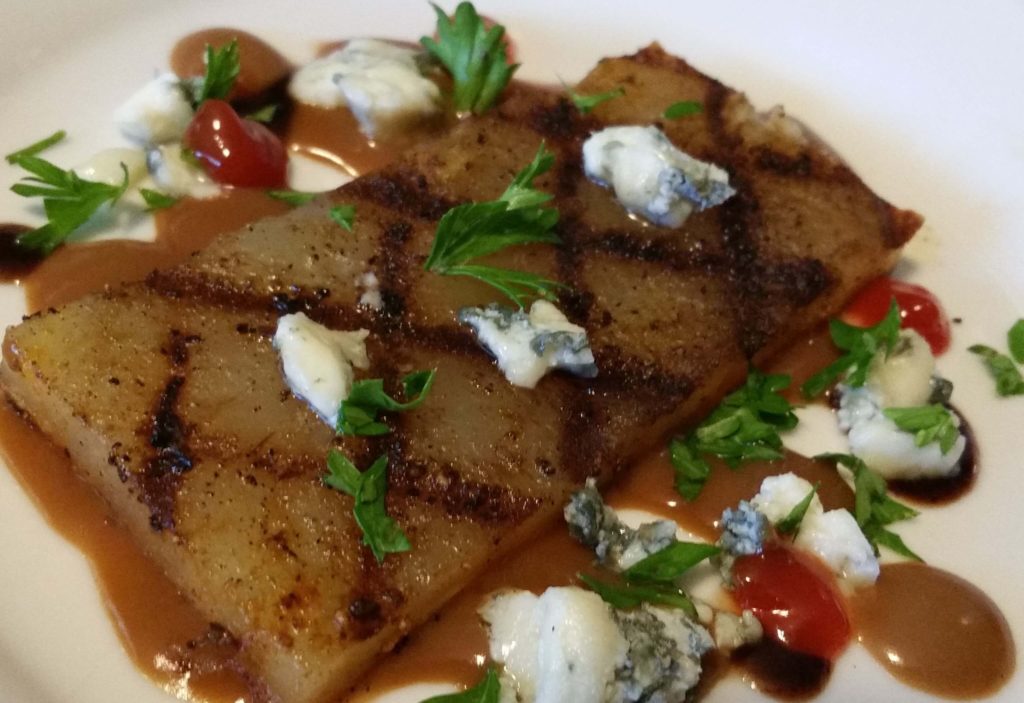 This makes a nice, whimsical side dish or appetizer, or can be served like this: