Beets. This often maligned, casually disregarded component of bargain buffets and canned food aisles is finally working it's way back into recipes and menus.  Practically the signature vegetable of the entire Asian continent (incl. Russia, and surrounding regions as well), Americans always seemed to associate beets with boring, down home, nuance free applications.  Then, somebody realized how well it went with goat cheese and walnuts, and producers started introducing different colors and baby versions.
We promptly evolved from boiled beets, to "roasted" beets, which really aren't roasted at all, but, rather, steamed in the oven (wrapped in foil, etc.), braised, and now, Sous Vide.  Anyone who has cooked beets in water knows just how much "ink" they produce without changing colors themselves.  Processing SV, there is no where for that ink to go.  It doesn't really contribute any flavor, though, just color intensity.  As you can see in the pic below, the beet is really almost black.

After processing Sous Vide @183×1-2 hours (a little squeeze will tell you degree of doneness), shock the beet cold to 40F, it's much easier to handle.
The peel can be rubbed off using a towel, a paper towel, dry, or wet, depending pretty much on preference.
Whatever fabric you use, it will be quite purple, so it's best to just go ahead and retire it right away.
Leave the stalk end attached–it becomes a handy handle during slicing.
You don't HAVE to use a mandolin, but you will get the most uniform, 1/4″ slices if you do…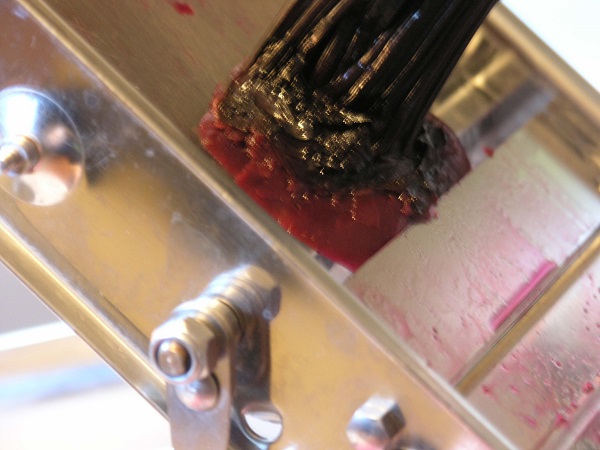 See?
You get almost one more complete slice just by leaving the stalk end attached, which is not only edible, but quite delicious with just a little S+P.
One of the benefits of being the cook–trim snacks!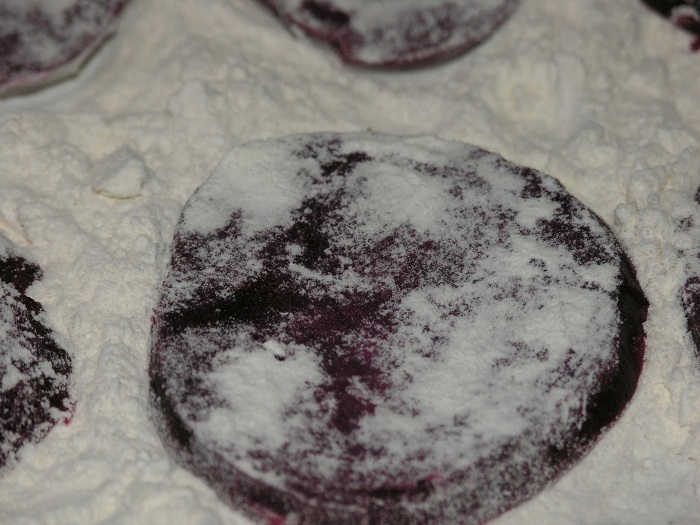 Gently dredge the beets in flour, shake off the excess…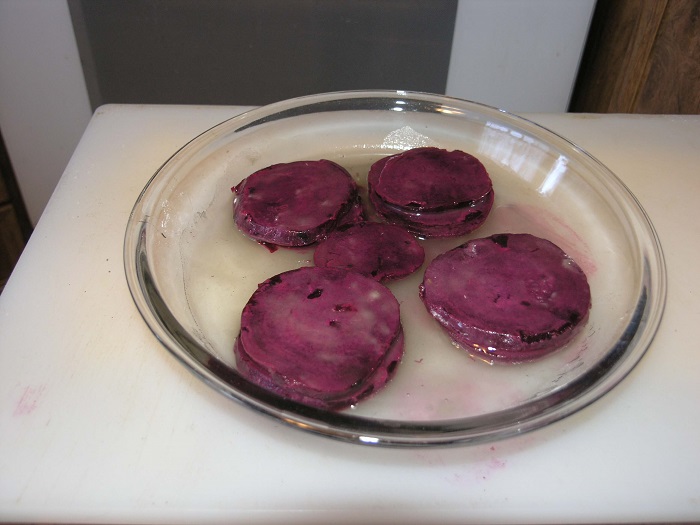 and coat with a neutral vegetable oil.
There's a temptation to use EVOO, but heat destroys its flavor anyway, and, besides, we're hoping most of it drains off….which it most certainly will, if you…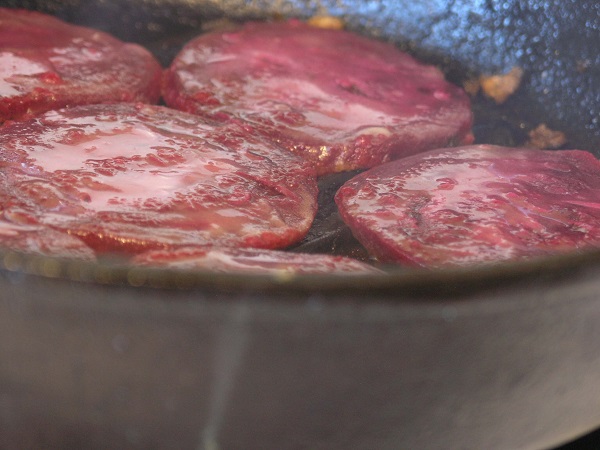 Grill it in one of those cast iron broiler pans, well heated to about 400F dry, so it doesn't smoke.
I usually use medium heat, and give it about 10 minutes to get uniformly hot.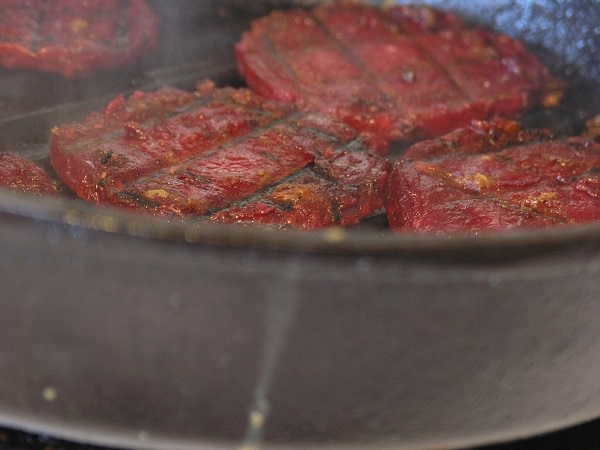 As dark as the beets are, you still get pretty good contrast if you are patient, and check one before you just start flipping.
 Couple of minutes per side, usually, you want that flour toasted and the fat rendered to get the nice texture–not really crisp, but pleasing.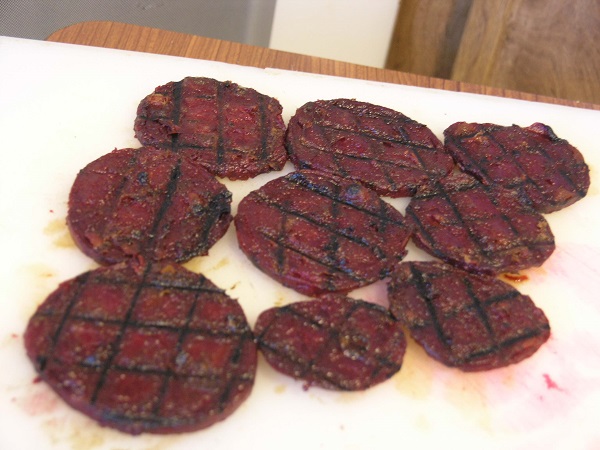 Lay them out flat on a cutting board or wax paper, don't stack them, then, set aside or refrigerate.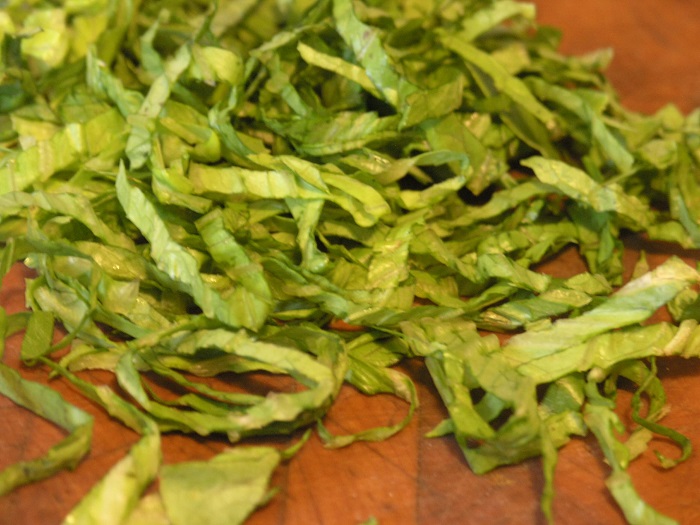 I saw a web discussion the other day where the participants lamented the existence of people who cut lettuce or basil with a knife instead of tearing it with their hands, but, really, there's no reason to do this other than the aesthetics.
Thin chiffonade like this adds dimension and texture.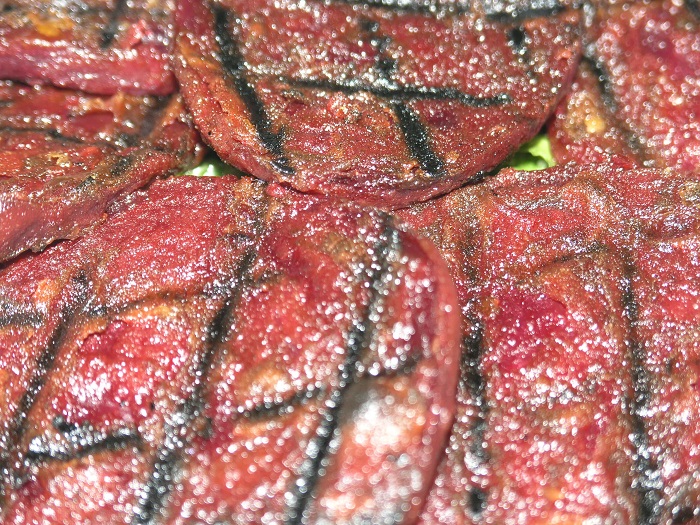 Sprinkle the lettuce over the center of the plate, inside the border, and lay the beets out on top.
In this picture, I have a beet in the very center, but I changed my mind later, removed it, and laid it on top at the very end, as you will see.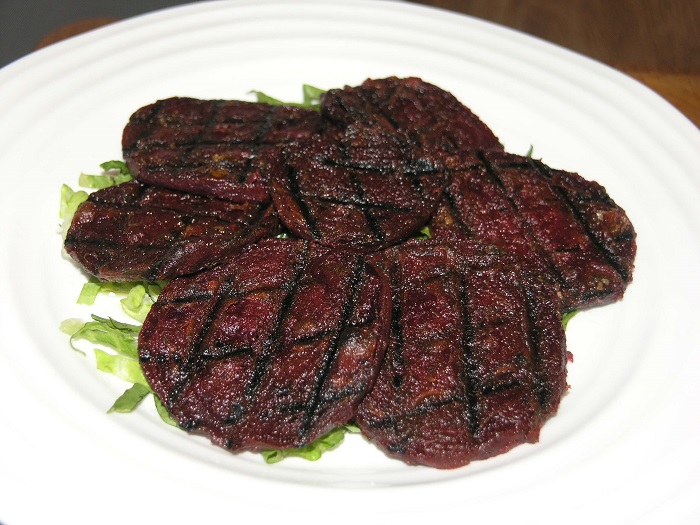 The color is really quite distinctive…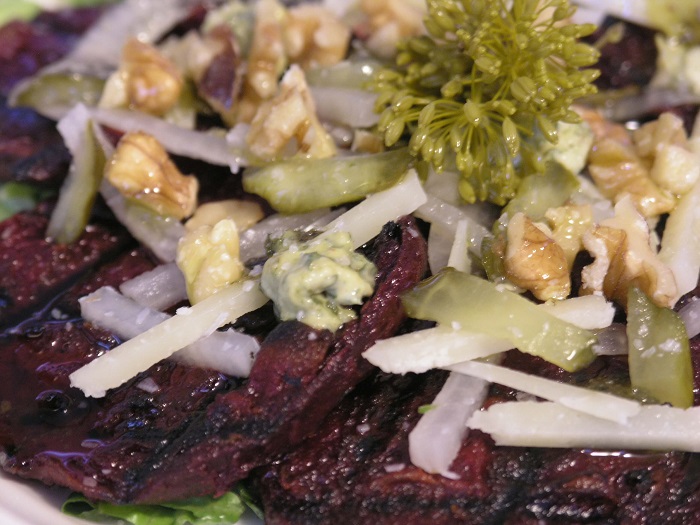 Lay a few of the Bread and Butter Onions on top of the beets, and, then, toss together the Pecorino, Daikon, Walnuts, and Pickles and sprinkle over the top.
Sprinkle with the honey, drizzle with a little EVOO, and, then a little Kosher or Himalayan salt.
Lay the last beet slice on top, and garnish with a dill frond from the Daikon pickle bin, if desired.
For more about Sous Vide Vegetables, click here.
Save
Save